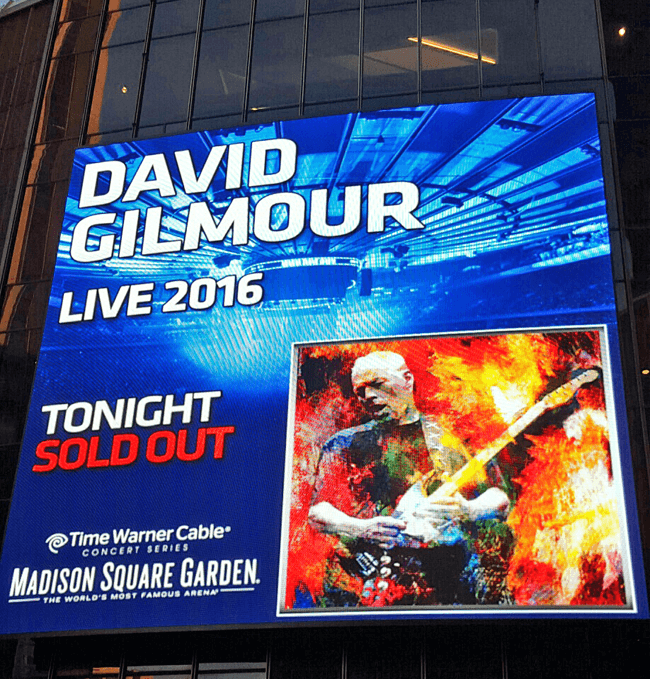 MADISON SQUARE GARDEN – NEW YORK USA
Above pictures thanks to RonToon
---
Above pictures thanks to Robert Juckett
---
So I had some more time to gather my thoughts on the 2 shows, 11th and 12th. I will just say the 11th was great but I will review the 12th because it was something I'll never forget as long as I live.
I showed up to both shows really early and heard all the sound effects from the beginning. There were a lot of DSOTM sounds and also a plane flying by and also heard a little Atom Heart Mother in there and other random stuff. It really set the mood just right!!
Then it was time for the show to begin.
As soon as Gilmour came out for 5am the crowd jumped to their feet. Rattle That Lock was imo better on the 12th I enjoyed it alot. Wish You Were Here was really great. I mean honestly the whole concert minus Today (except ending of it) was magical. At times the sound would be so intense and powerful it felt like it changed the air around me. One thing I will cherish is everyone's disbelieve at how a 70 yr old could be making those sounds on stage, defies logic. It is something I will never forget and I'm very privileged to have seen it in person. At the end of the day not too many people have had that luxury.
To the people going to one of the concerts in Europe I hope you will cherish the memories as much as I have. If you are lucky enough to have great seats be prepared to get your socks knocked off!!!!! And here is to hoping there will be at least one more tour in the future.
Review thanks to waldsman
---
Some of the Trump family (Donald Junior, Eric and Eric's wife LaraLea) attended this show. Eric Tweeted that they had a good time, prompting the Tweet below from Guy Pratt.

---
---
Capacity: 20,000
Address: 4 Pennsylvania Plaza New York 10001
Madison Square Garden (called MSG or The Garden) is a multi-purpose indoor arena in the New York City borough of Manhattan, New York. Located in Midtown Manhattan between Seventh and Eighth Avenues from 31st to 33rd Streets, it is situated atop Pennsylvania Station. It is the fourth venue to bear the name "Madison Square Garden", the first two (1879 and 1890) of which were located on Madison Square, on East 26th Street and Madison Avenue, with the third Madison Square Garden further uptown at Eighth Avenue and 50th Street