UNITED CENTER – CHICAGO USA
Above pictures thanks to RonToon
---
Seat wise, it was the worst of the 3 shows I went to. I Was in section 4 row 12 on the floor and people were constantly standing the entire show, so I couldn't see all that well. I moved the aisle for a while so I could see the band. It was cool they added OAI too. Of the 3 shows I went to, I must say that the auditorium gig was BY FAR the best gig I saw. Bittersweet due to Probably my last time seeing DG live, but I had a blast the entire week!
Above review & images thanks to John Hortatsos
---
Above pictures thanks to Robert Perry
First Set: 5 A.M.; Rattle That Lock; Faces Of Stone; Wish You Were Here; What Do You Want From Me; A Boat Lies Waiting; The Blue; Money; Us And Them; In Any Tongue; High Hopes.
Second Set: Astronomy Domine; Shine On You Crazy Diamond (Parts 1-5); Fat Old Sun; Coming Back To Life; On An Island; The Girl In The Yellow Dress; Today; Sorrow; Run Like Hell.
Encores: Time/Breathe (reprise); Comfortably Numb.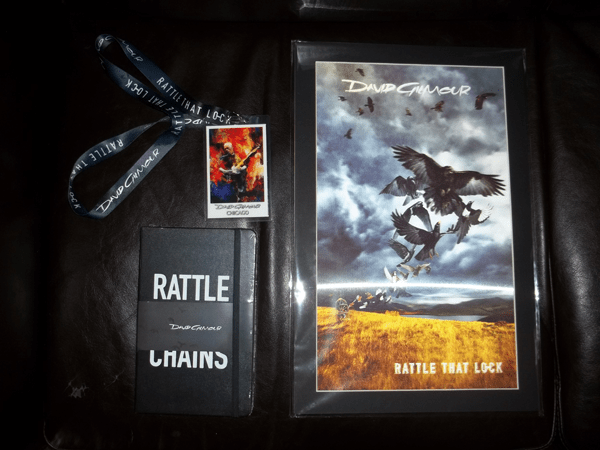 The collectables "Gold Hot Seat" holders received for buying premium tickets to the Chicago shows. A lanyard with laminate, 3-D poster and note book. Thanks to James Grisamore.
---
---
Capacity: 23,500
Address: 1901 West Madison Chicago 60612
The Bulls and Blackhawks operate the United Center through the United Center Joint Venture, a 50/50 partnership of the two teams. It covers 960,000 square feet (89,187 m²) and is located on a 46-acre (19 ha) parcel, west of the Chicago Loop. The arena is the largest in the United States in physical size, though not in capacity. The United Center hosts over 200 events per year and has drawn over 20 million visitors since its opening.