David Gilmour - Comfortably Numb (featuring Purple Rain)
"As a tribute to Prince David started the second solo of Comfortably Numb with Purple Rain"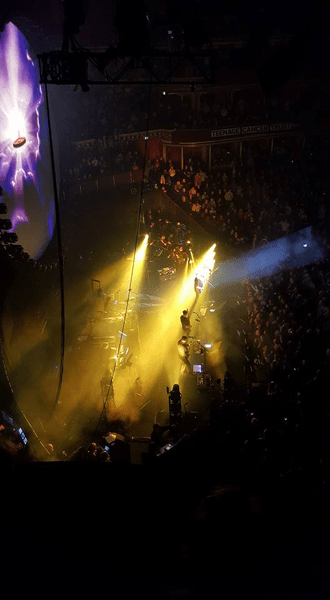 Less lasers than usual.
Band rock solid, sooo tight. Looked very relaxed, and Guy Pratt visibly enjoying himself. Astronomy Domine as much a highlight as the last time. Kicks arse at the opening of the second set. And it was filmed. Plenty of shots went live onto Mr. Screen with no lines visible at all – the video seems to be of film quality. Looked fantastic.
Thanks Mike Lacey
---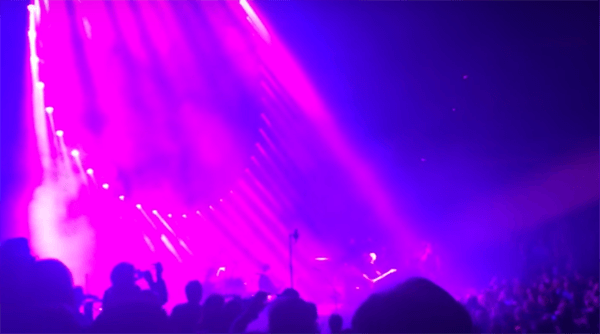 I was at the show last night, it was my first full on Gilmour show and I can safely say it's the best show I've ever seen. It's an experience that will stay with me forever! He truly is the best guitarist on the planet! If more tickets are released for his September RAH dates I'll probably go! Hearing High Hopes live was mindblowing!
Thanks KAOS_91
---
First Set: 5 A.M.; Rattle That Lock; Faces Of Stone; Wish You Were Here; What Do You Want From Me; A Boat Lies Waiting; The Blue; Money; Us And Them; In Any Tongue; High Hopes.
Second Set: Astronomy Domine; Shine On You Crazy Diamond (Parts 1-5); Fat Old Sun; Coming Back To Life; The Girl In The Yellow Dress; Today; Sorrow; Run Like Hell.
Encores: Time/Breathe (reprise); Comfortably Numb.
---
This is a special one-off charity gig in aid of Teenage Cancer Trust
Tickets: seetickets.com (Telephone 0871 220 0260), gigsandtours.com (Telephone 0844 811 0051), ticketmaster.co.uk (Telephone 0844 844 0444) and, of course, the Royal Albert Hall Box Office (Telephone 0845 401 5030).
Capacity: 5272
Address: Kensington Gore London SW7 2AP
The Royal Albert Hall is a concert hall on the northern edge of South Kensington, London, best known for holding the Proms concerts annually each summer since 1941. It has a capacity (depending on configuration of the event) of up to 5,272 seats. The Hall is a registered charity held in trust for the nation and receives no public or government funding. Since its opening by Queen Victoria in 1871, the world's leading artists from several performance genres have appeared on its stage and it has become one of the UK's most treasured and distinctive buildings. David Gilmour last performed here in 2006 and the filming from those shows ended up as the Remember That Night DVD.