So, here's my review of the Florence gig of last Thursday, 15/09/15.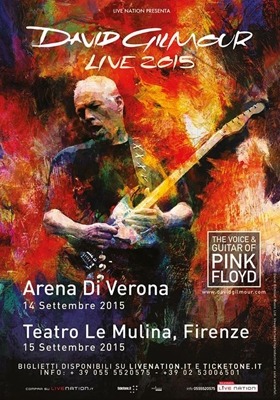 We stayed a few weeks in Florence and Bologne with my girlfriend. Anybody who knows Italy and Tuscany will sure understand why (beautiful places).
For the first days in Florence, we stayed at a nice hotel in the hills, over Florence, just behind the Palazzio Pitti. Nice place to rest a bit and enjoy swimming pool etc. But for the day of the show we decided to book a room in another hotel, much more in the city-centre, in order to be closer to the gig-venue. This point will make more sense later in my review 😉
So, day of the show arrived. After checking the map, we thought it wasn't far at all and should have a walk (I think 1,5-2 kms from the heart of the city). So we went there by foot. The ippodromo is quite big, and has a capacity of 15000 persons when used as an Ippodrom, but here it was a bit different. They set bleachers on the center of the grass, and I think the exact capacity was more between 6 and 8000. It was quite intimate, really, you could see the show perfectly well everywhere. And hear it too!
After 2-3 beers and a burger in a very nice mood (Italians people are incredibly warm and friendly), we went to our seats. Everything was seated and our place was just beside the mixing room, perfect place to have a perfect sound ! Anyway, we like, my girlfriend and I to see shows standing up, to hold our arms etc. So we stood just beside the mixing room.
The show started right on time, I think. The mood was incredible from the beginning… As I told, Italians are so warm.
Well, we know the set list (same as usual + CBTL). I think the performance improved as long as the show happened. Lots of people are thinking David is a bit rusty sometimes. I don't see it like this. I just think he's enjoying, trying, testing new things, solos, etc. I also think this is how a R'n'R show should be (and not only R'n'R). It's an event, it's a live thing, no miming, just live music. Different places, different moods, and the band feels it too, I think. So, IMHO, it's is what makes a show a special moment.
So, yes, some solos were better than others, his playing was sometimes relax, but, hey, don't misunderstand me, it was very good and incredible from start to finish.
David seemed relaxed, had the usual bits of talk, and thanked the public very warmingly. About the public… They enjoyed it a lot, every moment ! Everybody was entertainig the show so much. It's the first time I saw this, but in Italy, they tend to applause and cheers, not only at the end of the songs, but after every significant parts or solos. I found it a bit strange at the beginning, but I got used to it, because it was just warm reactions from warm people !
For this show, the high points for me were definitely :
Faces of Stone
A boat lies waiting
Money / Us and Them
High hopes (very beautiful ending, David was « in the mood »)
In Any Tongue
Sorrow (killer !)
Run Like Hell
And… C numb
2-3 things : During Fat old sun, he really took his time to switch from the acoustic to the electric, left the band play a few bars before getting in with the solo. While the band played these few bars, he put his electric guitars on his shoulders, and started to make a little dance, waving his arms to the band like a boxer (I mean, the sport). Funny.
C-Numb was very very « in the mood » too ! There are so many versions of C-Numb ! He played it at lenght during the 87-89 and 94 tours. I very much liked the Live 8 version because it was shorter, sharper, more focused. But I liked the « long solos » versions as well. In Florence, it was a good mix of the two. Not too long, but with an incredible emotion and feeling. He nailed it !
The show ended with warm thankings from the band and the audience was so warm too !
As we were close to the mixing board, we stayed a while and saw Colin Norfield (FOH engineer). He seemed in top form, smiling etc. I managed to shake a hand, thank him, congratulate him and have a picture with him.
Next to the ending of the evening, which became incredible for me…
We came back walking to our hotel, in the heart of the city. Due to queues at the exit, and because we wandered a bit, we arrived almost one hour after the end of the show to our place. Our hotel was a few meters away from il Duomo, a nice church, and a very important historic monument. We had a terrace with a wonderful view on it. But it was not an extensive hotel. So we went back by foot, and crossed the Piazza della Reppublica, close to our hotel. We had to leave the next day to come back to Belgium. And, every time we make a citytrip or vacations without the kids, we tend to enjoy our trips a lot, till the last moment. So I proposed we had a last drink, a Spritz (nice italian cocktail) to my girlfriend. She hesitated, and as we crossed the Piazza, she said : « look, there's a beautiful terrace of a bar there, let's go there ». It seemed classy, but sometimes we like to stick in classy place. Usually, the service is fine, and the drinks too. Much more expensive than a beer at a show, but hey, it was a special day, so we had to finish it in a special way.
The bar was closing, but the waiter said, smilingly : no problem for a last one, and we sat at a free table. As we sat down, I saw a man, just at the next table, and this man was Phil Manzanera !!! As i looked over there, I saw there was Claire Singers too, Paul Loasby as well ! I looked inside the bar, and in fact it was a restaurant, very chic and high level. And I saw Barrie Knight (Security Chief of the tour).
Yes in fact, just by chance, we arrived at the exact terrace, the exact bar, beside the exact hotel where the band was staying, and they were having a band dinner inside… How lucky we were.
So I went to the table of M. Manzanera, and very politely, introduced myself, thanked the man for the show but also for his carreer. I explained I was a fan of his music, solo, Roxy Music or as a producer.
He was very kind, and I think he enjoyed the fact that I made contact very politely, with diplomacy etc. They asked me where I was from, told me they knew I wasn't English (my speaking is not perfect), and we had a laugh about the fact Belgians people are usually better at speaking English, than French people (just a very common joke about the french speaking English). Phil told me he knew my city, and I asked for an autograph, which he kindly gave on my ticket. After shooking hands, I left them as we greeted each others to enjoy our drinks.
2 minutes later, saw Guy Pratt getting out of the restaurant for a small walk, needing fresh air I think. I didn't want to annoy him, but I just thanked him for the show, shook hand, and got an autograph too.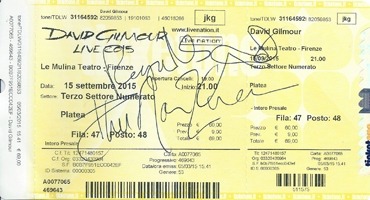 I didn't dare to get inside, didn't want to annoy anyone, because, you know, I'm a really big fan, but I think, you have to respect people and not push too far your chance.
But I had to pay for my drinks, so I got inside, and went to the small desk where you pay, which was just next to the restaurant. Then I crossed Jon Carin, and while I was paying, saw the band, including David, and managers etc. Having dinner in this restaurant. I didn't get much further than that, cos as I said, you don't have to push your foot in the door when these moments arrive. It has to be natural and respectful.
Anyway, that was already amazing for me…
We then left the place, to get to our hotel which in fact was just beside, 10 meters away from theirs, and we let the day end quietly (which, in short, means we fell asleep very fast, after 5 days of visiting Florence, Bologne, walking, having incredible meals, an amazing show, and a few cocktails as well 😉 )
Above review & images thanks to Pierre-Alain Bernard.
---

Regarding the following brief video clips. Brief excerpts of copyright material may be quoted verbatim for purposes such as criticism, news reporting, teaching, and research, without the need for permission from or payment to the copyright holder. Courtesy of Pierre-Alain Bernard.