HOLLYWOOD BOWL – HOLLYWOOD – LOS ANGELES USA
OK folks, here's my impressions – warts and all….
The Bowl itself was a perfect setting – the weather was great and the history of the venue itself echoed throughout the night. Excellent visuals, and a lazer show that was one for the ages, and as I texted a friend in the middle of the show: "wish you were here".
Goes without saying stunning lead guitar whenever Gilmour plays a solo.
Highlights:
Wish You Were Here
Money
Us and Them
Astronomy Domine
Shine On You Crazy Diamond (Parts I-V)
Fat Old Sun
On an Island
Sorrow
Run Like Hell
Time
Breathe (Reprise)
Comfortably Numb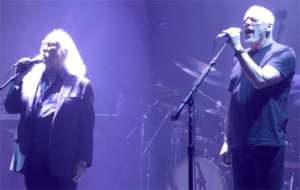 Not much of a fan of his new album (his last one was better imo), or any post-Roger Waters Pink Floyd stuff for that matter, so won't dwell on that, but will say it comes across much better live. Of the new stuff, A Boat Lies Waiting (my favorite from new album)was beautiful with David Crosby's harmonies, and Rattle That Lock (another decent one from new album) was great. Crosby also sang harmonies on On an Island and it was mesmerizing. Another new song -The Girl in the Yellow Dress, was completely forgettable.
As expected, it was the classic stuff that worked the best for me. Money, Us and Them, and Time are quintessential Floyd tracks (thanks in large part to Roger Waters writing ), but it was David who originally sang them in the studio and his amazing guitar playing was spot on last night. And of course Shine On You Crazy Diamond (Parts I-V) is a masterpiece (again thanks to Roger), and was exceptional live. Run like Hell is what it is – another Roger tune with a thumping stomp that was highlighted by the visuals and explosive pyrotechnincs that followed it. And then grand finale Comfortably Numb …truly one of my all time favorite Floyd songs. But then there was David Crosby on stage singing the Roger parts, and have to say he was really bad – sounding like Kermit the Frog which kind of ruined the tune. But then came Gilmour's stinging guitar solo which made everything in the world right again – absolute wailing perfection. With all that said, the absolute unexpected highlight for me, and one which I wouldn't have predicted, was the inclusion of Astronime Domine. Controlled chaotic psychedelia that worked so well on so many levels.
Looking forward to see the show again, and again, and again….
Thanks Eric DiamondHead
---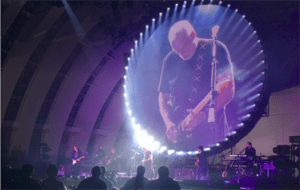 The concert was spectacular (of course). Some thoughts before I head to bed:
– The only real surprise was that Crosby sang on CN. The matter of fact way he sang "hello," "okay," etc. at the beginning of the verses was jarring at first, but otherwise his CN was actually pretty good once I got used to it. I'm sure many didn't like, but at least he didn't just ape Roger's idiosyncratic, melodramatic vocal style.
– I'm embarrassed to say that due to Google Maps' extremely poor assessment of the traffic (and my own incompetence, of course), I didn't get to my seat until 8:15. Amazingly, David was already nearly done with Faces of Stone. I have never in my life heard of a concert starting exactly on time, but I can forgive David if he wanted to make sure he could turn in by midnight.
– I wasn't particularly looking forward to AD, but with apologies to Rick and Syd, this is quite possibly the best rendition.
– I was surprised how warmly the crowd received CBTL, which obviously was included in the setlist.
– It was odd that David mentioned Nash during his introduction of Crosby. At first, I thought hell had frozen over and that both of them were actually there.
– It was awesome to see HH and SOYCD in there 94 glory, although I wish he woudn't shorten SOYCD so much. It's already such a guitar-centric show that'd it be nice to include the second keyboard solo, especially when matched to the sinking miner helmets (sublime IMO).
– Phil botched the beginning to WYWH and had to restart after a few seconds!
– Quibbles aside, this was an amazing show! David's voice sounded great and he hit maybe one bum note all night long. Most of the solos weren't particularly adventurous, but they sounded of course transcendent nonetheless.
Thanks ryan2929
---
What a show. Amazing venue, even better weather, and a great performance. Gilmour's vocals were rough in stretches and a couple solos had some off bits but overall I rate it higher than the 2006 gig I attended. Absolute epic solo on Sorrow. I mean wow. Blew me away. The projections on the Bowl were stunning and the pyrotechnics on RLH grander than I was expecting.
Thanks ozzfloyd
---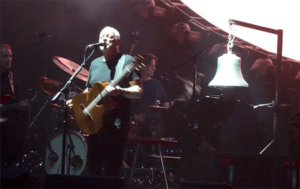 Last night's show was pretty great for the most part…. except the sound. Back in N1 there were times where the sound was blown out and distorted. I think it has to do with having to plug into the Bowl's sound system? A perfect example was during the chorus of In Any Tongue. When the chorus hit and everyone was singing the sound sounded distorted. It was the one true flaw on an otherwise amazing evening. Though, I wasn't a huge fan of Crosby singing Roger's part in CN. Projections onto the bowl itself were awesome. Easily that is the closest I will ever have come to experiencing what the 1994 tour must have been like, since the 94 tour stage was based on the Bowl.
Hoping for better sound at the Forum. Sound last fall at Royal Albert Hall was amazing.
Thanks echoesLA
---
Short review of the show last night:
Lame audience
Sub par sound (Brit Row used the house PA)
Coming Back To Life was a welcome surprise
David's voice was great
Thanks Joseph oneslip17
---
Images used with reviews thanks to cheapfilm (Chris M) MANY MORE
---
Set List
5 A.M.
Rattle That Lock
Faces of Stone
Wish You Were Here
A Boat Lies Waiting
The Blue
Money
Us and Them
In Any Tongue
High Hopes Astronomy Dominé
Shine On You Crazy Diamond
Fat Old Sun
Coming Back To Life
On an Island
The Girl In the Yellow Dress
Today
Sorrow
Run Like Hell
Time
Breathe (Reprise)
Comfortably Numb
---
Above images thanks to Ben Day
---
Above images thanks to James Poulin
(Pictured left in pic bottom right, wearing his wire man hat he won from AFG in 2006!)
Above 'Ushers Guides' thanks Mike F (floydman64)
Hollywood Bowl Fireworks + Launching Deck
---
Capacity: 17,376
Address: 2301 Nth. Highland Ave Hollywood CA 90068
The Hollywood Bowl is a 1920s amphitheater in the Hollywood area of Los Angeles, California, that is used primarily for music performances. The Hollywood Bowl is known for its band shell, a distinctive set of concentric arches that graced the site from 1929 through 2003, before being replaced with a somewhat larger one beginning in the 2004 season. The shell is set against the backdrop of the Hollywood Hills and the famous Hollywood Sign to the Northeast.