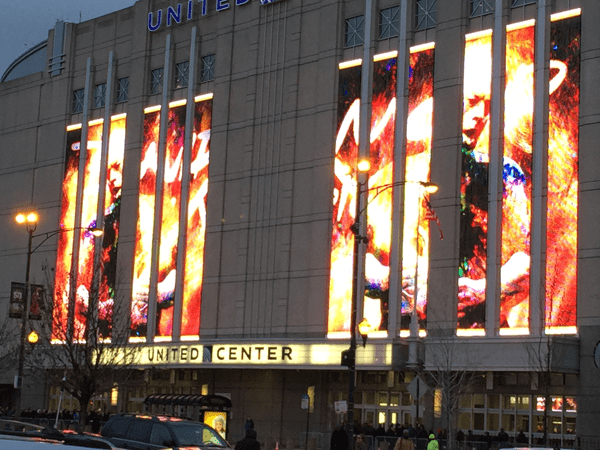 Above pictures thanks to John Hortatsos
---
Last night's show at the United Center was the first of 5 that I'll be attending. We had great seats and the sound was loud and crystal clear. You never know what you're going to get at the UC but the mix could not be better. And we were lucky to be surrounded by a very well behaved group of fans. It's always a bonus when you're not flanked by assholes.
After listening to just about every gig on the tour and watching countless videos (and live Periscopes) I can definitely say that it's nothing like actually being at the show. David's voice sounded very strong even if it came off a bit raspy at times. His guitar playing is the best I've seen since the Animals tour (the set list has a lot to do with it) and he is really starting to stretch out more than on the 2015 leg of the tour with his solos becoming more adventurous. His tone is classic Gilmour. The new material is much better live, my favorites being Faces of Stone (I was so overwhelmed by the final solo that it brought me to tears) and In Any Tongue. The title track is a lot looser than the album version and you can tell that he's having fun with it. Even Money, a song I've seen performed countless times, gave me chills! There is no way any official release will capture the power of this show.
And Mr. Screen is more impressive than ever. Unless you're there you have no idea how sharp this image really is. David's projected image, especially close-ups of his fingers are jaw dropping. I wish that he did this for more songs. The highlights were every one of his solos but Fat Old Sun and Sorrow really brought the house down. The crowd pretty much lost their fucking mind during Comfortably Numb.
Looking forward to Wednesday's show at The Auditorium
Above pictures & review thanks to RonToon
---
Chicago night one was great. My 5th and likely final show of this tour did not disappoint. It was tremendous. And loud. Seemed to be the loudest show too. But it just barely avoided too loud. David seemed loose and relaxed and in his element. His tone was incredible. He was grooving on stage and smiling. The 5 shows I've seen have been 2 at the RAH in London, first night Hollywood Bowl, The Forum and now N1 United Center. United Center is the only one to have the majority of the crowd standing the whole show. I'm used to standing for concerts with most other bands, and was actually surprised that everyone largely sat in London except for RLH and the encore. The crowd at UC stood largely the whole time. The only fault I could see was that it seemed like David inadvertently didn't play one of the low dives correctly on Sorrow in the intro but maybe it was just my imagination. And the few people a few rows back who would not shut up. They talked largely the entire concert and I wonder if they heard a single note. I really, really don't understand people like that. But all in all, I can't really complain about anything from David's end. 5 stars no question. My cousin, who is a fantastic guitar player and plays in several bands professionally, was at his first Gilmour show by my invitation. He is astounded by the performance and just can't believe how amazing Gilmour was live. Even as I write this he's texting me telling me how blown away by the show he was. So, I'm only sad that for now this seems to be the end for me for this tour. I wish I could go to Pompeii.
Thanks to echoesLA
---
Above pictures thanks to Robert Perry

Ticket scans thanks to Ron Toon
---
Nothing new added. He played the current setlist – including Faces of stone, WDYWFM, and CBTL. Sound was excellent on the floor.
Thanks John Floyd
---
Wife and I flew up to Chicago this past weekend to see the Monday Gilmour show at the United Center. Show was awesome as expected.
On the Sunday before the show, we took an architectural river boat tour of Chicago. And who sat down next to my wife and I??? But 3 of Gilmour's band mates: Stevie DiStanislao, Jon Carin & Kevin McAlea. (Pictured below)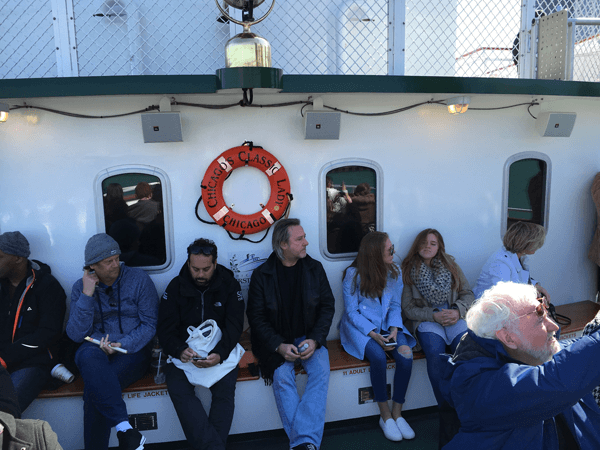 They were all quite friendly. My wife said I was probably the only one on the entire boat that actually recognized them. At the end of the river tour, I asked if it was okay if my wife took a few pictures of me with them and Jon Carin said "No pictures. I'll take a picture of you and your wife but none of us please." So that was the end of our conversation.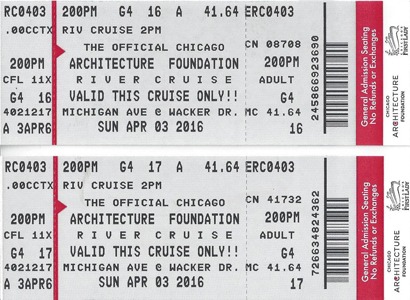 Story & pics thanks to John Austin
---
---
First Set: 5 A.M.; Rattle That Lock; Faces Of Stone; Wish You Were Here; What Do You Want From Me: A Boat Lies Waiting; The Blue; Money; Us And Them; In Any Tongue; High Hopes.
Second Set: Astronomy Domine; Shine On You Crazy Diamond (Parts 1-5); Fat Old Sun; Coming Back To Life; The Girl In The Yellow Dress; Today; Sorrow; Run Like Hell.
Encores: Time/Breathe (reprise); Comfortably Numb.
---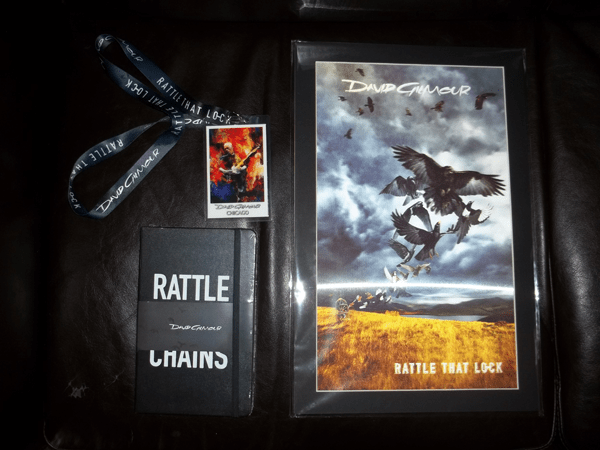 The collectables "Gold Hot Seat" holders received for buying premium tickets to the Chicago shows. A lanyard with laminate, 3-D poster and note book. Thanks to James Grisamore.
---
Capacity: 23,500
Address: 1901 West Madison Chicago 60612
The Bulls and Blackhawks operate the United Center through the United Center Joint Venture, a 50/50 partnership of the two teams. It covers 960,000 square feet (89,187 m²) and is located on a 46-acre (19 ha) parcel, west of the Chicago Loop. The arena is the largest in the United States in physical size, though not in capacity. The United Center hosts over 200 events per year and has drawn over 20 million visitors since its opening.