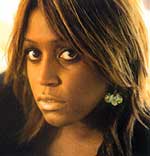 David's special guest at this show was Mica Paris.
For the first time since Paris, The Great Gig In The Sky was performed on David Gilmour's On An Island tour – this time featuring Mica Paris on guest vocals, who did a sterling job on Richard Wright's classic.
The addition of 'Great Gig In The Sky' was just one more musical high in a tour that continues to amaze, and the thunderous applause from the packed Royal Albert Hall audience at the end of a sensational night demonstrated just how much David is appreciated.
---
All show pictures thanks to Mike Warburton
---
David Bowie did not come out, but tonight's performance featured Crosby and Nash on On an Island, the Blue, SOYCD, and Find the cost of Freedom, Robert Wyatt on trumpet for Then I close my Eyes, and Mica Paris belting out Great Gig in the Sky.
It was a good show but the band was definitely not taking any chances musically. Compared to the Oakland shows I attended, the band was sticking to the record for the most part. Technically speaking, the performance was spot on, but I prefer performances that don't mimic the record as much tonight's. I dont think they were taking any chances with the music for the DVD. Let's see what happens tomorrow night without the cameras filming. Maybe they will be much more relaxed and branch out a bit more. The audience was great.
Thanks to Turtledsoup
---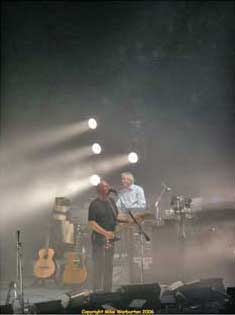 Sitting in the Royal Albert Hall is a very special experience knowing your sitting in a room where legends have played all through the decades Clapton The Who etc and now David Gilmour im still in amazement at what i saw last night was just incredible lasers lights strobe effects wow. Before the band came on Harvey Goldsmith came out to say no phones or flash cameras if you are to take pics make sure the flash is off but i saw loads of flashing cameras during the show.
The show started with the famous heartbeats of Speak to me and when Breathe started it was amazing then it went into Time where Steve Di did some brilliant drumming on the intro David played some excellents solos on Time after Breathe.
David welcomed everyone to show and said the first half going to be all from On an Island.
David introduced all of the band after a song which i cant remember at this time but he introduced everyone then he mentioned the special guest I shouted out Nick Mason and David replied "Not him tonight"
Crosby and Nash where there for the songs OAI The Blue and Shine On ill admit if you are not keen on the studio album as the live versions beat them 20 times over. On an Island started with Crosby Nash on backing vocals the solos David played last night were just amazing and so powerful. The Blue started with a single blue laser which slowly moved during the song. The song i was least looking forward to was Red Sky at Night with David on sax but after seeing it played live i actually like it now andRobert Wyatt came on to reprise his role from the album which was really nice to see.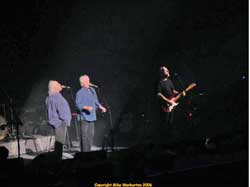 One of the songs I was looking forward to see from the first half was Take A Breath and boy the lightshow on this was awsome when it got to the middle bit the whole of the Royal Albert Hall was strobing the David came back in with his guitar which was so powerful and rocking and was David at his best the first half ended with Where we start and was a nice track to end with very mellow and bluesy and the David said there was gonna be a 20 min break.
The break ended and the 2nd set kicked off with an brillant version of Shine On played to perfection Phil Manzeneras guitar on this is so haunting but also very powerful Crosby and Nash again on vocals the song ended with a standing oviation. I thought David was going to play Wearing the Inside out but didnt he played Fat Old Sun which was just exceptional halfway through the song David changed from acostic guitar to his white telecaster for the solo on FOS which was awe inspiring solo i loved every second of it then they went straight into Arnold Layne which was quailty as ever Rick sure can sing had most people singing along i was i will admit as this is the closest i am ever going to get to seeing Pink Floyd the song ending with most of auidence standing up clapping.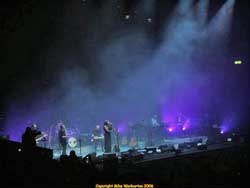 Then straight into Coming Back to Life and some people before it started shouted out "One Slip" but i then shouted out "Sorrow On The Turning Away" but then as David was playing around with his footpedals one of his children said "go on daddy" as i think Polly and his children were by the mixing desk i think.
Coming Back to Life was beautiful as ever and a really classy good solo i was thinking it cant get any better then this and it did High Hopes was just brilliant and played really beautifully. Then came the special guest of the evening Mica Paris to sing on Great Gig was nice but not surprise guest in the same league as David Bowie but none the less it was a good performance from her shame it wasnt Sam Brown.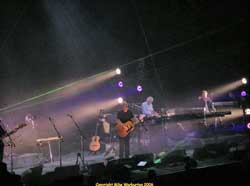 The one song i really wanted to see was of course Echoes and boy it sure does live up to its reviews one of the best performances ever the light show was awe inspiring the lasers were cleaver and mezmirising when the started up them 23 mins or so went past so quick i want them back im so glad i got see the that song with my own eyes and Echoes is my favorite Floyd song ever now it ended with a 5 min or so standing oviation they came back on stage for the final encore of Wish and Comfortably Numb during Wish you was here you could hear a pindrop as most people were singing along to David. it ended and David said time for one more and you all know what it is and the band went straight into Comfortably Numb and was another tight performance of the song as ever the final solo though was awesome back of your neck hair stand on edge it was that good.
The show was brilliant and what a place to see a band live the Royal Albert Hall it had an awesome atmosphere through the whole show you get your moneys worth with David for sure. Can Roger's tour beat this? Well he doesn't have Echoes which takes some beating for sure.
Review thanks to Aaron Burrows
---
Special Review
A few weeks before this show, we ran a competition asking fans why they would like to win two tickets to see David Gilmour at this show. We had a stack of great entries, but the entry submitted by Julie Bentley was deemed to be the winner. Julie now has written down her thoughts about this special night. We hope you enjoy it as much as we did.
---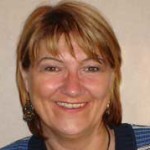 Well, it's all over but I can't begin to tell you what an absolutely amazing experience it was. From the moment he walked on to the stage until the last note of Comfortably Numb, I was mesmerized.
The anticipation had been building since the tickets arrived from *Patrick (God bless him) but I could never have imagined just how magical it would be. It was really one of the greatest nights of my life and if I had not been there, I would have considered that there was a huge hole in my life(especially when I would see the forthcoming DVD). I know this sounds over the top but it really was as emotional as that.
The atmosphere was electric and when the first notes of Breathe/Time were heard, the crowd went wild. David then played all of 'On An Island' with 'Take A Breath' being the highlight of that half of the show, although it was all played superbly.
But really, it was the second half that everyone was waiting for. David came back on to the stage by himself to play the opening section of 'Shine On' with just a spotlight on him and it was all so perfect. All the favourites followed – 'Fat Old Sun' got a big roar and David then said 'If you thought that was old…….' before going into 'Arnold Layne'. And what a version! Everyone played and sang their hearts out and it went down a storm. The whole of the band looked like they really enjoyed it.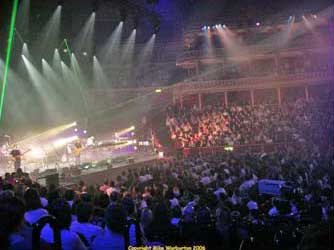 Mica Paris was the surprise guest to sing 'Great Gig In The Sky' but if I'm honest, I don't think that she did it justice. Although it was a good performance and her voice is very good, it didn't have the same emotion that Claire Torry (or even Sam Brown) gave it. But this is only a minor, minor criticism and in no way detracted from the entire evening.
David's acoustic solo at the end of 'High Hopes' was brilliant – he just sat quietly towards the back of the stage playing so beautifully while the spotlight slowly faded away.
And then it was the moment that I had waited for – we just heard 'Ping, Ping' and the crowd jumped to their feet. I cannot find the superlatives to describe Echoes. It was perfection. I had thought that it might be toned down as it would be hard to play it live but no, it was so true to the original. Even the band seemed to know that this just belonged to David and Rick and stayed in the shadows. The accompanying light show complimented it entirely and I have to admit that I cried from the beginning to the end (even at the weird bit in the middle!).
How could that be topped? By following it up with two other classics, Wish You Were Here and Comfortably Numb. The guitar solo on the latter was awesome. By the end of the night, everyone in the place was on their feet screaming for more and not wanting it to ever end.
I said in my original entry that it would make my life complete to see him and I truly feel that it has. There were times when it was more like a religious experience. Personally, it brought back so many happy memories of my sister and she was there with me, even if only in spirit. I even felt that she would have changed her allegiance from Roger Waters had she seen it!!
I wanted to send you some pictures of the night but have you ever seen the face of a woman who had spent 23 minutes crying? Not a pretty sight so thought that I'd spare you that sight……
I would not have wanted to miss it for the world and I can never thank *Patrick Renaud enough for making it possible. He is a very special man. Now all I have to do is work out how to get to the South of France for the next one……………………….
*Patrick Renaud donated the tickets
---
---
Setlist:
Breath – Time – Breathe Reprise
On An Island album
Shine on You Crazy Diamond w/ Crosby and Nash
Fat Old Sun ( DG on tele)
Arnold Layne (DG on Tele)
Coming Back to Life
High Hopes
Great Gig in the Sky w/ Mica PAris
Echoes
Wish You Were Here
Find the Cost of Freedom w/ Crosby and Nash
Comfortably Numb
---