When a Polish friend of mine announced David Gilmour's gonna give a concert on the Gdansk shipyard I knew I have to see that show. Made that happen, and this is the story of that spectacular show…
It was an awesomely good mix of new and old stuff, good feel and premier musicianship. The band was in top form after the tour and Gilmour's voice and guitar were flawless. During the first set they played Breathe and Time from Dark Side album and then the David Gilmour – On An Island album in it's entirety, and the second set included other Floyd classics… Shine On You Crazy Diamond, Astronomy Domine, High Hopes, Echoes… The light show was magnificent and Gilmour and the band really made the songs work.
In fact the band had many guys from the latest active Pink Floyd line up: Richard Wright, Jon Carin on keys, Guy Pratt on bass, Gilmour himself of course. Phil Manzanera the ex-Roxy Music played guitar too and Steve DiStanislao was on drums.
DG was the man of the night naturally, on a good relaxed humorous mood, and letting the Stratocaster scream the familiar tunes so well. He also had broadened his instrument selection with OaI, playing alto sax and banjo. His sax sound was surprisingly good as he softly played Red Sky at Night.
Echoes was a monumental almost 30-minute version which gave me the most chills with SOYCD but the gig was just pure greatness from the beginning. Castellorizon / On an Island medley seems to be evolving a real Gilmour classic too which inspired him play a blistering solo.
Dick Parry was the guest star of the night, contributing a fine solo to Shine On. The encores were Wish You Were Here, Great Day For Freedom (which Gilmour honored the solidarity anniversary with) and of course Comfortably Numb…
I was comfy numb myself with the 50,000 other people after the show, having just seen one of my biggest guitar heroes play a full night perfect show in which also Mark Brickman and his team had done a fantastic job with he light show – awesome with all the lasers, spotlights and projections.
All in all it was worth it to get to Poland for the weekend, what a nice country, nice people and nice happening.
Review thanks to Aleksi Manninen
Thanks to Marcin Cieslik
---
Set List
First half: Breathe/Time/Breathe Reprise, Castellorizon, On An Island, The Blue, Red Sky At Night, This Heaven, Then I Close My Eyes, Smile, Take A Breath, A Pocketful Of Stones, Where We Start.
Second half: Shine On You Crazy Diamond, Wot's…The Deal, Astronomy Domine, Fat Old Sun, High Hopes, Echoes.
Encores: Wish You Were Here, A Great Day For Freedom, Comfortably Numb
Thanks to Gazeta.pl
---
Thanks to Juste Urbonaviciute
---
Thanks to Piotr Trumpiel
---
Thanks to Igor Gavrilov
---
Thanks to Hrvoje
---
Thanks to Methos
---
---
PRE SHOW
David has accepted an invitation from Pawel Adamowicz, Major of Gdansk in Poland, to perform a special concert in the Gdansk shipyards on Saturday 26th August. It will mark the 26th anniversary of the founding of Solidarity, and thousands of people are expected to attend the open-air event.
The concert, funded by the City of Gdansk and Solidarity, is set to be an annual event, titled "It Started In Gdansk – The Space Of Freedom". August 26th is a national holiday, celebrating the founding of the Solidarity trade union in 1980; nine years later the Communist Government fell, and Solidarity leader Lech Walesa was elected president of Poland.
Pawel Adamowicz and Lech Walesa said: "On behalf of Fundacja Gdanska and the City of Gdansk we have pleasure to confirm our very strong commitment to David Gilmour performing on August 26th at the Gdansk Shipyard. It is a National holiday and celebration of freedom and democracy in our country. The concert therefore will generate enormous interest with the public and media".
It's apposite for David to be able to visit Poland, since On An Island made it to Number 1 in the charts there and is now certified Platinum. Its memorable 'OAI' orchestral arrangements are by celebrated Polish composer Zbigniew Preisner, so the concert should really be something special
---
Thanks to Marcin Cieslik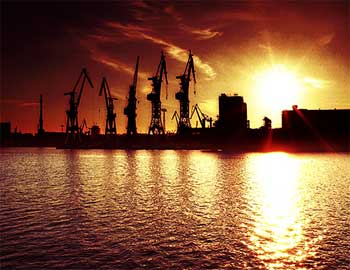 Marc Brickman, Roger Searle and Mike Lowe are checking topography of the shipyard on the map
The above newspaper article says (in part) Mark Brickman (sic) – "We don't want to copy Jean Micheal Jarre ideas. (Who appeared there last year) Maybe,we can put the stage on a ship…? "We expected a more industrial area" – said a disappointed Mark Brickman (sic)
Thanks to Martin from Gdynia for assistance.
---