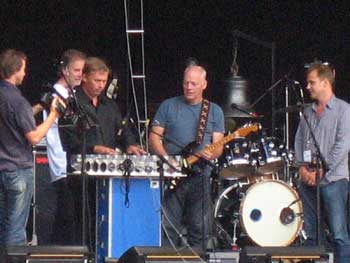 All show pictures thanks to Stefano Tarquini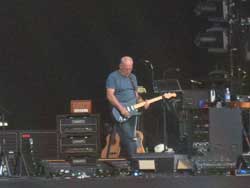 People say: "Sometimes …they return". Never as now has that saying made more sense.
David Gilmour has come back in Venice, and given us an ENTIRE HOUR of soundcheck!
In the soundcheck the band played even "CRAZY" (Gnarls Barkley Version) David said at the end of the piece: "…This is fun….".
Then a wonderful show, in keeping with his reputation.
An astonishing second part, featuring "On The Turning Away" as surprise (even if he forgot the words….!).
As in a few previous shows, the intro of Shine On featured the wine glasses introduction.
A fabulous "Astronomy Dominè", two great solos in "Fat Old Sun" and "Echoes", where David duets with Rick.
The show closed with the most frightening "Comfortably Numb" that I have ever heard. Just before the song started, somebody shouted out "…One of These Days…." and David replyed: "…Yes, …one of these days…."
David complimented Phil Manzanera in the final applause.
Thanks to Stefano Tarquini
---
Yes he played On The Turning Away – which I think was a surprise for all the band members as well. Especially for Rick who wasn't there for soundcheck!! During the soundcheck they played a very different version of On The Turning Away.
The band had a lot of fun during the concert! Rick and Jon Carin laughed a lot together and the others as well.
I must say that the audience was a bit low. After echoes most people didn't applaude, as far as I could tell. When I saw David earlier this year in Milan the audience was much better!! There was more enthusiasm in Clam and Munich for sure!
Thanks to Werner from Pulse & Spirit
---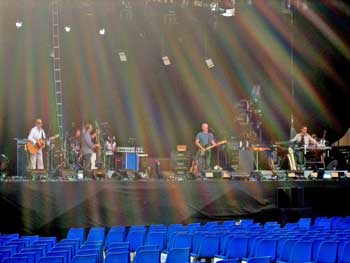 I just came back from Venice! What a night! Piazza San Marco was an outstanding setting indeed. Weather was perfect. A few menacing clouds for a while brooded over the stage but soon they were gone.
Concert started at 9PM with Breathe/Time/breathe reprise. Sound was excellent from the very beginning. I was afraid they'd have to keep it quiet due to the location, but it was nice and loud.
David improvised most of the solos, even the lapsteel on breathe. He's definitely trying not to stick to the recorded solos that much, sometimes he can get a little dirty here and there, but that's what live music is about.
What amazed me was was his voice. Nice and clear. He may have hit some harsh notes later on, but his vocals were excellent.
His guitar at the beginning of Time was thunderous and huge, I could see he kept fiddling with his pedals for a while, probably for delay settings.
After the dark side set, he greeted the audience in italian "Buonasera … Finalmente!" "Now we're going to play our latest release called on an island.. especially fitting since we're on an island" … Castellorizon, On an Island.. The Blue (his whammy pedal didn't work!! and had to play it straight until a technician came on stage and fixed it) …
Red Sky at night. Excellent sax playing. I was amazed.
This Heaven… Then I Close My Eyes… i think this was the most touching moment on the first half of the show. David played banjo! Lap steels.. Dick Parry was cheered with a great applause. He then introduced the band… Richard was introduced as Riccardo Giusto!! Smile, Take A Breath, A Pocketful Of Stones (excellent version), Where We Start.
20 min intermission.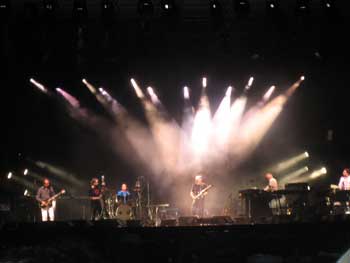 David picked up his red stratocaster and addressed the crowd saying "Vogliamo suonare shine on you crazy diamond, c'é bisogno di un po' di silenzio… we invited a street artist playing glass harmonica on the the stage with us tonight. " Excellent.. Unfortunately, some people kept yelling "David David" and disturbed the performance… this moment really required silence. Anyways…
Next… !!!!!!!! ! !! ! ! ! ! !! ! !! !!! ! Neptune…. Oberon .. Titaniaa….. Astronomz Domine!!!!! Green laser beams behind David playing the white telecaster.
"That was written by our old friend Syd, who died recently… " "now another old tune . What's the deal"… beautiful and fresh. .. Fat old sun!!!!! Wow… he played the final solo with the telecaster.
And now the surprise for he evening.. he reminded the audience that the concert was for Emergency and thanked Gino Strada for his work… On the turning away was next. David forgot the lyrics!!!! The performance was a bit sloppy but he saved it with he solo at the end.
He then approached Rick and asked him something (maybe uhm feel like playing wearing the inside out rick?) Rick just made him sign to carry on .. David then announced High Hopes…
Echoes. Brilliant version. Singing was perfect. The solo was great (even though I still prefer the Pompeii version imho). But the gallopping horses section was the best!!!! David and Richard were astonishing!!! it was a lot longer than usual… The seagulls section was surreal… especially there in Venice… wow…
Wish you were here … with the usual crowd singing.
Someone from the crowd yelled "..One of These Days!!!!…." and David replied: "…Yes, …one of these days….Who knows what's going to happen one of these days!"…
Perfect ending with Comfortably Numb. Huge solo in the end!! What a night.
Thanks to floyd0987
---
Set List
First half: Breathe, Time, Breathe (Reprise), Castellorizon, On An Island, The Blue, Red Sky At Night, This Heaven, Then I Close My Eyes, Smile, Take A Breath, A Pocketful Of Stones, Where We Start.
Second half: Shine On You Crazy Diamond, Astronomy Domine, Wot's… Uh The Deal, Fat Old Sun, On The Turning Away, High Hopes, Echoes.
Encores: Wish You Were Here, Comfortably Numb.
---
Venice Shows Rescheduled. We have received official advice that David's two Venice shows that were cancelled due to a stage collapse (4 & 5 Aug) are now scheduled to take place on 11th & 12th August. Emergency talks between the Mayor of Venice, the local promoter, and David's Management have resulted in a speedy rescheduling of these concerts. Those unable to attend the new shows are able to get refunds from point of purchase. We have also received a number of advices from folk who travelled from Venice from other parts of the world (Mainly USA) and are unable to stay on for the new dates. Our thoughts are with you as you travel home disappointed in not being able to see David.
---
BOTH Venice shows (4 & 5 Aug) have been cancelled. There was a structural defect discovered in the scaffolding, and the shows were deemed to be unsafe to go ahead. Full refunds for both shows are of course available.
---
David Gilmour Live in Venice 04/08/2006
Video of collapsed stage
---
Pictures showing the collapsed area of the stage. (Thanks to Nicola)
---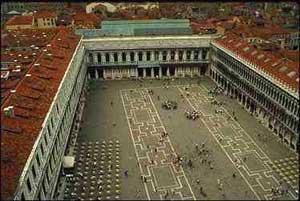 In New York, every tourist has to visit Times Square. In London, Trafalgar Square and Piccadilly Circus vie for the visitor's attention. In Paris, the vacationer is expected to give at least a passing glance to the Place de la Concorde.
The equivalent tourist magnet in Venice is the Piazza San Marco, better known to Anglophones as St. Mark's Square. It differs from its foreign counterparts in two major respects: (1) It's more attractive, and (2) It hasn't been corrupted by the automobile.
---