Just to give you a little background, my wife and I saw David Gilmour in 1984 (the year we got engaged) at the Kabuki Theater in San Francisco. He was touring on his About Face album and had Mick Ralphs with him on back up guitar. We ended up with our elbows on the stage (the good old days), and I proceeded to take a few rolls of film from about 6 feet away. David blew us away and we have been dedicated solo (and Pink Floyd) fans ever since. We almost changed the spelling of our son's name Taylor to "Taylour", as a "Gilmour" tribute. That didn't happen, but Dave's guitar technician has the last name Taylor, so it all works out somehow.
About the show, David Gilmour has such a subtle way of soothing and piercing in almost the same moment. I have listened to the new album at least a dozen times and was a little disappointed at first. I thought; not enough guitar, too mellow. After a thorough listening, I know this is just where David needs to be in his life. I now have these songs burned into my mind and they came alive on Monday night, April 17th at the Paramount.
He is a master of guitar tone, effect and note selection. After he had played about 6 different string instruments and the sax, I thought I would freak out if he pulled out a trombone or harp and started to jam. The band he has on tour is an excellent complement to what David wants to play. They accent him perfectly. Rick Wright on vocals and keyboard, Dick Parry ripping on Sax, Jon Carin on keyboards and slide, and of course the other supporting members.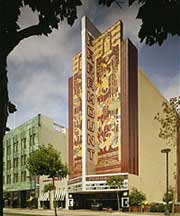 The song selection was a surprise and a treat. I did not expect to hear songs from 5 decades and numerous albums. My wife and I could not believe it when we heard the first notes of Echoes, did I mention we named our Queensland Heeler dog "Echo" (now deceased) after the song? It seemed as though the played the entire album side, it took us back to Pompeii.
Some have suggested there could have been a "better" song selection; I say David performed in true Pink Floyd form, by promoting the new music and rarities, and not relying as much on the old hits. This is what they have always stood for and it is unique in music today. As it was so aptly stated in the opening lyrics of The Wall: "is this not what you expected to see"…
The only regret I have about the show is that it over. I hope to see him again some day. Live on David, keep up the good work.
Thanks to Blaik Musolf
---
FIRST HALF: Breathe/Time/Breathe Reprise, Castellorizon, On An Island, The Blue, Red Sky At Night, This Heaven, Then I Close My Eyes, Smile, Take A Breath, A Pocketful Of Stones, Where We Start.
SECOND HALF: Shine On You Crazy Diamond, Wearing The Inside Out, Fat Old Sun, Arnold Layne, Coming Back To Life, High Hopes, Echoes.
ENCORE: Wish You Were Here, Comfortably Numb.
---