Wowie! It's Bowie!
Yes indeed, David Bowie put in a surprise guest appearance, and you can read all about it here….
The concert kicked off with Breathe and Time before David introduced the full On An Island album.
This time Graham Nash did join David Crosby. And a little later for When I Close My Eyes Robert Wyatt appeared. A nice smooth first half ended.
I caught Jon Carin wondering around in the crowd near the bar area…busy on the phone so didn't say anything to him of course.
The second half began with Shine On with almost no mistakes compared to the Glasgow gig. Crosby and Nash appeared shortly to bring an amazing sounding version of Shine On that you couldn't dream of. Another thing that made it entertaining was Nash trying to dance during Gilmour's solos Worth watching if you can catch the video anywhere.
Of course the legend Dick Parry took care of the sax. A little change to the set list as David brought back Wearing The Inside Out. The Division Bell songs didn't end there….Coming Back To Life was stunning and recieved a great response from the crowd.
I thought the sound in general throughout the concert came out quite clean and powerful. Coming Back To Life seem to take me back to the very first time I heard Floyd so of course a nice moment there for me. High Hopes followed and then the wonderful moment fo hearing those "pings" ….oh yeah !!!! It was back to outer space for me like it was in Glasgow…and once again the light show didn't disappoint
So it ended there….for a minute….and Wish You Were Here began…. to which the crowd all joined in as they do….Crosy and Nash came on again for the last time to sing theor won song…..To Find The Cost of Freedom ……..so it was really time for another guest…and who would you expect it to be ?…….David Bowie ??? I didn't……but wow…Arnold Layne he sang…..and stayed for one more….the final song of the night…Comfortably Numb…..liked his voice in that one…hadn't heard it sound like that before Of couse the solo never failed to disappoint and as usual the place just let go and it was the climax
I only wish I could stay here for the next few days…as there are more surprises….and I'm sure I will be jealous as I have my predictions of who they will be….but once again it was another fabulous night in Floyd land
Set List Breath/Time/Breath (Rep)/On An Island/Shine On/Wots The Deal/ Wearing The Inside Out/ Coming Back To Life/High Hopes/Echoes/Wish You Were Here/Arnold Layne/Comfortably Numb
Thanks to Andy Gall
Thanks to Vince Cater
---
They opened with Breathe/time/Breathe Reprise and then the OAI stuff, which really comes together live with a vitality and energy that is absent on the record. Clearly, IMO, the album has been massively over-produced. DG was not flawless but it was still a fine rendition, even though his vocals were showing the wear and tear of a long tour.
Second half opened with the pared down SOYCD, which is really starting to grow on me and closed with a full-fat 22min version of Echoes, which was just mind-blowing. Wow, that was worth the wait. Wot's…uh, the deal was just gorgeous (personal fave that one) and the encore included Arnold Layne with David Bowie on guest vocals. Bowie stayed on to sing Roger's part in Comfy Numb. In deference to the presence of cameras the place was heaving with guests. Crosby and Nash were there for vocals and Robert Wyatt was wheeled on to play his trumpet.
Only real downer for me was the absence of Fat Old Sun – I'm still waiting to hear the full on electric version of that one…maybe tomorrow.
Thanks to Andy Saltiel
---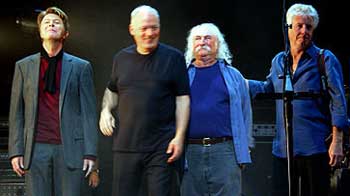 THE Pink Floyd reunion at Live 8 last year was not enough to revive the group. But it has propelled David Gilmour's solo career to new heights and reawakened an Olympian performing ambition in the man now described, with good reason, on the ticket as "The voice and guitar of Pink Floyd". The first half of this show was given over to a performance of his third solo album, On An Island, which this year sailed to the top of the chart in the week of his 60th birthday.
From the opening bars of Castellorizon, the spiritual and musical links to the Floyd legacy were evident, as clanging church bells and assorted sound effects gave way to Gilmour's celestial guitar tone, ringing round the hall like a reveille.
However, left to his own devices, Gilmour tends to hand over the reins to the more mellifluous side of his muse, and songs such as The Blue and his forthcoming single Smile hinged on supremely graceful melodies sketched with a delicate, acoustic touch. David Crosby and Graham Nash, no less, were on hand to sing harmony vocals, while Robert Wyatt arrived to perform his cornet solo on Then I Close My Eyes. The band, which featured Phil Manzanera on guitar, Rick Wright on keyboards and Dick Parry on saxophone, not only played superbly, but also contributed to a gathering sense of occasion as the show moved into the second half.
Like an ocean liner slowly yet inexorably building up momentum, the band now set off with Shine on You Crazy Diamond. Combining a magisterial performance with an air of calm humility, Gilmour measured out his symphonic blues guitar lines with unearthly precision as they negotiated a sequence of less exposed Floyd songs, including Inside Out, Coming Back to Life and High Hopes.
The centrepiece of the show was an epic performance, in full, of Echoes. The lightshow, which was tremendous throughout, went into overdrive. Lasers bounced at crazy angles off mirrors, while strobes placed all around the hall went off like tracer fire.
Meanwhile, dry ice welled up from the floor and billowed down in thick clouds from the ceiling, engulfing the audience in the stalls such that, at one point, only their heads were visible, poking through the mist like a field of alien eggs.
As if such theatrical and musical splendour were not enough, David Bowie then arrived to perform an encore of Arnold Layne and to share the vocal with Gilmour on Comfortably Numb, bringing the curtain down on a show that not only echoed, but surely rivalled, the glories of Pink Floyd themselves.
Thanks to David Sinclair
Thanks to Bibi
---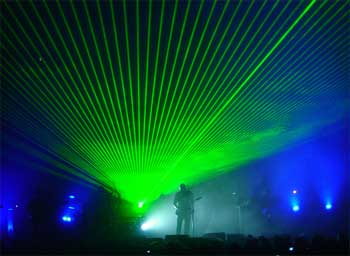 Thanks to Stephen S.