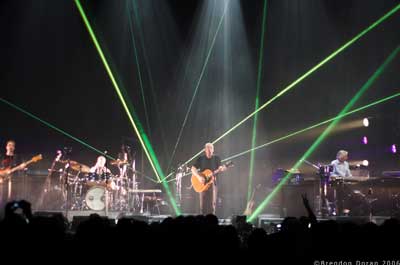 Show pictures thanks to Brendon Doran & Mark Reed
Pink Floyd (Read on)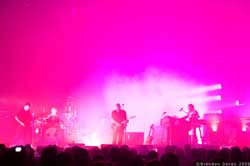 The voice and guitar of Pink Floyd, David Gilmour, wowed a capacity crowd at the Albert Hall in an unprecedented epic performance spanning three and a half hours. The triumphant climax of his world tour saw his band (featuring several members of Pink Floyd's most recent touring lineup) demonstrate clearly that age and a rich back catalogue are no obstacles to remaining creatively vibrant or contemporary.
Despite the retrospective second half, consisting of over an hour and a half of Pink Floyd classics, this is no Rolling Stones nostalgic revue – rather a chance to revisit a side of Pink Floyd that has been unfortunately dormant since the band took to stadia the world over in the mid Seventies : a band that inhabited small rooms and performed long and freeform variants, a type of jazz-inflected rock that is both fluid and fixed. A band that was able to see the whites of the eyes of the crowd, and to interact intimately with it's constituency instead of behind an enormous wall.
Firstly, tonights performance proved that the band – be they called David Gilmour, or Pink Floyd – do not need the accountrements of stadium rock. Flying Pigs, flaming beds, crashing airplanes, rotating mirror balls and massive video screens are merely window dressing : the opening trio of songs taken from "Dark Side Of The Moon", performed merely as a band and some lights, were as compelling as any stadium rock moment.
Whilst the set occasionally lacks the concert dynamic – for example, after the opening trio of songs, the band walk off stage whilst a tape plays for several minutes – the band perform with passion and aplomb. Backed with Guy Pratt (Pink Floyd bassist since 1987), Jon Carin (who can seemingly play any instrument capable making of a noise, and having been part of Pink Floyd since 1987), Phil Manzenera (on loan from Roxy Music), and Steve Di Stanislaw, borrowed from Crosby and Nash's band (with David ruefully suggests, "They'll want him back at some point) provide a solid and excellent backing band for David and his partner-in-musical-crime, Pink Floyd keyboardist Rick Wright. Guest appearances by Crosby and Nash on several songs, Pink Floyd saxophonist Dick Parry, and Mica Paris further bolstered the lineup into a night to remember and be captured on film for posterity – and the Christmas DVD market.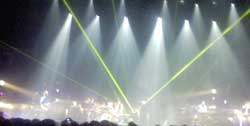 Songs from his highly successful solo record "On An Island" sit comfortably with the surroundings. Whilst on record, the songs sometimes appear detached, in the flesh, they have been liberated, set free, and the concert versions improve dramatically upon the album. "Take A Breath", a fluid and open rocker that recalls the Floyd's rockiest album ('Animals') unravels to it's full potential in a concert setting, as indeed does almost all of the new material.
Touched with themes of mortality and love, the mournful playing of Gilmour's tasteful solos – where it's as much what you don't say as what you do that matters – casts an air of mastery. Gilmour doesn't need to show off with his ability , and – combined with the minimal presentation prove that often Less is More.
It's only in the last half hour of the entire evening when the gloves are taken off. As "Echoes" builds to a crescendo, the hall is bathed in a glorious cacophony of tribal drumming, people all around me ar elost in their own silent reverie, and all of a sudden, like a revelation, lasers are everywhere, and it's an instant timewarp back to the Pink Floyd live album of 1988. It looks as if the mothership is landing in front of your eyes.
That despite what promoters and Harvey Goldmsith might think, Pink Floyd aren't about the names of the people on stage, or even the songs, but Pink Floyd is a state of mind. Though – and we should never mistake this – whilst this is as near to Pink Floyd as you can get, it isn't by definition, Pink Floyd.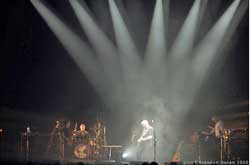 But close your eyes, and it could be 1971 again. The spirit of the music is 100%, undoubtedly there. The long, improvisational takes upon "Fat Old Sun" (a worthy equal to any of the bands legendary jams of the 70's), and the aforementioned, stunning "Echoes" leave me in no doubt that this is as good as it gets. Steve pounds the drums as if he's lived the song. There are really no words to describe this : music that transports you, that explores, and yet, never, never, loses you.
The evening had it's drawbacks. The odd, overenthusiastic person yelling the songs out of tune and out of time in your ear – one person even was loudly vocalising his own version of a piano solo behind me. The moments during the quiet songs where the same dunderhead screams "WE LOVE YOU DAVE!" (and it's never 'Dave', only ever 'David'). The people behind you asking you to slouch because they can't be bothered to sit up straight – and normally doing so right in the quiest parts of the songs. And a stream of constant latecomers who failed to realise that when it says on your ticket "STARTS 8.30", that's exactly what it means : "The Great Gig In The Sky" was spoilt by two people arriving at around 10.20pm and dancing and waving their way through the seated rows to the visible annoyance of most of the crowd.
And the performance was by no means perfect : the acoustics for the opening handful of songs was fairly poor, and Gilmours voice was showing signs of three nights of three hour shows in a row. Mica Paris, guest vocalist on "The Great Gig In The Sky" seems to have forgotten the melody to the original and improvised her own, less effective tune on the spot. But these are mere technicalities. No matter what they were playing, be it the first Pink Floyd single "Arnold Layne", or the last "High Hopes", or a cover of Syd Barrett's "Dominoes", the band were fluid, tight, and as much a joy to watch as it seems it is to be in.
But at times the band seemed to achieve that rarest of things – the state of levitation and telepathy that can see a song turn and change character purely at a shared glance – and also bristling with a kind of enthusiasm and ability that is not befitting sixty year old elder statesmen of rock.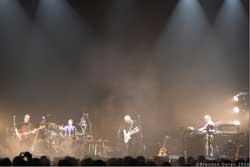 In an evening of highlights, it's difficult to pinpoint a crowning glory. Perhaps then, the most obvious would be the encore where the band were joined by Pink Floyd drummer Nick Mason, reuniting the final Pink Floyd lineup on stage for the first time in twelve years. Grown men with tears in their eyes in some form of stunned rapture as this band lived and breathed again for a few brief minutes. In front of the smallest public audience Pink Floyd have officially performed in front of since I was born, they gave us "Wish You Were Here", and a final, beautiful "Comfortably Numb".
And with that, maybe they were gone for ever. What no amount of money, no amount of American promoters blank chequebooks can tempt, 5,220 people from across the world packed into a room in West London witness something no money could buy.
I've seen Pink Floyd twice. And that's something I never thought I could ever say
Thanks Mark Reed
---
OK, I went to all 3 of the shows and I think last nights was probably David's worst performance of the lot. This is not to say it was a bad show as it wasn't, he just made more mistakes in this one than the others, which for him is quite unexpected.
He flubbed his lines a bit and was playing a few bum notes but then did some clever solos to make up for the mistakes. Plus you could tell the tour had taken its toll as his voice was completely strained throughout the second half. I was up by Rick and Jon and they were sharing glances occasionally when he fluffed up.
Mica's GGITS was as bizarre as the previous night – perhaps David asked her to do a new version and not to imitate Clare Torry, who know. Because she wasn't changing notes that much you could see Jon and Rick looking concerned how they were going to end it as she didnt switch notes at the end but it was a good enough performance.
Ricks wrong key on CN was pretty bad – it sounded like he started out in the wrong key then decided to keep with it, which kind of ruined the finale for me.
The lights were great but the smoke machine was sometimes so powerful that many times during the show poor Stevie was completely obscured and must have been drumming in a fog. Othertimes you couldnt see any of them which kind of defeated the purpose of the show. I was in the Stalls quite close to the stage and couldnt see them so I'm not sure how the people above and behind me must have felt.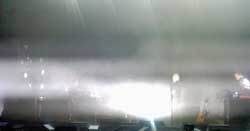 However, it was not all bad. This tour has just proved beyond a doubt what a genius Jon Carin is – he was amazing. Phil and Guy were good but without upstaging David which is all any lead singer/guitarist can ask really. Stevie was really impressive and will no doubt become a David regular. Rick was good but I was slightly disappointed how little used he was at times, whether this was his choice or David's we 'll never know. It was nice to hear him sing but he can't imitate Roger – he's not aggressive enough. Next time, bring on a special guest.
As for David, well the guy can still play, there is definitely no question of that, but I got the feeling that those "fat little fingers" )as he calls them) may not be as deft as they once were and that time is starting to creep up on him. (I saw the same thing with Eric Clapton last week)
Plus the memory was slipping, even regarding the lyrics to his own songs. Maybe he was having an off-night, or was just tired after the tour, but to his credit he tried to pull it back when he or any of the others mucked up, and for that we still love him.
For me the real highlight of last night was Nick. The audience went wild when he came on and comparing him to Stevie D, it totally showed the lightness of touch and subtlety that Nick brings to the songs. Dont get me wrong, Stevie is amazing but Nicks drumming is always a lot quieter and that allows the beauty of the songs to shine through. I forgot how good he is, and it was so nice to see him behind a drum kit again. I think even David couldnt believe how much the crowd loved him – Nick's ovation entrance got a bigger ovation than David's finale at the end. It was nice to see them share a smile and hug – and really nice when David went and played right by him. It looks like they are still friends.
Its a shame there was no Roger, although in a way, I'm glad. as I would have wanted him to turn up and be part of a perfect show, and this was not that show. The audience must have thought so too as there were a lot less standing ovations than on Monday and Tuesday.
Overall, Monday was amazing and was the best show to have seen (Bowie's appearance the icing on the cake), with Tues and Wed in joint second place.
Thanks to vickyc007
---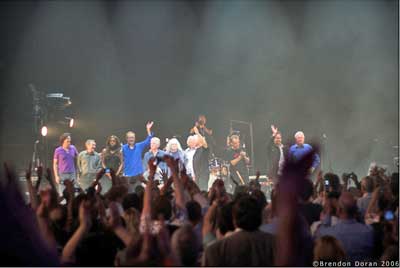 Sans Waters, of course, but legally it was Pink Floyd on stage tonight at the Albert Hall. Gilmour, Wright & Mason, for 2 songs only. Wish You Were Here & an awesome Comfortably Numb. It wasn't a total surprise, as it has been known for several months that Mason had booked a box for tonight's concert.
The whole show was just incredible, though. I arrived just as they opened the doors, and while waiting to be let into the main outside the auditorium, I could hear them soundchecking Breathe & one or two others. The show was nearly 3 solid hours of music. Crosby & Nash, & Robert Wyatt made guest appearances to reprise their parts on On An Island, and Crosby & Nash harmonised on Shine On You Crazy Diamond at the beginning of the 2nd set.
The fact that I had crappy obscured view seats high up to the side meant I didn't see any of Wright all night, but that didn't spoil the show. I was level with the huge bank of speakers suspended just in front of the stage, so the sound luckily was very very good. I was already hyper for this gig and when the the train passed Battersea Power Station on the way Victoria Rail staion, my pulse (no pun intended ) almost went through the roof!
The only downer of the night were the arsehole gits who insist on coming & going past me during the gig. I mean, how hard is it to get to your seat in time for an 8:30 start, for pete's sake? Worse still were the even bigger morons who insist on talking all the way through the gig, yes, even the quieter parts of Echoes weren't sacred from those shaven headed, no neck, knuckle dragging fools.
The whole thing was being recorded for a dvd to be released later this year.
Thanks Dave
---
I'll be amazed if they put Nick's Comfortably Numb on the DVD, Rick absolutely butchered the lyrics, the second verse he just literally sang it for laughs, and got them! Jon, Guy and Phil couldn't stop laughing, it was really bizarre.
I'm not 100% sure but I think the set list was the same as last night but with Dominoes added.
Mica Paris did GGITS again.
David was a lot more chatty tonight, told a story of how him and Rick "and two other guys" set off some device the last time they played the albert hall in the sixties , and subsequently "got banned for life!".
Thanks James
---
Yeah David did try harder tonight to make a connection with the audience. I was a little let down by the non-standing ovation for Rick in the first set, which we gave him on Monday.
I was too giddy with excitement to pick holes in comfortably numb, but suffice to say david nailed it like only he can IMHO
Thanks breathe_86
---
The actual set list personally used by David Gilmour. Contributed by Mark Reed