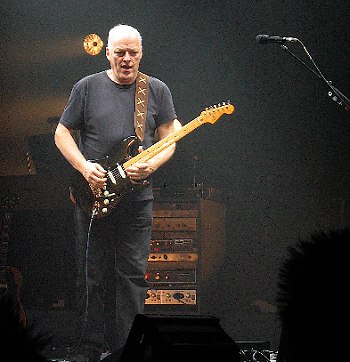 On Saturday (March 18th), I drove to Cologne to see Mason in the Mayersche Buchhandlung. He talked about his book and the history of Pink Floyd. Unfortunately was the volume so low, that you couldn't hear all questions and answers. Afterwards he signed all kinds of things for the audience. For me, he signed the german version of "Inside Out" and a few CD cover (when he came to "White Of The Eye", he stopped, turned around the booklet, looked again at the front cover and then signed this b**tleg without a word – at least I could see his perplexity in his face!). I talked with him for a short time – he was really nice and complaisant. This was quite fantastic!
After this, I drove to Frankfurt to see the other members of Pink Floyd (Gilmour and Wright) in concert. The 'Alte Oper' is a nice and genuine ambiente for Gilmour's more quiet music.
At first a few statistics! Here's the setlist:
Start: 8:01 pm
Castellorizon
On An Island
The Blue
Red Sky At Night
This Heaven
Then I Close My Eyes
Smile
Take A Breath
A Pocketful Of Stones
Where We Start
******************
Shine On You Crazy Diamond (I – V)
Wot's … Uh The Deal
Wearing The Inside Out
Fat Old Sun
Speak To me (as a short Intro)
Breathe
Time
Breathe Reprise
High Hopes
Echoes
**********
Wish You Were Here
Comfortably Numb
End: 10:55 pm
All in all a not-to-be-missed concert with more or less quiet pieces throughout the show (especially in the first half). The new songs from "On An Island" are by far better live than the studio versions. They have now more energy than these too relaxed versions on the album.
Having said this, it became clear, that the audience (including me) loved better the second part and the encore of the show. A good mix between older and newer songs and some songs aside the normal Pink Floyd live set ("Wot's … Uh The Deal", "Wearing The Inside Out" and of course "Fat Old Sun" – no "Dominoes").
I appreciated especially the complete "Echoes" and of course the perfect end of a concert "Comfortably Numb". An interesting version of "Shine On" started Part 2 of the show, with an guitar intro and an almost "unplugged" vocal part.
"Take A Breath" had to be restarted because Gilmour's guitar was out of tune. The same occured to "Wot's … Uh The Deal", where Gilmour begann the song with the wrong lyrics. He also had problems with the lyrics for some seconds during "Echoes".
I can only recommend this show to every fan – you won't be disappointed, even if you don't like the new songs very much. Gilmour was in a good mood and he seemed to feel comfortable with this "smaller" gig. And in his background was a perfect band, including Rick Wright on keyboards and Phil Manzanera on guitar. Rick proved once again, that he had an enormous influence on the Pink Floyd sound in the 60s and 70s. But he's still underrated. Guy Pratt had a good time on stage, laughing all the time with the audience and making some jokes.
On Sunday (March 19th), I drove together with a friend to Mainz to see and hear Mason and Frank Laufenberg talking at SWR (german broadcasting coorporation). Luckily, I won 2 tickets for this event and I didn't want to let go this chance to meet again this older english gentleman the second time within 24 hours. In comparison to Cologne this was a very profund interview with interesting questions. He said, that he might play a few more gigs with Roger this summer (besides Magny-Cours on July 14th), but this is not fixed yet. Again, Mason signed a lot of books and records and took the time to be photographed with his fans.
This was in any case an unforgettable weekend!
Review thanks to Hans-Juergen Muller
---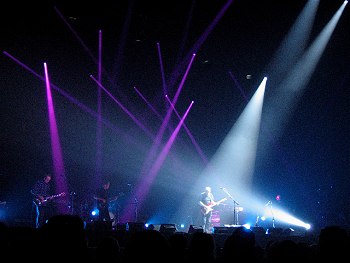 19.45 hours
Right now we are sitting in the HMH (Heineken Music Hall) and waiting for the show to begin. About 15 more minutes. I didn't take a camera with me, since I was afraid they didn't allow cameras inside the HMH. So there are no pictures to share from me this time.
Nearly 20.00 hours
It's my first time I'm in the HMH and it looks like a good place for live gigs.
My girlfriend and I are a bit nervous. How long until the show begins she asks?
I checked again and before I could answer her, the lights dim and the first sounds of Castellorizon are filling the HMH.
21.00 hours
First part is over.
As expected David played the complete OAI.
Many people are jumping up and head towards the bar for a drink.
I remain in my seat and try to order all the music impressions of the first part of the show. No guest appearance so far. Let's wait and see what the second part will bring.
21.15 hours
Again the lights are dimmed and the next tune we all know very well:
Shine On You Crazy Diamond.
Some belated returning visitors spoil our view and they even don't bother to apologize for their behaviour.
Somewhere between 22.30 and 23.00 hours (I lost track of the time)
What can I say more….
Absolutely wonderful
The set list was nearly the same as in Hamburg.
Instead of Fat Old Sun, they played Dominoes.
No special guest this time.
What are my thoughts of the show?
I've mixed feelings. OAI is a superb album. No doubt about that.
I have come to the conclusion that the Heineken Music Hall is way too big
for such an intimate record. The distance between the audience and the band is not right. The essential contact, the emotion is lost (we were sitting on the balcony) .
Also, David was certainly not at his best,
I've seen him play much better at other occasions.
He had, from time to time, problems with finding the right (high) tone, both for the vocal parts as with playing high tones on the guitar.
During the OAI part, there was nearly no FX used on his voice, which
made it an very honest performance, but each little mistake, you are able
to hear (an echo or reverb can mask these errors).
Echoes is the absolute highlight of the show.
Many people were completely stunned, but I wasn't.
I'm asking myself what did I miss (no goose skin).
I would like to do it all over again, but now sitting in one of the front row chairs.
Don't get me wrong. The gig was great. I wouldn't want to have missed it.
I only have second thoughts about listening OAI live in a venue which size is too large.
Perhaps I need to see him again in the Royal Albert Hall.
Thanks to Jens
---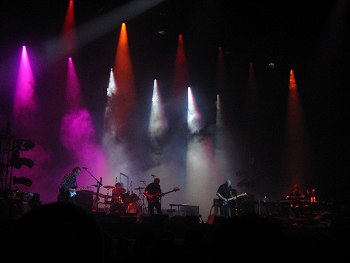 A group of us travelled from Liverpool on a pilgrimage to the Heineken Music Hall on March 19th to see our hero. The interminable journey was well worth it, David lived up to and exceeded all our hopes and expectations.
As stated in an earlier review, the initial welcome was muted, to the point where I wondered if it was actually Him on stage! All of us from Liverpool did our best, in the middle of the muted Dutch, to provide some noise, and they caught on in the end!!!
The harmonies in 'on an island' were beautiful, the whole first half a lovely introduction and build up. For me, though, the whole show came to life with the first few notes of 'shine on', just fantastic!
'Echoes' was my personal favourite of the night, every note seemed to reverberate around the hall, the best thing I've ever seen! Unfortunately, I lost my tour programme during an after show wander around the 'red light' district, so if anyone would be willing to sell me a spare copy, I would be extremely grateful; it was the only souvenir I had, apart from ticket stubs!
Now looking forward to Roger's concert in Hyde Park this summer, what a year!
Thanks to Siobhan Tallon
---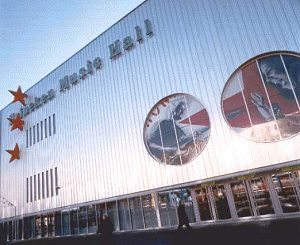 Megavenue with a capacity of over 5000 and acoustics engineered especially for live amplified music. Situated near the Arena stadium in Amsterdam South-East. Ideally suited for medium-size acts, and of course 'intimate' performances by big names. About the only thing in favour of its location is the excellent accessibility by public transport, and the parking facilities.
---