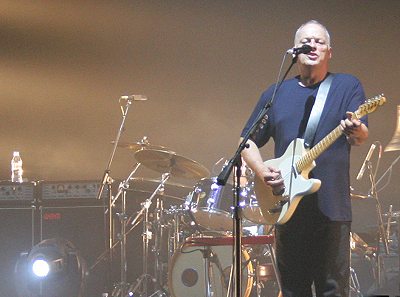 Show pictures thanks to Phil Van Dijk
It was a tremendous gig last night at the Bridgewater Hall.
The venue itself is pretty impressive and creates a nice informal, modern atmosphere inside, with some excellent acoustics.
The first half of the show was taken up with the new Album (On an Island) as expected, but before we heard the new album in its entirety we were treated to the tapes and backgrounds of Speak To Me which preceded a wonderful rendition of Breathe, Time and Breathe Reprise.
The new songs were played with a lot of feeling and the lighting effects which add to the show, give the music an even more mellow and contrasting appeal. One thing the Floyd lighting buffs have always managed to achieve is a very subtle way of sucking you into the whole experience of seeing a Floyd / Floyd related show with incredible ease.
Second half was every bit a spectacle starting with the wonderful Shine On and delivered in a way which updated it whilst still keeping its sense of soul and emptiness at having lost a great friend i.e. Syd's departure from the Band all those years ago.
As they say A Lost Friendship is no great freedom.
We then got a number not played live before (as far as I am aware) Wearing the Inside Out which was a nice surprise even if it is not one of the strongest songs on The Division Bell album.
An old favorite of mine next Fat Old Sun (just like myself) which gave us a wonderful acoustic guitar reminiscent of the original before he treated us to a great solo off his red strat (he played nine separate instruments throughout the course of the evening – one of them a sax in the first half on a track called Red Sky at Night.
We then got Arnold Layne played and delivered in its original form which was quite spooky to hear after nearly 40 years.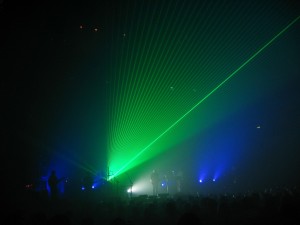 A few more classics followed off the Division Bell titled Coming Back to Life and High Hopes and then the finale which was Echoes which totally blew me away. It's one of my favorite Floyd tracks and was the reason I first started to listen to Floyd all those years back. The lighting effects are pretty incredible although I must say the use of the strobes at times appeared incessant and could distract you from looking at the stage as they started to get a little painful on the eyes to some degree. The addition of the lasers in particular slots i.e. just before the last verse heightened the impact even more and created a incredible dynamic feel which bombarded the senses and left one reeling.
The tape effects at the end of this track seemed to last an eternity and gave the band an excellent chance to disappear from the stage without being seen and without even as much as a thank you, kiss my butt, or anything. Something else the old Floyd was very good at doing – adding a little frustration to their shows.
The encores followed WYWH which was a little out of time at the start (we let him off he's knocking on a bit now – just like me).
This was followed by a track called Find the Cost of Freedom which was sung with David Crosby and Graham Nash – a very short track with no musical instruments other than pure vocal which was excellent to hear.
Last but not least came Comfortably Numb – this was indeed another classic rendition but it's very frustrating to have a light shining at the back of Dave so he just appears as a silhouette on stage and you cannot actually see him picking the notes.
A great show and a great night……. Wished I was seeing him again but alas it's not to be – not without paying silly eBay prices for tickets anyway.
"Shine On" Dave – especially if we don't get to see you again in the not to distant future.
Thanks to AFG's Dave M
---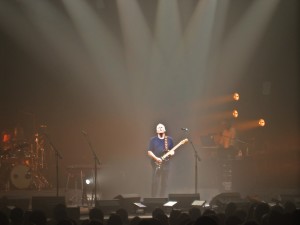 Like everybody else you cannot complain about the music that David chose to play on the setlist, and the stand out song was the excellent version of echoes.
I have had the pleasure in hearing it live before in bygone days but this truly was my highlight of the evening, along with as always comfortably numb although a longer version would have been even better.
My only downside of the concert was the venue, I do not think it was suitable for this type of concert I may be wrong and I am still at a loss to think what was missing but the crowd did not make it to what it should have been, alas I have been spoiled lately with seeing David favorite tribute band a lot, so a little word in the ear of a few of your friends David and 35 miles up the road from Manchester is a venue that I am sure would have made you want to come back again and again.
But I don't think this will happen but as we all know pigs can fly (live8)!
Thanks to Ken
---
Set One
Breathe/Time/Breathe (Reprise)
Castellorizon
On An Island (with Crosby and Nash)
The Blue (with Crosby and Nash)
Red Sky At Night
This Heaven
Then I Close My Eyes
Smile
Take A Breath
A Pocketful Of Stones
Where We Start
Set Two
Shine On You Crazy Diamond (with Crosby and Nash)
Wearing The Inside Out
Fat Old Sun
Arnold Layne
Coming Back To Life
High Hopes
Echoes
Encores
Wish You Were Here
Find The Cost Of Freedom (with Crosby and Nash)
Comfortably Numb
---