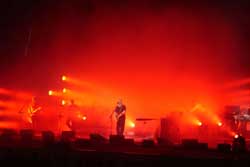 Well how to start… as you know, the Auditorium is a stunning place even if the sound is not perfect and even if it wasn't made for rock concerts, but the atmosphere is absolutely amazing!
The concert started at 9.00pm, and as you can see from the set list above, is a little bit different from the show in Milan where David played "Coming Back To Life" instead of "Dominoes" on the second show. David and his band went out on stage with a blue smoke all around and the sound of "on an island"; when he first took his guitar the audience realised it was all real!
After the first song David gave a greeting in Italian ("buonasera e grazie") and introduced the band. There was a standing ovation for Richard Wright (of course), and for the other members, and I would like to say that I was so happy to see the amazing Dick Parry playing sax, and the talented Jon Carin singing with David.
i have to say that there was no imperfection in the first half of the show, the band was fantastic and David was great singing at his best, the sound was good and the lights amazing.
The second half opened with "Shine On" (a great emotion); then they played "Wearing The Inside Out", "Dominoes" (when David mentioned Syd Barrett there was an ovation) and "Fat Old Sun" (acoustic guitar…amazing!).
On "Breathe" David missed the first word (breathe) due to a technical problem and he turned to Guy Pratt. They both were smiling, but the execution was great, and so it was for "Time" and "High Hopes". Then there was a surprise for all of us, when they played "Echoes"…
The show closed with "Wish You Were Here" and "Comfortably Numb" with a great Richard Wright vocal. The band stayed on stage for 2 or 3 minutes to thank the audience. It was a great show, technically perfect and very very emotional.
Thanks to Carolina Lamarca
---
All pictures thanks to Bibi
---
FIRST HALF:
Castellorizon, On An Island, The Blue, Red Sky At Night, This Heaven, Then I Close My Eyes, Take A Breath, Smile, A Pocketful Of Stones, Where We Start.
SECOND HALF:
Shine On You Crazy Diamond (parts 1-5), Wearing The Inside Out, Dominoes, Fat Old Sun, Breathe/Time/Breathe reprise, High Hopes, Echoes. ENCORE: Wish You Were Here, Comfortably Numb.