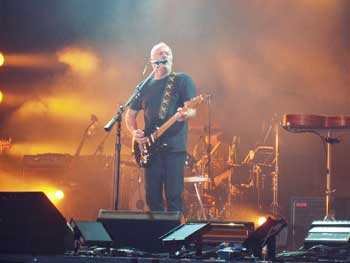 There was a soundcheck held at 5pm and delighted fans who were there, were allowed in to enjoy the run through. David's wife Polly was seen taking lots of photos.
For once, this show was not sold out, and a few tickets were available at face value at the door.
For the third show in a row, the intro to Shine On was played on the wineglasses.
David Gilmour played the mandolin on the intro to 'Then I Close My Eyes'
The audience were treated to an especially long (25 minutes) version of Echoes, half of which was played in the dark due to a black out!
Mike Rutherford (Genesis) was spotted in the audience.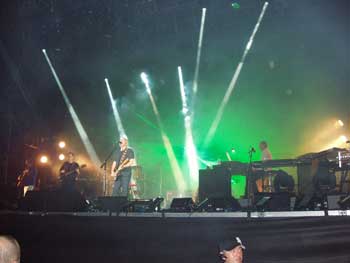 Above images thanks to Enrico Soldatini & his brother!
---
Thanks to Dany e Michela
---
Set List
Set 1: Breathe Time Breathe (Reprise) Castellorizon On An Island The Blue Red Sky At Night This Heaven Then I Close My Eyes Smile Take A Breath A Pocketful Of Stones Where We Start
Set 2: Shine On You Crazy Diamond Astronomy Domine, Fat Old Sun, Wearing The Inside Out, High Hopes, Echoes.
Encores: Wish You Were Here Comfortably Numb
---
Thanks to Dany e Michela
We are indebted to the Italian Floyd Channel for their help.
---