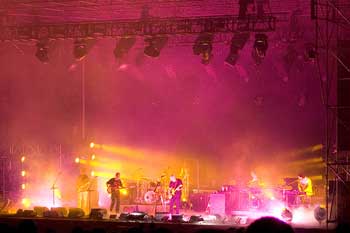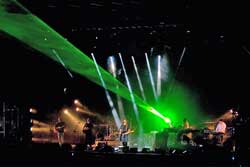 We started our journey at 11.00 AM and arrived to burg Clam at 4 PM.
The parking lot was a pretty long walk from the castle/stage so when we arrived, the band was already doing the soundcheck.
The castle area was unfortunately closed so we only listened to the soundcheck from the outside. The band did a good amount of On an Island (from Castellorizon to Then I Close My Eyes).
Then, the first huge surprise came, with radio chat and pinging… They were rehearsing Astronomy Domine! After that they played only a few random notes (mostly from Shine On) and to my another surprise a good amount of A Great Day For Freedom.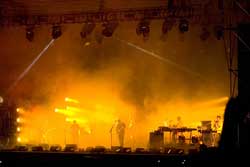 At about 6:30 PM the gates opened. I was thinking that I would pass the security check unnoticed, but the guy who was checking bags for cameras was obviously atracted by my rather huge Loweprobackpack and insisted that he needs to check it.
I froze for a moment and asked him what would happen if I had a camera, and then I slowly opened the Loweprobackpack. The guy saw the rather large equipment and said I can't use it because he would have to take it from me! Later I realized it was a joke, because EVERYBODY had a camera, although almost nobody had the big Single Lens Reflex camera as I did.
So a big stone fell of my heart and I was in a hurry to check out the merchandize. I bought the tour book, a black t-shirt and a badge, so I have some memorabilia of this fantastic event as well.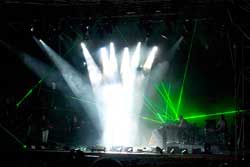 About a week ago, we heard that one of the famous Slovak moderator with her boyfriend, who happens to be the "Slovak idol" finalist (she moderated the show BTW) will also be present on the show so we were somewhat looking for them all day. As I was buying the t-shirt at t-shirt shack, I saw her on the other end of the crowd 😀 . Later, I saw the singer as well.
We parked ourelves just in front of the soundboard. My friend was joking a bit and asked me if Thomas Gottshalk (the famous Austrian singer) will come as well. I looked behind me and on the platform above the soundboard was 1 plastic stool. I said he would sit just over there 😀 . The stool was indeed occupied with the famous person, but not Gottshalk. It was occupied by Polly Samson (shocked). She took a picture or two during the show, but was watching most of the time.
They run a smoke test couple of times. During yet another smoke test, the heartbeat started to flow from the speakers. The show started at 8 PM, and the band (obviously in a good mood) kicked off with Breathe/Time/Breathe reprise. I was so thrilled to see and hear Breathe, the sound was rich, but I had a feeling that the speakers were suffering during the whole show.
All previous events were held inside, so I suspect the speaker system was a bit weak for the outdoor event, so they had to run it at full blast and sound was dissorted a bit. David's voice wasn't in perfect shape (a cold perhaps?) but still on a high level.
Time was awesome, both David and Richard put together a great performance with vocals and the guitar solo was brutal.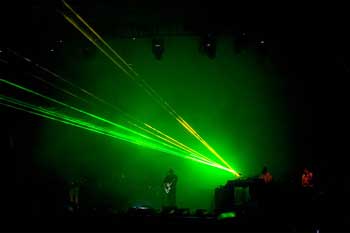 After B/T/BR, David greeted the crowd, speaking German all the time. He was talking rather slowly, perhaps looking for the right words, but he spoke German all the time.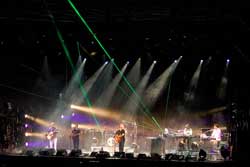 On an Island followed next. It was a standard performance, with a good amount of improvising (especially during On an Island song). It was a bit strange that Jon Carin and Phil Manzanerra did the backing vocals on The Blue instead of Rick.
Then Red Sky at Night came, I was looking forward to see David playing saxophone. RSaN is a rather straight-forward song, so David didn't improvise too much.
Then I Close My Eyes was wonderful, I always thought the studio version was stupid, but after listening to some bootlegs and seeing it live tonight, it's wonderful (partly because there's no Cornet and Robert Wyatt… sorry Robert :P).
During the first verse of A Pocketful of Stones, David made a mistake, singing the last verse instead of first, so that was the proof he's actually a human 😀 .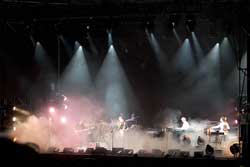 The first set was concluded with the superb version of Take a Breath and Where we Start. I was rather annoyed with my place, because there were lots of tall people in front of me and I didn't have a clear shot on stage. So we moved ourselves to the right side, where the view was superb, but sound not as good as in front of soundboard (obviously).
After 20 minute break, the HUGELY improvised Shine On kicked off the second set. I was pleased that they changed the organs, so it sounded like on PULSE.
After Shine on, they played a few tunes from Astronomy Domine (the first surprise) but then David stopped playing and started band introduction and apologized that he forgot to introduce the band in the first set. Dick Parry was rather surpised when David called him on stage. Then, he introduced Jon Carin, Phil Manzanerra, Guy Pratt, Steve DiStanislao and lastly Mr. Richard Wright, who got a huge applause from the crowd.
Astronomy Domine was played next, with a nice laser show.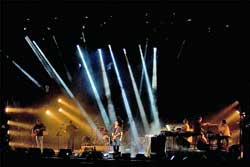 Then, David did Wouldn't You Miss Me "for our old friend Syd Barrett, who died the other week". I was a bit disappointed, because I wanted to see Rick singing Wearing The Inside Out, but AD and WYMM were obviously played for Syd.
Fat Old Sun followed next, with a great solo (but it still didn't beat the solo from Kodak Theatre IMO).
A very good version of Coming Back To Life was played next and I found myself singing all the time, because I like the song very much.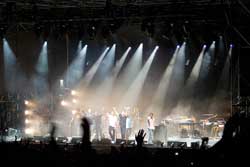 The bell announced my favourite song from The Division Bell – High Hopes. It was a good version, David played pretty long solo on lap steel, but I still think that this song needs huge lightning, huge stage and the backdrop film.
Echoes was played next, David and Rick were on fire during the middle part and the "Seagull" part almost tore my ears off :)).
After Echoes, David thanked the crowd for coming and the band went off stage for a couple of minutes, then they returned to play Wish You Were Here, with yellow lasers, it almost looked like on 94 tour, but on a smaller scale of course.
I was expecting A Great Day For Freedom next, but deeply in my heart I prayed for Marooned since there were no David Crosby and Graham Nash, so they obviously dropped Find The Cost Of Freedom.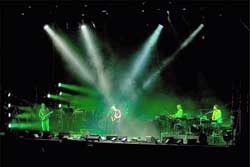 Sadly, David announced that "they have time for one more…. this is… Comfortably Numb" . The crowd went crazy. The band put together a great performance and that concluded the wonderful evening at burg Clam.
We headed towards our car and finally got back home at 3:45 AM. It was indeed a wonderful evening. A dream come true. I didn't have the chance to see Pink Floyd, but this was almost the same.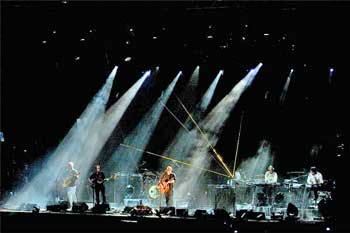 Review & above pictures thanks to our good friend Milan Hutera
---
Set 1: Breathe Time Breathe (Reprise) Castellorizon On An Island The Blue Red Sky At Night This Heaven Then I Close My Eyes Smile Take A Breath A Pocketful Of Stones Where We Start
Set 2: Shine On You Crazy Diamond Astronomy Domine Dark Globe (Syd Barrett) Fat Old Sun Coming Back To Life High Hopes Echoes
Encores: Wish You Were Here
Comfortably Numb
---
Thanks to Fernetti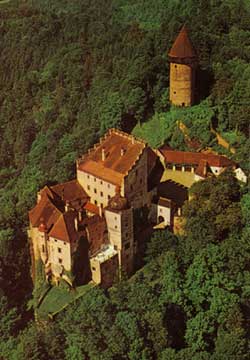 The castle is located in Upper Austria close to the Danube river. Roughly speaking between Vienna and Salzburg. It is only a few minutes from the city of Grein.