Yep, Mister Ron Geesin was in the Hall at L'Olympia on 16th of March 2006.
I didn't see him until the intermission after the first set.
At that moment I was heading to the back of the hall near the entrance of L'Olympia to smoke some cigs… (i know, don't blame me – it's not good… blah.. blah.. blah..) when i met Geneviève on the way out and she told me: "Hey ! regarde qui est derriere ton épaule !" (Hey! look who is behind your shoulder!)
That was Ron Geesin himself, who had a seat just 4 rows behind me…
2nd part of DG show just finished, everyone rush to the exit, and most of us were blocked in the crowd. Ron was too…
At this point I realized it was time to ask him for an autograph. I approached, asking him "Mister Ron Geesin, may I ask you an autograph, please?" Ron quickly look around to see nobody else heard me talking to him … I kindly insist, "An autograph and few words, please!"
Et là … i saw Ron's eyes smiling, he took my pencil and wrote: "
FFFFFEUW
WOOORDS
XX Ron Geesin
2006/03/16
I love British humor 🙂
Thanks again, Mister Ron Geesin!
Thanks to ParanoidEyes
---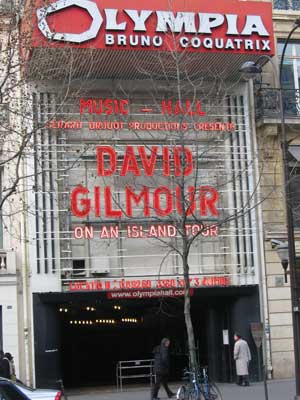 From the back of the Olympia, under the balcony, this time the stage looked like a 2:35 format wide cinema screen, and Phil Manzanera's guitar was audible from the regular mix. But the sound was still clear, the bass was a bit too loud at first but from the second song this was corrected.
After Castellorizon, David announced that there will be some surprises, then some people sang Happy Birthday to him (10 days late…).
We didn't have to wait too long, just one track and then A Great Gig In the Sky was performed with guest solo vocal by Sam Brown. I had wished that she would come back for the latter part of the show but it was her only appearance [She was performing at Jools Holland show the same evening – Matt].
The overall impression about the solo album was a bit better, "Take A Breath" still being my favourite track. And the light show was more easy to look at with this reduced view.
Then the Floyd set.
To begin, a new surprise but this time for David: during his solo part singing SOYCD, the sound went wrong and he stopped. After a minute or two, the problem was fixed, and David performed it again from the start.
Fat Old Sun was performed (instead of Dominoes I think) and tonight David was much more talkative. The rest of the set was identical to the previous night.
I must admit that I enjoyed the Olympia show better than the show at Le Grand Rex.
Thanks JYB
---