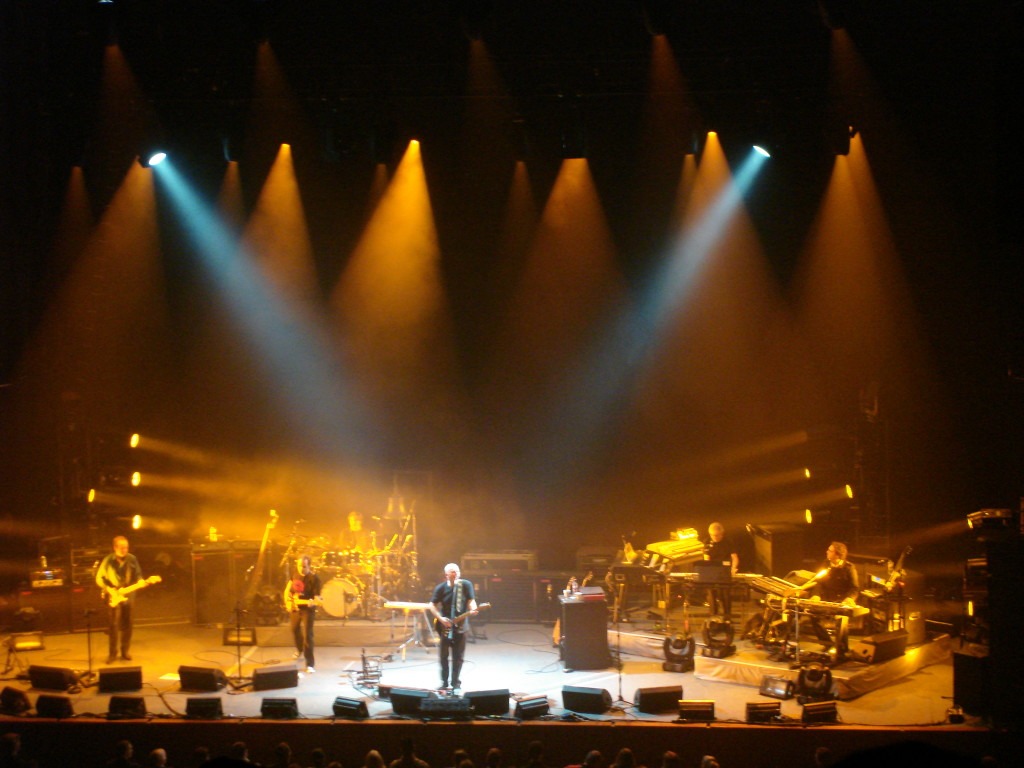 On Saturday (March 18th), I drove to Cologne to see Mason in the Mayersche Buchhandlung. He talked about his book and the history of Pink Floyd. Unfortunately was the volume so low, that you couldn't hear all questions and answers. Afterwards he signed all kinds of things for the audience. For me, he signed the German version of "Inside Out" and a few CD cover (when he came to "White Of The Eye", he stopped, turned around the booklet, looked again at the front cover and then signed this b**tleg without a word – at least I could see his perplexity in his face!). I talked with him for a short time – he was really nice and complaiant. This was quite fantastic!
After this, I drove to Frankfurt to see the other members of Pink Floyd (Gilmour and Wright) in concert. The 'Alte Oper' is a nice and genuine ambiente for Gilmour's more quiet music.
At first a few statistics! Here's the setlist:
Start: 8:01 pm
Castellorizon
On An Island
The Blue
Red Sky At Night
This Heaven
Then I Close My Eyes
Smile
Take A Breath
A Pocketful Of Stones
Where We Start
******************
Shine On You Crazy Diamond (I – V)
Wot's … Uh The Deal
Wearing The Inside Out
Fat Old Sun
Speak To me (as a short Intro)
Breathe
Time
Breathe Reprise
High Hopes
Echoes
**********
Wish You Were Here
Comfortably Numb
End: 10:55 pm
All in all a not-to-be-missed concert with more or less quiet pieces throughout the show (especially in the first half). The new songs from "On An Island" are by far better live than the studio versions. They have now more energy than these too relaxed versions on the album.
Having said this, it became clear, that the audience (including me) loved better the second part and the encore of the show. A good mix between older and newer songs and some songs aside the normal Pink Floyd live set ("Wot's … Uh The Deal", "Wearing The Inside Out" and of course "Fat Old Sun" – no "Dominoes").
I appreciated especially the complete "Echoes" and of course the perfect end of a concert "Comfortably Numb". An interesting version of "Shine On" started Part 2 of the show, with an guitar intro and an almost "unplugged" vocal part.
"Take A Breath" had to be restarted because Gilmour's guitar was out of tune. The same occured to "Wot's … Uh The Deal", where Gilmour begann the song with the wrong lyrics. He also had problems with the lyrics for some seconds during "Echoes".
I can only recommend this show to every fan – you won't be disappointed, even if you don't like the new songs very much. Gilmour was in a good mood and he seemed to feel comfortable with this "smaller" gig. And in his background was a perfect band, including Rick Wright on keyboards and Phil Manzanera on guitar. Rick proved once again, that he had an enormous influence on the Pink Floyd sound in the 60s and 70s. But he's still underrated. Guy Pratt had a good time on stage, laughing all the time with the audience and making some jokes.
On Sunday (March 19th), I drove together with a friend to Mainz to see and hear Mason and Frank Laufenberg talking at SWR (german broadcasting coorporation). Luckily, I won 2 tickets for this event and I didn't want to let go this chance to meet again this older english gentleman the second time within 24 hours. In comparison to Cologne this was a very profund interview with interesting questions. He said, that he might play a few more gigs with Roger this summer (besides Magny-Cours on July 14th), but this is not fixed yet. Again, Mason signed a lot of books and records and took the time to be photographed with his fans.
This was in any case an unforgettable weekend!
Review thanks to Hans-Juergen Muller
---
I just returned from Frankfurt and it was incredible. David was very relaxed, joking around witg the audienece, made some mistakes while playing (must restart Take a breath) but whow-what a show.
I was sitting in the first row, a little bit on the left side and I was able to watch every gesture. I've seen Mark Knopfler last year live on stage. He is a relaxed guitar player, but Gilmour IS a guitar-worker, always fiddling around with is effects and equipment, reaches his pedal guitar in the very last second. Incredible. Richard Wrights voice was a bit weak (but became better during a longer, very old piece). I had the possibilty to get in eye-contact with Dave and he smiled at me while my wife made Richard Wright looking up the ceiling what is so interesting there?
Well show ends, many people stand up and I was right in front of the band and while getting the last applause I received a Drum Stick from Steve DiStanislao AND I asked a roadie and he gave me the stagelist (with instructions) of Phil Manzanera. I will post that as a scan later.
Well sitting in the first row is fantastic but has one little disadvantage. There are ligh effects that are so hot that the lamps still crackle for a long time and you can hear that on the recording. But this is really live.
Review thanks to Torsten
---
I can usually never find a parking space when I need one. Except for when I'm going to something Floyd-related: At Manchester's Maine Road in the eighties I chose a random space and was just about the first car let out after the concert ended. When I saw Roger in Frankfurt in 2002 (my review's on this site), I worked in the nearby high-rise so had a free space underground. And now, my new office lies adjacent to the Alte Oper where David performed, so again, I managed to wangle it. Just as well really, as the opera house's own underground car park was full when I turned up half an hour before the start…
Frankfurt's Alte Oper ("Old opera house") is an impressive building both outside and in. Razed to the ground in the war, restoration was completed in the early eighties. They kept the hall size the same, which isn't very large for a rock concert. Good acoustics though as you'd expect. There were very few peddlers of imitation merchandise outside but I saw quite a few "I need a Ticket" signs. Once inside, notices announced that any audio or vide recording equipment would be confiscated but asked that flash photography be kept to a minimum. I knew I should've brought my camera! The crowd were a mixed bunch, lots of grey beards mingling with middle-aged professionals, some of which had brought their mothers with them.
The hall was fairly intimate but the high ceiling gave a great impression of space. I was sitting three rows from the back – not ideal, but then again I was thankful that I'd got a ticket at all. Consoled myself thinking I'd have a good view of the light show. My seat was up some steps so we were raised slightly and still close enough for a decent view. The show started promptly – this is Germany after all – with David taking the stage for Castellorizon from the new album. They played the album right through, moving Take a Breath a few slots back for some reason, possibly to get the lights warmed up as the constant strobe lighting during that piece was pretty intense. They played well, these guys have obviously been practicing. There were some problems (with David's guitar, I think) at the start of Take a Breath which meant that they and the lights had to start again, but being the consummate professionals that they are, this went off without too much of a hitch.
Next came a "zwanzig Minuten Pause" where I wandered about a bit to buy a program and T-Shirt whilst wondering where David had managed to pick up such respectable German. I ended up at a table with a carafe of red wine and a real wine glass – definitely not your typical rock concert interval. Had to down it pretty quickly though when the gong sounded to call us back.
They went straight into Shine On and it was a nice rendition, much of it worthy of an Unplugged show. When Dick Parry came on, it struck me that together with Dave and Rick, Guy & Jon, I was watching quite a chunk of the PF line-up from over the years. David then introduced the band members, everyone got a big cheer though the biggest was of course reserved for Rick at the end.
Then came (surprise) Wot's Uh… The Deal? David fluffed up the first line ("Someone sent the promised land"), caught himself and started everything again whereupon he sang the same wrong line again but this time carried on. Guy just laughed. But who cares! Who cares that at the end he was also "On the outside looking out!" It was just great to hear it. After handing over the microphone to Rick for Wearing The Inside Out where I found the harmony/background singing hauntingly wonderful, came Fat Old Sun, equally nice to hear one of David's older pieces. Nice almost-album-like renditions of the DSOTM openers led us into High Hopes and then, oh joy – Echoes! Can't convey in writing how watching this actually felt, you just had to be there. Those true PF fans that were will know what I mean.
I find planned encores a questionable feature of concerts – in the old days it was up to the crowd to 'ask' for an encore depending on how good they thought the concert had been, but again, who cares – Wish You Were Here was brilliant and I found myself reluctantly accepting to myself that things were almost at an end. I looked around towards the end of the song and saw that the guy in front of me was sweating profusely. His cheeks were wet. I only realised that he was crying openly when he took off his glasses and wiped his eyes. His wife squeezed his hand and, call me a complete softy, but I suddenly saw the emotional power that a song can have – perhaps he'd lost somebody in his life and David and Co. were literally providing some therapy to this guy.
They ended with Comfortably Numb. What can I say? One of the best songs, probably the best constructed guitar solo ever, played by my favourite guitarist together with a large chunk of my favourite group. Great music, great location, surprises, great experience, laughter and tears… and another free parking place – great!
Review thanks to ET
---