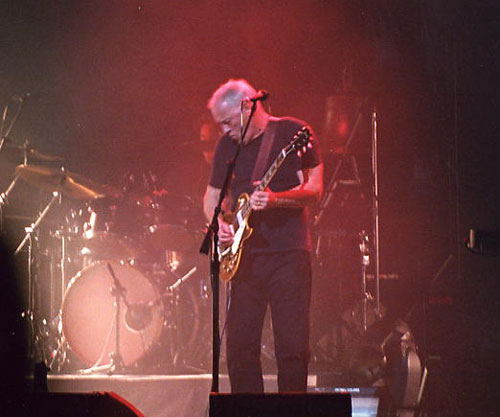 After finally navigating my way to the Teatro Arcimboldi, not exactly in a central location in Milan, my girlfriend and I arrived at the entrance two hours early. Prior to them opening the doors at 8pm, we had a couple beers at the theater café across the square where they were playing tracks from the division bell.
At 8:30pm we went in and found our seats… half way up the parterre by the right side wall, not on the main floor but just below the balcony. We were pleased to meet some friendly Italians from Bologna who spoke "proper" English as Roberto was obviously proud of… The mood was a bit somber compared to the 94'DB tour I was at in Oakland, California or Roger Waters 2002 which I saw in Austria. I didn't catch one wiff of the good stuff and everyone's pupils seemed to be the correct size.
The show started promptly at 9pm to a very welcoming ovation as the backing to Castellorizon started. There seemed to be plenty of people familiar with the new album as I could hear some people singing along and everyone gave a hearty ovation at the end of each song from the 1st set. The only technical glitch was halfway through when David yanked his lead from his guitar by mistake and picked it up off the stage and plugged it back in without missing a chord, prompting another Italian football style roar of applause.
Unfortunately the acoustics for this theater were designed for Opera while the famous La Scala was under renovation so lacked that Umpf of what a rock show should have, and since I was to the side, the sound all came from the left. A far cry from Pink Floyd's quadraphonic sound system. However it was intimate and the view was unobscured.
The 2nd set seemed to have some reworking in the song list from past shows, the encores were played as within the show with no break as probably they needed to be done by midnight sharp, which is exactly when they walked off the stage.
All and all a good show… but I prefered the Waters 2002 general admission style rock show. This seemed to be very similar to the Gilmour Live 2002 DVD with more electric guitar and the tracks from Dark Side.
Thanks Chris Wells
---
All pictures thanks to Luca Milioti