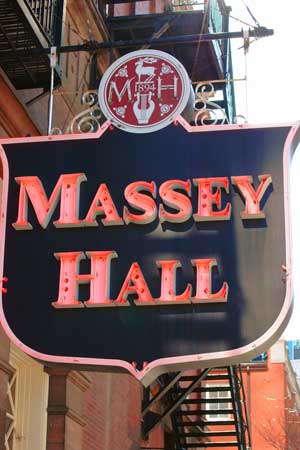 Well. The first concert I ever attended was Pink Floyd at Manchester Free Trade Hall in March 1972. It was an evening frozen in time that has stuck with me ever since. When I heard DG was coming around, AND was bringing RW with him I absolutely had to go. I had also been promising my teenage kids that "If Floyd ever plays again I'll make sure I take you."
Well it may not have been exactly Floyd but it was as close as they're probably ever going to get to seeing them. Massey Hall is a brilliant place to see a show. We were sitting at the very back of the 1st floor balcony but there really isn't a bad seat anywhere in the house. Floyd's music has been the soundtrack to my life (heck I even bought PATGOD in 1967 before he joined the band.) IMHO Gilmour has been the main musical force since Ummagumma. I've seen him play countless times since then and I've never been disappointed.
I had a smile plastered from ear to ear during Echoes because I was sitting in almost exactly the same place I had sat 34 years earlier. If anything, the performance was even better than those halcyon days of yesteryear.
I have absolutely no complaints about this show. The sound was excellent, the lights were WAY better than I anticipated in such a small venue. His playing was just stellar, as was his voice. RW looked like he was having a good time and it was just great to see him really getting into it. Great selection of songs. The new stuff actually sounded better than the album.
At the end of the show my 15 year old daughter said," Wow! That's the best concert EVER!" My son wrote a review of the show for his college newspaper! Looks like real talent can reach across the generations. Thanks David. You made my year.
Thanks to Rob Godwin
---
---
FIRST HALF: Castellorizon, On An Island, The Blue, Red Sky At Night, This Heaven, Then I Close My Eyes, Take A Breath, Smile, A Pocketful Of Stones, Where We Start.
SECOND HALF: Shine On You Crazy Diamond, Wearing The Inside Out, Dominoes, Coming Back To Life, Breathe/Time/Breathe Reprise, High Hopes, Echoes.
ENCORE: Wish You Were Here, Comfortably Numb.
---
Thanks to Dave Roberts. They were taken at both shows from this venue (9 & 10 April)