Concert images thanks to Philippe Veys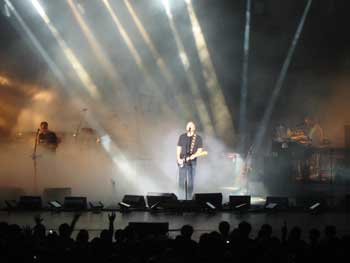 A very historic and wonderful venue, but oh so uncomfortable to sit down!
David spoke to the audience in French and said he hoped we didn't get a sore bum sitting on the stone seats!
Again they played wine glasses at the start of Shine On, and David said the glasses had beaujolais in them. It actually sounded quite good, better than I thought it would. There was no special mention of Syd Barrett.
The band looked like they were really having fun all night, and at one stage Rick Wright danced on stage, which was great to see.
Echoes was a real treat, and brought visions of Pompeii back to me, as the venue was very similar. I was sad that Astronomy Domine was dropped in the second set, but Arnold Layne was great, so I'm not complaining.
Verdict. A great show in a fabulous venue.
Thanks to Allan Bunning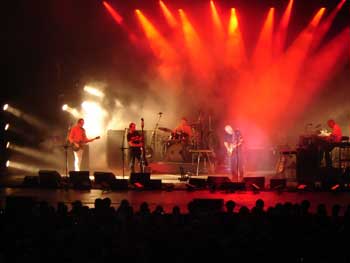 ---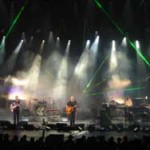 Oh my, what a show. We drove for 16 hours to get there, but it was worth it. Totally exhausted, but just to say that it was a brilliant performance, and the Theatre Antique probably the best venue I have ever seen.
Man, Echoes was surreal in that place, and the wine glasses at the start of Shine On were just great.
Review thanks to Dennis Treadwell
---
Set List
Set 1: Breathe Time Breathe (Reprise) Castellorizon On An Island The Blue Red Sky At Night This Heaven Then I Close My Eyes Smile Take A Breath A Pocketful Of Stones Where We Start
Set 2: Shine On You Crazy Diamond Wot's…The Deal Fat Old Sun Arnold Layne Coming Back To Life High Hopes Echoes
Encores: Wish You Were Here Comfortably Numb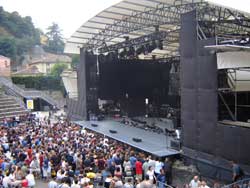 ---