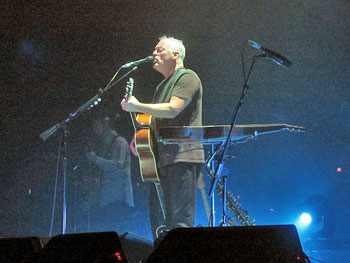 The CCH was a very noble concert location! (at the same time in the evening Juergen of the lip should give its best in the neighbour hall) around 19.30 we were allowed then finally into the hall 1 and the thing were really mad.
Inside could not be smoked and drunk generally (no glasses), to my large joy – were nevertheless the permanent Bierholer, which went to me at that time into Hanover with Rogers into The Flesh route at most on the bag. 20.08 then punctually loosely it concerned with the same set as thus in Dortmund, up to the break the complete new on at Iceland album. Very beautifully! Class entrance, with Take Breath the light masters came then correctly into travel. With Smile and A Pocketful OF Stones inspired me David's voice strength. The man is 60 and has still so a strength and also still in the higher situations! There people of Deep know PUR-POLARIZE and LED zeppelin today any longer to keep up!
Nunja, the first part was madly increasable to warm will however still. After accurately 60min was break. After approximately 20min should become the 1,5h of the second part true fireworks!
It began a fantastische version with this Gilmour solo one, everything was out, only its guitar and its micro with Shine on. All rigid! Everything broke out thereafter in the rejoicing. The tendency was geil! The well-known set followed, where for me above all time (mega+ rockig and geile Lightshow) and High Hopes stood out. But then it should really happen… PING…. PING…. it was real it ECHOES! Incomprehensibly ingeniously, madly sung of Rick and David. The organ the hammer, the Lightshow top.
The absolute high point of all dagewesenen, which I got to see at concerts in my 22jaehrigen life in such a way. The public was silent up to the all-last quiet sound of Daves guitar and Ricks organs. But then everything broke out, standing Ovationen and rejoicing cries. As addition there were then still Wish you were here and Comfortably Numb. The Sahnehaeubchen with WYWH all groehlten as it were also, the people held it no longer on the seats. Comfortably Numb was then the crowning conclusion of a successful concert with a beautiful solo (however increasable, if I compare it with the pulse video). It was the most moving concert, which I had seen!!!
So, which me to still say, a few small Erinnerungshaeppchen remains:
(1) we sat directly behind the mixer and in such a way could happened there very well observe in such a way. Approx. 10min came Polly Samson, Daves wife there (it was it nevertheless or?) I found cool, nevertheless her some texts in the Gilmours album wrote. It made some photos, ran in the hall around over still more for photos to make later over then still before the break to disappear.
(2) Mark  Brickman (it was it nevertheless or?) sat beside Polly, it conversed and it showed its which on its mysterious block (which I could recognize was it any sceneries or Cover, but I think times first). Very merrily also a fan was in the input area, which danced we more bekloppter freely from clock feeling. When Mark saw, it tapped its technician on and aeffte the types after. Very merrily! It fuchtelte by the way also the whole concert wildly with the arms rum. Did it give or did find there to possibly whom indications it simply only the music geil?
(3) between two songs a fan Happy Birthday and the quantity roared was jubilant. An attempt of the quantity to sing to it a Staendchen failed unfortunately pitifully. On the stage David with Guy. smirked David thanked you however nevertheless well-behaved with one "excellently".
(4) also Dave is only one humans and no machine. With a song (have forgotten where that was) it forgot to turn its Slide Guitar on (or like the thing is called) with a Grinsen rose it and turned it on. The volume played simply four clocks to the end and then continued to go. Those had there in front obviously much fun.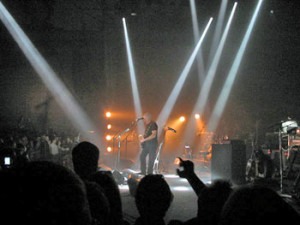 (5) when David presented the volume, it came last to Richard WRIGHT. The quantity was jubilant and it gave for it standing Ovations. It must be for it a mad feeling to play and sing together with Dave. (its singing in Comfortably Numb and Echoes was fantastic, in Wearing the inside out according to my opinion increasable)
(6) I want believe I no more Reunion. As it was, was good it. Both Roger with into the Flesh and Dave+Rick with on at Iceland. Roger comes back in the summer and that is good! Perhaps never it nod also in the boat. It was a fantastic concert. Than it a stadium concert of Pink Floyd to ever be many more personal could!!! However one would have there the larger Light-show possibilities, which naturally also fascinate me on the other hand.
Report by Jens Burmeister With Thanks to Franziskus Translated from German using babelfish. The review in German can be found HERE
Photos by Guido Wulf. You can view dozens more of photos from the concert on Guido's site HERE
---
Thanks to Josef Massinger
Set List
1. Castellorizon
2. On An Island
3. The Blue
4. Red Sky at Night
5. This Heaven
6. Then I Close My Eyes
7. Smile
8. Take a Breath
9. A Pocketful of Stones
10. Where We Start
Loo Break
11. Shine On You Crazy Diamond (Pt.1-6)
12. Wot's Uh… The Deal
13. Wearing The Inside Out
14. Breathe
15. Time
16. Breathe Reprise
17. Dominoes
18. High Hopes
19. Echoes
Encores
20. Wish You Were Here
21. Comfortably Numb
---