Pictures thanks to Josef Massinger
Guy Pratt, Dick Parry (Obscured) and Steve DiStanislao playing the wineglass intro to Shine On. Thanks to Olaf & Franziskus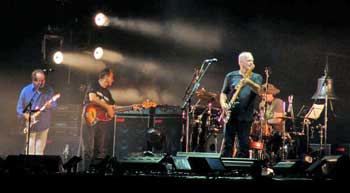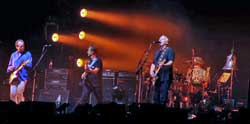 Just returned from the concert. FANTASTIC.
The whole band was in a very good and relaxed mood. David was joking with the audience.
He started singing Happy Birthday to Richard and everybody stood up and sang along.
Polly and two kids were beside the stage, the kids played hide and seek between the guitars.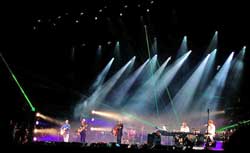 They made an experiment with the Shine On intro. There was a table with wine glasses filled with water on the stage and they played glass harmonica together. The "glass harmonica" was simple a set of wine glasses filled with water in different heights. It stood on a plastic table and was played by Dick Parry, Steve and and Guy. 'Played' means they touched the edges of the glasses with their fingers and that made the sound, while Guy was giving the commands which one to take. Very funny to look at, like as couple of teenagers…
And David and Polly got their wedding anniversary yesterday, and David dedicated a song to "Polly who is somewhere over there"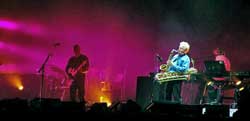 After the break it began to rain very heavily, so everybody stood up until the end. The fog machines and rain made it really difficult to see the guys on stage some of the time. They got stuck in the fog up over their heads!
Setlist I think the same as in Klam, once again a fantastic show, fresh songs and an unforgettable evening.
Review thanks to Torsten Sievers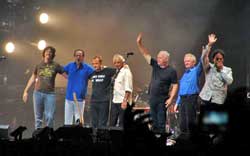 ---
Set List
Set 1: Breathe Time Breathe (Reprise) Castellorizon On An Island The Blue Red Sky At Night This Heaven Then I Close My Eyes Smile Take A Breath A Pocketful Of Stones Where We Start
Set 2: Shine On You Crazy Diamond Astronomy Domine Dark Globe (Syd Barrett) Fat Old Sun Coming Back To Life High Hopes Echoes
Encores: Wish You Were Here Comfortably Numb
---