All pictures (Except where noted) thanks to David McCray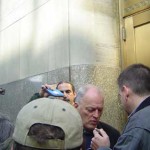 A friend and I travelled from Boston to New York City on Wednesday night to see David Gilmour at Radio City Music Hall, a massive venue with a ceiling high enough for a C-17 Cargo plane to do a loop de loop inside the theater. Compared to the stadiums that Pink Floyd usually play this was a very intimate gig for David Gilmour — only 6000 people! It was to be an evening of several surprises.
Starting promptly at 8pm, huge jets of dry ice transformed the stage so that it resembled the steaming crater of Krakatoa as Gilmour started playing "Castellorizon" from "On An Island." There was an awful lot of smoke inside the theater throughout the three hour show, much of it coming from the audience. Concertgoers all around me were smoking up pot — the last time there was this much marijuana in one place was probably the wake after Jerry Garcia's funeral!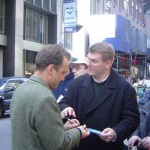 The first hour of the concert was devoted to playing Diamond Dave's new album in its entirety. The album's material is definitely much better live than it is on record and it was thrilling to have Gilmour introduce special guests David Crosby and Graham Nash — who sing on the album — to offer their signature harmonies to several songs. One of the best moments was hearing "The Blue," a highlight of the album with its long guitar solo that is a Gilmour classic. And Gilmour also showed off his skill on the saxophone on "Red Sky At Night."
The band were the polar opposites of the leggy Rockettes, Radio City Music Hall's signature Christmas attraction, in that they remained fairly rigid throughout the show. Unlike Floyd tours there was no screen backdrop or any flashy video effects — though the lighting effects were top notch — so the focus was definitely about the music. I had been expecting Gilmour to play some songs from his previous two solo albums but, alas, those songs weren't included in the setlist.
After a brief intermission, Gilmour returned to the stage along to play a complete set of Floyd material. After seeing the DVD of his Royal Festival Hall performance a couple of years ago, I was expecting him to strip down and reinterpret his 70s ouevre as he'd done so thrillingly for those shows. But instead we were treated to the full, unexpurgated Pink Floyd sound. The guitarist started to play some heavenly blues for the beginning of "Shine On…." He allowed each phrase to echo and reverberate and then play another gorgeous guitar part on top of that as the other members of his band quietly materialized at their instruments. This slightly rearranged version of the song, which ended with regular Floyd saxophonist Dick Parry coming on stage with two saxophones, was the best I've ever heard it. (Crosby and Nash also sang harmonies on this track.)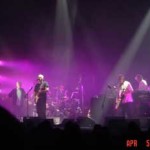 A change of pace allowed everyone to catch their breath as Gilmour strapped on an acoustic guitar for "Wot's… Uh, the Deal" from the "Obscured by Clouds" album, followed by "Wearing the Inside Out," one of the few decent tunes from the "Division Bell." Richard Wright, whose keyboards were front and center throughout the show, did an admirable job of singing his own composition. Another "Division Bell" tune, "Coming Back to Life," followed it. The album version is a bit lumbering and it's not one of my favorite tunes but at least this version was much sprightlier live with some blistering guitar work.
Upon hearing a familiar heartbeat and the ramblings of a mad old man, the place erupted: "Breathe" was immense! It's epic scope filled every nook and cranny of the place. It's hard to describe how incredible this sounded live. It segued into "Time" with drummer Steve DiStanislao nailing the percussion parts right after the clamor of a dozen alarm clocks. Total euphoria. "Time" segued back into "Breathe" again, which was an effective arrangement. Next up: The drummer had a massive bell hanging behind his kit — somewhere in Philadelphia someone must be bemoaning the disappearance of the Liberty Bell — and he picked up a small hammer to ring out the opening of "High Hopes." A great version that ended with Gilmour playing some intense lap steel guitar.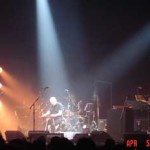 And then, the shock of the night. I'd been studiously avoiding any of the setlists so I was completely unprepared to hear a "ping" emerge out of the darkness as if someone had amplified the sonar station aboard a World War II submarine. It's one of those concert memories I'll never forget. "Echoes" is my all-time favorite Floyd song and, since its not been played by Gilmour & co. since 1987, I didn't expect it at all but there he was, playing this opus in its 20 minute entirety with a ferocity I wouldn't have expected from a 60-year-old. This was Gilmour off his leash. His guitar sounded like a Force 5 hurricane and, amid the turmoil, he made it sound as if a hurricane was wailing during the height of the storm. Suddenly, Gilmour was transformed into the lean and bearded musician from the "Live in Pompeii" movie who sat down in the dusty amphitheater to play guitar that sounded ahead of its time. At the song's peak, right after the "freak out" section, Gilmour peeled off those soaring majestic notes that sound as majestic as a triumphant bugle just as laser beams suddenly glanced into the audience. My chair felt as if it was plugged into a wall socket at this point. When I listened to the original album version after the concert it sounded pale and wan compared to the full-blooded concert rendition.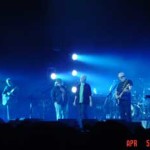 "Wish You Were Here" had the crowd singing aloud with cellphones held aloft instead of lighters. The song's whistful sentiments will never grow tiresome. C&N retook the stage to sing CSN's "Find the Cost of Freedom," which seemed all-too apt lyrically all these years later. By the time Richard Wright began singing the verses of "Comfortably Numb" those blue screens were no match for the dance of lasers beams. And then there was the solo at the end. I've heard a fair number of live versions of this song but nothing that compared to this. Last year's "Live 8" version wasn't even close to the fervor with which the guitarist attacked the piece. He played as if he knew it might be the very last time he ever got to pick up a guitar. Amazing…
Thanks to Stephen Humphries
---
---
Thanks to Matthew Danahy