Just got back from Glasgow and can't resist coming on here to tell everyone that……….Echoes f*cking rocked !!!
I don't have the setlist because my head is a bit fooked just now .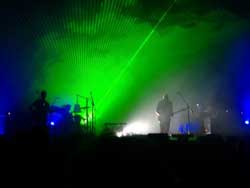 It was straight into Floyd heaven for the first half as the lights dimmed those magic heart beats came in to introduce Breathe followed by Time ( also Breathe Reprise). He then carried on the first set with the full On An Island album to which if I remember correctly David Crosby came on for. Though he did come on and off the stage throughout the show but it was only David Crosby as Graham Nash had a "family emgergency". Anyway the first set was fabulous as I'm sure some the solos had changed since the very first show at the Mermaid Theatre and even then I Close My Eyes was a bit different (I hadn't actually heard the album version for a while so perhaps it was just the same).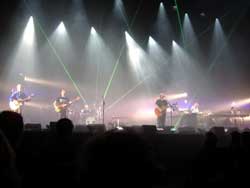 So the second set began with Shine On where David Crosby joined in for the chorus which made quite an exquisite version of Shine On (ignoring the painful wrong chord by David Gilmour at the beginning ). The exact order of the set list for the rest of the show has gone out my head It included High Hopes, Coming Back To Life (which I thought at the beginning was going to turn out to be Sorrow ! ), Wots….the Deal, Fat Old Sun, and of course the amazing Echoes !!! Which I'm sure many people who were at the show would more or less agree that this was the highlight….if they don't then they need help I was taken to another planet…..just pure Rock…..improvisation and a fairly good light show with some lasers. They went a bit mad on smoke during this song but that was great as being in the 5th row it made it more enjoyable……….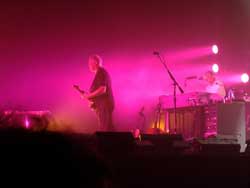 ……however the only drawback I personally saw was probably the attitude of David Crosy……he seriously SUCKS ! Who does he think he is to stand around with his hands in his pockets while singing ! Yes he had a good voice and added to the beauty of Shine On but honestly he couldn't give a f*ck ! Not only that but he couldn't give a f*ck about any of his fans. I made my way to the backstage door after the show where about 20-30 people gathered for autographs and that…David Crosby came out one of the doors and some lady approached him and asked for an autograph to which he replied "I don't do those anymore !"…….what kind of response is that to a fan ? I have to admit I did say something to him after he passed me when he was only a few metres away getting into his car……I won't go into detail here but hopefuly he heard me…maybe not ? But I was right anyway
Before all that I did indeed see Rick coming out the door but he apologised to fans for not being able to sign anything (more than I can say for David Crosby) and headed to his car with Jon Carin and Phil.
Overall and despite David Crosby's shite attitude it was fantastic ! Wished you were here 😉
Thanks to Andy Gall for review & above pics
Thanks to Joe McGuire
---
And what a fantastic gig it was! the finest guitar player in the world mesmerizing his first Glasgow crowd in 30 years, with note perfect renditions of classic Floyd & classic new stuff as well.
Bit unfortunate though, that such a Rock Legend playing in the city for the first time in years & I can find nothing in the local papers (except that franz ferdinand likes a curry????)
Never thought I would hear Arnold layne Live.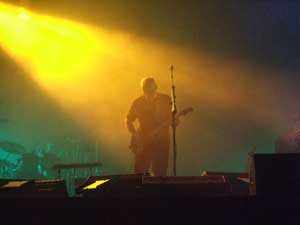 Review, and above pic (Taken during Echoes) are thanks to Joe McGuire
---
FIRST HALF: Breathe/Time/Breathe Reprise, Castellorizon, On An Island (w/Crosby), The Blue (w/Crosby), Red Sky At Night, This Heaven, Then I Close My Eyes, Smile, Take A Breath, A Pocketful Of Stones, Where We Start.
SECOND HALF: Shine On You Crazy Diamond (w/Crosby), What's…The Deal, Fat Old Sun, Coming Back To Life, High Hopes, Echoes.
ENCORE: Wish You Were Here, Arnold Layne, Comfortably Numb.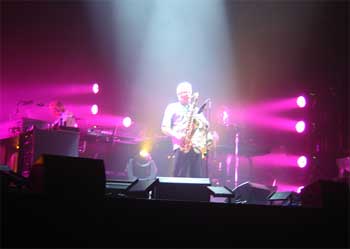 Thanks to Stephen S who has some more brilliant pictures on THIS SITE
---
How's this for a coincidence? Stephen S sat in seats A7 and A8 and Joe McGuire was in seats A5 & A6. Sitting next to each other, taking pictures for A Fleeting Glimpse, and not even knowing each other! That's the reach of AFG.
---