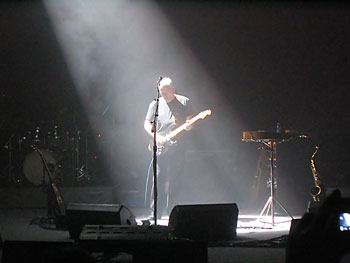 The accoustics in the Concert Hall at Dortmund were great.I sat in the third row, and could have touched David's micrphone if it wasn't for the two gorrilas in evening suits who were standing to the left & right of the speaker system!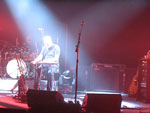 As you can see, I managed to snap a few pictures!
There is a feast of visuals to be seen, but no major pieces of equipement (Like Mr Screen)
The line up consisted of David Gilmour, Rick Wright, Jon Carin, Guy Pratt, Phil Manzanera, Dick Parry, & Steve DiStanislao.
The first set consisted of the entire On an Island album.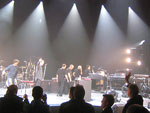 Gilmour plays & sings on Red Sky At Night, and plays the saxaphone exactly like the album version.
It was a wonderful experience to watch the master's fingers as he played his guitar,
One of the songs I didn't enjoy too much on the album "Take A Breath" took on a whole new life when performed live. I hardly rated this song before, but now it scores 100% with me!
The crowd gave rapturous applause at the conclusion of each song.
Loo Break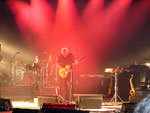 Then the first strains of "Shine On" could be heard.
Rick Wright singing "Wearing The Inside Out" was wonderful.
And "Breathe" was just like the original recording.
Great, simply Great! Then we got to hear "Time" and "Breathe Reprise".
It is amazing, and the crowd went wild.
Afterwards Dominoes, where Phil Manzanera shines.
pingggg…. pinngggg…. the first notes of Echoes chime out. That can't possibly be! But it Was! Made all the better by the fantastic lightshow.
Hey, that was one of the best Floyd concerts of my life!
Review & Pictures thanks to our good friend Franziskus Visit His Site for more great pictures.
---