Thanks to Dany and Michela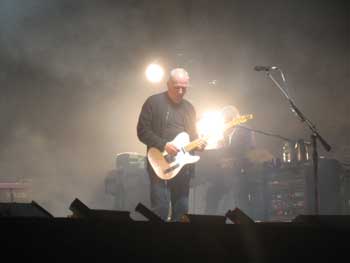 The 'Guitar of Pink Floyd' returns to Venice.
Even prior to the concert starting, it had been raining heavily, and this was to continue right up until the intermission.
There were surprises still to come, and the rain started to ease. The first miracle; "Arnold Layne", a great version.
The second miracle; "Dark Globe".
The third miracle was where even the musicians on the stage applauded David after a great rendition.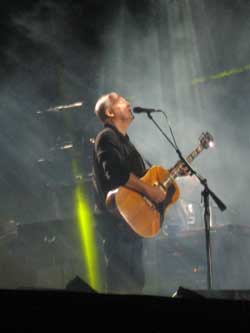 The final songs were great, with an 'invasion' of fans directly below the stage, which seemed to amuse David.
From the disappointment of no soundcheck to the ecstasy of the end, we were soaked but happy to see what is 'only another days work for 'Uncle Dave'!
It was clear to see that David and the others (Pratt and Wright foremost) were having a great time on stage, and they looked really happy to be here
We hope that there are new concerts!
Show report & all pictures above thanks to Stefano Tarquini
---
Set List
First half: Breathe/Time/Breathe Reprise, Castellorizon, On An Island, The Blue, Red Sky At Night, This Heaven, Then I Close My Eyes, Smile, Take A Breath, A Pocketful Of Stones, Where We Start.
Second half: Shine On You Crazy Diamond, Wot's…The Deal, Arnold Layne, Dark Globe, Fat Old Sun, On The Turning Away, High Hopes, Echoes
Encores: Wish You Were Here, Comfortably Numb.
---
Thanks to Stefano Tarquini
---
Thanks to Bibi
---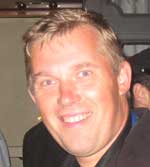 Igor Sklyarov
Igor has been helping out at David's shows in Venice by playing the wineglasses at the intro to Shine On. Igor is actually a real glass harmonica player, who normally performs with his own trio, but was busking on the streets of Venice when spotted by David, who invited him to perform with him!
---
Thanks to Elisabetta Corsi
---
Venice Shows Rescheduled. We have received official advice that David's two Venice shows that were cancelled due to a stage collapse (4 & 5 Aug) are now scheduled to take place on 11th & 12th August. Emergency talks between the Mayor of Venice, the local promoter, and David's Management have resulted in a speedy rescheduling of these concerts. Those unable to attend the new shows are able to get refunds from point of purchase. We have also received a number of advices from folk who traveled from Venice from other parts of the world (Mainly USA) and are unable to stay on for the new dates. Our thoughts are with you as you travel home disappointed in not being able to see David.
---
BOTH Venice shows (4 & 5 Aug) have been cancelled. There was a structural defect discovered in the scaffolding, and the shows were deemed to be unsafe to go ahead. Full refunds for both shows are of course available.
---
David Gilmour Live in Venice 04/08/2006
Video of collapsed stage
---
Pictures showing the collapsed area of the stage. (Thanks to Nicola)
---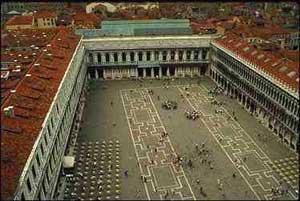 In New York, every tourist has to visit Times Square. In London, Trafalgar Square and Piccadilly Circus vie for the visitor's attention. In Paris, the vacationer is expected to give at least a passing glance to the Place de la Concorde.
The equivalent tourist magnet in Venice is the Piazza San Marco, better known to Anglophones as St. Mark's Square. It differs from its foreign counterparts in two major respects: (1) It's more attractive, and (2) It hasn't been corrupted by the automobile.