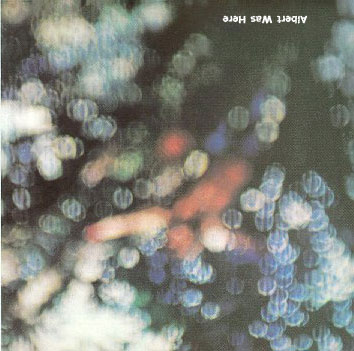 After having some fun with the Ummagumma and Atom Heart Mother album covers, Roger pretty much wanted to squeeze me out of the process from then on. Storm Thorgerson was given a directive to steer away from actual photographed scenes, to something more abstract.
The Meddle cover was a perfect example. There wasn't a lot I could "meddle" with in the photographing of an ear under water. ( That's right, it's an ear. What? You couldn't tell? ) Not that I could have done anything anyway, as I was with Floyd in Japan as the cover was being done.
Next was Obscured By Clouds. For all its blobby, dotty imagery, this was actually a Storm Thorgerson masterpiece, and one way ahead of its time. Applying a special photographic technique to the original out-of-focus picture, which featured one of the actors from the movie, Storm was able to create one of the first "magic eye" images.
If you turn the album cover upside down and stare for long enough at the reddish dot near the centre of the picture, in the same way you stare at a magic eye image, eventually it will all come clear and you'll see a pig being belted with a club.
Next, of course was the classic artwork for The Dark Side Of The Moon. Plain, simple, and one of the stand-out album covers of all time. But most importantly it was Magoolie-proof.
Fortunately, when Wish You Were Here was done, the idea was to put a lot more into it, with a series of shots at various locations. And this allowed me to have some fun once again.
---