Roger Waters - The Bar, Madison Square Gardens, New York City
"If you're one of those 'I love Pink Floyd, but I can't stand Roger's politics' people you might do well to f— off to the bar right now."
That disclaimer has heralded the start of each performance on the ongoing Roger Waters This Is Not A Drill tour, which stopped for a pair of shows at Madison Square Garden this week. The advice it offered was undeniably sound. The extravagant production was predominantly soundtracked by Pink Floyd gems, but the famously abrasive bassist, vocalist, and songwriter's vast capacity for objection was its star. That, and the inflatable sheep.
Technically, the warning worked on two levels. At face value it was confirmation that this was Roger's show, and he was going to do it Roger's way (read: heavy-handed), and tough s— if you don't like it 'cause you already bought your ticket. On a more nuanced plane, you could also tie it to the concept Waters sings about in "The Bar", one of the new songs on the setlist this tour.
As Roger later explained, "The Bar" was a metaphorical meeting place he had devised where "you can maybe have a drink, certainly meet your friends, and hopefully meet strangers. … Exchange opinions with strangers and friends with no fear or favor, where you are welcome and can exchange your love for your fellow man without fear." You know, like an actual bar. It's a nice idea in theory, even if its central metaphor feels like low-hanging conceptual fruit.
Perhaps Roger was thinking on both of those levels when he wrote that intro for This Is Not A Drill: he dreams of a world where we can all say what's on our minds and be cool about it, and if you have a problem with him saying what's on his mind, you need to go find this idyllic taproom and get yourself on his page.
Or maybe, he really did just want you to leave. It's hard to be sure. While the spectacle provided the shells of some potentially agreeable political statements, his bludgeoning delivery of those ideas often left them feeling cosmetic and performative rather than genuine and insightful.
The mammoth cross of LED screens that quartered the in-the-round stage setup ran apocalyptic depictions of police brutality, nuclear devastation, and general authoritarian dystopia alongside strobing messages of institutional upheaval and societal turmoil. Recent U.S. presidents of various political affiliations were displayed on the screens, then labeled with their particular war crimes. Floating COVID-19 molecules inexplicably bounced around images of panicked newspaper headlines and deep-dive internet conspiracy theories. A scattershot mix of photos of "diverse" faces with forlorn expressions seemed to aim for "we are all one" but landed somewhere around "look, I have an Asian friend" instead.
What exactly is he mad at? It's either "everything" or the fact that he can't quite put his finger on it himself. The music, however impressive, and the audio design, however immersive, felt secondary to the unfettered "revolutionary" messaging throughout the show. The world-class band behind Waters—featuring Jonathan Wilson (guitar), Robert Walter (keyboards), Jon Carin (keyboards), Joey Waronker (drums), Gus Seyffert (bass), Seamus Blake (saxophone), and Dave Kilminster (guitar) in addition to backing vocalists Amanda Belair and Shanay Johnson—performed mightily, rendering a mix of Pink Floyd's classic songs and beloved, multi-part compositions with grandiosity befitting of the World's Most Famous Arena. The stage production was incredible, a mix of screens and lights and lasers and floating animals that evoked Pink Floyd's iconic imagery via contemporary concert magic… and Roger Waters was angry.
If you're upset about it, f— off to "The Bar". Roger Waters will be waiting there to hash it out with you.
Review Courtesy Of Andrew O'Brien
---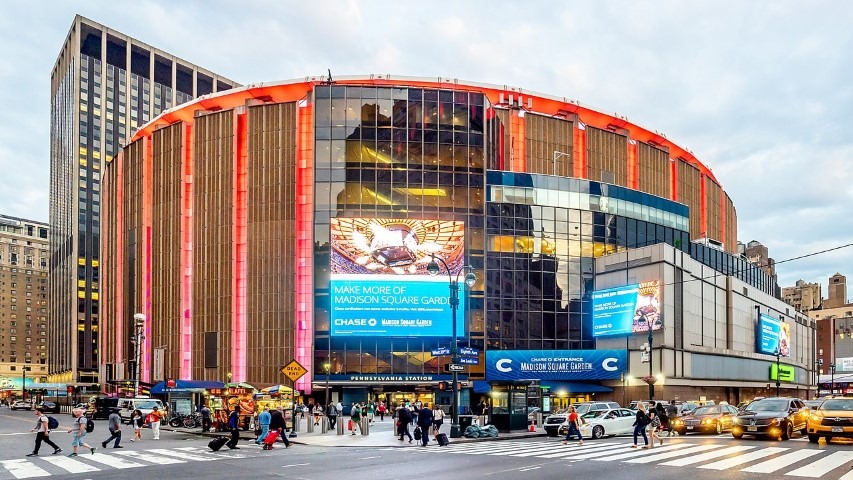 Capacity 19,000+
Madison Square Garden, colloquially known as The Garden or by its initials MSG, is a multi-purpose indoor arena in New York City. It is located in Midtown Manhattan between Seventh and Eighth avenues from 31st to 33rd Street, above Pennsylvania Station. It is the fourth venue to bear the name "Madison Square Garden"; the first two (1879 and 1890) were located on Madison Square, on East 26th Street and Madison Avenue, with the third Madison Square Garden (1925) farther uptown at Eighth Avenue and 50th Street.
Originally called Madison Square Garden Center, the Garden opened on February 11, 1968, and is the oldest major sporting facility in the New York metropolitan area. It is the oldest arena in the NBA and the NHL. As of 2016, MSG is also the second-busiest music arena in the world in terms of ticket sales. Including two major renovations, its total construction cost was approximately $1.1 billion, and it has been ranked as one of the 10 most expensive stadium venues ever built.It is part of the Pennsylvania Plaza office and retail complex, named for the railway station. Several other operating entities related to the Garden share its name.
---
Can YOU help? We are looking for any material related to this show. Scans of posters, news items, ticket stubs, show pictures, or anything else you may think be of interest to our visitors. Thanks. Please send any show material to liam@pinkfloydz.com