Roger Waters, Rogers Place, Edmonton, Sept. 13, 2022
The former Pink Floyd frontman dropped a two-pronged set with a costume change, fan favourites and plenty of pointed food for thought.
Well, we certainly know exactly where Roger Waters sits on the political divide.
If you were attending Tuesday night's This is Not a Drill concert at Rogers Place and were unaware, he was quick to fill you in with a polite, pre-concert announcement about it. Actually, it was anything but polite. In addition to requesting that cellphone ringers be turned off he suggested in strong terms, f-bomb included, that audience members might want to head back to the bar if they found Waters' take on current world issues to be offensive.

That's a far cry from, "Is everybody having a good time tonight?" and definitely a bracing start to a concert. Waters has never been interested in pandering, and as the former Pink Floyd frontman knocks on 80 he's clearly decided that now's not the time for subtlety. Those animated, goose-stepping hammers from The Wall aren't just there to clarify a point, they're also meant to pound it into you.

It took some time to get in, and congestion outside of the gates pushed the concert start time forward by a half hour. There were still empty seats as Waters kicked off with Floyd classic Comfortably Numb, deep bass resonating through the arena. The band, clear and loud, played under a giant, cross-shaped divider on which videos were projected. Tipping a hat to nostalgia, the videos harkened back to his old band's most cherished albums, but also directly referenced Waters' more pressing concerns: abortion rights, transphobia, war crimes and police brutality.

Another Brick in the Wall, parts 2 and 3, were safe landing places for a large chunk of the older audience ready to rail against nebulous authority. On the other hand, The Bravery of Being Out of Range, as much screed as song, had Waters directly castigating American militarism while the screen enumerated atrocities from a long sequence of American presidents, Trump, Obama and Biden included. A few people in the audience weren't too sure what to make of that, though they seemed to appreciate The Bar, a newer number that featured Waters at the piano.

He reached back to early days with Have a Cigar, following with a mini suite of Wish You Were Here and Shine on You Crazy Diamond, images of former bandmate Syd Barrett flashing across the screen. Sheep was a fitting end to the first half of the show, Waters gesticulating wildly as a Twitter feed hit the video screen and a floating sheep made its way around the arena, spinning and diving. The sound was sharp, loud, and enveloping; one older audience member lamented not being able to hear the lyrics in the midst of the maelstrom, but it was as good as I've ever heard it in Rogers Place.

After a short pause and a gathering rush of unsettling sounds from back speakers that announced In the Flesh, Waters reappeared in aviator sunglasses and a floor-length leather jacket with vaguely militaristic epaulets. Followed by two stormtroopers in riot gear, an inflatable pig with the words "Steal From the Poor, Give to the Rich" on the one side and something unprintable on the other, Waters stalked the stage with fascist glee. In case you didn't fully understand his point, he took a fake machine gun offered by one of his "guards" and pretended to mow down the audience in front of him.

Whew. Run Like Hell continued the all-nerves-exposed narrative from The Wall before he calmed things down with Deja Vu and Is This the Life We Really Want. There are a number of songs Waters could have chosen from the Floyd discography to keep the crowd happy, but one is almost necessary and that's Money. For the Dark Side of the Moon classic, he switched from the guitar (and occasional piano) he'd been playing all night back to bass, with guitarist Jonathan Wilson taking on the vocals.

From there on it was a selection of deeper Floyd cuts (Brain Damage, Eclipse) down to an elegiac reprisal of The Bar and a neat summing up with Outside the Wall. Even the most skeptical, apolitical Floyd fan would have been happy with Waters' show, which ran somewhere past the two-hour mark and hit all the classic-rock buttons. Some of them might have even come out with a few things to think about, and likely Waters would be more pleased with that than just simply entertaining them.
Review Courtesy Of Tom Berry

---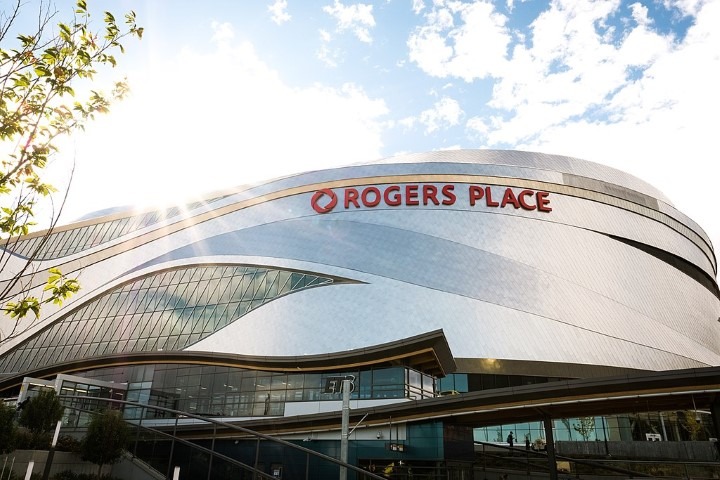 Capacity 19,000+
Rogers Place is a multi-use indoor arena in Edmonton, Alberta, Canada. Construction started in March 2014, and the building officially opened on September 8, 2016. The arena has a seating capacity of 18,500 as a hockey venue and 20,734 as a concert venue.
It replaced Northlands Coliseum (opened 1974) as the home of the NHL's Edmonton Oilers and the WHL's Edmonton Oil Kings. The arena is located at the block between 101 and 104 Streets and 104 and 105 Avenues. Public transit access to the arena is provided by the Edmonton Light Rail Transit system (MacEwan station on the Metro Line) and Edmonton Transit Service bus.
---
Can YOU help? We are looking for any material related to this show. Scans of posters, news items, ticket stubs, show pictures, or anything else you may think be of interest to our visitors. Thanks. Please send any show material to liam@pinkfloydz.com