Roger Waters Live - Comfortably Numb - MVP Arena, July 20th, 2022
Roger Waters brought his two-year-Covid-delayed This is Not a Drill tour to the MVP Arena Wednesday night. Much to the delight of the healthy crowd in attendance, he brought with him what you would expect – psychedelic visuals, disturbing animation, high-quality audio, a solid band, lasers, a floating pig, and (of course) nearly fifty years worth of just stunning and legendary songs.
Waters, at 78, is a true top-tier classic rock legend the likes of which rather infrequently pass through our venues. Their shows are events by definition; they attract a crowd that literally grew up on their music. They are beloved before the first note rings out, and it takes a conscious effort to look at their performances objectively.
Against that backdrop, last night's performance was impressive in a lot of ways. Unfailingly interesting. Frequently thought-provoking. Occasionally inspired. But still, at the end of the day, a little hit-or-miss, at least when measured against his own high bar. His last area performance, in 2017, was a different permutation of largely the same thing. And it was spellbinding, from start-to-finish. In contrast, while last night had its share of impressive (and sometimes unexpected) highs, they were interspersed with periods of waning intensity and a few stiff renditions.
The opening few songs kind of set the tone. Leading off with a completely reworked "Comfortably Numb", against a visual backdrop of an apocalyptic hellscape, was undeniably interesting. Its deemphasis of the guitar part (in favor of organ) no longer has you awkwardly feeling the absence of ex-bandmate David Gilmour. But was it better? Probably not. This led into the always reliable "The Happiest Days of Our Lives"/"Another Brick in the Wall, Part 2″/"Another Brick in the Wall, Part 3" sequence. This is almost always electrifying. Last night it felt solid, and familiar. But not spectacular.
From here, it was time to hit a few solo numbers and to up the overtness of the politics. The last couple of tours (in particular) have generated a lot of press and conversation around Roger's politics, the appropriateness of it in his shows, etc. I don't really understand this. As a soloist, and as Pink Floyd's lyricist, Waters has been in your face going back to the 70s. Animals, The Wall (especially as fleshed out in the movie), bashing on Reagan and Thatcher on The Final Cut…none of this is really new. The politics is part of his DNA and his art, and always has been. If you're "surprised" at the politics of a Waters show then you just aren't paying attention. I would say the same about, say, a Ted Nugent show.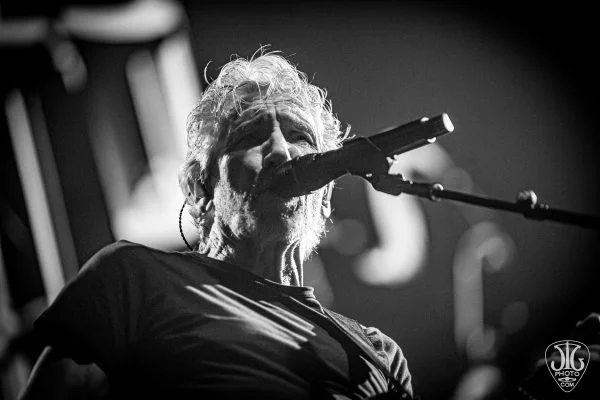 "The Powers That Be" was played against the visual backdrop of multiple victims from around the world who were killed for "being black". "The Bravery of Being Out of Range" at one point cycled through visuals of each president (Republican and Democrat) since Reagan, labeling each a "war criminal" and listing the reasons why. The picture of Biden had the caption "just getting started". A new song called "The Bar" would be played both here and at the end of the concert, evidently a current favorite of his. He explained it as an allegory for a place where "like minded people can get together to express an honest opinion". Kind of like a Roger Waters' concert…
So how was the music? It was at this point I realized how hard it was to zero in on individual musical performances. This concert was "in the round" (actually, in the shape of a cross). I am not a fan of this setup. While giving any given concertgoer a few opportunities of "up close" time with each band member, you can't control when you can actually observe them, and when you're seeing their back off in the distance. Case in point: "Have a Cigar" was the first song that really lit up musically for me, in particular the guitar part. But there were five people onstage that played guitar, i couldn't tell who it was that was shredding. Whoever it was, it was awesome.
The first set closed out with a touching "Wish You Were Here" tribute to Syd Barrett, followed by "Shine On You Crazy Diamond, Pts 6-9", which had the whole band really catching fire for the first time. I could have done with a lot fewer words being typed out over my head, and would have appreciated just taking in the musicality of this one. But a minor quibble. "Sheep" kept it (very) strong as the set closer, and had Waters connecting more viscerally with the crowd.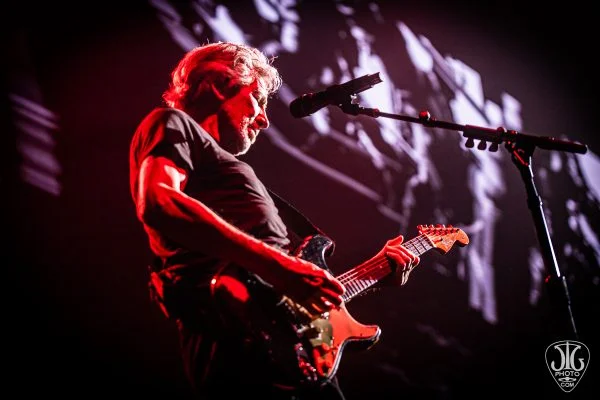 Things only got better from here. The second set opened with Waters dressed as the fascist from The Wall, and leading the band through an exciting 1-2 punch of "In the Flesh" and "Run like Hell". This was the peak of the concert from an excitement level, not only for the crowd but seemingly for Waters too. It's a little unsettling seeing people feverishly giving the cross-arm and pseudo-Nazi salutes with such vigor…not really sure what to make of that.
Anybody who treated the next "solo numbers" as a bathroom break missed out. Both "Deja Vu" and "Is This the Life We Really Want" were highlights of the night, in no small part because Roger seemed to be really into playing them. These were followed by a five-song sequence from The Dark Side of the Moon, starting off with "Money". Through this fan favorite, and into "Us and Them" and especially "Any Colour You Like", Waters stepped back and let the band be a band. Content not even to have to sing, the very capable 9-piece band finally got some much-deserved sunlight (they would not be introduced until they were walking off the stage). I get it – everybody in the room is here to see Roger. But this selfless interlude really brought something to the concert; it was suddenly (solely) about the music again. I could have taken more of that.
Special kudos for choosing the "really, really fucking gloomy" "Two Suns in the Sunset" as a very-late-set closer. This cut from the seriously underrated The Final Cut was the de facto bookend for the concert – tying the apocalyptic imagery that began with "Comfortably Numb" with exactly how that might come about. It is indeed gloomy, supremely so. But so is Roger, and for this listener, that bold choice was perfect.
Waters did follow that with a low-key reprise of "The Bar". It's a fine enough song, though I don't think it's quite as good as Waters seems to think it is. The actual concert closer was "Outside the Wall", played with accordion, marching drum, and other portable instruments as the entire band slowly marched off the stage (and got introduced).
I've seen Roger Waters multiple times over the years, and he remains a vibrant, larger-than-life figure. At 78, he can still excite on the stage and shows no sign of mellowing out or any other such nonsense. Was this the best concert he's ever put on? No. But he's still excited by his newest material, and he's still rearranging much-beloved classics he could instead phone it in for. He's still angry, and he's still going to tell you about it. Those are the hallmarks of a very relevant musician. And 57 years into a legendary musical career, that is something to behold.
Review Courtesy Of Mike Stampalia
---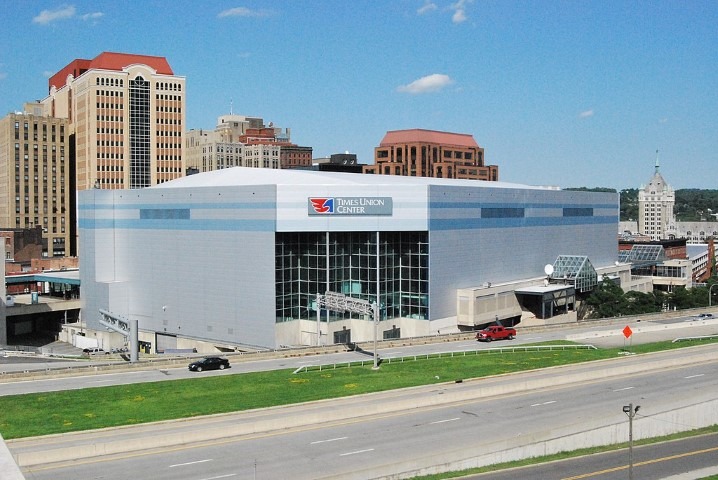 Capacity 19,000+
The MVP Arena (originally Knickerbocker Arena, and then the Pepsi Arena and Times Union Center) is an indoor arena located in Albany, New York. It is configurable and can accommodate from 6,000 to 17,500 people, with a maximum seating capacity of 15,500 for sporting events
The building, designed by Crozier Associates and engineered by Clough Harbour & Associates, was built by Beltrone/MLB at a cost of $69.4 million
---
Can YOU help? We are looking for any material related to this show. Scans of posters, news items, ticket stubs, show pictures, or anything else you may think be of interest to our visitors. Thanks. Please send any show material to liam@pinkfloydz.com