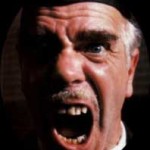 That's Old News!
A repository of things past
2009
City Wakes 2 In London In 2010? Following on from the success of The City Wakes event in Cambridge in 2008, Escape Artists, who administer the Syd Barrett Fund, are looking at the possibilty of holding a similar event in London late 2010. The organisers say they are hoping to raise awareness of the Syd Barrett Centre for Social Arts and Research. At this stage the project is still on the drawing boards and funding is being sought.
Second Rare Vinyl Exhibition In Turin There is to be a second Pink Floyd rare vinyl exhibition to be held in Turin on 23 January. This follows on from the success of last years inaugural event. Floyd tribute 'The Time Machine' will provide the entertainment and Floyd fans will be able to see a great exhibition of rare vinyl's, original posters, photographs and curiosities. For more information, please contact Stefano Tarquini
Pink Floyd First Day Covers with Division Bell Stamp As we revealed some time ago, on 7th January 'The Division Bell' will be available as a Royal Mail stamp, as part of the 'Classic Album Covers' stamp issue, featuring 10 classic covers. However, UK stamp dealer The Stamp Centre will be creating two limited edition 'First Day Covers' featuring just 'The Division Bell', one with one stamp and one with ten stamps.The one-stamp version includes a custom envelope with images from the 'Division Bell' album. It will also sport a Custom franking mark dated 7th January 2010 from Ely, Cambridgeshire. On the reverse will be the limited edition number, a photo of the band, and some information about the album. It is available to pre-order from now up to and including 7th January from HERE The one-stamp version costs £5.99 UK (inc. UK postage), and the 10-stamp version costs £9.99 (inc.UK postage) If you want just the 'Division Bell' stamp on its own to use for postage, it can be ordered as a strip of 5 (priced £1.95 UK), from This Link
David Gilmour New Album – Rumours Denied We have been hesitant to bring you this story because it's not our role to be spreading unfounded rumours. However, as a number of other sites are now sourcing this story (Which originated in our Pink Floyd Forum) back to us, we have decided to reveal all we know. The legendary Arthur Brown of 'Fire' fame, is currently touring with Hawkwind. At a recent show Arthur made an announcement that Jim Mortimore (Guitar and Percussion in Arthur's current touring band) had just finished recording rhythm guitar parts on DGs new album.  Listen to the announcement:
This was followed up later by an announcement on Arthur's official site that says "Arthur is touring with Jim Mortimore on Guitar and Percussion straight from his stint recording Guitar parts for David Gilmour's new album, and Steve Watts on Keyboards". An AFG correspondent managed to grab a quick word with Jim and was told that he had been working with David Gilmour in his home studio and that he thinks the album could be out early next year. To firm up the story even more, there is a picture on Jim Mortimore's Myspace that purports to have been taken in David's home studio. UPDATE After a hurried exchange of emails with David's Manager, David has confirmed that the picture is in fact a fake and Jim Mortimore is in no way involved with any new album of his. We are also informed that a new album from David is unlikely in the foreseeable future.
Seasons Greetings From All At AFG We would like to take this opportunity of wishing all our site visitors a wonderful & safe festive season. This year, instead of having Nick Mason singing Happy Christmas to you (as has been tradition for some years now) we have a super extra treat.
---


Dark Side Of The Moon Back In The Charts With the revamping of the Billboard 200 recently to again include both current and catalogue titles, at No 189 Pink Floyd's Dark Side of the Moon re-enters the chart for the first time since Oct. 8, 1988, logging a record-extending 742nd week on the survey! The album, which debuted on the tally on March 17, 1973, leads the album with the second-longest stay on the chart by 252 weeks (or 4.8 years). Here's a list, of the releases with the longest chart lives on the 53-year-old Billboard 200 (with debut years noted).
742 weeks Dark Side of the Moon – Pink Floyd (1973)
490 weeks Johnny's Greatest Hits – Johnny Mathis (1958)
480 weeks My Fair Lady – Original Cast (1956)
331 weeks Highlights From the Phantom of the Opera – Original Cast (1990)
302 weeks Tapestry – Carole King (1971)
True Details Of Montreal 'Spitting Incident' Revealed Floyd fans will be familiar with the story of how supposedly Roger Waters spat in the face of a fan at the final show of the Animals tour in Montreal in 1977. It's said that this incident was the catalyst for what eventually became 'The Wall'. There has been a long held belief that when Roger said "Come on home boy. All is forgiven. Just a few more yards" (paraphrase) that he was trying to lure a fan up to the stage by speaking directly to him. This version of events has now been shown to be incorrect. Chris Cockram (who was a roadie on that tour) has told the AFG Forum that it was in fact the pig that Roger was talking to and not a fan. Chris has also revealed that a story being spun by someone who was at the Montreal show, (and placed a video of his memories on YouTube) claiming that the roadies held a fan up so that Roger could spit on him, is just plain untrue. You can read more about the tour and many other thing if you visit Confessions Of A Pink Floyd Roadie
Roger Waters At The New Yankee Stadium Roger Waters was at the new Yankee Stadium on Wednesday (4th Nov) as a guest of Hank Steinbrenner (part-owner of the New York Yankees) to help him celebrate the Yankees winning their 27th world championship and christening their new stadium in style. Hank in speaking to the media dropped this little pearl. "Tonight I had Roger Waters from Pink Floyd as a guest, I don't know if you guys are Floyd fans. We're trying to get something done with rock concerts as well as the football games. And he was blown away. He's played all over the world. It's spectacular. It really is." Hmmmmmmm!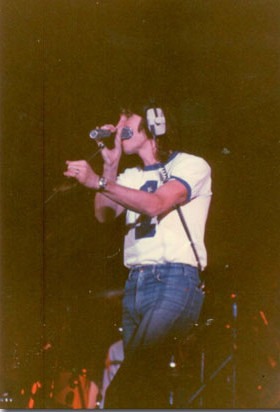 Roger Waters & The Wall Here's the news you have been waiting for. Roger's Manager has been in touch to OFFICIALLY confirm that Roger is looking at touring The Wall in 2010 & 2011. Other sources have told us that currently 8 cities are penciled in, but going by past experience this could well be expanded at a later date. Keep tuned to A Fleeting Glimpse for all the tour news! You can find more information in the Pink Floyd Forum (Originally Posted 2 Nov)
The Wall Nassau Coliseum Feb 1980 It's fitting that with all the excitement of the possibility of another Wall tour coming up from Roger Waters, that we have just turned up a small collection of great pictures that were taken at one of The Wall shows over the period February 24-28th (inc)1980 at the Nassau Coliseum New York. This is our second exhibit from that set of shows, which incidentally brought The Wall tour to a halt due to Britains strict tax laws. You can read about this and check out the pictures in the all new Wall Coliseum Exhibition
Nick Doesn't Rule Out Playing On The Possible Wall Tour Nick Mason was on BBC Radio on Saturday (14 Nov) and was specifically asked about Roger's plans to tour The Wall next year. He said he has not been officially approached to play and ruled out playing the entire tour, but he did not rule out guest appearances.
Celebrate The Wall With Redbeard For over 20 years 'In the Studio' has gone behind the scenes to tell the stories behind rock and roll's greatest albums. North American radio host and program director, Redbeard, has recently dedicated two weeks of his program "In the Studio" to Pink Floyd's "The Wall", which is celebrating its 30th year anniversary this year. Redbeard has conducted exclusive interviews with Roger Waters, David Gilmour, and Nick Mason in this two part interview series that is airing throughout the U.S. radio circuit the weeks beginning Nov 16th for Pt.1 and the following Monday Nov. 23rd for Pt. 2. To locate your nearest station, or for those outside the radio listening area, go to www.IntheStudio.net beginning Monday the 23rd and Monday the 30th to stream each interview for free in its entirety.
All You Need Is Love Video The video of the charity version of The Beatles classic All You Need Is Love, featuring Nick Mason and many other celebrities has now been made available. As we reported last month (September) Nick appeared along with Bill Wyman, Peter Gabriel, Bryan Ferry and a host of others at the Abbey Road Studios to assist the worthy BBC Children In Need. This really is an uplifting video and worth a few minutes of your time Video Link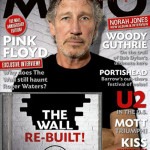 Will Roger Tour The Wall? For months now we have been hearing rumours that Roger Waters might be touring The Wall around Europe & the USA sometime in the future. To date we have not speculated on this possibilty, as we know that rumours are just that, and it's unfair to raise peoples expectations. Now it seems as if there may be more than a grain of truth to the rumour, as Roger himself hints at the possibility of a tour in the November issue of MOJO . In The Wall Special, Roger also talks about the 'new' Wall footage (uncovered a little while back and discussed in the Pink Floyd Forum) & gives an update on The Wall on Broadway.UPDATE Roger's management have confirmed there is indeed some talk about putting on some Wall arena shows, but any firm plans are some way off. As you can imagine, we have been deluged with emails since we ran this story but as usual, we are keeping nothing back, all we know has been published on site. If you are keen to catch some more snippets of info though, you should hook up on the Pink Floyd Forum
In The Flesh – Pink Floyd Laser Spectacular Those in London will be delighted to know that there's to be a Pink Floyd Laser Spectacular at the indigo2 at the O2 on Saturday 28th November. However, this won't be any ordinary laser show This will be a LIVE show featuring a performance by Pink Floyd tribute In The Flesh. What makes this different is that instead of using green and red single beam lasers, they will be using full spectrum lasers, which are apparently 'mind-blowing'. The lasers, which have never been used by a rock band of any kind on stage anywhere in the world before, were built by the same company that supplies lasers to the Classical Spectaculars held at the Royal Albert Hall

Roger Waters Mother Passes Our condolences go out to Roger and his family with the sad news of his Mother's passing. Mary Duncan Waters passed away peacefully on 14 October at the age of 96.
Point Me At The Sky – Dark Side Tribute On Primrose Hill. Sky Arts have created a pyramid on London's Primrose Hill to publicise their showing of Pink Floyd's Earl's Court 1994 performance of The Dark Side of The Moon on Sky Arts 1 in HD. They have constructed a 5-metre high pyramid adding a large structure over the London skyline. They are using the imagery to promote the screening of Pulse: The Dark Side Of The Moon Live, which transmits on Sky Arts 1 on Friday 23rd October at 10am and 4pm. The main triangular part of the structure houses the large 'prism' which uses diffused LED lighting to create the glowing effect that appears on the album artwork. Lasers have been set up and installed behind the structure, with a white laser emitting from the left hand side and coloured beams emitting from the right hand side, re-creating the image that appears on the famous Pink Floyd album cover.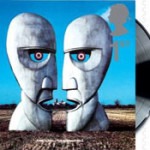 The Division Bell Soon To Be A Royal Mail Stamp Pink Floyd Management have been in touch to tell us that Pink Floyd will receive the accolade of being featured on a UK Royal Mail postage stamp on 7th January 2010. After the success of Royal Mail's recent British Design Classics stamps, they have created a series featuring only classic UK album cover designs. Available from Thursday 7th January 2010, it includes the 1994 UK Number One album The Division Bell, which went on to sell more than 10 million copies around the world. Designed by Storm Thorgerson with Keith Breeden, the cover depicts two massive heads, created by Sculptor John Robertson, placed in the East Anglian landscape, which in turn suggest a 'third face', echoing the album's themes of contradictory communication. The self-adhesive stamps are printed in two separate sheets of 25* There is also a souvenir sheet (223 x 188 mm) including stamps with water-activated gum'.* (The sheet containing 'The Division Bell' also has album covers by Coldplay, Blur, New Order and The Rolling Stones).
Doctor David We Presume! David Gilmour is among a host of Cambridge figures set to be awarded honorary degrees by Anglia Ruskin University. A total of 21 high achievers will be recognised in ceremonies in Cambridge and Chelmsford, the sites of Anglia Ruskin University's two campuses. David is a former student at Cambridgeshire College of Arts and Technology (CCAT), a forerunner of ARU. He will be made an honorary doctor of arts at a ceremony at Cambridge Corn Exchange on November 11. The university said the award recognises his outstanding contribution to music as a writer, performer and innovator.
David Gilmour In Recording Studio? Alex Paterson from electronic music group The Orb, in a statement to The List said 'I've just started work on an album with David Gilmore from Pink Floyd which I think every Orb and Pink Floyd fan will want to hear.' Our investigations continue! UPDATE: David's official site has announced that David has done some recording with The Orb and producer Youth, inspired initially by the plight of Gary McKinnon. They say that nothing is finalised, and nothing has been confirmed with regards to any structure for the recordings or firm details regarding any release plans.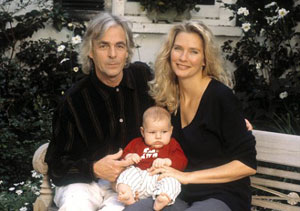 Rick Wright Leaves £24 Million Details of the late Rick Wright's will have been revealed to show that Rick left around £24 Million, the majority going to his children, James, 42, Gala, 39, and Ben, 17. None of Rick's three former wives (Juliette, Franka and Millie) were mentioned in the will. Rick also made arrangements in the will for 'a really good party' to be held for his friends – putting aside £20,000 with a guest list to be drawn up by James and Gala. They were also left their father's house in Le Rouret, in south east France. Gala also inherited Rick's prized Aston Martin DB5, and he left his cherished Bosendorfer piano to his son-in-law bassist Guy Pratt. The moral rights to his musical, literary and performance work were left to his children. (Pictured, Rick with former wife Millie & son Ben in happier times). Thanks for the help to a few sources, including Phil Evans.
Nick Mason At Abbey Road Nick Mason was at the world famous Abbey Road Studios on 7th September to record a charity version of The Beatles classic All You Need Is Love. Nick, who appeared along with Bill Wyman, Peter Gabriel, and Bryan Ferry, was there to assist the worthy BBC Children In Need Whilst at the studio Nick was interviewed about the announcement that Radio 2 breakfast show host Terry Wogan was giving up his show. We haven't recorded Nick's response to that but he did say that Pink Floyd has not ruled out working on a Rock Band or Guitar Hero-style game in the future. "I think we'd consider it," he told the BBC. "I think everyone's looking at new ways of selling the music because the business of selling records has almost disappeared. "I'm of the old guard who are really sad about that, because I always liked the concept of the album – rather than just cherry-picking tracks – and also the business of the art work that went with it." He added that any new material from Pink Floyd was "very unlikely". "We're all still interested in the catalogue and trying to make the most of it, re-mastering when necessary, and looking at other things that we could do with it," Mason added. "I think we're all still very proud of it – we do talk to each other occasionally." Here are some cracking pictures from the event for your enjoyment.
The Wall To Be Performed In Czech Republic
October 31st will see a full performance of The Wall in Prague's biggest concert hall the O2 arena. To be performed by some of the countries finest musicians, this will be the full production, including the erection & ultimate destruction of the wall. This will be the 6th time The Wall has been presented by these musicians, with previous performances receiving high acclaim. You can get more detail from the Official Website (Pic from previous performance) UPDATE Harry Waters (Roger's son, and part of his touring band) has confirmed he will be playing keyboards at this event.
Can You Help? In 1971 Pink Floyd embarked on a 'tour' of Australia and played at Festival Hall in Melbourne on the 13th August (read our review) and at Randwick Racecourse in Sydney on the 15th. There has been some short footage of the Randwick show available for years (You can find it on YouTube) but apart from that, to date, no still photos have surfaced. It's understood that at one stage a (music?) magazine was on sale on the Australian eBay site, which it's said contained a review and one or more photos of the 1971 Melbourne show. This is where we need your help. If you are aware of what magazine the picture/s appeared in, or better still, if you have any photos of the 1971 Australian shows (Especially any with David Gilmour playing his Black Strat) we would be delighted to hear from you. We need these photos to assist an author with an upcoming book and if you can help and your photo/s are used, you will be given full credit. UPDATE: We have had a good response to this story (and tracked down the magazine mentioned) but sadly no pictures have yet turned up. We are still looking, so if you can help please CONTACT US FURTHER UPDATE Thanks to those that helped with this. A photo has turned up, so mission accomplished.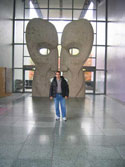 Pink Floyd Venice Expo Almost Certain We reported back in April that an OFFICIAL Pink Floyd Expo was under consideration for Venice in 2010. We can now confirm that plans have progressed to a point where this event seems to be almost certain. It's understood that there are still some council permissions to come and some red tape to be cut, but if all goes according to plan the exhibition should proceed, we understand in July 2010. At this time the venue has not been disclosed, nor has the length of time the exhibition will run for. You can be assured that we will keep you informed of developments as they occur. The exhibition presumably will be run along the same lines as the Interstellar Exhibition, that was held in (Paris Oct 2003 – Jan 2004). UPDATE (September 29th) We have had word from Pink Floyd's Manager that there are still about 6 months to go before this is finally determined.
Brad Pitt & Pink Floyd Film Director Quentin Tarantino recently appeared on the Tonight Show with Conan O'Brian, where Quentin discussed his new movie Inglourious Basterds (sic) and how he managed to convince Brad Pitt to play the starring role. Quentin said he visited Brad at his home on Miravel farm, (outside Nice France & where The Wall was recorded in 1979). Seems that Brad is bottling some of the wines made there and that he & Quentin proceeded to demolish 5 bottles of rosé aptly name Pink Floyd (by Brad) in homage to the band. Brad agree to play the role the next morning! (Thanks to Luis de Matos for the heads up)
Waiting For The Worms Malware authors have developed a cross-site scripting worm that's spreading across a Chinese social networking website. The PinkRen-A worm poses as a video clip of Pink Floyd's Wish You Were Here contained in messages sent to users of Renren, the Chinese social networking website with around 40 million members. Selecting these messages results in the execution of malicious JavaScript, further spreading the infection.
Roger Waters 'Walled Horizons' On YouTube On Wednesday (19 Aug) the United Nations premiered a film narrated by Roger Waters on the plight of Palestinians living in the shadow of Israel's controversial separation barrier. The 15-minute film entitled "Walled Horizons" was made in honour of the fifth anniversary of the International Court of Justice's (ICJ) opinion that the barrier's meandering route through the occupied West Bank is illegal. The film opens with a wide shot of Roger, walking along a towering concrete segment of the barrier beneath the painted silhouette of a giant lying on its back. Roger said "The reason for walls is always fear, whether the personal walls that we build around ourselves or walls like this that frightened governments build around themselves," "They are always expressions of a deep-seated insecurity." Roger's Manager has been in touch to tell us that the film is now officially released on YouTube and you can view it in two parts directly below.
New Interview With David & Nick North American radio host and program director, Redbeard, recently had the opportunity to talk with David Gilmour and Nick Mason about the 15th anniversary of 'The Division Bell".  Redbeard's syndicated radio program, 'In the Studio", airs on over 90 stations across the U.S. and is dedicated to telling the stories behind the greatest albums in Rock and Roll history. The shows, with exclusive interviews with Gilmour and Mason, are airing during the week of August 17th. To locate the radio station nearest you, or for fans outside the listening areas, tune in online at Redbeard's website, which also features a Richard Wright tribute show with past interviews.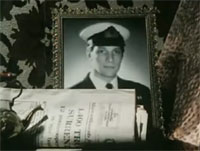 The Gunner's Dream To Appear In New Animated Movie Independent film-makers GB Hajim and Shelley Doty have pulled off a coup.It's pretty unusual being allowed to have Pink Floyd music in a dramatic film. but Roger Waters has given them permission to use The Gunner's Dream in their 85-minute feature length animated movie "strange frame". The film-makers describe the movie as "2001: A Space Odyssey with the rich texturing of Japanese manga / anime like Ghost in the Shell meets Alan Parker's Pink Floyd: The Wall and The Commitments". Sounds like this might be interesting! "strange frame" is currently in production, and is due for release in 2010 with a soundtrack album. More information can be found on Wikipedia
David Gilmour & Chicago Promo Video David's Management have been in touch to tell us that there is new promotional video clip of the Chicago single, featuring David with Chrissie Hynde & Sir Bob Geldof, which is now available from David's Official Site Sadly the news is not all good, as alleged hacker Gary McKinnon has just lost his latest legal battle against extradition. You might also care to Download The Single where you can make an (optional) donation in aid of Autism charities.
Get A Fix In Wales Those that are in Wales on Sunday (23 Aug) should head straight to the Green Man Festival and find the tent that is sponsored by Shindig Magazine! Reason being is that at 1AM (note AM) the closing event of the festival will be a special screening of the cult movie DOPE, which features rare footage of Syd Barrett's Pink Floyd performing at UFO in 1967. You can read more about the movie in our Exclusive Report
An Evening With Guy Pratt AFG sent Col to meet up with Guy Pratt at Guy's hilarious Breakfast Of Idiots show on the Gold Coast in Australia recently and Col hasn't stopped talking about it since! You can read his report of the meeting in our SPECIAL REPORT

UNSEEN SYD BARRETT FLOYD FOOTAGE AT UFO Forgive our shouting but we are excited! Please check out the clip below. This is a short example of the nearly 2 minutes of film of Syd Barrett's Pink Floyd performing at UFO in 1967. The footage is from a long lost film called DOPE which you can read more about and even get your hands on a copy by checking out our Exclusive Report
---
Peter Curzon – Special Report AFG were lucky enough to catch up with the charming and affable Peter Curzon recently. Peter, as you probably know is a leading UK designer, who works alongside Storm Thorgerson and is responsible for many stunning images, including the cryptic design of the Division Bell booklet. He's in Australia to promote Storm Thorgerson's Taken By Storm exhibition and managed to find time in his busy schedule (He squeezed us in between Aussie bands Powderfinger and Wolfmother) to have a nice long chat with us. Read our exclusive report of this event
Still First In Space Fri, 24 Jul 2009 The joint crew of Endeavour and the station was awakened at 5:03 a.m. EDT by Pink Floyd's "Wish You Were Here," played for lead spacewalker Dave Wolf. Source (Thanks Phil.)
Guy Pratt Live Interview AFG in conjunction with Radio Station Valley FM 95.9 were proud to present a live interview with Guy Pratt on Thursday 23rd July. AFG correspondent Les Bounds chatted to Guy about his current Breakfast Of Idiots standup comedy tour, of his time with Pink Floyd and various other things!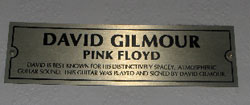 Hard Rock Updated It's been some time, but we finally have new contributions to our Hard Rock collection. In case you missed it before, we are compiling a pictorial collection of Pink Floyd related items that appear in Hard Rock Cafe's around the world. So far we feature Miami, Maryland, Philadelphia, Myrtle Beach, Times Square, Moscow, Cologne, Boston, Rome, Bali, Los Angles, Madrid, Cancun, Barcelona and Memphis and have just added Orlando. As always, we are continually on the look out for more material. Have you ever visited a Hard Rock Cafe and taken a picture of Floyd stuff? If so, please send it to us so we can share with the rest of the Floyd community. ENTER THE HARD ROCK COLLECTION
Made by a fan using a bootleg of the original song and TV images of astronauts from a later lunar mission
David Gilmour & Rod Stewart Back in the '90's Rod Stewart put aside some unreleased tracks, including a version of 'In A Broken Dream' (Which he had previously recorded with Python Lee Jackson in 1969). What's remarkable about this track is that it features David Gilmour on guitar, John Paul Jones on organ and additional instrumentation Nick Lowe & Pete Thomas. In September, Rod will release a new box set, which will include 'In A Broken Dream.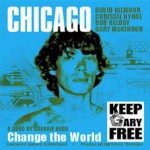 David Gilmour 'Chicago' Download Sir Bob Geldof, David Gilmour and singer Chrissie Hynde have recorded a song in an appeal to Barack Obama to stop the extradition of Gary McKinnon. The song calls on the president to use his powers to stop the autistic computer hacker being forcibly removed to the U.S. for trial. They join dozens of others who have already given their support to the campaign against Gary's extradition for hacking into Pentagon systems in search of evidence of 'little green men'. The trio have recorded a version of the folk/rock classic, Chicago (We Can Change the World) by Graham Nash, after Gary's mother Janis Sharp helped to make a few changes to the lyrics. She chose the song especially to appeal to President Obama, who is from Chicago. Mrs Sharp said: 'We need to reach him and ask him to help Gary as I think that is what its going to take to change all this by standing up for Gary's human rights and justice for autistic people. I thought music would be the best way to do that. 'David Gilmour has been a family friend for a long time and he's asked Sir Bob to get involved because he's the sort of person you need to tap into governments and politicians.' David had previously said 'This is a heavy handed response from the U.S. and it's hard to understand that the English justice system could not be more effectively used to prevent this. I hope that common sense will prevail.' All three musicians sing on the track, which can be downloaded from www.freegarymckinnon.co.uk.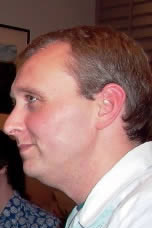 Peter Curzon In Brisbane Highly acclaimed UK designer Peter Curzon will be in Brisbane (Australia) on Saturday 18 July. Peter will present a fascinating behind-the-scenes expose of the stories behind some of the greatest album covers in history, as he takes visitors around Storm Thorgerson's stunning Taken By Storm exhibition. Peter, is a close colleague of Storm's and they have co-authored the Mind Over Matter & The Eye Of The Storm books. He has also worked on over 30 album covers with Storm. There will be a question & answer segment, where you can try to get Peter to spill any little secrets he may have about Pink Floyd, or any of the countless other bands he has designed for. Peter will be at the Artisan Gallery 381 Brunswick Street, Fortitude Valley (07) 3215 0800 between 2.30pm-3.30pm on Saturday 18 July. Admittance is free. UPDATE Read our exclusive report of this event.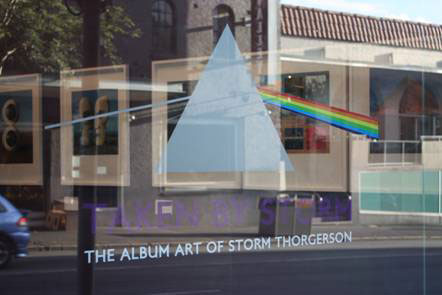 Taken By Storm – Brisbane We recently made a visit to Brisbane to check out Storm Thorgerson's Taken By Storm exhibition in Fortitude Valley and came away suitably impressed! Check out our Exclusive Report
Nick Mason At Goodwood Nick was once again at Goodwood (UK) last weekend (3-5 July) driving a 1939 Auto Union D-type (a genuine model with only five in existence). AFG correspondent Phil Evans was able to catch up with Nick during the event and managed to persued Nick to sign a copy of Author Mark Blake's most excellent Pigs Might Fly book.
Pink Floyd Rarities – Blind Auction Ever wanted to own some rare Pink Floyd memorabilia? We are pleased to announce an exclusive auction that collectors are sure to drool over. A small number of Pink Floyd items have just become available on the open market and here is your chance to bid for them in our Blind Auction. Check out what's for sale and get your bids in as soon as you can! BLIND AUCTION

Mind Over Matter Opens In Ely Storm Thorgerson has been busy with his traveling exhibitions lately. Not content to have his 'Taken By Storm' exhibition running in Brisbane Australia (see story below) his equally popular 'Mind Over Matter' show has just opened at the Babylon Gallery, Ely, where around 40 Pink Floyd photos are on display. Ely is a beautiful, compact cathedral city, and just over an hour from London by train – well worth a visit! An added attraction is an award winning tea shop right next door to the gallery…
(For those wondering what the difference between the two exhibitions is, basically 'Mind Over Matter' features Pink Floyd images, whereas 'Taken By Storm' has Pink Floyd images PLUS a wider portfolio with other artists.)
Taken By Storm – Brisbane Australia As we exclusively revealed a while ago, Storm Thorgerson's traveling art exhibition has now hit Brisbane – Australia and continues through until 1 August. The exhibition is at the Artisan Gallery 381 Brunswick Street, Fortitude Valley (07) 3215 0800 and is open Tues-Fri 10.30am – 5.30pm Sat 10.00am – 4pm. There are over 50 wonderful art works to droll over, all of them are limited edition fine prints, numbered and signed by Storm. All works are for sale.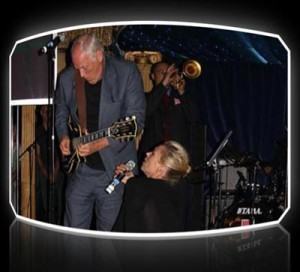 David Gilmour & Kate Moss David Gilmour appeared alongside Supermodel Kate Moss last Thursday (18 June) and performed George Gershwin's standard Summertime. It was all in aid of charity of course, with proceeds from the event going to children's projects in Palestine. David & Kate hauled in an impressive £47,600 which was raised from the audience who placed bids for each act to perform. Other acts included Jamie Hince & Lily Allen, Suggs, David Walliams, Will Self & more.Full Story
Snippets Here's a couple of events that could be worth checking out if you are in the area.
Harry Waters Band Performing Sunday 21st June at 8:30pm at The Bulls Head 373 Lonsdale Road Barnes London.
Pink Floyd Night in Moscow Cosmos June 27 Midnight – 10am Wide screen viewing of Live At Pompeii, Delicate Sound Of Thunder, PULSE, Roger Waters – In The Flesh, David Gilmour – Remember That Night, David Gilmour – Live In Gdansk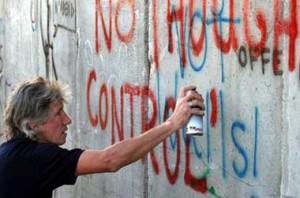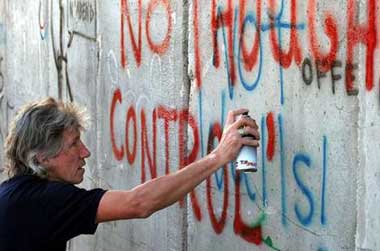 Tear Down The Wall – Roger Waters Roger Waters has said that he would give a concert in a flash if Israel's West Bank wall is torn down. Roger, who has been visiting Israel and Palestine, made the promise Tuesday (2 June) during a visit to a Palestinian refugee camp that is hemmed in by the separation barrier's tall slabs of cement. Roger had harsh words for the West Bank barrier, which Israel says was built as a defense against Palestinian militants. Roger says the wall amounts to an oppressive grab of Palestinian land and that he hopes that "this thing, this awful thing, is destroyed soon." This isn't the first time Roger has spoken out against the West Bank wall, on 21 June 2006 he visited Bethlehem and spray-painted the words 'No Thought Control' (pictured) on a section of the security fence. Whilst in Israel Roger visited a former movie theater in Jenin. (Cinema Jenin, was shut down in 1987 and is being reopened as a film school). He also visited the Sam Spiegel Film and Television School in Jerusalem, to show his support for the institution and to encourage cooperation between the Spiegel School and Cinema Jenin.
Free Download An exclusive download of the track 'Mayday' that composer Nick Laird-Clowes and David Gilmour wrote for Nick Broomfield's documentary about the Kingsnorth protesters is now available for free download. Nick's 20 minute film relates the story of the Greenpeace activists who scaled the 220m chimney at Kingsnorth and features the song Mayday which has David Gilmour on backing vocals and guitar, and Guy Pratt on bass. You can download the song and watch the video from the Greenpeace Website
David Gilmour Performs For Charity David Gilmour performed on 25th May at one of the 'hidden' Crisis gigs, where he collaborated with Mali superstar duo Amadou & Mariam The 'hidden' venue turned out to be the Union Chapel in Islington. Reports are that it was an enjoyable gig, with David's spot being "very guitar jam heavy". 'No Way' was played, (See video clip below) with David joining in on guitar, but no vocals from him.
Video clip thanks to 'pookers'. Pictures thanks to John Davies Read full review with more great pics HERE
---
Nick Zooms Into London Nick Mason recently (7 May) drove his Ferrari 250 GTO in Regent Street London for the official opening of the new Ferrari Store. Pictured above (Click To Enlarge) are (left to right) Nick with Ferrari F1 driver Kimi Raikkonen. Nick's Ferrari 250 GTO.Nick talking to some of those in attendance at the opening. Many thanks to UK correspondent Elliot Smith for the pictures.
---
David Gilmour To Perform On 25th May David's only official live performance this year so far will be one of the 'hidden' Crisis gigs, where he will collaborate with Mali superstar duo Amadou & Mariam The special show will be at a secret venue in Central London; ticket holders will be informed of the venue details on the day prior to the show.Crisis (one of David's favourite charities) will receive all proceeds from the gig, which will include support acts, after which Amadou & Mariam will play with their electric band for around an hour, including a portion with David on guitar. Tickets are priced at £25 plus booking fee, and there are a few 'VIP Tickets' in the first two rows, at £75 plus booking fee, which include a goody bag. If you are unable to attend the show but wish to make a donation to Crisis, you can do so HERE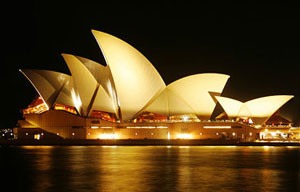 Beyond The Darkside Raise The Opera House Roof! In an incredible performance on Friday night (8 May) Beyond The Darkside put in the performance of their lives, that had the capacity crowd on their feet almost from the start. The opening set consisted of a collection of Floyd classics, with the second set featuring the Dark Side Suite with 6 songs from The Wall as the encore. Front man Kevin Hunt. although suffering from a virus, is sounding more like David Gilmour than ever, and his guitar work was phenomenal. We hear that several overseas promoters are fighting over the rights to tour the band in the Nth America & Europe, so keep an eye open for some announcements, possibly later this year. In the meantime Australian audiences get two more chances to catch this tour, as the band will be performing in Melbourne on May 22 & 23 at the Palms At Crown. We really urge all Australian Floyd fans to get out and support our home grown product while you still can!
Pink Floyd To Sue EMI? The Guardian (UK newspaper) have reported that Pink Floyd are suing EMI and its private equity firm owners Terra Firma, claiming that the label has miscalculated their royalty payments. The legal action likely occurred during the band's negotiations over payments that occur every three years. The exact terms of the lawsuit weren't revealed, and both EMI and Pink Floyd declined to comment on the case. However, since only the Beatles have outsold Pink Floyd's back catalog over the past 25 years, this case may be over multi millions in lost royalties as Dark Side of the Moon and The Wall are among the best-selling albums of all time.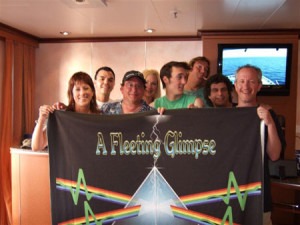 Ahoy There Me Hearties! This motley crew are some of the AFG forum members who recently cruised around the Bahamas on the maiden voyage of the Great Gig in the Sea. Eating, drinking and listening to live Pink Floyd music (Provided by Think Floyd USA) sounds like our sort of party. There are more reports and pictures on THE FORUM
Les Porcs Pourraient Voler En Français! Relax, we haven't gone continental on you! It's just our way of telling our French visitors that Mark Blake's splendid book 'Pigs Might Fly – The Inside Story Of Pink Floyd' has been published in French. The French edition is available through Amazon France and of course don't forget you can still order the UK Edition or the US Edition (Where it's known as Comfortably Numb) French translation thanks to Babel Fish, no correspondence entered into!
Nick Mason At Cadwell Park (The video accompanying this story has since been withdrawn) The sound of thunder boomed around Cadwell Park racetrack when Ferrari fan Nick Mason got into top gear. His Ferrari 512 – worth a cool £1.5-million – tore round the track at up to 150mph, powered by its 600bhp engine. The treasured Ferrari was used in the Steve McQueen movie Le Mans in a crash scene, and also driven by legendary racing drivers Mario Andretti, Ronnie Peterson and Arturo Merzario. The car was driven around Cadwell by motoring journalist and racing driver Mark Hales who co-authored the book 'Into The Red' with Nick. (Thanks to Phil from Grimsby for the heads up) Full Story

Echoes – The Complete History of Pink Floyd has received a second edition UK printing. Completists may wish to note this edition has some updates to captions, illustrations and factual information, as new information has come to light. The new edition is printed in exactly the same format, on slightly heavier stock ORDER HERE Also of interest to AFG readers in Hungary is the first in a series of foreign language editions – Cartaphilus are the first publishers to translate "Echoes" into a foreign language and it has been beautifully reproduced with a redesigned hardback cover to roughly the same dimensions. For further details please see the Cartaphilus Website
Pink Floyd Expo In Venice? Regular Italian AFG correspondent Stefano Tarquini has been in touch to tell us about rumours circulating in an Italian newspaper (Il Gazzettino di Venezia) that state that there is to be an OFFICIAL Pink Floyd Expo to be held in Venice in July 2010. It's said that the organisers are looking for a suitable building that will be large enough to house the Flying Bed & Pig, Mr Screen, The Wall Airplane, instruments, lasers and interactive material. It's planned to have two dedicated exhibitions in honour of the late Syd Barrett & Richard Wright. Curiously the article concludes with this. "it is not excluded that there is a surprise next year, maybe a new LP. Gilmour will be in tour in 2010 and it's not excluded that the next year we find something new by Pink Floyd". (Translated). We asked David's Manager about this and he has confirmed that they are looking at the possibility of an exhibition, although it's only in the discussion stage at this time. He also stated that it was doubtful that there will be a new album and tour from David in 2010, and assured us that there would be nothing new from Pink Floyd.
David Gilmour Backs McKinnon Protest Gig David Gilmour has agreed to participate in a musical protest against attempts to extradite UFO enthusiast turned hacker Gary McKinnon to the US. Janis Sharp, McKinnon's mum, is organising a sing-in protest to coincide with President Barack Obama's upcoming visit to London for the G20 conference on the global economic crisis at the beginning of April. "Dave Gilmour of Pink Floyd is going to sing Graham Nash's 'Chicago' for our son Gary McKinnons 'Sing In' for World Autism Day 2nd April yea," Sharp excitedly announced via micro-blogging service Twitter. FULL STORY
Storm Thunders Across The World Storm Thorgerson's highly acclaimed and populare travelling art exhibition 'Taken By Storm' is set to stride the world stage once more. London's Gallery@Oxo at Oxo Tower Wharf, Bargehouse Street, South Bank, London (where Storm's 'Mind Over Matter' exhibition was held in 2008) will see Storm's latest exhibition from 14 – 31 May. It then takes a giant leap across the pond, where it will open at the Artisan Gallery in Brunswick Street Fortitude Valley Brisbane (Our little bird was right again) where it will run from 4 June – 1 August. Make sure you don't miss this if you are in either area at the time.
The Harry Waters Interview Hot off the wire, A Fleeting Glimpse is delighted to bring you our long awaited interview with Harry Waters. Refreshingly candid, Harry answered our questions without hesitation, confessing that his first gig with Roger's touring band in Capetown in 2002 was "Terrifying" "My legs were like jelly and I honestly thought I wouldn't get through it". Harry also gives his views on bootleg recordings and names his favourite top three Pink Floyd albums. (Surprisingly Dark Side Of The Moon doesn't rate a mention). He also lets the cat out of the bag that he was approached by his father to tour with him in 1999 and he declined! Make sure you check out our Exclusive Interview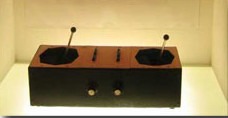 Azimuth Coordinator At The V&A Way back in ancient history there lived a beast called the Azimuth Coordinator. A quadraphonic sound system used by Pink Floyd in the sixties, it had a fabled appearance at the famous Games For May concert. (Queen Elizabeth Hall London – 12 May 1967). However, the original system was stolen and later replaced by a new version, which was used at the Royal Festival Hall London on 14 April 1969. Little is known about its fate since Pink Floyd relegated it to the waste bin of history, although it did turn up at the Interstella Exhibition in Paris (Oct 2003 – Jan 2004). However, on 18 March 2009 the Victoria and Albert Museum London opened their new Theatre and Performance Galleries and one of the exhibits is none other than the little old Azimuth Coordinator! More Info On Exhibition (Pssst we heard that the original coordinator was living in Melbourne Australia but we can't verify that!)
Floyd Get A Blow Out Roosevelt Stadium NJ 15 June 1975 and things go horribly wrong for Pink Floyd. It started when the show, originally scheduled for 14th June was rained out and had to be rescheduled for the next day. During the show, the flaming airplane that was supposed to crash into the stage, somehow managed to get stuck some 50 foot from where it was intended,and burnt out over the heads of the audience! Things didn't get any better as the inflatable pyramid had to be cut free due to high winds and landed in the parking lot, only ripped to shreds by souvenir hunters! Both David Gilmour (in an interview) and Nick Mason (in his most excellent book 'Inside Out') have described these incidents as occurring at the Pittsburgh show on 20 June, but we have turned up a press cutting that proves that this actually happened in New Jersey on 15 June. Check It Out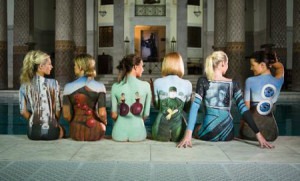 New Version Of Back Catalogue
Breathtakingly beautiful, a new version of Storm Thorgerson's Back Catalogue was recently released. Based on the original done for Pink Floyd, this version takes in Catherine Wheel – trees, Nice – Elegy, Umphries McGee – Onion Ladies, Rainbow, Peter Gabriel – Car, and of course Pink Floyd's – Pulse DVD. The image was shot at the exclusive RAC club in Pall Mall London where it went on sale to RAC members, who snapped up 25 of the 120 in this edition in short time. It's now on sale to the general public for a very reasonable £350 but you better be quick! (Each giclee print is signed, titled and numbered by Storm) To order, or for more information
StormSight.co.uk
Pittsburgh 20 June 1975 Pink Floyd were playing to sell out crowds wherever they went. 50,000 souls turned out to see them perform in Pittsburgh that hot night in June 1975, but although bootlegs of the show have circulated for years, pictures have been as scarce as hens teeth! Fortunately a couple of pictures have finally turned up, and we can now present them to you, along with a review of the show. Pittsburgh 1975
Roger Waters Supergroup ContactMusic.com have reported that Roger Waters joined up and performed with Bily Joel, Jon Bon Jovi, Paul McCartney, Bruce Springsteen and Jimmy Buffett last year at a Jon Bon Jovi party. It's said that there was an impromptu jam where they played Wish You Were Here, I Saw Her Standing There and Long Tall Sally."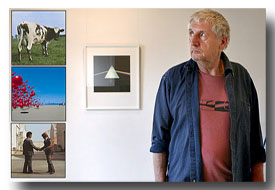 Storm On The AFG Forum Wow! What a blast AFG Forum members had on 4 March. Storm Thorgerson was our special guest and had everybody in hysterics with his outstanding intellect and quick wit. To everybody's delight Storm told of his unusual relationship with James Guthrie, (no they don't have sex!) revealed everything he could about the Publius Enigma, described the meaning behind the Wish You Were Here cover and gave advice on how to find the key to universal understanding and happiness! All this and more in an outstanding web chat. Read a full transcript on the webs most active Pink Floyd/ Roger Waters Forum
Book Reviews Updated We got belted around the ears, (and rightly so) for failing to include a review of Barry Miles book 'The Early Years' in our new Pink Floyd Library. So we managed to convince a guest reviewer to put pen to paper, and now include his review in the Library Whilst we are on the subject of books, Mark Blake's critically acclaimed 'Pigs Might Fly' (Comfortably Numb in US) has just been published in Japan. Amazon Japan currently have the Japanese edition on sale, or you can order the English version from the following links. USA | UK (Both ship worldwide) Authors Website
AFG Pink Floyd Library Now Open There are probably close on 100 books that have been published in the English language alone about Pink Floyd. Many of them are dismal, but there are also some really great ones if you know what you are looking for. To help you find your way through the maze of books, we have introduced the AFG Library as to what we consider to be the best Pink Floyd books that are on the market today. Each book has been given a rating and either a review, or details about what you can expect.
Save An Elephant – Kiss Nick Mason ' Buy Once Give Twice' the UK's premier charity auction site are offering up a most unusual item to bid on. You can score yourself a kiss from Nick Mason (No tongues allowed) and it's all in a good cause. The auction is to benefit the Elephant Family and not only do you score a kiss from Nick but you also receive a date with a real elephant. (No folks, we are not kidding!)
David Gilmour Signed Strat Up For Bids Musicians On Call, a non-profit organization formed in 1999, brings live and recorded music to the bedsides of patients in healthcare facilities. Each year this worthwhile cause holds a benefit auction, with proceeds going to complement the healing process for patients, families and caregivers. The 2009 online benefit auction has just kicked off and one of the items being offered is an autographed Fender Strat Guitar signed by David Gilmour. By the way, this isn't the first time that David has had a signed guitar in the auction, in 2005 the guitar he signed went to an Australian Bidder UPDATE – SOLD (we think for $1500)
Annual Cinema For Peace Gala Report Earlier reports incorrectly stated that Roger was going to perform at the Eighth Annual Cinema For Peace Awards in Berlin on Monday (9 Feb). Roger was actually there to receive an award (see pics) but there was no performance from Roger!
Surprise Appearance By David Gilmour Patrons at Ronnie Scott's club in London on Tuesday (10th Feb) who went to see Phil Manzanera's band were treated to a surprise appearance in the second set. David Gilmour joined long time friend Phil and the band onstage and helped perform 'Autumn Leaves' a bluesy rendition of 'Petite Fleur' and 'Filles de Kilimanjaro'. In other news, sadly David missed on on getting a Grammy last Sunday (8th February) with the award going to Zappa Plays Zappa for their version of Peaches En Regalia.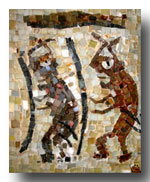 Syd Barrett Mosaic Now On Ebay Thanks to Rosemary Breen, Syd Barrett's sister, this wonderful mosaic (Pictured right) by Syd Barrett is now being auctioned on Ebay The mosaic by Syd is thought to be the only mosaic ever completed by him. It is an early work, probably made in the early 60s. The mosaic has never been out of possession of the Barrett family and is is only now going on sale in order to help raise funds to establish the Syd Barrett Centre for Arts in Mental Health in Syd's hometown of Cambridge. The mosaic has a thin wooden frame, also made by Syd Barrett, and comes with a letter of authencity signed by Rosemary Breen (nee Barrett), Syd Barrett's sister. UPDATE Sold for a massive £10,700
'Comfortably Numb' (the book) – Winners Announced Fifteen (15) lucky people have won themselves a copy of author Mark Blake's highly acclaimed book 'Comfortably Numb' (Known as Pigs Might Fly in UK). [infopopup tag=list] This really is a remarkable book and if you missed out on winning a copy, don't despair! Amazon UK and USA currently have it on sale at some really good prices, so why not treat yourself to a great read by a brilliant author? For more information on the book you can visit Mark's site at www.markrblake.com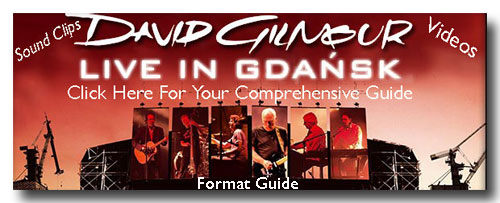 The Wall On Broadway News Author Lee Hall, best known as the author, on screen and stage, of the award-laden Billy Elliot, has confirmed he has been working on a 'stage version' of The Wall. News of this project has been scarce for some time, so it's refreshing to know that progress on the stage version seems to be moving along.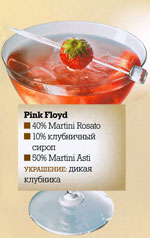 Pink Floyd Cocktail Our good friend Alex from Moscow was recently at the Bacardi Company offices and found the above when flicking through the corporate Bacardi & Martini magazine.
Unseen Animals Tour Pics Uncovered A whole bunch of unseen (as far as we are aware) pictures from Pink Floyd's Animals Tour of 1977 have just been made available, and we are delighted to be able to bring you a great selection of them. Shot at the Festhalle – Frankfurt Germany in January 1977, these pics are of a high quality for their age. In addition we have been able to locate the Melody Maker article about the concert, which is an entertaining read in itself! SHOW ME NOW!
'Comfortably Numb' (the book) – Win A Signed Copy Our good friend author Mark Blake is running an easy to enter competition, where you can win one of 15 signed copies of his highly acclaimed book 'Comfortably Numb' (Known as Pigs Might Fly in UK). All you have to do is subscribe to Mark's newsletter at www.markrblake.com and your name will be entered into a prize draw to win a signed copy of the US paperback edition of Comfortably Numb: The Inside Story Of Pink Floyd. The winners will be announced after the draw on February 1 2009. If you can't wait to win, why not order now from our links. US | UK
2005 | 2006 | 2007 | 2008 | 2009 | 2010 | 2011 | 2012 | 2013 | 2014 | 2015