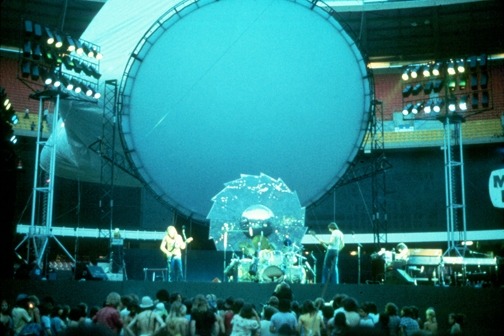 Pink Floyd performed in front of a massive 50,000 people at the Three Rivers Stadium in Pittsburgh PA on 20 June 1975. The Stadium at the time was home to the western Pennsylvania professional sports teams and was a very popular location for major events. Some fans from out of town would reserve hotels in downtown Pittsburgh before attending an event at the Stadium. This was a premier spot for other big name concerts as well. Surprisingly, pictures from this concert are difficult, if not impossible to find. (Although bootlegs of this show have been circulating for years!) Fortunately Sam Marshall has come to the rescue and dug up a set of pictures from the concert which were taken by his friend Joseph Stercz. This is what Sam had to say:
I attended this show with friends of mine, and these ten photos are from 35mm slides that one friend took at the show.
It was a long-day's drive from Cincinnati to Pittsburgh. Like most of the crowd on this sweltering summer day, we were hot and impatient for cooler air as well as for the show to begin. As I note later on, conditions inside the stadium were challenging for those who aspired to photograph or record the show, and so it's somewhat of a miracle that even these few humble documents survived.
In the first four photos, the transition from early evening to dusk illustrates that the band performed most of its first set in open sunlight.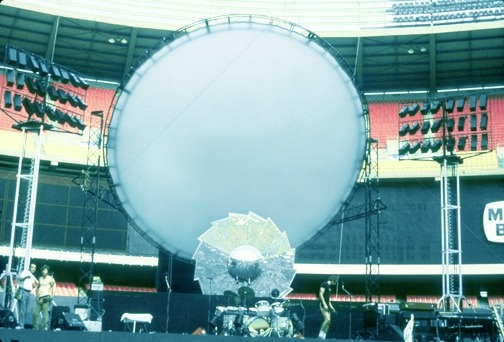 The first photo (Above) shows the stage set just prior to the show's kickoff. The mirror-ball flower was fully visible prior to the show, although I had remembered it as rising up at the end of the set, during Shine On. Memory. . . a funny thing. (That's why we take pictures!)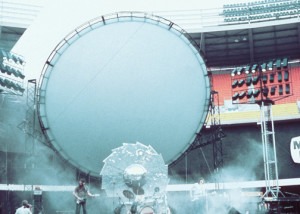 The second photo (left) shows the end of Raving and Drooling, and you can tell this by the cloud of fog, Roger growling into the microphone, and the absence of David's steel guitar, visible in the first image with a cover draped over it. Once he ripped off his solo in Raving, roadies removed it. (You can also see a sagging white, inflatable pyramid hovering behind Mr. Screen on this and the next two images.)
The third photo (See top) shows the funk jam at the end of Shine On with Roger locked in tight with Nick. Lights were turned on the mirror and it began to spin slowly. Sunlight from the west was still visible through the upper rim of the stadium, though not in this photo. The mirror could have been spectacular in darkness! (Truth be told, I felt seriously cheated.)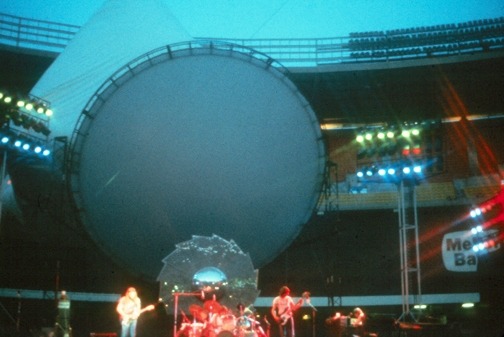 And the fourth photo comes from the very end of Shine On. Note how it shows that the sky was almost dark enough for proper lighting and projections, a full hour into the show. But the mirror-ball flower was removed after the first set and did not make a return appearance.
The remaining six images come from various unspecified points during the Dark Side set. The series ends with a fine action shot of Dick Parry wailing on sax, presumably during Money. Or perhaps it was Echoes.
Although Mr. Screen is visible in many of these images, actual projections were somewhat sparse during the show, as I recall. There were no projections during the first set, and the screen was dark for long passages during the Dark Side set when one might have expected more visual drama. So it's possible that things were not quite working properly. Nonetheless, a few films stand out in my mind – the sea of clocks in Time, the rolling waves in Great Gig, the apocalyptic destruction of record albums and the mash-up of crazed world leaders in the Brain Damage/Eclipse finale.
Some additional recollections: This concert drew a rowdy, general-admission audience from several states, and it had been a very hot day. (The show had been advertised in Cincinnati as the Floyd's "Only Area Appearance.") We waited in a huddled mass outside the stadium for a couple of hours in the late afternoon, herded like cattle on the concrete in open sun. It was a relief just to get into the overhangs of the entrances and to get access to restrooms. After that, it was a mad scramble to get a good field position.
Although we were lucky initially in getting about 20 "rows" back from the stage and were able to sit during the technical check and some of the first set, the free-form crowd continued pressing in. Many people closest to the stage chose to stand, thus greatly annoying those who wanted to sit instead and who saw no reason for these self-centered idiots to stand. Tempers were quite short. We heard many nasty words around us, got pushed and jostled around quite a bit ourselves, and saw one fight break out nearby among several people between the first and second set.
These conditions fairly well account for the limited number of photos and my failed attempt to get a complete recording of the show. Checking my recording at intermission, I found the mic had shorted out during Shine On. I had reset the recorder for the second set, and then gave up completely when someone stepped right on top of the recorder!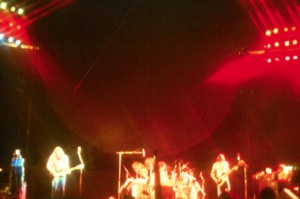 This show also marked the first time I had seen DANCING at a Floyd show. The composition of the audience was much more party-oriented than even the previous Floyd college arena tour (1973), and just as David has often remarked, people were shouting out MONEY at inappropriate times. (Like at the beginning of Dark Side?) With 1975 being thick in the disco period, more than a few couples were doing "Bump" dancing, looking and laughing at each other, or dancing with heads down, as if this were just another pub band. From a longtime fan's perspective, I felt that these folks were right out of place. It seemed as if they had come to the wrong show. I even said that to a few of them!
At least to me, the performance felt rushed and merely "functional." In other words, a kind of going through the motions. There were notable rough spots, such as a flubbed ending on Raving, out-of-tune singing and missed words on You Gotta Be Crazy, and an unremarkable run-through of Dark Side, which in my opinion sounded better on previous tours. As I heard it, it seemed the band was struggling to connect with the audience and with each other, and aside from a few peak moments, failed on both accounts.
I've always wondered whether this lack of on-stage chemistry was a result of general boredom and fatigue among the band members, or possibly even some of the legendary creeping frustration with the audience. Tension was certainly evident in Roger's voice as he strained to project his song introductions above the crowd noise. During the intro to You Gotta Be Crazy, he attempted some charm, yet he was obviously ruffled. "David starts this next one on his own, so you'll HAVE TO BE A LITTLE BIT QUIETER. . . ." (A few days later, at the Hamilton, Ontario, show, Roger's nerves were more obviously frayed when he could be heard sourly dissing the audience, "Tell you what: We'll carry on. . .and you just talk amongst yourselves.") Without looking too hard, one can see hear even in these 1975 shows the early stirrings of the trend that culminated in the infamous final show of the 1977 Animals tour. And we all know what that finally led to!
Personally, I felt a lot of confusion/impatience with the new songs, which were all first-time exposures for me. Obviously all the distractions and agitation didn't help me in catching "concert fever," but at least I did TRY to listen. During the show, I read the lyrics in the Official Tour Program comic book and complained to my friends that I didn't like Roger's obsession with "craziness." And I didn't find the "crank-it-up/rock out" vibe in the first set at all entertaining, just a big turnoff. Obviously, the band was trying to adjust their songwriting to a new environment, and the old atmospherics were getting lost in translation. Even the retooling of Echoes with female backup voices and a sax solo replacing the early-third guitar solo felt off the mark to me. On the long drive back home (with four drivers, we drove until seven the next morning after a two-plus-hour aftershow wait in the parking lot), I griped repeatedly: "I just don't get what they're trying to do." Three months later, when Wish You Were Here came out in mid-September, I finally started to understand.
Above photos © 1975, Joseph R. Stercz, Cincinnati OH
---
Images below and newspaper ad thanks to Jack Hambach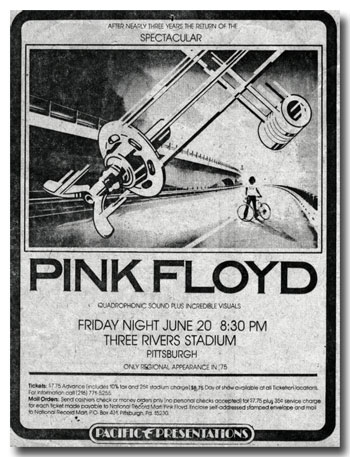 ---
Pittsburgh Press
From virtually every angle , incredible was the word for Pink Floyd's Three Rivers Stadium concert last night. It was incredible how a first-place baseball team with the third best record in the majors drew only 8,200 there Thursday evening, yet a band with no hit singles to its credit attracted nearly 50,000,  a stadium rock show record.
Police reported no more than the usual number of underage drinkers, fist-fights and injuries from "jumping from ramp to ramp", although one would-be gatecrasher fell a goodly distance when the rope he was using to scale a wall broke and another youth was badly cut after being slugged in the face with a bottle by an attacker who melted into the mob in the home plate area.
It was still light when they started, detracting from the mood so vital to appreciating Pink Floyd's music. Call it what you will – space-rock, cerebral-rock, thinking man's rock – it needs darkness so the lights and props can raise the sound into a real sensory experience.
Using the bulk of Dark Side as the second party of their show was the same format they employed two years ago – but what a difference this time. a huge "tambourine" behind the band proved to be a screen on which were shown clips "describing" each song. And to top it all off, a monstrous white pyramid that had hovered behind them all night rose slowly from its moorings as spotlights beamed off it and rose high above the crowd (on wires), riding completely out of the stadium.
Set List
Raving and Drooling / You Gotta Be Crazy /Shine On You Crazy Diamond (parts I – V) / Have A Cigar / Shine On You Crazy Diamond (parts VI – IX) / Speak To Me / Breathe / On The Run / Time Breathe (reprise) / The Great Gig In The Sky / Money / Us And Them / Any Colour You Like / Brain Damage / Eclipse / Echoes