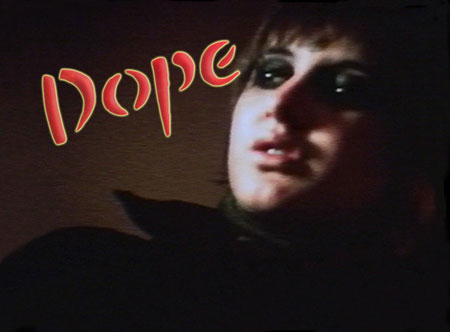 Filmed in early 1967 by filmmakers Sheldon & Diane Rochlin (the latter now known as Flame Schon) DOPE tells the story of two American couples and a stunning free-spirited New Zealander living together in London at the height of Flower Power. Caroline, the beautiful New Zealander, becomes a junkie and the story is woven around her and her misadventures.
Very similar in style to Peter Whitehead's 'Tonight Let's All Make Love In London' DOPE takes you on a journey through swinging London, including liberal lashings of dope use. (If you don't like seeing needles injected, stay away from this film.) However, our purpose here is not to go into great detail about the movie itself but to tell you a bit about the background, and as to why Pink Floyd fans might be interested in this buried gem.
The movie was to be released in 1968 but due to the bankruptcy of the distributors the film ended up 'lost on the cutting room floor'. Obviously at least one copy survived though and apart from a few special outings from time to time, the movie has never been screened or commercially released. (The last public screening was in 1999 but by coincidence it will be screening again at the Green Man Festival in Wales UK from Aug 21-23 2009). In 2008 Flame Schon did make the movie available for download (for a very small fee) but due to complications had to cease doing so.
OK, why would any Pink Floyd fan be interested in this movie? Well it just so happens that as part of the filming the crew visited the original UFO club (Tottenham Court Road, not Chalk Farm) and Pink Floyd just happened to be playing there!
There was apparently a lot of footage shot, but sadly most of that has disappeared. However the film still has nearly two minutes of vision of Syd Barrett's Pink Floyd playing some unbelievable psychedelic pulsating music. About half the Floyd footage concentrates on the band, with the other half showing the main character in the movie dancing. So, you only get to see the Floyd for about a minute and hear them for two.
Now to the really good part. Flame Schon (one of the original film makers) is giving away DVD copies of the movie for the cost of shipping and handling ('handling' covers costs for materials, duplicating each DVD individually, printing inserts and packing). These costs come out to $36 (Including shipping within the USA) and outside the USA $47 (Shipping included).
We know this movie isn't for everyone but completists will certainly want to add this to their collections.
To request a copy simply Email Flame (Please mention AFG when doing so). If you want to read more about the movie and it's background Check This Out (pdf)
A Fleeting Glimpse wishes it to be known that we have no financial or other interest in this movie. We are bringing you this information as a public service.