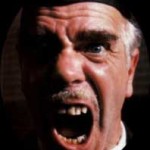 That's Old News!
A repository of things past.
2014
Dark Side Of The Moon Back In Orbit! Following on from the amazing sales of The Endless River (it's gone platinum in some countries) The Dark Side Of The Moon has shot back into the Billboard chart at No 13. It moved just over 38,000 album equivalent units last week, comprised mostly of pure album sales (nearly 38,000; up 940 percent). That's the album's highest rank since the Oct. 15, 2011-dated chart, when it re-entered at No. 12 following a new deluxe reissue. With 889 weeks on the chart, it continues to rule as the album with most charted weeks in the history of the tally.
---
Andy Jackson's New Album – Signal To Noise Regular visitors will recall that some months ago we told you about Pink Floyd Engineer Andy Jackson's New Album 'Signal To Noise'.After listening to an advance copy of Andy's New Album 'Signal To Noise' were most impressed. So much so that we decided to ask Andy to do an exclusive interview for this site (See below) This is one brilliant album and not to be missed!
Andy Jackson - The Boy In The Forest
Above – The Boy In The Forest.
Below – The AFG Exclusive Interview.
https://youtu.be/_U_jsDQb
Signal To Noise is now available from the following Amazon links
UK Deluxe | Standard CD / USA Deluxe Only / CANADA Deluxe | Standard CD / GERMANY Deluxe | Standard CD
---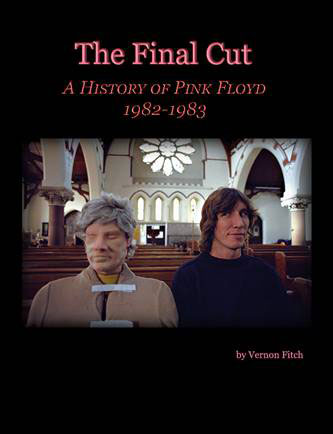 And Now For Something Completely Different. PFA Publishing have announced the publication of their latest book, titled The Final Cut – A History of Pink Floyd 1982-1983. The book features an insiders look at the making of The Final Cut album, insights into the Pink Floyd recording process, an examination of the Holophonic recording process used on the album, a song by song analysis of The Final Cut album, and a glimpse into the making of The Final Cut film. It also includes a world-wide The Final Cut discography, as well as over 150 illustrations, with many rare and previously unpublished photos of the recording sessions, and pictures of The Final Cut memorabilia from The Pink Floyd Archives collection. With contributions from James Guthrie, Willie Christie, Andy Jackson, and others. This beautiful hardcover book is a limited edition of just 1,500 copies, with each copy numbered and signed by the author. The Final Cut book is a companion book to their Comfortably Numb – A History of The Wall book, and is being offered solely to their subscribers (those who purchased the Comfortably Numb book). Subscribers can purchase more than one copy of the book if they so desire. (Note: If you would like to receive the same numbered book as your Comfortably Numb book, you will need to place your order immediately and specify your book number when you order). The book costs a modest $36.95 (US) plus shipping. To order a copy of the deluxe, limited edition book, The Final Cut – A History of Pink Floyd 1982-1983 payment may be made through Paypal to sales@PFApublishing.com (please mention 'The Final Cut book' with your PayPal order). Alternately you can also order The Final Cut book by mail using cash, check or Postal Money made payable to PFA Publishing. Send your order to: PFA Publishing P.O. Box 123 Crystal Springs, FL 33524-0123 U.S.A. If you have any questions, please e-mail: sales@PFApublishing.com Please Click Here for shipping costs which should be included with your order. Footnote: There are still a few Comfortably Numb books available for sale. You can purchase one of these, which then makes you eligible to buy a copy of The Final Cut. Please contact the author for further details. UPDATE The Final Cut Book is fully subscribed. However, there will be a limited edition reprint of it sometime late in 2015.
David Gilmour Says Farewell To Earls Court On Saturday Night (13 Dec) David Gilmour joined the 'Bombay Bicycle Club' at the very last show at Earls Court Arena. Bulldozers are set to move in on Earls Court as the famous exhibition centre is destroyed to make way for a controversial £8bn redevelopment which will replace the West London entertainment hub with luxury flats. David played lap steel guitar on the London's band's own song 'Rinse Me Down' (Correct Title), before he picked up an acoustic guitar and sang Pink Floyd's 'Wish You Were Here' much to the delight of the packed-out crowd.
Bombay Bicycle Club and David Gilmour - Rinse Me Down/Wish You Were Here @ Earl's Court London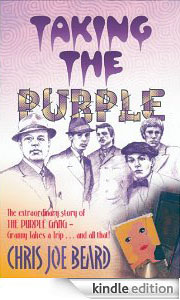 The Purple Gang Many, many years ago we featured part of The Purple Gang story on this site. If you want to delve back into the past you can read EXCLUSIVE ARTICLE that was written by founder member Chris (Joe) Beard. For those that don't know The Purple Gang were an integral part of The Summer Of Love (1967) and recorded the Hippy anthem 'Granny Takes A Trip'. They appeared on the same bill as Pink Floyd many times at UFO (Where it can be said that Pink Floyd really started their amazing journey to stardom) and other 'happenings' such as the 14 Hour Technicolour Dream. Now we are delighted to tell you that Joe Beard has put pen to paper and written a book about those times and the Kindle edition is now available to download. The Purple Gang were a group of young hopefuls, who met at Stockport Art College, formed a jug band then headed off to London to seek fame and fortune. Their talent was spotted and the band were on the cusp of stardom – until their first single – Granny Takes a Trip – was banned by the BBC. Justifying the ban, the BBC controller at the time commented: ". . . a song with a dubious title designed to corrupt the nation's youth – and a band that boasts a warlock for a singer will not be tolerated by any decent society . . ." Despite the huge setback – or because of it – their record became one of the theme songs of the Summer of Love in 1967 and the London Underground sub-culture movement. John Peel said: "I really think that Granny is one of the all-time great records." Record producer Joe Boyd wrote: …I produced it (Granny Takes A Trip) the same week as Pink Floyd's Arnold Layne – one night later. The two seemed part of the same world then. The London scene was greatly enriched that summer of 1967 by their contribution…" Syd Barrett said at the time (Refering to Arnold Layne and Granny Takes A Trip) "They can have No.2 and we`ll have No.1" You can access Joe's book Taking the Purple: The extraordinary story of The Purple Gang – Granny Takes a Trip . . . and all that! from our dedicated Amazon links and we urge you to do so. Canada | USA | Germany | Italy | UK Or you can order a copy of the book (available early in 2015) by contacting chrisjoebeard@gmail.com Cost is £17 by PayPal and includes Postage.
David Gilmour's New Album – Latest It seems as if work on David's new solo album is picking up pace and here's a few tid bits that we have learned. Steve Distanislao has done the majority of the percussion and Nick Mason may also appear on a track or two (Depending on what's chosen to go on the album). It's understood (although not confirmed) that Phil Manzanera is doing some guitar duties and there's the possibility that Guy Pratt will pick up his bass again (Although again, that's not confirmed and it's only an outside chance). We are also almost certain (again not confirmed) that Jon Carin will be playing keyboards. Of course it's already known that Crosby and Nash have put down at least one track. David is also known to have said "I have a little bit of Rick playing from my solo stuff that will hopefully appear on my next solo album." Another source said "The demos are amazing, a complete 360 degrees from On An Island" (and yes we know that 360 gets you back to where you started, we think they meant to say 180) so it is all starting to come together.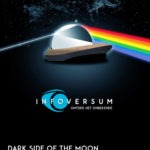 Cinema Meets Planetarium – Dark Side Special From December 6th the Infoversum in Groningen (Netherlands) will be screening a special surreal performance of Dark Side Of The Moon (See video clip below). It will then run every Saturday evening until 3 January. The Infoversum is a spectacular venue (Check It Out) it's a cinema where visitors can experience a multi-dimensional view of the universe through 3D projections in a Planetarium setting. Although Dark Side Of The Moon will only be in 2D it still promises to be a trip like no other, with fantastic sound and incredible images that provide an unforgettable experience of this legendary album. Now we imagine that many of you will be sitting there scratching your heads and saying 'but there is no Dark Side Of The Moon movie' but there is now! Starlight Productions were commissioned to produce something spectacular and that's just what they did. Visit This Site, turn out the lights, crank up the volume and be prepared to be amazed!
https://youtu.be/1j2pY9ObSQw
Pink Floyd Rare Posters We have been fortunate in obtaining permission from Picollecta.com (an awesome picture-sharing community for collectors) to display a small collection of rare Pink Floyd posters. What makes this collection especially interesting is that sale prices are displayed, along with descriptions of each poster. You may have seen a couple of these before but not realised just how much they are worth! Show Me
It's St. Nick! Just in time for Christmas, Nick Mason puts in a guest appearance on the stunningly beautiful Kirsty Bertarelli new single 'The Ghosts of Christmas Past'. The song was written by Kirsty, and in order to give it some extra power during the crescendo, she enlisted the help of a young choir from her home town. The 28 member choir is comprised of young adults and staff from the YMCA – none of whom had ever set foot in a professional recording studio before. The recording was made in Abbey Road's huge Studio One – the world's largest purpose-built recording studio. The choir was joined by Kirsty's band, as well as by Nick Mason on drums. You can order the song/s (there's more than one) now from Amazon UK
The Ghosts Of Christmas Past (Behind The Scenes)
Kirsty Bertarelli - The Ghosts Of Christmas Past ft. The YMCA North Staffordshire Choir
The Endless River Round Up With so much information about The Endless River clogging up our main page we have moved most of the content to our Dedicated Section and would request you go there to access just about all the information that is available. The album has been a sensation in most parts of the world seeing it debut at Number 1 in most countries (The obvious exception being the USA where it debuted at Number 3)
David Gilmour Tour Dates Did you get excited when you read that headline? Well so did a lot of other fans when they read that recently on another site! (Apparently missing the disclaimer at the top that said the tour dates were based on the On An Island tour) We have had a stack of enquiries asking if the tour dates are legit and the answer is a resounding NO!!! No dates are announced yet, and the album isn't even finished! We have since been contacted by a representative of the site in question to say that they are going to make the disclaimers more obvious. It seems the confusion was caused by the site guessing a date in Brazil, that somebody misinterpreted as a fact, and circulated an email to that effect. (Probably something lost in the translation). All is well with the world now! You can be sure that if & when Official tour dates are announced they will be listed on AFG.
Nick Mason: Is This The End For Pink Floyd? Australia's Triple M's Lee Simon went one-on-one with the 70-year-old drummer and founding member to talk in depth about the new record, and answer questions about their future recording and tour plans.
More Unreleased Music May Be Coming! In a revealing interview with Billboard Nick Mason has said that more unreleased music may be coming. Nick said "There's always a sort of discussion going on about what we could do,and it tends to be one of those things that I think is probably more driven by the record company than us. But we're always open to their ideas." In discussing a possible 'remix' of Animals Nick responded "I know both Roger & David have at times mentioned they'd like to have a remix of Animals, which technically is perhaps one of our less well-recorded records, I think we'd just probably clean up some of the tapes and just sort of review it and see whether it can be enhanced. And if one was doing that, one might have a look at whether there's anything else to be done on it. But no one's got that down on their work schedule at the moment." Nick also said that the Pink Floyd Anthology, that has been talked about for years, is getting ever closer. He said "I've spent a lot of time over the last few years putting together an archive of video and film footage, and I think it'd be an interesting thing to release at some time. Our problem is we go back so far to the point where no one recorded things; maybe there's some Super 8 stuff and a few early television appearances and things like that, which are fun. The biggest problem is when we were touring in the '70s, we never filmed or recorded the show, which would have been really nice now to have a look at those original Dark Side shows. So there's a funny old mix of stuff, but I think there's enough to do something really entertaining, eventually, when there's time to work on it."
Hipgnosis Exhibition Based in Sussex, (UK) Trading Boundaries is hosting an Hipgnosis exhibition throughout the month of November. Featuring classic Hipgnosis Floyd covers including: Ummagumma, Meddle, Atom Heart Mother, The Dark Side Of The Moon, Wish You Were Here, Animals plus Storm Thorgerson covers for: A Momentary Lapse Of Reason and The Division Bell. All are limited edition, giclée prints, signed by either Storm Thorgerson, Aubrey Powell, or both. Prices start from £720.00. A perfect Christmas present! Free entry. Open Monday – Sunday. Trading Boundaries, Sheffield Green, Nr Fletching, East Sussex TN22 3RB Tel: 01825 790200.
Quick Roundup There's a pretty decent interview with Rolling Stone where Nick confirms he will be playing on at least one track on David Gilmour's upcoming solo album.
The Final Cut? Recently Roger Waters attended the Long Island Music Hall of Fame ceremony to induct his long time friend Ron Delsener into the Hall Of Fame. However Roger turned up with a nasty gash over his right eye. He jokingly told the ceremony about how he got into a fight with a bottle of tequila the night before – "and the bottle won." He was at the New York Presbyterian Hospital/Columbia emergency room until 5 a.m., but he still made it hours later to the event to give Live Nation's Ron Delsener (whom he calls Uncle Ronny) an award. The truth of the matter though is that Roger actually fell in the bathroom at home, hitting his head, and was knocked unconscious. All reports say he is fine now though.
David Gilmour Confirms He Is Considering Touring New Album! David Gilmour has told Rolling Stone he is considering touring his new album (Expected in 2015 as we exclusively revealed on 17 June 2014). David said, when talking about his new album "It's coming along very well, There are some sketches that aren't finished, and some of them will be started again. There's a few months' work in it yet. I'm hoping to get it out this following year. Then I'm hoping to do an old man's tour, not a 200-date sort of thing." Gilmour could easily fill arenas, but he plans to play smaller venues, similar to what he did on his most recent tour, in 2006. "There haven't been many discussions about the tour," he says. "But places like Radio City Music Hall sound like the right sort of vibe for me."
Pink Floyd Win Q Award Pink Floyd have yet won another award, this time they scored the Q Awards for Classic Album. Can you guess what the album was? Yep, Dark Side Of The Moon! Nick Mason, the only member of the band to perform on every Pink Floyd album, including their surprise final album The Endless River released later this year, collected the award from Smashing Pumpkins' Billy Corgan.
Pink Floyd winners' speech - Dark Side of the Moon - Nick Mason
When Roger Left Pink Floyd: It Was Like Stalin Died Well that's what Nick Mason said in a new MOJO interview! The new issue of MOJO has a 21 page Pink Floyd spread and exclusive interviews with Nick Mason & David Gilmour. MOJO is available in the UK from Tuesday, October 28. Nick ponders the effect of their iron-willed bassist and chief songwriter's departure. "It must have been the same when Stalin died," says Mason. "It took quite a while [to recover], it was a three or four year period." Read the Mojo article.
Raphael Ravenscroft Passes Sadly another Pink Floyd associate has gone to the great gig in the sky. Sax player Raphael Ravenscroft, who played Tenor Sax on 'The Final Cut' and toured with David Gilmour on his 'About Face' Tour in 1984 has died of a suspected heart attack at the age of 60. Raphael was probably best known for the instrumental segment of Gerry Rafferty's 'Baker Street' and it's said that he was still earning about £80,000 a year in royalties from his part in Rafferty's hit single more than 30 years after the song was released in 1978. The clip below features Raphael playing sax on David's 'There's No Way Out Of Here' at the Hammersmith Odeon in 1984.
David Gilmour - There's No Way Out Of Here - Live at The Hammersmith Oden 1984
Zabriskie Point Movie To Be Re-Released International film licensing outfit Hollywood Classics will re-release the 1970 Michelangelo Antonioni drama "Zabriskie Point" in the U.K. starting Oct. 24. A commercial and critical bomb at the time of its release, the film remains notable for its counter-culture setting and music, which in addition to Pink Floyd includes The Grateful Dead, The Rolling Stones, Roy Orbison, Jerry Garcia and John Fahey. The movie will be released in DCP. "Zabriskie Point" re-release will begin at the Curzon Mayfair theatre in London on Oct. 24, expanding to Picturehouse Cinemas theatres across the U.K. beginning Nov. 2. (With thanks to Franz Svoboda for the heads up)
Roger Waters Sings For The Bertrand Russell Tribunal On Palestine In a Jim Ladd interview back in May 2012 Roger said "I have written a song over the last few months which may well prove to be the middle, well not the middle but the starting point for a new album, my first one in 20 years, which is actually called "If I Had Been God". Roger is understood to have rehearsed the new song several times at sound checks on his 2013 tour (the song being known as 'If I Had Been God (Lay Down Jerusalem)' and various snippets have been seen around the web. However, on 25 September Roger performed the song in full, for the special session of the Bertrand Russell Tribunal On Palestine held at the premises of the European Parliament in Brussels. (Filed 26 Sept) (NOTE: The video we featured here has been withdrawn by YouTube)
Storm Thorgerson Signed Syd Barrett Fine Art Prints Two Storm Thorgerson signed Syd Barrett fine art prints are being auctioned on eBay this week. (Ends 26 Oct) The prints were given to Syd's sister, Rosemary, and she is now selling the prints to raise money for charitable causes.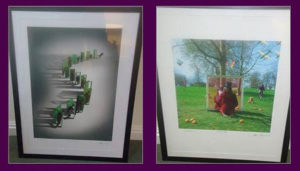 Tribute To Syd Barrett/Green Doors (Pictured Left)
Introduction To Syd Barrett (Pictured Right)
eBay Link
UPDATE Auction Concluded
A Statement From Roger Waters Dear Friends: Some people have been asking Laurie, my wife, about a new album I have coming out in November. Errhh? I don't have an album coming out, they are probably confused. David Gilmour and Nick Mason have an album coming out. It's called Endless River. David and Nick constitute the group Pink Floyd. I on the other hand, am not part of Pink Floyd. I left Pink Floyd in 1985, that's 29 years ago. I had nothing to do with either of the Pink Floyd studio albums, Momentary Lapse of Reason and The Division Bell, nor the Pink Floyd tours of 1987 and 1994, and I have nothing to do with Endless River. Phew! This is not rocket science people, get a grip.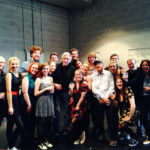 The Wall On Broadway Originally a week-long workshop was planned for January but from what we understand this didn't go ahead until later this year (we don't have a date). Roger was in attendance, and our information is that Phil Bateman (Musical Director Billy Elliot the Musical) along with writer Lee Hall (Screenplay Billy Elliot), actor Ben Eagle and director Simon McBurney and various other cast members were also there.. No date has yet been announced. (Picture copyright Ben Eagle and thanks for the heads up go to Beckettp)
Pink Floyd Exhibition Milan DEFINITELY Cancelled As we have been telling you for some weeks now, The Pink Floyd Exhibition in Milan has been CANCELLED. The organiser have finally made a statement about it on their Twitter Page with details on how ticket purchasers can get a refund. (Thanks for the heads up to Dimitrios Bogiatzoules)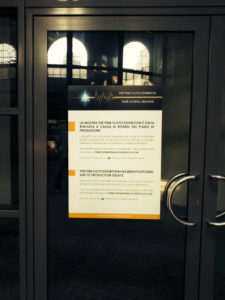 Pink Floyd Exhibition Shock! We have received information from an UNOFFICIAL source that the Pink Floyd Exhibition planned for Milan has been cancelled. We repeat, this information comes from a completely unofficial source. It's claimed that all parties concerned have broken their backs over the last 2 weeks to make the exhibition happen but due to a variety of reasons the event will not go ahead. We are told that the Milan City Administration would not allow the Pink Floyd Exhibition to go past it's proposed finish date (18 January 2015) as other exhibitions had already been booked. Apparently a lot of construction of the Exhibition had already been undertaken in London. We are also advised that apparently all items that were due to be displayed are still in London (We were wrong thinking the Division Bell heads were in Milan as we mentioned in a previous report). We have no word on how to get refunds (if this turns out to be true) but no doubt that information will surface soon. We are expecting a statement to be issued by the Milan organisers (Evolve Devolve) soon. Again, we must stress that this information is completely unofficial and we suggest that you wait for an official statement to be made before you go seeking refunds. (Filed 29 Sept) The above information comes from an anonymous source although we wish to place on record our thanks to "Cymbaline: Pink Floyd Fan Club" (Italy) UPDATE: The picture above to the right shows an obviously empty Fabbrica del Vapore (where the Milan exhibition was to be held). With thanks to Cymbaline – Italian Pink Floyd Fan Club FURTHER UPDATE: The official Pink Floyd Exhibition Twitter page has been updated to say "Refund (sic) will be accessible also after 30th October 2014 in case of cancellation" (Our emphasis). EVEN MORE! The organisers of the event in Milan have circulated an email to those who had already purchased tickets. In essence it states that purchasers can seek a refund by going to https://www.vivaticket.it/index.php?nvpg[rimborso] no later than November 10. LAST UPDATE Pink Floyd Exhibition Milan DEFINITELY Cancelled As we have been telling you for some weeks now, The Pink Floyd Exhibition in Milan has been CANCELLED. The organiser have finally made a statement about it on their Twitter Page with details on how ticket purchasers can get a refund.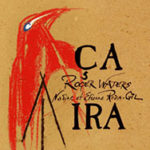 Ca Ira To Debut In USA Roger Waters opera has rounded the world but never landed in the United States. Next year, the wall will fall. On Jan. 29-30 "Ca Ira" will have its U.S. premiere in Nashville at Schermerhorn Symphony Center. The piece is scored for full orchestra, four solo voices, chorus and a children's chorus. The Nashville Symphony, Nashville Symphony Chorus and Blair Children's Chorus will perform onstage with Waters. "We are thrilled and honored to have a legendary talent like Roger Waters at the Schermerhorn to debut this phenomenal production for an American audience," Alan Valentine, Nashville Symphony president and CEO, said in a news release. "We embrace any opportunity to expand our artistic mission with adventurous, ground-breaking projects, and 'Ca Ira' promises to be two nights of entertainment that Middle Tennesseans will never forget." The public sale begins at 10 a.m. Friday (16 Sept) at NashvilleSymphony.org, via phone at 615-687-6400 or at the Schermerhorn Symphony Center box office, 1 Symphony Place in Nashville.

Rick Wright Remembered.
Hard to believe that six years have just passed since the world lost Rick Wright. Here's an interview (sound only) that Rick did with his son-in law Guy Pratt back in 2007. It's on the subject of the recording of Piper At The Gates Of Dawn and is a fascinating listen.
The Pink Floyd Exhibition Update We have just received a stack of information (Non Official) regarding the Pink Floyd Exhibition that was scheduled to open in Milan on September 19 but was postponed. An official announcement is expected within the next 10 days or so, but we are told that the new opening date is expected to be either late October or early November. We also have many many details on what will be featured but to avoid spoiling the surprises in store we won't publish them here, but if you go to our PINK FLOYD EXHIBITION dedicated page you can read all about it. But beware, there are lots of spoilers! (Filed 9 Sept)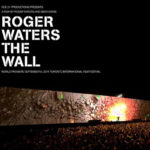 Roger Waters – The Wall Movie Premiere If you are here reading this then you probably already know that the World Premiere of Roger Waters 'The Wall Movie' took place on 6 September at the Toronto International Film Festival. We have gathered together a whole bundle of videos, pictures, reviews comments and links about the event, and set up a dedicated page as there is not enough room here to showcase everything! (We have even included the Q&A session). So don't hang about, Check It Out!
Roger Performs At Charity Event Roger Waters performed a one off show for the 2014 Perfect Earth Project Family Picnic And Concert at Cindy Sherman's farmhouse on August 30 in East Hampton, New York. G.E.Smith (From Roger's 'Wall' band) also played alongside Roger. The set list is not known at this time but it's understood that one NEW song was played. As some of the tickets were going for a cool $10,000 each we couldn't afford to send anybody along, but if we do find out what the full set list was we will certainly pass on the news.
AT LAST! Sorry to have kept our regulars hanging on for a few days but we have managed to sort out the wheat from the chaff and can now tell you the following: There is going to be a screening of Roger Waters The Wall at the World Premiere on 6 September at the Toronto International Film Festival. The film (to be shown on both the 6th at the Elgin & the 7th at the Ryerson) is a documentary about The Wall Tour 2010 – 2013 and Its synopsis promises an "exhilaratingly visceral experience" of rock showmanship. It's understood that Roger will be in attendance at both screenings and there will be Q&A sessions. As to The Wall Tour DVD our best information at this stage is it won't be out until 2015 at the earliest. (If ever!) UPDATE There is to be a third screening of the movie on 14th September at the Scotiabank Theatre. It's doubtful Roger will be at this one. IMDB Link
Pink Floyd Engineer Andy Jackson's New Album Pink Floyd engineer Andy Jackson will release his fourth album Signal To Noise on November 3 via Esoteric Antenna. He was already an established studio veteran when he joined forces with James Guthrie to work on the movie version of The Wall. His connection continues to this day as he's co-producing upcoming Pink Floyd record The Endless River. Andy's label describe Signal To Noise as "a fine modern progressive work, drawing on his exemplary career." He says: "The album reflects on the sorting of what's important in life from the humdrum of everyday existence – and it's an analogy for the process of the creation of the album itself." Signal To Noise follows his previous releases On The Surface, Obvious and Mythical Burrowing Animals. It will appear as a standard CD plus limited-edition 2CD digipak including a 5.1 Surround mix. We will have ordering info for you when it becomes available.
Pink Floyd Exhibition Postponed The Pink Floyd Exhibition that was scheduled to open on September 19 in Milan has been postponed. Ticket sales are currently suspended after the organisers realised they wouldn't be able to make the start date. A revised opening date is yet to be announced. A statement on behalf of organisers said: "Evolve Devolve, the Italian promoters of the Exhibition, have announced that the exhibition, has had to be postponed due to production delays. Building the complex exhibition to the required specification has made it impossible to make the opening date." Ticket-holders can exchange them for an alternative date once these are finalised or they can seek a refund. We will of course keep you informed once the new date is announced.
Amused To Death – LP & SACD Delayed Again Here we go again! (I guess we are all getting used to delays) The ATD LP & SACD that we told you about last year, and saw it's debut at the Princeton University Pink Floyd Conference on 12 April (Read REVIEW here) has been delayed once again. We suspect that this may be due to Sony/Legacy's involvement in the project and are now not expecting to see this release until the first quarter of next year! The good news is that you can still pre-order this release from Amazon USA or Amazon Canada who are offering a pre-order price guarantee.
Marianne Faithfull's New Single 'Sparrows Will Sing'
Marianne Faithfull - Sparrows Will Sing (Official Audio)
From Marianne's 20th studio album Give My Love to London, the Roger Waters-penned track has been described as "unsettling, haunting and poetic" Released on 29 Sept the album can be ordered from Amazon UK
---
New Division Bell Pictures A bunch of stunning unpublished pictures of Pink Floyd performing at the concert in Bordeaux on 11 August 1994 have just been made available. These are well worth a look!
Enjoy! Pink Tones – Atom Heart Mother live Segóbriga Roman Amphitheatre
Pink Tones - Atom Heart Mother live Segóbriga Roman Amphitheatre
The Division Bell 5.1 Reviews Well judging by the many emails we have received, plus dozens of positive comments on The Forum it seems as if the majority of Pink Floyd fans have really rated this release very highly. We have gathered together three reviews, all taken from different perspectives, to give a balanced view of the album in it's 5.1 format. Regular contributor and well known audiophile Julie Skaggs breaks down the mix with a critical eye, Lars Normann gives a blow by blow description and Claude Flowers gives us a brief overview. In addition We have been fortunate enough to receive another technical review from Pal (Another audiophile) which is well worth your time to read Read All The Reviews
David Gilmour Album – Major Announcement We have had it OFFICIALLY confirmed that David Gilmour's new album is planned to be released in 2015. Although a lot of work has already been completed (and is still underway) the album is nowhere ready to be recorded as yet. It's also been confirmed that David has not yet decided to tour the new album next year, although we do have our fingers & toes crossed. (Filed 17 June) UPDATE Another reliable source has suggested May 2015 although that is NOT official. Further Update Despite some doubters out there we can confirm that the news of David's album sometime in 2015 is OFFICIAL and when we say OFFICIAL, we mean OFFICIAL!!!!!
Division Bell Heads On The Move If you were planning on visiting the Rock and Roll Hall of Fame in Cleveland to admire the Division Bell heads then you will be disappointed. They are on their way to Milan Italy where they will feature in the Pink Floyd Ehibition starting later this year.
David Gilmour News! We are expecting a major announcement about David's new album in the near future (Although there is a lot of unfounded speculation about at the moment, so don't believe all you read!) BUT we can absolutely confirm that David is currently working in his recording studio on his houseboat The Astoria. Floyd fans will recall that parts of each of the last two Pink Floyd studio albums, A Momentary Lapse of Reason and The Division Bell, were recorded on the boat, as were parts of David's most recent solo album, On an Island. It was also used for mixing the Pink Floyd live albums Delicate Sound of Thunder and Pulse as well as the Pulse film, Gilmour's Remember That Night DVD and his 2008 live album, Live in Gdańsk. Stick with us and we will steer you right!
The Division Bell 20th Anniversary Details off the 20th anniversary of the Division Bell have now been announced. Amazon have a good selection of different packages and are taking orders. Amazon UK | Amazon USA. (Filed 19 & 20 May)
David Gilmour Performs With Ben Watts David Gilmour appeared with Ben Watts at the Islington Assembly Hall, London on 19 May. David perfomed on 3 of Ben's songs. (NOTE: The videos we featured here have been withdrawn by YouTube). (Filed 17 May. Updated 20 May ) Order The Album from Amazon UK | Amazon USA
Ben Watt with David Gilmour / 'The Levels' (Live) From The Album Hendra
Ben Watt with David Gilmour / 'The Levels' (Live)
Order from Amazon UK | Amazon USA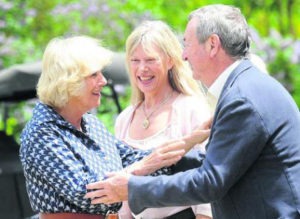 Middlewick House Garden Open Day Here's a unique opportunity to visit the gardens at Middlewick House. So why would you want to do that we hear you ask? Well it so turns out that Nick Mason & his wife Annette own Middlewick House and will be opening it for public view over the weekend 21 & 22 June. There's going to be lots to see and do, including a visit the minature donkeys, Kunekune piglets and lambs. Plants will be for sale, and there will be stalls and demonstrations. Tea, coffee and cakes available. The event is in aid of the Wiltshire Bobby Van Trust. This is the 2nd year that Nick & Annette have opened up the grounds and last year they were visited by the former owner of the house Camilla, Duchess of Cornwall (Now married to Prince Charles), and her former husband Andrew Parker Bowles
Were You There??? On July 15 1989 Pink Floyd played on a floating stage in Venice Italy in front of St. Mark`s Square (a controversial gig, its legacy – mountains of trash, at least one damaged historic monument and dozens of others used as toilets by about 200,000 spectators!) We previously put out a call for pictures from this show and we are now looking for any written memories from that day, to be used in an upcoming book. If you can help please contact durgaheyou@libero.it
Clarification! It's been reported to us that there is a review on the net of the Princeton Conference that claims James Guthrie had stated at the conference that 'it is likely that the entire Pink Floyd catalog will be given the 5.1 surround sound treatment'. THIS IS NOT CORRECT!!!! What James actually said was he'd like to do more Pink Floyd 5.1 mixes, but that it often comes down to a matter of the time available on his and the band's collective schedules, so "don't hold your breath." He also added that The Wall seems to be the most likely next candidate in the 5.1 queue, but the album he'd be most interested to do in surround is Animals. (Filed 25 April)
Pink Floyd Exhibition In Milan Extended To January 2015 Due to international popular demand 'The Pink Floyd Exhibition – Their Mortal Remains', will now continue to run in Milan until January 2015. Launched on 25 February, demand for tickets was such that the initial four exclusive weeks has had to be extended. The Exhibition opens on 19 September 2014 with tickets now available through to 18 January 2015. MORE INFO (Filed 22 April)
The Netherlands Celebrate! Pink Floyd fans in the Netherlands are in for a treat this coming weekend (May 3). There's to be a Pink Floyd celebration featuring a number of different events at the Benelux Pink Floyd Convention and a re launch of the ever popular www.pinkfloydfans.nl site. Please visit the site for more info.
Amused To Death 5.1 & Princeton Conference

Further to our scoop that the world premiere of the 5.1 mix of Roger Waters' Amused To Death, was to debut at the Princeton University Pink Floyd Conference on 12 April,  we now have great coverage of the event.

First review of the 5.1 mix to hit the net | First review of the conference to hit the net | The FULL four part review of this conference, including an in-depth analysis of ATD 5.1 written by audiophile and AFG correspondent Julie Skaggs. Don't miss this, it's bound to become a classic!

In a further SCOOP, we can now tell you that the 20th anniversary edition will have a new mix, along with the 5.1 mix.(IE a NEW stereo mix, as well as the 5.1 mix).It's further understood that there are plans for a 5.1 BD-audio release from Sony sometime in the future. Remember where you read it first! Pre-orders of ATD SACD ORDER NOW  (Filed 22 April)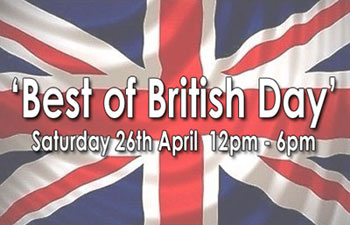 Best of British Day Footes Music Shop are hosting a Best Of British Day at their store located at 41 Store Street London WC1E 7DB on Saturday 26th April. A bunch of drummers will be in attendance, including none other than Nick Mason. For more information click on the banner below.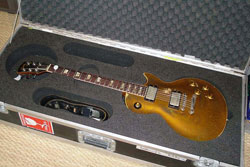 Snowy White To Sell His Goldtop In a surprising turn of events, long time Pink Floyd & Roger Waters close associate Snowy White has announced he will be selling his beloved Gibson Les Paul Goldtop 1957 guitar. No reason has been given, although it's understood that Snowy may be retiring later this year. The iconic guitar was acquired by Snowy in 1969 and has featured on every recording and performance since then, including the Pink Floyd 'Animals' tour 1977, the Pink Floyd 'Wall' shows 1980, Thin Lizzy 1980 – 82, the hit song 'Bird of Paradise in 1984, Roger Water's Berlin Wall show 1990, all the Roger Waters tours 1999 – 2013, and much more besides. Snowy has owned this guitar for nearly 45 years, and for over 30 of those years it was his only instrument, played almost every day. Note: as a working instrument, this guitar has had a certain amount of repair and change, including rewiring, refretting and new tuning heads. Most of the original parts have been kept. This guitar is offered 'as seen', with no apologies from Snowy as to its current condition. To register your interest in this original guitar email Peter at whiteflames@madasafish.com
IT'S BACK ON! The administration problems have been sorted out and we can now reveal that the the world premiere of the 5.1 mix of Roger Waters' landmark 1992 release Amused To Death, will debut at the Princeton University Pink Floyd Conference. It will be played alongside 5.1 demonstrations of The Dark Side of the Moon and Wish You Were Here. The event will take place on April 12th. Read our EXCLUSIVE PREVIEW of the event by AFG correspondent Julie Skaggs. Don't forget that Amazon US are taking pre-orders of ATD SACD ORDER NOW (Added 4 April)
Can't Wait Until September? Reaction to the announcement of an official Pink Floyd exhibition in Milan in September/October has been extraordinary. For those that can't wait until then, we are pleased to announce that The Lunatics – Pink Floyd Collector's Club are staging their own (not too shabby) exhibition in Turin in March. With guest of honour Adrian Maben this promises to be an event not to be missed. For full information click on the banner below. UPDATE: Adrian Maben will present two films about Pink Floyd: one is the documentary "Chit Chat With Oysters", with 55 minutes of unreleased tracks made during the filming of the movie "Pink Floyd Live at Pompeii"; second is the new version Blu-Ray of the film, with the restored video and multi-channel audio.

The exhibition was an outstanding success, with a large turnout over the two-day event. There's a great article about the two Adrian Maben films over at rockol.com that's well worth your time to read. In addition, below we have featured a number of photos from the event. Our thanks go to Stefano Tarquini & The Lunatics. All pictures copyright Stefano Tarquini
---
Look What Just Popped Up! The enigmatic video below just turned up on the official Pink Floyd site without any fanfare or explanation, and advertises 'The Pink Floyd Exhibition'. Now we are hoping that this might be the exhibition that Nick has talked about (Nick Mason came across the black and white film while he was piecing together archive footage to be used at exhibitions about the rock band) and we have previously reported on. (See story headed 'Lost Pink Floyd Treasures Found' below) If this is what we think it is, it will be the first major official exhibition since the Interstella Exhibition in Paris in 2003 & 2004. We have set aside a special area of the site where you will be able to access all the news of this/these exhibition/s as it comes to hand. Make sure you visit our Pink Floyd Exhibition Section
AFG WAS FIRST WITH THE NEWS ! OFFICIALLY CONFIRMED We can confirm that the Pink Floyd Exhibition will open on September 19 in Milan Italy until October 19. It's to be held at the Fabbrica del vapore See our Dedicated Page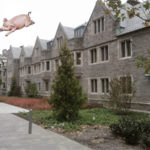 Princeton University Pink Floyd Conference Princeton University will be hosting an interdisciplinary conference celebrating the music, art, and culture of Pink Floyd. The first ever academic conference to focus entirely on the band will feature Grammy Award-winning Pink Floyd producer/engineer James Guthrie. The conference will include surround playing of James Guthrie's recent SACD mixes of Pink Floyd music, concert-lectures, world premieres of acoustic compositions and arrangements inspired by Pink Floyd music, panel discussions, and a Q&A session with James Guthrie The town of Princeton will join the celebrations by hosting a Pink Floyd jam session, a public screening of the movie The Wall, and an exhibition of Pink Floyd album covers and art. Admission is free but registration is required. The conference will be held on 13 April and more details and a complete schedule of events can be found at the conference's website
Lost Pink Floyd Treasures Found Nick Mason has recently discovered unseen footage of the band. Nick came across the black and white film while he was piecing together archive footage to be used at exhibitions about the band. He said the clips show himself backstage with David Gilmour, Roger Waters, Richard Wright and Syd Barrett at some gigs in the late-60s. He said: "There are some unseen bits and pieces. We have got a bit of backstage black and white footage – 8mm film – that we took ourselves." Nick also repeated that "if there was another Live 8 we would respond if someone asked" but he has often said this in the past so we are not getting too excited just yet! Full Story (thanks Dave H). Psssst, we don't want to shout this out too loud but if you were a member of The Forum you might just find a link to some unheard Floyd material from the Animals recording sessions, but keep that to yourself. :-} UPDATE: There's also some early mixes from Wish You Were Here that have surfaced!! Read all about it in The Forum
New David Gilmour Album 'Confirmed'! Well the hints have been around for months and finally there is firm confirmation that David Gilmour is working on a new album. You will recall a couple of weeks ago we reported that David's wife Polly tweeted about "Crosby and Nash in the studio singing like birds tonight", well now out of the mouth of Graham Nash comes confirmation that he and David Crosby are 'singing with David Gilmour on HIS NEW RECORD'. This remark was made during an interview on Vintage.tv (Since withdrawn). Graham also confirmed that the album is being recorded at Brighton (David's house at Hove). Also, a couple of months ago, Phil Taylor (David's guitar tech) confirmed to Effectrode that David was pleased with the Helios Fuzz pedal he bought from them and will be purchasing another one "BEFORE HE STARTS RECORDING". AFG First with the news again.
Division Bell Double Vinyl Coming Soon Long time Pink Floyd associate Andy Jackson (Recording & Front of House Engineer) has confirmed that the 'Division Bell' album will soon be released for the first time on a double vinyl edition. Andy said that "The original vinyl was very shortened (full album is 66 mins), but this means it will be the full length version". We will have ordering information available for you once it become known. (Thanks to Franz Svoboda for the heads up.)
Redbeard Looks Back 20 Years At The Division Bell Highly respected North American syndicated radio show 'In The Studio' (with Redbeard) looks back at The Division Bell 20 years after it's release. (March/April 1994). This is a nice little package which also includes one of the last interviews with Rick Wright. Have A Listen
The American University Of Rome Presents Roger Waters With Honorary Degree
Roger Waters all'American University of Rome
The Wall In 3D???? We are hearing (and it's NOT yet confirmed) that Roger Waters will be releasing The Wall 2010 – 2013 documentary in theaters in 3D. It's an interesting rumour, as it's known that the footage shot on The Wall tour was not filmed in 3D, but with todays technology we imagine it would be possible for some of the stage projections to be given the 3D treatment. No date as yet but you can bet we will follow this one up!
Roger Waters At Anzio & Aprilia As reported below, Roger has unveiled a monument to his Father in Aprilia (Italy) and was also present in Anzio the day before to attend some ceremonies. Our Italian friends 'The Lunatics' were on hand to report on the events. They have also sent in a SWAG of pictures for your enjoyment. Their report (in full) with some really cool pictures can be found on this TRIBUTE PAGE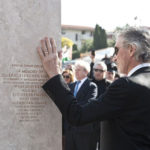 Roger Unveils Monument To His Father There can't be too many Pink Floyd fans around who are not aware that many of Roger's songs (and indeed his life) were influenced by the death of his Father (when Roger was only 5 months old). Roger has long paid tribute to his Dad Eric Waters Fletcher, in songs and on tours. 70 years later, to the day, (18 February) Roger has now established a monument to the heroic sacrifice of his father (his Dad was serving with the Royal Fusiliers in WWII and was killed as they advanced through Italy). Roger laid wreaths as he unveiled the monument at the Roselli Institute in the Italian town of Aprilia, south of Rome, near the site of Lt. Waters death. Mail Online (picture credit) | The Telegraph
David Gilmour Cameo On New Ben Watt Album Everything But the Girl's Ben Watt has announced a return to his solo career, 31 years after issuing his last LP, 1983's acoustic-geared North Marine Drive. The album 'Hendra' is due out on 29 April and of special interest to Floyd fans is a cameo appearance by David Gilmour playing slide guitar on Hendra's "The Levels." Full Story with Soundclips (Note: Not David Gilmour). Pre-Order from Amazon UK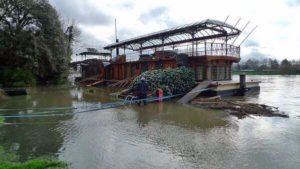 Balanced On The Biggest Wave David Gilmour's historic houseboat The Astoria has been in a bit of strife lately because of the UK floods. The Astoria had to be lashed to a tree to prevent it floating away and possibly being smashed to pieces. The century-old Astoria has been owned by David Gilmour for 28 years and the recording studio has been used for his solo material as well as sections of the albums A Momentary Lapse of Reason and The Division Bell. The boat – moored at Hampton, Surrey – was built in 1911 for music-hall impresario Fred Karno, whose troupe of comic acts included Charlie Chaplin and Stan Laurel. The story came to light after David's wife Polly Samson posted a picture of the houseboat on Twitter with webbing straps stretched across a flooded river bank to hold it in position on the deluged River Thames. She wrote on Twitter: "They've tied Astoria to a tree to stop her from floating away." (Picture (enlargeable) thanks to Polly Samson).
Delicate Sound Of Scott Page! Those lucky enough to have seen the 'A Momentary Lapse Of Reason' trilogy of tours (1987 – 1989) will no doubt remember the flamboyant and highly entertaining saxophonist/guitarist Scott Page. If you don't remember his saxophone/guitar playing then we bet you remember his hair! Anyway, Scott recently announced that he will soon be releasing some very interesting video. He said "I am planning on showing clips from the hundred plus hours of footage I shot (on the tour). I just finished digitizing the footage and it's blowing my mind, some great behind the scenes from a band members perspective (me)". An announcement about when the video/s will be released (and where to get it/them) will be announced soon by Scott on Twitter. We suggest you Follow Scott on Twitter and be one of the first to know. Tell him AFG sent you.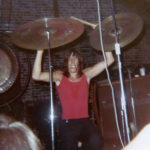 Way Down Yonder It was mid May 1970 and Pink Floyd were coming towards the end of a short USA tour. They were scheduled to play at The Warehouse in New Orleans on the 15th & 16th May. The show on the 16th May proved to be the last gig of this tour because as the band slept in their hotel they had $40,000 worth of equipment stolen, bringing the tour to a screeching halt! Some of the equipment stolen included 4 guitars (amongst them David Gilmour's original Black Strat which he had purchased just a few weeks previously from Manny's in New York) an electric organ, a 4000 watt sound system, including 12 speaker cabinets, 5 Italian echo units, a bunch of microphones, two drum kits and miles of cables. Now, pictures from the show of the 15th May have surfaced and are presented for your enjoyment. Take Me There
2005 | 2006 | 2007 | 2008 | 2009 | 2010 | 2011 | 2012 | 2013 | 2014 | 2015