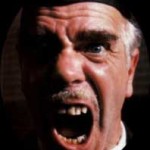 That's Old News!
A repository of things past.
2012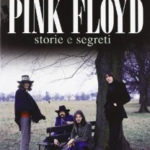 Bellissimo Nino Gatti, Stefano Girolami, Danilo Steffanina, Stefano Tarquini & Riccardo Verani are five hard core Italian Pink Floyd fans who are commonly referred to as The Lunatics. They are probably best known for their love of vinyl and the vinyl fairs they conduct in Italy. Some time ago we were contacted by the Lunatics about a book they had written, that they had aptly titled Storie E Segreti (Stories & Secrets). We must confess to being apprehensive, as some of the 'home grown' books we have seen in the past have been dreadful, but we asked them to send us a copy so we could check it out. Now we don't want to go into a long drawn out review as you can Read All About It Here (In English) but now having seen the actual book we are delighted! It's a hard cover 256 page book packed to the gills with beautiful matte finish graphics, some of which have never been seen before. Obviously it's in Italian, so may not appeal to everybody, but we sure do recommend this to anybody who can read Italian or is a complelist and MUST have this in their collection. You can grab it from Amazon Italy who will be glad to ship it anywhere in the world.
I Missed Out On Superstardom With Pink Floyd
He may have turned his back on a multimillionaire lifestyle and rock immortality but Pink Floyd's first singer said he had 'no regrets' about quitting the band. In late 1963 Bob Klose (Former early member) introduced the band to singer Chris Dennis, at the time a technician with the Royal Air Force. When the RAF assigned Dennis a post in Bahrain in early 1965, Syd Barrett became the band's frontman and Chris Dennis faded out of the picture. Now, nearly 50 years later, Chris opens up about his experiences and says he has 'No Regrets'
Read Full Story
Roger Waters Delivers Speech To The United Nations. On 29 November Roger Waters gave a speech to the United Nations General Assembly as they voted to approve Palestine's bid to become a non-member observer state. Roger, who was speaking as a member of the Russell Tribunal, emphasized the American responsibility for the conflict. The full speech can be heard in the video below.
Roger Waters UN Address - Nov 29, 2012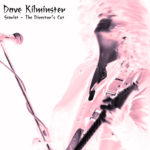 Dave Kilminster Releases Solo CD 'Scarlet – The Director's Cut' During the break between 'The Wall' tours guitar virtuoso David Kilminster has released his solo CD 'Scarlet – The Director's Cut'. In talking about the CD Dave said "I guess the album is just a reflection of all the wonderful music that I grew up listening to on the radio, along with some deeply personal lyrics. It also represents the first time that I've ever been let loose in a studio, so I was definitely like a kid in a candy store!!! Hence trying a whole bunch of things I've never done before…like singing lead vocals, playing piano and even scoring for a string quartet!" Dave went on to say "There's so much of my heart, soul, passion and energy in this recording… you can almost see my DNA in the grooves of the CD!!! So I really hope you enjoy the listening experience…" Available on iTunes More information davidkilminster.com/
Roger To Perform At The Concert For Sandy Relief Roger Waters will be amongst a host of other stars who will perform at the MSG in NY on 12.12.12. This special one night only live music event will help provide assistance to the millions of people throughout the tri-state area who have been affected by Hurricane Sandy. Also on the bill are Jon Bon Jovi, Billy Joel, Alicia Keys, Paul McCartney, Bruce Springsteen, Kayne West and The Who. More information, including how you can donate to this worthy cause can be had at 121212concert.org
To Be Or Not To Be, That Is Roger Waters! You see him here, you see him there, you see old Roger everywhere. Now Roger will be joining the cast of The Exonerated to act out the role of Gary Gauger in New York's Bleeker Street theatre. He will be joining the crew between November 27th and December 2nd 2012. The Exonerated is a documentary play about 6 death row inmates who were convicted on very thin evidence and later released amidst overwhelming evidence of their innocence. It has been running for over ten years and getting excellent reviews.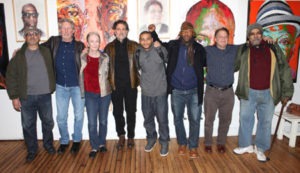 (Above) Roger Waters with some of the cast of The Exonerated MORE HERE
IAVA's Sixth Annual Heroes Gala: Roger Waters Acoustic Performance
---
Pink Floyd Bring Home The Bacon! Pink Floyd have added to their already massive collection of awards by winning two Classic Rock Magazine awards in their Rock Roll of Honour. The awards were for Film/DVD of the Year – Pink Floyd: The Story of Wish You Were Here (UK .DVD or Blu-ray – USA DVD or Blu-ray) and Reissue Of The Year – Pink Floyd: Why Pink Floyd? Both awards were accepted by Nick Mason.
Pink Floyd – The Story of "Wish You Were Here" - Trailer
---
Pink Floyd – The Wall Nassau Coliseum 25 Feb 1980
We are delighted to tell you that we have just published our 2nd Wall Nassau Coliseum 25 Feb 1980 exhibition. This is the first time these great pictures have been seen on the net, and were sent in by our good friend Elliott Tayman. (They will spread across the net faster than you can say Ummagumma!) You can access this wonderful exhibition at
Wall Nassau Coliseum 25 Feb 1980
But that's not all! Some years ago Elliott sent us some stunning shots that were taken on the Animals tour back in 1977 at the MSG in NY. At the time they were given to AFG as an exclusive and the larger versions of the pictures were watermarked. It seems by fair means or foul these pictures spread to other sites, so Elliott has now given us permission to use the pictures without the watermarks.
Well worth revisiting!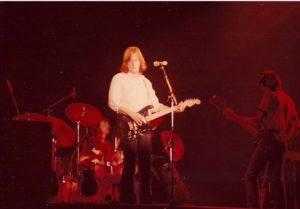 ---
Three Of The Best – Sydney 1971 We understand that at least 2 of the 3 pictures featured above have not been seen on the net before now. (Although they do appear in the 3rd version of Phil Taylor's book The Black Strat). They were taken at Randwick Racecourse in Sydney Australia on Pink Floyd's 1971 tour (The only other venue on that Australian tour was one show in Melbourne – Review ) We would like to thank Darren Powter for sending them in and to Phillip Morris who took the shots on the left & right.
Roger Waters Weighs In On Politics, Religion, & Money
Roger Waters Weighs In On Politics, Religion, & Money | On The Table Ep. 5 Full | Reserve Channel

Roger At Benefit The Bob Woodruff Foundation and the New York Comedy Festival have announced that John Mayer and Roger Waters will perform at the 6th annual Stand Up for Heroes event on Thursday, Nov. 8, at the Beacon Theatre, in addition to previously announced performers Mike Birbiglia, Ricky Gervais, Patton Oswalt, Jon Stewart, Bruce Springsteen and Robin Williams. Roger Waters will be performing with a band comprised of military veterans. Musical performances will be streamed live on YouTube and available worldwide on Remind.org (Sign up to view now). Tickets for the show have already sold out.

We Made It!
After nearly 15 years we have finally seen our 50 millionth visitor. On 2 November 2012 we hit this historic number and we have now drawn the name of the winner in our 50 Million giveaway from the THOUSANDS of entries we received. (This was by far the most popular giveaway we have ever had).
50 Million Visitors!! Long recognized as one of the leading and most popular Pink Floyd/Roger Waters sites on the internet, A Fleeting Glimpse saw it's 50 millionth visitor on 2 November 2012. All year we have been giving away random prizes and this will continue until the end of 2012. To be in with your chance to win, all you have to do is register yourself as a regular visitor and check back here often. To register, send an email to CLOSED with the subject heading 50 million and include your name & address. Only one entry per person please. (We will not sell your email address or pass it on to anybody!) This will put you in the draw for a bunch of random prizes. COMPETITION NOW CLOSED.
The major prize was a $500 shopping spree in the OFFICIAL PINK FLOYD STORE The lucky winner will now be let loose in the store with $500 burning a hole in his pocket! He can chose from all sorts of clothing, collectables, Music/DVD's & Books and so much more!
THE MAJOR PRIZE WINNER WAS – Mark Brown – South Dakota USA
Previous Random Draws:
Jane Bristol of Perth Australia has won a Discovery version of Wish You Were Here
Dirk Kache of Belm-Vehrte Germany won a Discovery version of Dark Side Of The Moon
Jeff Post of Perrysburg Ohio won a Discovery version of A Momentary Lapse Of Reason
Wayne Riley of Perth Australia won a Discovery version of Atom Heart Mother
Chris Loma of Ontario Canada won a Pink Floyd T-Shirt from T-shirts.com
Mike Holder of Villa Rica Georgia won a Pink Floyd T-Shirt from T-shirts.com
Monica Pettersson of Eden Prairie, MN won a Pink Floyd T-Shirt from T-shirts.com
Andrew Beale – Boston MA won a Pink Floyd T-Shirt from T-shirts.com
Carlo Ruberto – Göteborg Sweden won a making of Dark Side Of The Moon and Wish You Were Here DVD pack.
Spencer Liddicoat – Weston-Super-Mare won a making of Dark Side Of The Moon and Wish You Were Here DVD pack.
Kevin De Ornellas – Belfast UK won a making of Dark Side Of The Moon and Wish You Were Here DVD pack.
Johnny Laird – Putney UK won a making of Dark Side Of The Moon and Wish You Were Here DVD pack.
Steven Johnson of Wickford Essex UK won a making of Dark Side Of The Moon and Wish You Were Here DVD pack.
Sam Jacobson of Chicago, IL won a Why Pink Floyd? T-Shirt.
Jørn-Terje Larsen of Oslo Norway won a Discovery version of 'Animals'.
Clive Reading of Pontefract, West Yorkshire UK won a Why Pink Floyd? T-Shirt
Casey Claiborne of Tyler, TX won a Why Pink Floyd? T-Shirt.
Steven Lee of Philadelphia failed to claim his prize. His name is back in the draw & the prize in the prize pool.
Paul Bell of San Diego CA won a discovery version of The Final Cut
Kevin Weir of NSW failed to claim his prize. His name is back in the draw & the prize in the prize pool.
Chris Chesek of Scranton PA won a Discovery version of More.
Jim East of Albuquerque New Mexico won a Discovery version of Obscured By Clouds.
Francisco Roldán Duque of Sevilla Spain won a Why Pink Floyd t-shirt
T-Shirts.com helped us to celebrate our very special year by donating a number of Pink Floyd t-shirts that were given away from this site. There are no losers here, because even if you didn't win a prize these t-shirts are such a bargain that almost anybody can afford to buy one! PINK FLOYD RANGE
We have concluded our give aways of the Eagle Rock double pack DVD's featuring the making of Dark Side Of The Moon and Wish You Were Here. These documentaries are considered some of the best ever made about Pink Floyd and are not to be missed. Even if you didn't score a free copy, we urge you to add these great DVD's to your collection and you can do so by checking out the following links. Dark Side Of The Moon US DVD | UK DVD | Wish You Were Here UK .DVD or Blu-ray – USA DVD or Blu-ray
Chain Of Command Regular visitors will know that we have been supporting Dutch singer Danny Kroonen's career for some years now. Danny is a self confessed Pink Floyd & Roger Waters fan and this is very obvious in his music.Danny has a new song out called Chain Of Command and we invite you to listen to it below.We think you will be glad you did. It's also available as a free download for a short time.
---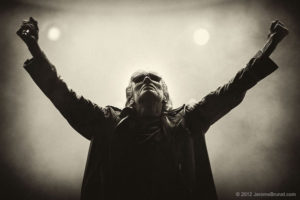 And The Winner Is This stunning photograph of Roger Waters has just won 1st place in the professional music category at the prestigious International Photography Awards. The contest received over 10,000 entries from over 100 countries around the world and was juried by 80 of the world's most prominent photo professionals. The photo was shot at AT&T Park in San Francisco on May 11th, 2012 by Jerome Brunet
Pink Floyd Dropped By EMI Pink Floyd are among a number of acts to be dropped by their record label EMI, as it is sold to rival Universal Music Group. Troubled British record company EMI is undergoing a £1.2 billion takeover by Universal Music Group. Other acts to find themselves without a parent label include Coldplay, Kylie Minogue, Gorillaz, Cliff Richard, David Bowie, Tina Turner and Duran Duran. While Universal will take over EMI's recorded music division, its music publishing arm has already been sold to rival Sony, for £1.4 billion. EMI artists who face their contracts being sold will be looked after by a Hold Separate Manager, an executive who will guide their careers until their future is decided. (Thanks to Dieter Vanmarcke for the heads up)
Roger Waters To Perform In Tribute For Levon Helm Roger Waters will join an all-star lineup of musicians at a Levon Helm tribute concert scheduled for Oct. 3 at the Izod Center in northern New Jersey. Organizers have announced that Roger will perform at "Love for Levon," which will also feature John Mayer, Dierks Bentley, Gregg Allman, Joe Walsh of The Eagles, My Morning Jacket and many others. UPDATE Roger was in Woodstock for rehearsals on 2 October rehearsing with the band for the event. G.E Smith will accompany him on guitar, along with Larry Campbell on fiddle, Amy Helm, Don Was on bass, Brian Mitchell on piano and Kenny Aronoff on drums. They were rehearsing two songs- "Wide River To Cross" a song written by Buddy & Julie Miller that was released on Levon's 'Dirt Farmer' record, and "The Night They Drove Old Dixie Down". (With many thanks to stratguy94)
| | |
| --- | --- |
| https://youtu.be/sfPtx2Fzr1Y | https://youtu.be/cAoq9KxCuMU |
| | |
| --- | --- |
| https://youtu.be/8p3IJoPFu48 | https://youtu.be/D8bp-lPvpPk |
Videos with thanks to Simon Wimpenny.
Check out Simon's PICTURES from the event.
---
Pink Floyd House Up For Auction The North London home where Pink Floyd was formed has come up for sale for the first time since the band's members lodged there in the Sixties. The three-storey house in Stanhope Gardens, Highgate, which is in need of some repair, will go under the hammer on September 20 with an estimate of £1.2million. It has barely been altered since Syd Barrett, Roger Waters and Nick Mason lived there. The Victorian home was owned by Mike Leonard, their influential former college tutor and landlord, until his death this year. More Details & Pictures (Thanks to Mike Morgan for the heads up) UPDATE SOLD! for £1.2 million. STORY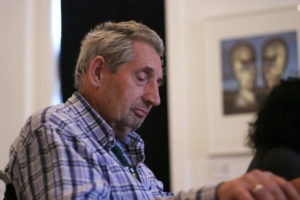 'Computers Have A Lot To Answer For' Is the name of Storm Thorgerson's latest exhibition that opened in Chicago on 7 September. The exhibition is a 40-year retrospective of Storm Thorgerson's photographic prints. We sent along AFG correspondent Phil Gaulrapp and here's his report: 'I attended a great Q&A session on Saturday 8th September with about 30-40 people in attendance. It was a very intimate gathering and everyone had a lot of fun. Storm answered many questions and gave us much insight into his work and method. He's quite funny. The exhibit runs until November 2nd of this year, and all the prints at the gallery are for sale. Lots of Pink Floyd prints in there, though out of my price range (the Wish You Were Here print — two men, one on fire, shaking hands — for instance, is going for $1,740 framed, though there are lower priced prints available)'. The gallery is at 1539 N Damen Ave, Chicago More information can be found at thispublicworks.com
Roger Plays The Blues Roger Waters put in an unexpected appearance at the Stephen Talkhouse bar in Amagasnett New York on 22 August to help belatedly celebrate GE Smith's 60th birthday. The results can be seen & heard below.
Roger Waters (Pink Floyd) joins G.E. Smith at The Stephen Talkhouse - Blues in G
The Wall For Paris In September 2013? We can't verify it, but it's being reported that Roger Waters will be visiting Paris and presenting his Wall show at the Stade de France on 22 September 2013. We have not been able to verify this through our sources, but you can read the report for yourself. It's in German, so if you don't speak that language, copy the text into a translator!
Trinity Orchestra plays Dark Side Of The Moon On 8 July 2012, the entirely student-run Trinity Orchestra performed their most adventurous and highly anticipated musical project: 'The Dark Side of the Moon' arranged for full orchestra, band, and singers. The music video below shows the full orchestral performance of "Time" and "Breathe (Reprise)" in Christ Church Cathedral as part of the 10 Days in Dublin Festival. The full set list included "Shine On You Crazy Diamond", 'The Dark Side of the Moon suite', "Wish You Were Here" and "Comfortably Numb". Trinity Orchestra's final performance of Pink Floyd's 'The Dark Side of the Moon' will be on Saturday 1st September at 12.30pm. More info (Thanks to Tony Giallourakis for the heads up)
Trinity Orchestra plays Pink Floyd's 'The Dark Side of the Moon': "Time" and "Breathe (Reprise)"
Rare Pink Floyd Top Of The Pops Video Surfaces Filmed in 1967 and discovered in 2009, the video you see below has only just become available for public viewing. It's a very rough watch, but it has survived and is certainly worth a few minutes of your time.
Pink floyd see emily play 67
Nick Mason At Closing Of London Olympics In what has been an open secret for some weeks, (Protocol required us not to report on it) Nick Mason had a guest spot at the closing ceremonies of the London Olympics. He performed alongside singer/songwriter Ed Sheeran (who had spilled the beans in an interview some weeks ago and had been a hot topic on the AFG Forum) Nick was also joined by Mike Rutherford, and Richard Jones and they performed a reasonably decent version of Wish You Were Here. The visuals featured a man on a tightrope, walk across the dizzying heights of the stadium, who then in a re-creation of the iconic Wish You Were Here album cover, proceeded to set light to a mannequin!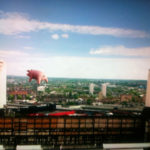 Pink Floyd Feature In Olympic Opening Ceremonies For those few people in the world who didn't get to see the Opening Ceremonies at the London Olympics you should know that Pink Floyd were given the nod several times. In the opening film, the camera followed the River Thames from its source to the centre of London. On its way it passed Battersea Power Station, complete with a flying Algy, the Pink Floyd inflatable pig! (Click on thumbnail for a larger view) Then as the camera moved to Big Ben, the opening clock chimes and tick-tock bass of Time was heard briefly. Shortly afterwards in the O2 Arena, at the very end of the ceremony, when the Olympic torch lit the cauldron, there was a massive firework display, set to Eclipse.
Storm At The Beach In 1987 our good friend Storm Thorgerson set out around 750 hospital beds on the beach at Saunton Sands UK for the album cover A Momentary Lapse of Reason. On August 6th on the beach at Ostend (Belgium), the 1987 event will be partially recreated, with around 150 beds being laid out, and you can get to sleep in one! The event is to celebrate Storm's new exhibition at the A&Gallery, Fort Napoleon, Vuurtorenweg, 8400 Oostende, which runs from June 22nd to 1st September. More details about how you can book your bed can be obtained here. Those in CHICAGO should be on the lookout in September, as another exhibition is being planned for there.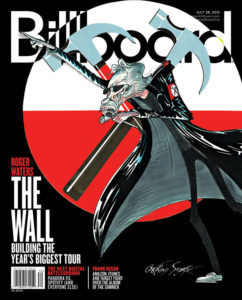 Roger Waters On Cover Of Billboard Roger Waters features in a special, in this weeks edition (July 28) of Billboard. The'Wall' tour has emerged as one of the grandest spectacles— and biggest moneymakers— in all of rock'n'roll history. In the issue, Roger opens up about what playing these 33-year-old songs has taught him about life, creativity and music. There's an extensive Q&A with Roger being his usual forthright self. The cover is stunning and has been specially illustrated by longtime Floyd illustrator Gerald Scarfe. Here you can read part of the Q&A
Last One For Now! Well Roger Waters is taking a break from his record breaking 192 date Wall tour and has stated he might be working on a new album. (Although we have heard him say this so many times over the years, that we are not holding our breath). His last show of the 2012 tour concluded in Québec City on 21 July amid some controversy about the local organisation. We are now awaiting word as to when the 2013 Wall dates will be announced, although this might be some way off in the future. We do know that London & Paris are firm favourites for 2013, and that a number of other European cities are under consideration. It's not expected to be a large tour, and our sources keep telling us it will be in the late (European) summer, so keep checking back and as soon as we have some more solid info for you, you can be sure you will read it here first!
Pink Floyd @ Brighton Dome Calling all hard core fans! The Dome needs your help. A dedicated web site The Dark Side Of The Moon @40 is gathering names in support of the Brighton Dome's application to the Heritage Lottery Fund in the UK. Funding will enable the Dome to research and recreate its rich performance history, a crucial part being Floyd's 8 shows there, including the live debut of The Dark Side Of The Moon in 1972. A list of names will be part of the application – the more names the more support – and later we can all immerse ourselves in a shared better experience of the shows SIGN UP NOW (It's free & for a great cause)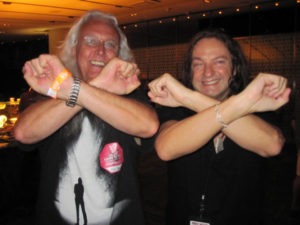 2013 Roger Waters Tour We have had a ton of emails asking us about where Roger will be playing his Wall shows next year in Europe. We wish to stress that nothing is finalized at the moment but Roger is definitely heading in that direction. The cities whispered below in the previous article are NOT CONFIRMED and should not be relied upon at this time. Col (From AFG) was back stage at the Yankee Stadium show (6th July) and his review contains lots on interesting hints about next years tour. CHECK IT OUT
Roger For Europe 2013? Rumours are running hot that Roger Waters will take his Wall show back to Europe in 2013, playing stadiums, or so we are told. We wish to stress that at this time this is purely a RUMOUR, so please don't start making travel arrangements just yet! UPDATE!!! Although still not official it's almost certain that Roger will be touring Europe with his wall show in 2013. Tour dates will be announced here as soon as they become available. WHISPERS ONLY!!! Vienna – Austria/ Götheburg – Sweden/ Bergen – Norway/ Horsens – Denmark/ Warsaw – Poland/ Brussels – Belgium/ Amsterdam – The Netherlands/ Frankfurt – Germany/ Rome – Italy/ Bern – Switzerland/ Paris – France/ London – UK. UPDATE July 7 Roger confirms he is looking at Europe late summer 2013
Battersea Power Station Saved? A consortium backed by the Malaysian government has been named as the preferred bidder for Battersea power station in a £400m deal that could save the historic structure. In a statement the consortium said it planned to "preserve the facade of the historical power plant with its iconic chimney stacks". The decision means Chelsea Football Club and its owner Roman Abramovich are likely to miss out on the 38-acre site after identifying it as a potential location for a new 60,000-seater stadium. MORE
A Fleeting Glimpse At The Astoria You may have read elsewhere on this site about the lucky guy who bought Rick Wright's Kurzweil K2000 Synthesizer. He goes by the name of Chris, and he has been creating some wonderful Floyd sounding songs. If you Follow This Link you can listen to a song that Chris has dedicated to Guy Pratt. We think this is well worth a listen, as you scroll down the page to find some very interesting photographs that were taken of David Gilmour's houseboat Astoria and of his boat at the bottom of the garden! Many thanks for sharing Chris!
The Gilmours In The News Couple of interesting stories concerning the Gilmour family. First the family evacuated their £3million seaside mansion in a bomb scare on 25 May Read Story Then they made the papers again after they lopped the top off their controversial beach hut! Read Story
On The House! We reckon this tribute is unique! Ralph Erthel from Northern New South Wales Australia has taken his dedication to Pink Floyd to new heights. Work is still underway, but after a long hard slog Ralph's paint job on his house is almost complete. Professional mural painter Guy Crossley helped out on the Animals side of the house. Hard to spot on the photos but the little pics inside the bricks on The Wall side- they're all Floyd album covers.
---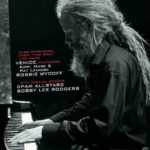 Harry Waters Solo Show
Following on from the smash success of his solo show in Buenos Aires in March, Harry Waters has now announced he will be performing at Ft Lauderdale on the 18th June in between the Wall shows. This will be bigger than his last few solo shows and will be a fundraising event for a community arts project. Live Nation are behind this one and tickets will be available on Ticketmaster at $20 each. The boys from Venice will be appearing too along with Robbie and a couple of other people.
(With thanks to Simon Wimpenny for the heads up) 
Roger Waters To Appear On Jim Ladd Show Jim Ladd has announced that Roger Waters will be on his XM satellite radio show Thursday May 17. Jim said "Roger loves to bust my chops so that alone would be worth the price of admission" UPDATE During the broadcast Roger announced that a Pink Floyd channel will take over the Deep Tracks spot on the US Sirius XM Radio starting 25 May. Then from June there is to be dedicated Pink Floyd channel for those lucky enough to have access to Sirius XM. The channel though is thought to be a short term project and will of course feature officially released material, live shows, and will also feature solo albums from the various band members.
Rick Wright's Kurzweil K2000 – How I Came To Be The New Owner We recently brought you the news that Rick Wrights Kurzweil K2000 Synthesizer was up for sale on eBay. Now, we have tracked down the owner and you can read his story as to how he came to acquire this part of Floyd history, along with a full set of photos and a bunch of videos that we are sure you are going to enjoy. Do not miss this SPECIAL REPORT
New David Gilmour Song For Polly David Gilmour surprised his wife Polly Samson by playing a number of songs at her 50th birthday bash at the Century Theatre in Notting Hill London on 27 April. About 150 guests attended including Nick Mason, Ringo Starr and Jeff Beck. David was accompanied by Phil Manzanera and Guy Pratt.and others. The set list (as Tweeted by Polly) included Smile/The Blue/This Heaven/Where We Start/High Hopes/ and the new (unnamed) song. Pictured right (L to R) are David Gilmour, Nick Mason & Guy Pratt (We are indebted to Pulse & Spirit for the original heads up)
The Missing Piano – A Film By James Guthrie Read our Exclusive Report (and access the video) of the preview of the documentary which was filmed and edited by James Guthrie, a behind-the-scenes look at the creation of the Wish You Were Here SACD – by AFG correspondent Julie Skaggs.
Rick Wright's Kurzweil K2000 On eBay We can't speak for the authenticity of this item but it appears that Rick Wright's Kurzweil K2000 Synthesizer, as used on the PULSE Tour & DVD, was up for sale on eBay. (Since withdrawn) The sellers claim that it was part of a sale of Rick's estate, along with his yacht. If you were interested, you needed to have deep pockets because the 'Buy It Now' price was a cool £65,000 eBay (Thanks to Matt North for the heads up) MORE Read a Great Story about sailing on Rick Wright's Yacht! (Thanks to Paul Trotman for the heads up)
Wish You Were Here – The Making Of In September 2011 A Fleeting Glimpse was contacted by Eagle Rock Entertainment to see if we could assist with research into the making of the Wish You Were Here album. Now we have learned that VH1 will be broadcasting a documentary on the making of Wish You Were Here on 3 March @ 7.30pm. We are not sure if this is the documentary we helped contribute to, but in any event it should be worth a watch as we have been told that in the promos it looks to be current, and includes David Gilmour at the mixing board with Black Strat in tow. UPDATE This was indeed the Eagle Rock documentary that we contributed to. FURTHER UPDATE The DVD & Blu-ray of this most excellent show will be released in June 25 (UK) and June 26 (US) and can be ordered or pre-ordered from the following Amazon Links UK DVD or Blu-ray – USA DVD or Blu-ray
Douglas Adams The Party 11 March 2012 would have been Douglas Adams' 60th Birthday. To celebrate this event, Douglas' family and friends are holding a very special birthday celebration in his honour at the Hammersmith Apollo in London. An evening's entertainment from some of the finest names in the world of science, comedy, entertainment and music, with a very special premiere performance of Douglas' material, this is one event that is definitely not to be missed. Headlining this great event is a band who last performed in Douglas' sitting room, reforming here, starring Gary Brooker, Robbie Mcintosh, Wix Wickens and Margo Buchanan, plus some very SPECIAL GUESTS. You never know who might turn up! UPDATE Well we gave you the hint some months ago and if you picked up on it and attended this show you would have seen David Gilmour perform Wish You Were Here on his acoustic!
Douglas Adams' Virtual 60th Birthday - Dave Gilmour "Wish You Were Here"
---
David Gilmour Talks About The Wall
Robbie Wyckoff New Album Hot off the success of "The Wall" tour with Roger Waters, the man with the golden voice Robbie Wyckoff brings his soulful rock sound to the mainstream. For those of you who have already seen and heard Robbie in action at a Wall show, you will know that this man has an incredible voice. Now here is your chance to grab a copy of his new album. Lose Control (With thanks for the heads up to loyal Robbie fan Julie) You can read a lot more about Robbie on his OFFICIAL SITE and if you haven't read it already (or even if you have) read (or read again) our EXCLUSIVE INTERVIEW from earlier this year.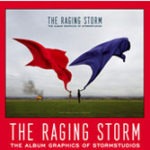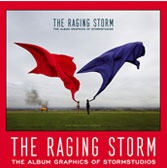 The Raging Storm – Our View Some weeks ago we brought you the news of Storm Thorgerson's new book The Raging Storm (Co-written with Peter Curzon). Well we finally got around to sticking our nose in this latest offering from Stormstudios and have to say were more than impressed. The first thing that grabs you is the landscape format, it's very much like opening a gatefold album (Ah, those were the days!) and so you get a much wider view of the graphics. And what graphics they are! The book is PACKED with images 'executed' (Storm's word) over the last 4 years. Just about all images are accompanied by explanations from Storm and, true to his style, are hilarious. This is not a Pink Floyd book, but images associated with them are liberally interspersed throughout. In addition, also featured are Biffy Clyro, Pendulum, Wombats, Shpongle, Disco Biscuits, Powderfinger, Muse, Steve Miller and Pink Floyd and many others. It's 160 pages of pure magnificence and can be ordered direct  HIGHLY RECOMMENDED
Second Harry Waters Show For Buenos Aires Following on from the huge sucess of Harry's solo show in Buenos Aires on March 11th, Harry will be performing a second show, this one at the La Oreja Negra on 19th March. MORE INFORMATION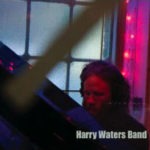 Harry Waters Solo Show In Buenos Aires Harry Waters will be taking a break from The Wall tour and performing his own show on Sunday, March 11 in Buenos Aires Some of you may recall that Harry did the same thing whilst on tour in 2010 in Miami (On his birthday on 15 Nov) Roger turned up for that show, although didn't appear on stage, but Graham Broad and Marky Lennon did get up to do "My Funny Valentine" and Dave Kilminster joined at the end of the show for a "jam" that got started. In fact, except for Jon Carin and GE Smith, the rest of the Wall band were actually at that gig! Now we don't know who is going to be at the Buenos Aires show but it may be well worth checking out! You might also be interested to know that Harry has released a new version of his album, and as a bonus for the Latin American edition, Harry has joined forces with an act in Argentina called Timotteo. They recorded two bonus songs that appear on the new version of the album. The new version of the CD is Now Available to purchase via Amazon USA UPDATE There's a full review of this show with pictures HERE
Redbeard – In The Studio Redbeard's US radio show In The Studio is spotlighting the new Wall Immersion set this week. Insiders have told us that there is a strong likelihood of some new interviews with the band. We can't promise that, but we do know that it's almost certain that Nick will provide an new interview and hopes are high for Roger & David to do the same. Don't forget, our comprehensive guide to Pink Floyd's back catalog can be found at This Location
Tour Book Project – Bath 1970 It's been some time since we updated our ever growing collection of Tour Books, but we are now pleased to tell you that the program from Bath 1970 has been sent to us. We haven't been able to use all the pages as they are mostly non Floyd related, but we have been able to produce a list of acts that appeared at the festival, and the page of the book that is dedicated to Pink Floyd. Not the largest exhibition we have, but well worth a few minutes of your time. BATH 1970
Pink Floyd On Rockline Please be advised that the story that he surviving members of Pink Floyd would be be special guests on Rockline on Wednesday, February 22 and on hand to answer your questions was false. The original source who claimed this have now changed their story to read "Previous taped interviews with the surviving members of Pink Floyd will air on the nationally syndicated U.S. program Rockline".
Here We Go! Here we are on the eve of Roger Waters 2012 tour and rehearsals are in full swing in Perth Australia. AFG correspondent Brad Noack was lucky enough to be invited to the rehearsal on the 25 Jan and you can read his report (with pic) in our dedicated Perth Wall section. We have had a number of reports from different members of the band to say they are having a great time and enjoying the glorious weather in Perth. If you are going to one of the BRISBANE shows, there will be pre-show meet ups at the venue in the 'Stars' bar. We will be kicking off at about 6.30pm on each night of the three concerts there, so look for the AFG baner and be sure to join us and say hello to other like minded fans..
Roger Waters Boston Wall Show The show to be held at Boston's Fenway Park on 1 July has still yet to be officially confirmed. Unofficial sources have told us that negotiation are still underway and that it's likely to be still a number of weeks away (mid Feb) until negotiations are complete and an announcement about ticket sales is made.
Roger Waters Spliced Again! As we told you some months ago, Roger Waters had been planning on marrying his long time fiancee Laurie Durning in early January. We have now been given the wink that the event took place last Saturday (14th Jan). This is Roger's fourth marriage.
2012 Year Of The Rumour (Rumor If You Live In The USA) First it was Pink Floyd at the Olympics, then David Gilmour in the recording studio, now we are informed that Guitar World Magazine (February edition) has implied (by the use of sloppy editing) that there is going to be an Experience and Immersion release of Meddle this year. All three stories are JUST NOT TRUE and that has been OFFICIALLY confirmed.
David Gilmour Working On New Album? There have been a number of rumours circulating in recent days that David Gilmour is in the recording studio working on a new album. (It's also rumoured that he will tour in 2012/13). We have can now tell you that despite some web sites and media outlets claiming this it is true it's 100% certain that this is false and this is OFFICIAL!
Rumour Denied David Gilmour has officially denied that Pink Floyd will be reforming their classic line-up to play at this summer's Olympic Games in London. A report in the London Evening Standard on January 3 claimed that the band were set to reconvene for their first official performance since Live 8 in 2005 but that story is pure fiction.
2005 | 2006 | 2007 | 2008 | 2009 | 2010 | 2011 | 2012 | 2013 | 2014 | 2015