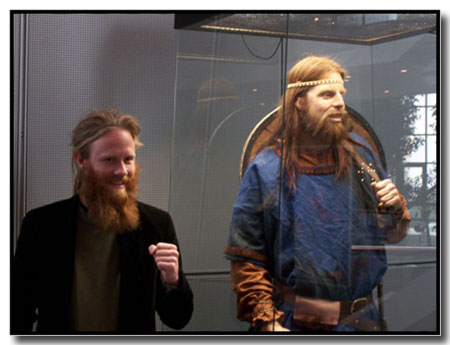 Harry Waters is a British piano and Hammond organ player.
He is the son of Pink Floyd's bass player and lyricist Roger Waters and has played on tour with his father since 2002, replacing keyboardist Andy Wallace on the In the Flesh tour. In 2004, he toured with Marianne Faithfull and the Ozric Tentacles.
He is an avid fan of Phish and The Grateful Dead and has played in several jam band cover bands.
Harry also is an avid jazz musician who has teamed with the likes of Ian Ritchie (saxophone player for Roger Waters), forming the Harry Waters Quartet. Some demos of his jazz work are available to download in Harry's official website.
In November 2008 the first Harry Waters Band album was released.
Harry is heard in the original recording of "Goodbye Blue Sky". The song opens with him saying "Look, mummy, there's an aeroplane up in the sky" before the music starts. Source: Wiki
---
Many thanks for giving your time once again Harry. (Harry appeared as a Special Guest on the AFG Forum in November 2008). We have a bunch of questions for you, so let's get right to it.
AFG: Why Jazz? It's not exactly the most popular style of music and I would have thought limiting in terms of it's appeal. What draws you to it?
HARRY: Jazz is definitely a niche market, it's a shame more people aren't appreciative of it. I just love the way that it sounds, a combination of lush sounding instruments and harmony/melody that you only really get in jazz. For example, re-harmonising is something that you simply don't get in other music, a technique of taking a tune and replacing the chords given to you with other richer (or simpler) ones. I get a lot of pleasure doing this.
AFG: How did it come about that you won a spot in Roger's touring band. Obviously there's the family connection, but how did the idea come about. Did your Dad approach you, you him or what?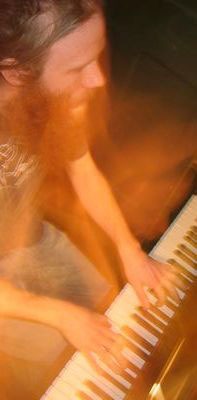 HARRY: He actually asked me to tour with him in 1999, at the time I was involved with an original rock band called Hubble Deep Field and pursuing a record deal, which incidentally we didn't get. I chose at that time to stick with them for a while longer and see what happened. When the next tour was announced for 2002 I made sure that he knew I was interested in joining the band !
AFG: When you were touring with Roger and playing his songs and Pink Floyd music, did you feel limited in what you could do? Was it constraining having to play the same songs night after night note for note?
HARRY: Yes. That music is so structured which is no bad thing. The guitar solos are pieced together over time, working out which phrases work best one after the other. This is completely the opposite to jazz where you have a lot more freedom of expression. Both approaches are fun, but I feel more fulfilled musically when I can improvise.
AFG: What's your opinion on bootlegs? I'm talking non commercial audience recordings. Do you think it's acceptable for somebody to have taped one of your Dark Side shows and then distributed it freely on the internet?
HARRY: Absolutely. Without bootlegs I wouldn't have had the pleasure of hearing show after show of Grateful Dead gigs.
AFG: With all the touring you have done over the last few years there must have been some magic moments. Can you tell us some of the highs and lows of the Dark Side Of The Moon tour/s?
HARRY: My first gig. 2002 in Capetown. Terrifying. My legs were like jelly and I honestly thought I wouldn't get through it without fucking up. I still had my folder of notes on the floor by my keyboard for about the first two weeks, I didn't trust myself that I wouldn't forget something. It's actually really easy to remember all that music, especially when it's so ingrained in me.
AFG: Why no lyrics? As I understand it, you don't write lyrics. Considering your family background I find this a little unusual. Have you ever written any lyrics at all?
HARRY: Yes. I have written many types of music over the last ten years. Pop songs, trance music, drum and bass, ambient music, heavy metal, all sorts. For the pop songs, I wrote lyrics. I'm fairly sure that they were bad, it never really felt right to me.
AFG: Where do you see yourself musically in say 10 years time? Do you aspire to a solo career or will you continue to play in bands?
HARRY: Hopefully both. I would very much like to develop my writing and continue to make more music. I love playing for other people though. A balance between the two would satisfy me I believe.
AFG: You said recently that you love Pink Floyd music. Care to nominate your favourite three albums?
HARRY: Easy. No 1: Animals No 2: The Wall No 3: Meddle
AFG: If you could be transported back in time to see any band perform any song live, where would you go and why?
HARRY: Jesus, that's hard. Actually, it's not hard at all, having thought about it for all of about ten seconds my decision is clear, Grateful Dead playing Dark Star in 1967. I love that band so much. Phil Lesh is a master, he can play two notes over and over with small rhythmic variations that keep the music flowing. Jerry Garcia is probably one of my all time favorite musicians. What an individual, no one plays like him.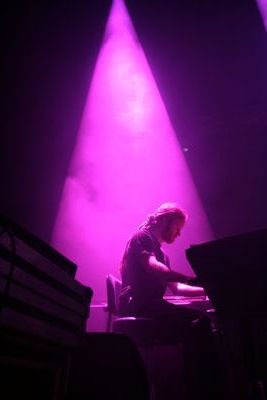 AFG: Hypothetically, you get asked to form a four piece band. You are on keyboards but you need a guitarist, a bass player and a drummer. You can select any three living or dead musicians to play with you, who do you choose?
HARRY: Playing rock:
John Wetton Bill Bruford John McLaughlin
Playing Jazz:
Scott LeFaro Paul Motian Probably still John McLaughlin
AFG: Have you ever Googled yourself?
HARRY: Yup.
AFG: Tell us a bit about your new album.
HARRY: It's a sextet:
Harry Waters: Piano
Yarron Stavi: Double Bass
Seb Rochford: Drums
Ian Ritchie: Tenor Sax
Alan Barnes: Clarinet, Alto Sax, Baritone Sax, Bass Clarinet
Roger Beaujolais: Vibes
It's really quite old school, very laid back, no fast tempos. Ten original songs and one cover of a really old calypso tune.
AFG: Well thanks very much once again for your time Harry. Wish you well with the album.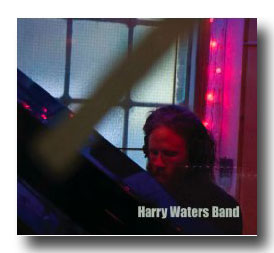 AFG

Special Amazon Links

Both ship worldwide
More information about the album can be found on Harry's Official Website
All images copyright Harry Waters