David Gilmour To Appear On Jools Holland Show David Gilmour will be a special guest on the Jools Holland show this coming Tuesday, 4 November. The show will also be repeated on Friday 7 November. The show airs on BBC2 TV (except Northern Ireland) at 10pm
https://youtu.be/_n3dbOez6yw
David Gilmour On Chris Evans Radio Show – New Song Revealed We are not going to bore you with a long & complicated story, suffice it to say that David Gilmour appeared on the Chris Evans show again (BBC2 Radio) today (31 Oct) and the song Anisina was played. If you want to know a LOT MORE about this song, hop over to THE FORUM and check out The Endless River topic.
'Louder Than Words' Upcoming Video Aubrey (Po) Powell is currently in Kazakhstan working on a music video for the only song on 'The Endless River' that has lyrics 'Louder Than Words'. The video will be in the style of the 'Marooned' video, this time filmed by the half deserted Aral Sea (part of the former Soviet Union). The video will contain children, ships and some shots of David & Nick (filmed in England). Po is currently in his hotel room in Kazakhstan editing the video which will be available on YouTube (and probably on this site) on 15th November. (Thanks for the heads up to several sources) (Filed 30 Oct)
For Our Italian Friends Nick Mason will be a guest of RTL 102.5 radio and TV stations Channel 36 and Sky TV (Channel 750) in Italy on 7th Nov at 3 pm (Italian time). Nick will be interviewed by Luca Dondoni during the program "The Flight". It's unclear if all the two hours of the program will be about The Endless River. (Thanks for the heads up to Blukaos). If you live in Italy and haven't ordered your copy of the Endless River yet, please use one of these dedicate Amazon links. STANDARD CD | DOUBLE VINYL | CD & BLU-RAY | CD & DVD
Another Track From The Endless River Released Allons-y (1) which is from Side 3 Part 4 of The Endless River has been made available on Spotify (Membership required but it is free). We will be bringing you the first of our fan reviews this coming Friday (7th). Once you have heard the album (Released in parts of Europe & Australia on the 7th and in other parts of the world on the 10th) and you feel up to writing a review, please contact col@pinkfloydz.com and we will try to include it here on the site.
The Endless River – Deluxe & Vinyl Unboxing
Pink Floyd - The Endless River (Deluxe and Vinyl Unboxing)
Links, Links, Nothing But Links!
David Gilmour 'Surprised' By New Album Response In a very short interview David Gilmour speaks to BBC's Today programme's James Naughtie.
Redbeard The Endless River Radio Show Now Online A few weeks ago we told you about an upcoming special radio broadcast from famed Radio host Redbeard. The show named 'Pink Floyd The Endless River Revealed' features NEW interviews with David Gilmour & Nick Mason. The program has the duo talking about their inspiration and motivation for the first new Pink Floyd album in 20 years and is mixed with music from the new album, plus some classic Pink Floyd high-water marks. 'Pink Floyd The Endless River Revealed' aired on 10 November and runs for about 40 minutes and can now be heard online.
Louder Than Words Video Further to our story of 30 Oct about the video for Louder Than Words, there is now a pretty comprehensive article on what the video contains published by Tengri News and here is the video!!
Pink Floyd - Louder Than Words (Official Music Video HD)
Psychedelic Light Show For London? The New Zealand Herald have reported that there is to be a psychedelic light show in London this coming week (10 – 14 Nov) The event is to celebrate the launch of The Endless River. The light show will be in the control of Peter Wynne-Willson who did the job at the famous late 60s club UFO where Floyd played marathon sessions. Actual date and location are not known at this time. We will of course let you know when we find out more. (If anybody has more info, please contact col@pinkfloydz.com) With thanks to Phil (Beckettp) for the heads up. UPDATE:Whoops! We missed it! It was on Monday night (10th) and was launched at Porchester Hall in London's Bayswater area. Storm Studios have some pictures to prove it!
Pink Floyd - Exclusive Amazon Q&A. David and Nick answer questions on 'The Endless River
Nick Mason On Huffpost Live There's an entertaining interview with Nick Mason on the Huffpost Live site where selected guests were able to ask him questions. AFG were invited to participate but because of the time differences we were unable to do so. 🙁
Pink Floyd - The Endless River - The full 9min EPK
Help us to help you

!
A small commission is paid to this site if you make any purchase from Amazon. We use these funds to continue our work with this site. We receive no funding from any source, but do have fees and expenses to pay. So if you can help us, we can continue to help you.
The Endless River EPK part 2 –"something completely different"
https://youtu.be/-IqDAB5Hi5M
Publicity Abounds! Hardly an hour goes by when we don't get alerted to an interview, article or video that's just been published about The Endless River. In fact there is so much info coming in that we can barely keep up with the deluge! It's not going to be possible to bring everything to you, so we have decided to just bring you what we consider to be the best of the bunch. With that in mind we now direct your attention to a fantastic new interview with producer Andy Jackson that takes you Inside the Making of The Endless River
Redbeard The Endless River Radio Show With The Endless River being released on 10 November (US) there's to be a special radio broadcast from famed Radio host Redbeard. Recorded this month (Oct 2014) the show named 'Pink Floyd The Endless River Revealed' features NEW interviews with David Gilmour & Nick Mason. The program features the duo talking about their inspiration and motivation for the first new Pink Floyd album in 20 years and is mixed with music from the new album, plus some classic Pink Floyd high-water marks. 'Pink Floyd The Endless River Revealed' will air on 10 November and runs for 90 minutes. It will be syndicated across the USA so check with your local radio station to see if they will be airing it. The show will NOT be available live on the internet but may be available after the broadcast has gone to air.
New EPK For The Endless River – Note, this is a different part of the interview from the previous EPK.
Pink Floyd - The Endless River EPK part 1 - "a continuous flow"
The Endless River – Southbank Timelapse
https://youtu.be/kgg2PWkOYZQ
The Endless River EPK – Used With Permission
https://youtu.be/41O2PmucBn4
David Gilmour talks about new Pink Floyd album The Endless River
David Gilmour pays tribute to Rick Wright - The Endless River
World Exclusive interview Nick and David chat to BBC Radio 6 Music's Matt Everitt about the release of 'The Endless River'. https://www.bbc.co.uk/programmes/p0288yhn
Get Ready For Airplay! Listen out this Thursday (9 Oct.) as a track from 'The Endless River' will be played on some radio stations. In the UK the Chris Evans show on BBC radio 2 will air a track at 8.15am (UK) (which song is unknown but at a wild guess it could be Louder Than Words, although that is pure speculation UPDATE Radio Stations are reporting that the song will indeed be 'Louder Than Words') . Chicago radio station 97.9 The Loop, Radio Station 97.9 in Tampa and 102.1 San Diego KPRI will also air a track that day (Time/s unknown). Obviously there will be more radio stations playing this than we have listed, so we suggest you check with you local radio station if they will be playing it. Send us your thoughts about the track as soon as you hear it and we may feature it on site. (Filed 6 & 7 Oct)
The Endless River Release Date Billboard have reported that Pink Floyd's new album 'The Endless River' will be released in North America on 11th November. We have also been advised of this date by several other good sources but at this stage there is nothing official. UPDATE At least one European online music store is advertising the release date for Europe as 10 November. If you are considering buying this album online (when available) can we please request that you use the following Amazon links to enable us to continue our work on this site. Thank you. USA | UK | CANADA  (These links can be used for ANY Amazon purchase, please assist us by using them).
The Endless River – Pressing On! Acoustic Sounds have received a very special delivery. Just arrived are the lacquers cut for 'The Endless River' the first new Pink Floyd album in 20 years. Four sides have just arrived at Quality Record Pressings, straight from Doug Sax and crew at The Mastering Lab northwest of Los Angeles. Acoustic Sounds say "We're ecstatic that QRP was chosen to press 'The Endless River' on vinyl and proud that our recent pressing of 'The Division Bell' was so highly received. When we say we press the world's finest-sounding LP's, we mean it". Click on the thumbnails below to temp your taste buds. Before you ask, it's understood that this is not a double album, rather the 4 sides equates to a double LP which is why it needs 4 sides, for room and sound quality. Our thanks go to Ron Toon for the heads up and to Acoustic Sounds for the pictures.
---
The Endless River Officially Announced
Finally the long awaited details of Pink Floyd's new album have been released.
The Endless River has as its starting point the music that came from the 1993 Division Bell sessions, when David Gilmour, Rick Wright and Nick Mason played freely together at Britannia Row and Astoria studios. This was the first time they had done so since the 'Wish You Were Here' sessions in the seventies. Those sessions resulted in The Division Bell, the band's last studio album.
In 2013 David Gilmour and Nick Mason revisited the music from those sessions and decided that the tracks should be made available as part of the Pink Floyd repertoire. It would be the last time the three of them would be heard together. The band have spent the last year recording and upgrading the music,using the advantages of modern studio technology to create The Endless River.
The Endless River is a tribute to Rick Wright, whose keyboards are at the heart of the Pink Floyd sound. It is a mainly instrumental album with one song, 'Louder Than Words', (with new lyrics by Polly Samson), arranged across four sides and produced by David Gilmour, Phil Manzanera, Youth and Andy Jackson.
The new album comes in several formats:
USA – STANDARD CD / DOUBLE VINYL / CD & BLU-RAY / CD & DVD
UK – STANDARD CD / DOUBLE VINYL / CD & BLU-RAY / CD & DVD
CANADA – STANDARD CD / DOUBLE VINYL /CD & BLU-RAY / CD & DVD
Track Listing:
Side 1 Things Left Unsaid/ It's What We Do / Ebb and Flow
Side 2 Sum / Skins / Unsung / Anisina
Side 3 The Lost Art of Conversation / On Noodle Street / Night Light / Allons-y (1) / Autumn '68 / Allons-y (2) / : Talkin' Hawkin'
Side 4 Calling / Eyes to Pearls / Surfacing / Louder Than Words
Bonus tracks + videos.
Audio: TBS9 / TBS14 / Nervana
Video: Anisina / Untitled / Evrika (a) / Nervana / Allons-y / Evrika (b)
---
Uncut Magazine
were the first magazine with the news, as their November edition has a special section dedicated to Pink Floyd's new album. In part it says:
Arranged across four sections (called "four sides"), it is an instrumental album-with one song "Louder Than Words" embedded within Side Four – that largely privileges the band's spacey, ruminative qualities. Reassuringly, the elements for which they are best known- ethereal synths, acoustic passages, melodic guitar solos, exploratory digressions, sweeping organ- are all very much to the foreground. But critically, there is also another story here. The Endless River is a splendid tribute to one of their fallen comrades, the band's co-founder and keyboardist, Rick Wright, who died on September 15, 2008, aged 65. Indeed, the source of The Endless River lies in material originally recorded in sessions for The Division Bell by Wright, Gilmour and Nick Mason. "When we finished the Division Bell sessions," says Gilmour, "we had many pieces of music, only nine of which had become songs on the LP. Now with Rick gone and with him the chance of ever doing it again, it feels right these revisited tracks should be made available as part of our repertoire".
Arranged across four sections (called "four sides"), it is an instrumental album-with one song "Louder Than Words" embedded within Side Four – that largely privileges the band's spacey, ruminative qualities. Reassuringly, the elements for which they are best known- ethereal synths, acoustic passages, melodic guitar solos, exploratory digressions, sweeping organ- are all very much to the foreground. But critically, there is also another story here. The Endless River is a splendid tribute to one of their fallen comrades, the band's co-founder and keyboardist, Rick Wright, who died on September 15, 2008, aged 65. Indeed, the source of The Endless River lies in material originally recorded in sessions for The Division Bell by Wright, Gilmour and Nick Mason. "When we finished the Division Bell sessions," says Gilmour, "we had many pieces of music, only nine of which had become songs on the LP. Now with Rick gone and with him the chance of ever doing it again, it feels right these revisited tracks should be made available as part of our repertoire".
READ THE FULL ARTICLE
However, shortly after we published that information the OFFICIAL announcement was made. Official Site
Other information is that:
It is not based on The Big Spliff
Only a few seconds of the original Big Spliff (which was created by Andy Jackson) appear.
It does not contain any source from The Soundscape (Pulse Cassette)
Rick Wrights original recording from playing the Organ at The Royal Albert Hall during afternoon rehearsals in June 1969 has been mixed in.
The LP is based on four different pieces each taking a side each.
There is one song with lyrics called "Louder Than Words". This song is concerned with providing a full stop to the Pink Floyd saga, embracing the full history of the band. Some lyrics are:
We bitch and we fight
But this thing that we do
It's louder than words
The sum of our parts
The beat of our hearts
It's louder than words
It focuses on the more atmospheric and digressive aspects of Pink Floyd and includes snippets of conversation.
Phil Manzanera played a key role throughout the project which started in August 2012 by Gilmour asking him to listen to the jam sessions.
Nick Masons drumming was the first element to be recorded in November 2013.
Gilmour and Mason spent in total 30 days over dubbing guitars and recording drums.
https://youtu.be/UHtlwQNVQeo
https://youtu.be/doUm7viV9oc
https://youtu.be/QQocDfdtBco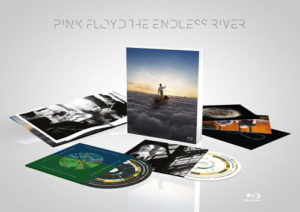 New Album From Pink Floyd Hot on the heels of the confirmed new David Gilmour album in 2015 comes the news that a new Pink Floyd album is on it's way in October this year! We have known about this album for some time but were sworn to secrecy, now we can reveal the details. The album, named 'The Endless River' is based on the 1994 sessions of The Division Bell. Nick Mason referenced the source material (in his book 'Inside Out,') saying "we eventually ended up with enough left-over material that we considered releasing it as a second album," and naming it 'The Big Spliff." But the new album is more than just a series of outtakes! David Gilmour, Nick Mason and the late Rick Wright originally performed a series of ambient instrumentals which have since been worked on by both David Gilmour & Nick Mason. Last December David brought in backing singers Sarah Brown, Durga McBroom-Hudson and Louise Clare Marshall to sing the backing vocals for a song in which David Gilmour sings lead vocals. An interesting aside is that Polly Samson is now credited as being a Lyricist on the new album. We can also confirm that THERE WILL BE NO TOUR. And for those hoping for input from Roger Waters the answer is a resounding NO! (5 July 2014)
The OFFICIAL statement reads: Pink Floyd can confirm that they are releasing a new album, The Endless River, in October 2014. It is an album of mainly ambient and instrumental music based on the 1993/4 Division Bell sessions. The album is produced by David Gilmour with Phil Manzanera, Youth and recording engineer Andy Jackson. Work is still in progress, but more details to come at the end of the summer.
Dazed and confused.An article recently appeared on the Ultimate Classic Rock site that claimed Graham Nash and David Crosby would be appearing on The Endless River. We have had it confirmed that this is in fact incorrect, but they will be appearing on David's new album due out next year.
Footnote: The site was closed this past weekend and the following is the reason why:
I became aware of details about a new Pink Floyd album some time ago. However I was requested by Pink Floyd Management not to release any details of this until such a time as an official statement was made. I undertook not to do so. Early on 5 July Polly Samson Tweeted about the album and I made the assumption that I was now able to release the details I had about the new album. (The FIRST site on the internet to do so) However, after posting the news on this site I notified Pink Floyd Management about what I had done. I was then asked to remove the story as it had not been cleared by official channels. Col

Release date is 10th November (7th November in parts of Europe & Australia)
---
The Endless River Reviews
This page has been set aside for reviews of The Endless River from FANS. (Articles from magazines, newspapers etc are not featured here). If YOU feel you can contribute a review after hearing the album then you are most welcome to submit it. Just drop an email with your review attached to col@pinkfloydz.com and we will see if we can use it.
——————————————————-
From Julie Skaggs
Greetings Readers, I would like to preface this review with the following:
If you choose to read this review please know that, as a Pink Floyd fan since the mid-1970s, what I have to say about this release is both supportive of my participation in fandom and critical of the organization – but not the brand. Pink Floyd as band and cultural monolith will rule my heart till it finally winds down, For me, there is no greater musical collective in the history of popular music and Floyd is the sound of my dreams, my desires, and an unending source of joy, mystery, and wonder.
That said, there seems to be a taboo developing this decade regarding online critical reviewing which I find somewhat disturbing (and has to do, in part, with a lessening distance between creators and their intended audience), but I would caution anyone who believes they might be angered or affronted by any aspect of my opinions, please, do not read this review, and I say that with respect to everyone's emotions. It is not my intention to spoil anyone's enjoyment or anticipation of The Endless River, only to render my review in regards to my honest critical acumen (otherwise there is no value in writing at all), which is a separate consideration apart from my love of the band. If I didn't love this band, I wouldn't have made the effort to analyze this recording to the extent that I have.
With thanks to Col and Natalie Thake (and all the readers) – JS
A Fragmented Farewell
Pink Floyd – The Endless River
(Columbia/Parlophone)
Whither is fled the visionary gleam?
Where is it now, the glory and the dream?
– William Wordsworth, "Ode: Intimations of Immortality from Recollections of Early Childhood"
It seemed no less than a miracle…while Pink Floyd fans were celebrating the 20th anniversary of the band's last studio release The Division Bell, an important piece of news was read 'round the world: an album's worth of previously-unheard material, touted as a final farewell to fans and tribute to seminal bandmate Rick Wright, would be released this year. Thus The Endless River became one of the most discussed and anticipated releases of the decade courtesy of a single Tweet from Polly Samson (who leaked the news via Twitter reportedly in order to head off a reveal from another source).
Insider reports began appearing – from sources both named and anonymous – stating that the project would be primarily instrumental, as the material was derived from the writing sessions which led to the recording of The Division Bell, but assumedly augmented, reworked and re-recorded. Fans were cautioned not to expect what they were accustomed to as regards a Pink Floyd record; that much of the material would be "spacey" and ambient, leading many to wonder if it would hearken back to the band's more experimental era pre-Dark Side. It was posited that these pieces were taken from a backlog of material which came to be known as "The Big Spliff" – as Nick Mason noted in his 2004 memoir Inside Out, there was reportedly enough ideas left over from the writing sessions for TDB for another album – which was an ambient set of jams within the overall archive. But subsequent promotional interviews have disavowed that particular theory although two of the pieces derive from demos which have been in fandom circulation for quite some time.
A lengthy (four months) build-up of this nature – which seems neither planned for nor desired by the organization – likely has been to the overall detriment of fandom expectation when actually met with the release in question. The Endless River is almost an hour's worth of music, and – as had been noted in months prior – there is only one vocal-based song among the album's eighteen tracks. But the tracks have been sequenced into four "sides" with each of them taking a particular thematic direction, although with each track named rather than each side it seems a rather fragmented presentation; my initial impression of the album's bulk is it resembles a patchwork quilt of jams which were strung together because they could be, and because they were in the vaults.
What this album is missing – in my estimation as both a long-time fan and armchair Floydian scholar – is a creatively-based cause and direction. This project had – as did The Wall – four producers, but not the participation of the artistic principles from the outset. As the aforementioned interviews have also revealed, the initial review and assemblage of this material was assigned to co-producers Phil Manzanera and Andy Jackson to decide what should be used and where from the numerous archives of the TDB period. Once this was completed and presented to Gilmour and Mason, the material languished for almost a year (Nick Mason verifies the lack of momentum in a recent interview, noting "David didn't want to spend much time on it"), until Gilmour recruited Youth to further shape and add to what had already been selected. Then Gilmour and Mason finally entered the project to provide direction and contributions. And what that displays to me in regards to Gilmour's motivation – as the titular head of the entity and final authority on the project – is his heart was not in it, even as he might have truly desired to do what he says he meant to do. This is a Pink Floyd album created by outsiders – granted, outsiders who are also Pink Floyd fans – which was then given the veneer of legitimacy, but only just. And out of 20 hours of material, less than an hour of it is considered to be album-worthy and of that which was selected half is only fragments. And it shows.
In regards to the purported raison d'etre of this release, I cannot accept the "Rick's swansong" designation which has been bandied about prior to release because The Endless River is technically not the last recording Rick Wright played on – and not even a situation in which he was aware of his own mortality, categorically-speaking. It's only the last recording we have been given the opportunity to experience. It continues to mystify me why Polly Samson, a published author, would use an incorrect term for a piece of news she had to be aware would have such a stunning impact on the world and affect the perception of the work in question. Also, the logistical support on this recording makes it difficult to truly know what Rick played and what he didn't, credits notwithstanding. There were points at which I found myself thinking, "Yes, that's definitely Rick," but there's not enough of those moments to give the impression that his participation in this work has been highlighted or showcased any more than his bandmates. Given his role as the "glue" of the Floydian aesthetic, providing mood and color and texture to those recordings his presence defines, it was likely never an agenda which could be achieved, but it is difficult for me to believe that he is everywhere in these tracks.
Although I find the title problematic as a reference which is meant to manipulate our expectations, the real issue begins for me with the cover: a surrealist portrayal of a punter making his way towards the horizon along a river of clouds. The original artwork, by Egyptian artist Ahmed Emad Eldin, would not be out of place on the cover of a fantasy novel. But this re-appropriation is thoroughly maudlin and kitschy, all that's missing is a pair of wings to make certain we don't miss the leaden allusion of Rick rowing to Heaven. Although the artist's involvement on the project has been elucidated, it still strikes me that the process of conceptualization consisted of someone from Hipgnosis deciding to Google the term "surrealist art," finding a link for Eldin's tumblr account, and thinking, "He'll do." It displays exactly the same lack of artistic initiative which was utilized for the awful cover of the 5.1 mix of The Division Bell released earlier this year.
In regards to comments made by Gilmour and Mason for this work representing "a 21st century Pink Floyd album," I would posit that this is an album which is the exact opposite of that, and not in tribute to Rick Wright, but rather the sound of Pink Floyd which long-time fans are wholly familiar with, and it was created to give the fans what they desire to be reminded of. Whereas the source of this material – the writing sessions for The Division Bell – produced an album which was very much of its time, these pieces of music stitched together as suites, feature elements which are entirely derivative of the band's history, and if a purposeful direction then one which is the least likely to offend. But it is also the least likely to challenge or surprise listeners.
As noted in the promotional article which appeared in PROG magazine, Gilmour instructed Youth, "Make it sound like us." And the resultant album does…it sounds just like what you would expect a Pink Floyd record to sound like. But nothing like what Pink Floyd might sound like if they'd decided to truly come forth into the 21st century.
****
Side One
Things Left Unsaid-It's What We Do-Ebb and Flow
The album begins with a fade-in of a musical figure which contains the voices of Pink Floyd Ltd. (1987) and some ambient texturing.
First is Rick Wright, with quotes taken from the interview segments of Live at Pompeii:
"We certainly have an unspoken understanding. But a lot of things unsaid as well."
Next is David Gilmour:
"Well we shout and argue and fight and work it on out."
Last is Nick Mason:
"The sum is greater than the parts."
A sound effect follows, like the shutting of a door, and then a long drone-type interlude, which contains wholly reminiscent textures. Besides the obvious reference of "Speak To Me," the collage reminded me of what Joni Mitchell did with Mingus (also a tribute album), featuring spoken-word segments from conversations with Charlie Mingus prior to his death. David plays against this tonal wash until the piece moves with a swell of organ into the next track. What I find most interesting is the moment of sound effects in the transition, I could swear I hear pigs in there.
"It's What We Do" begins with chilly atmosphere framing a Moog horn which would appear to be Rick, but it doesn't seem to be quite his phrasing, and throughout the record I hear things which would appear to be Rick and yet not, more like someone else attempting to evoke him. The track could be neatly described as "the love child of 'Shine On You Crazy Diamond' and "Welcome to the Machine'" as it contains elements of both songs with minor quotations of others. Wright was most crucial to the sound of Wish You Were Here, so it does seem fitting that a jam paying tribute to the elegiac blues which the Floyd made their own was selected. This is one of the few tracks where the bass is especially prominent, it seeks to recall the classic mood as well. But this track is everything a fan would expect and therefore I know there will be many who will absolutely love it, even as for me it never quite achieves anything other than atmosphere.
"Ebb and Flow" serves as a coda to the side, meant to mirror the last part of "Things Left Unsaid" in that it has the same mood and tone. But with all we are presented in terms of Floydian tropes, this side seems too short.
Side Two
Sum-Skins-Unsung-Anisina
This side held the potential of being the most stylistically interesting for me as a listener – and it still does for at least most of its running time.
"Sum" is meant to educe the post-Syd/pre-Dark Side era of experimentation and structures which were born from jams into the tracks we now know and love (if you're a fan of that era), with a definite nod to "One of These Days" though nothing quite as weird as what is on Ummagumma. But there is also an augmentation meant to deliberately remind of us of Rick – as Andy Jackson noted in a recent interview:
Side 2 is this thing where Rick's got an old Farfisa [organ] which got dug out, and it's great; it just does wacky stuff. It does this thing where you've got this LFO-triggered gate-y thing and then this other LFO [low-frequency oscillation] strange syncopated rhythm thing.
…and as Damon Iddins is credited with additional keyboards, it would seem to me an exact example of purposeful evocation which, if you're not careful, you might mistake for the real thing. This principle was also illustrated when a 30-second sample of "Anisina" was released to the public many fans believed the piano in the track was Rick's, but it was in fact played by David. The track begins with a synthesizer figure by David which then transitions into the body of the song, a hard groove with lots of accents and attitude. But the Moog run which comes near the end of the piece is again too obvious a choice to have been played by Rick, in my estimation, it's only something which is meant to sound like we would expect. This track has the most cohesive feel to it overall in my estimation, with interesting textures even as I found myself wishing it had developed a bit more before seguing into "Skins."
"Skins" calls to mind the Syncopated Pandemonium section of "A Saucerful of Secrets" with an interweaving of ambience and musically-created sound effects married to a drum pattern which is almost propulsive. However, the longer it goes on it seems the more it starts to level out and stops evolving, though that may very well be the point of it. It turns a bit noisy but there is some engaging layering to experience for a close listener – there are voices toward the end which can be detected but not necessarily understood.
"Unsung" is a brief transition of Rick's playing, heavily augmented by David, which calls to mind the introduction to "Time" without the percussion which then fades into the next track. But this potentially adventurous mood is then ruined by the final movement.
"Anisina" – a Turkish word meaning "in memory of" – seems to me to be the actual tribute to Rick, as it appears midway through the record, and as a piece which does not contain any of Wright's playing, though it's referenced in its resemblance to "Us and Them." But in my estimation it is faux elegiac, completely schmaltzy, with saxophone and clarinet by Gilad Atzmon which both in composition and performance is extremely cliched, especially in the section where the slide guitar and clarinet are wailing away at a cacophonous din. The sax solo (composed by Gilmour) belongs in a bad '80s movie soundtrack, and the end guitar figure also sounds like it is from the 1980s. This illustrated to me that the days of true emotive brilliance prompted by sorrow lay in the mist on the far side of the shore, never again to be viewed by the principles. There is some background ambience in the ride-out, an open window bearing sounds of thunder and rain, it would seem, which crossfades into the beginning of Side Three.
Side Three
The Lost Art of Conversation-On Noodle Street-Night Light-Allons-y (Part One)-Autumn '68-Allons-y (Part Two)-Talkin' Hawkin'
Just as the first two sides seem largely to recall what is usually referred to as "Classic Floyd," so do the next two sides mostly portray the era from which this all sprung, which has a number of sobriquets, but I'll just refer to it as "Modern Floyd."
The first three tracks of Side Three – the combined runtime slightly under five minutes – do seem to qualify as the type of ambient mood elements which some advance discussion attempted to prepare us for, and they drift in and drift out like a flow of edits in a film, but the way in which they evoke these considerations is defined by the sounds created, and that palette is strictly 1990s. "On Noodle Street" is a bit cocktail lounge for my tastes, in regards to the use of the Fender Rhodes and guitar accents (like 80s-era Clapton), but the title is appropriate, and seemingly a knowing nod to such classifications. This hushed interlude sets up the grand entrance of The Big Rock Moment of the album.
"Allons-y" in both parts bears a strong resemblance to "Run Like Hell" and it's easy to understand how someone could pick this particular jam not only for being well-developed but also because it does seem to encompass the classic Floydian elements we enjoy. But I would assert that is exactly why it should not have been used, as it was not used for TDB, because it is too derivative. But the light in the middle of the tunnel is "Autumn '68," taken from a soundcheck at the Royal Albert Hall (according to the information provided by the production team) and Wright's "Unfinished Symphony." Though I wonder why out of twenty minutes worth of music only 96 seconds were used, it's a lovely interlude which is far too brief and features unwelcome overdubs tacked on in the transition.
"Talkin' Hawkin'" is fine as a working title but it comes off rather witless as an actual title. As a piece it contains many of the values of TDB but imbued with a overtly dramatic gravitas to frame the samples of Stephen Hawking's speech. I can see why it was considered one of the better pieces to use in that it is also cohesive and evocative of a particular mood, but it comes off as background music – of course this same observation could be applied to any number of PF works, and so in this case it could considered fully Floydian. It does provide a better closing statement for the side than the previous tracks.
(Speaking of big rock moments, the biggest of all didn't even make the running order."Nervana," as an extra on the DVD/Blu-ray sets, is positively crunchy when compared with the Floyd's usual fare, and the title is another winking pun.)
Side Four
Calling-Eyes to Pearls-Surfacing-Louder Than Words
"Calling" shares a sense of atmosphere with "Cluster One" but it also tries to invoke the past in regards to the layering of elements, provoking a sense of chilly inscrutibility. But the wash of sounds and harder edge utilized anchors the track firmly to the '90s (again). In its favor it doesn't drag on like "Cluster One" does, it develops succinctly and moves on.
"Eyes to Pearls" goes back in time with its' mysterious sense of space and raga-esque movement; it calls to mind "Set The Controls For The Heart of the Sun" and also "One Of These Days" but before it has a chance to become interesting it's gone.
"Surfacing" has been compared to "Unknown Song" from the Zabriskie Point soundtrack, but I would say it's more directly related to "Poles Apart" in regards to the layers of acoustic and slide guitar. But this is really only a precursor to "Louder Than Words" although the interplay of slide guitar and synthesizer is interesting and goes on only as long as it needs to – in that beyond the time allotted the listener might desire an actual song, and of course we finally get one, as the track crossfades with various sound effects into the final statement.
From the first time I heard "Louder Than Words" I knew it was meant to be commentary on the history of Pink Floyd but I thought it was rather tedious to begin with:
We bitch and we fight
diss each other on sight
but this thing we do…
…if only for the fact that invoking urban colloquialisms doesn't suit David Gilmour, a man who once refused to even entertain a suggestion by Bob Ezrin that he should rap on a Pink Floyd record. As cultural appropriation it is jarring. But the Floyd's contentious narrative is well-known, and so the lyrics progress into a meditation on the love-hate relationship its current leader has with the construct and the fact that he can never stop being defined by Pink Floyd, ever. But also, as has been explained, an acknowledgment of the bond formed by musicians who have played together for decades. And that is a suitably interesting subject for a song. Just not this one, it's a tangled skein of triviality topped with a blob of cheesy solo, although I will admit that the chorus has a definite hook and Gilmour is in good voice, albeit with a bit of rasp, as he sings purposely beneath the backing vocals. Yet again, those swells of Hammond which someone might believe is Rick is actually David, and could be interpreted as paying tribute to his playing yet again. But it seems to me that when left to someone else to express what it was like to be in the band – no matter how many stories one might have been told – it's still not the same as a direct impression, and that is where the lyric fails for me in terms of the sentiment. Outside of its field of reference it's a decent pop song, but it's not what I want to hear from Pink Floyd. However, having received a mostly positive overall response from fans upon hearing the promo single, it proves that Gilmour does know what the fans want.
And David has the last word…literally, as the beginning musical figure comes back around in a recursive loop and we heard his voice, albeit somewhat distorted, and what he's saying seems to be:"…and we play," which is a piece of a larger quote of his: "It's what we do, we turn up and we play." But that is not quite the message I'm getting from this album.
****
The body of work produced by all those associated with the Floyd's recording career will stand, if not for all time, certainly for a time likely beyond our reckoning. Fans don't actually need an album which is a tribute to those works, or one which will remind us of times past, because we still have those albums, and we can experience those moments of glory any time we wish, we are entirely fortunate in that respect.
However, it is certainly not for me – nor anyone else – to define the musical state of Pink Floyd for this century or the previous one. That is up to the current legally-sanctioned participants to decide. What drove this project and why are questions we as fans should be considering, because it is my opinion that this release, if it is meant to stand as a final farewell statement, does absolutely nothing to enhance the legacy of the band. Pink Floyd has one of the most successful and revered back catalogs in the history of popular music, and there is a great deal of brand-name loyalty and goodwill awaiting this release and many who will be entirely pleased with its contents. But as someone who has spent more than half her life living with the music and the history and the aesthetic and celebrating all those who have been a part of it…I am sorrowful not for the end, but for the end of its unified near-perfection.
——————————————————-
With many thanks to Julie Skaggs. As an aside it's really nice to get a CRITICAL review rather than one that can't see any faults with the album. Col.
——————————————————-
From Jort Maas – In response to the review above
I just read your review Julie, thank you for that. It was well written and I really enjoyed the track rundown.
You make some critical notes that I can definitely recognise, and in some cases agree with. That does not mean that I agree with what I guess is an underlying feeling of disappointment, and I can't but disagree with your final conclusion.
I listened to the album again, and sorrowful is actually the last thing that comes to mind. Words like complete and closed circles do come to mind.
With this album Pink Floyd have placed the capstone on their sonic cathedral. "Does nothing to enhance the legacy of the band" seemed to me a particularly strong statement, one that I can't but feel is way premature.
I had my younger brother, of a totally different musical generation, listen to it and he feels this might actually be among their best work. Mind you, he does know something of the back catalog, but he enjoys the crystalline atmospherical instrumental side of Floyd a lot. Something for which Richard was essential, and which is really heavily featured in this album.
The last weeks I read a lot of reviews that refer to some kind of perceived Floydian framework which is immutable (and very personal) and is used as a touchstone for all newer work (put aside the fact I don't think it exists, everything is always changing), but if that is done the only possible outcome is disappointment. So I tried to put all my knowledge and baggage aside and 'just listen' to the album to see what the experience would be.
Despite some minor grudges (feeling a song could have really lifted off but didn't) I was really taken by the flow of the album. It's fantastic. It's so much better then a lot of other new stuff out there (let's not forget that). As the sun is setting on their career, I can't but feel thankful. If this is their final creative moment, it is one of supreme beauty.
With thanks to Jort Maas
---
From WoodenBoxTheater
I've heard the album twice through, and being a Floyd fan since I was a kid, and owning every album sometimes twice, along with plenty of bootlegs and solo records, the Endless River gets 5 stars from me!
The worst of it was probably the entire 'these were tracks 20 yrs old..' backstory. If the record had just 'arrived' and was as big as its going to be, and done that way it would've come off better to critics and purist fans, who would've held off nitpicking it and just listening to it from start to finish, like David and Nick have said to.
This is an album, like the first 7 Moody Bllues releases where you really have to just put it on and leave it on til it's done, otherwise you won't get it. Like Brian Wilson's Smile or Tales from Topographic Oceans by Yes. But to listen to each track on Endless River seems pointless. I'd say they could've held off naming the tracks and just ptu it out as a one track CD called 'The Endless River' to ensure its listened to properly.
I loved the homages to albums like 'More' 'Saucerful of Secrets' and 'Wish You Were Here' and even 'UmmaGumma,' although my fav era of the band is the post Syd/Pre Dark Side era.
Anyone complaining that it's 'mostly instrumental should relisten to 'Wish You Were Here' wasn't Shine On split into 9 parts, and only a couple singing parts?! The Endless River seems more like a fitting sequel album to Wish You Were Here than Division Bell, with a hint of Saucerful of Secrets and the soundtrack albums they did. Its What We Do is a perfect 'Welcome to the Machine Part 2' as if the 1975 band had added an extension to that song, actually it reminds me of Roger Water's 1987 live version of the song from various Radio KAOS bootlegs, only he added sax parts to it.
There's parts of the album where I swear I'm listening to 'Wish You Were Here 2' instead of anything from Division Bell. Nothing against Bell, but this one sounds more modern than that album, but at the same time there's all the 70's era Floyd accents peppered throughout. So fans of Shine on You Crazy Diamond and Welcome to the Machine can't really knock this album, because its a close relative to it musically. I also dig the Division Bell-style echoey Gilmour synthesized guitar parts, reminds me of the opening of Take it Back and Keep Talking. The panning of things from ear to ear is gorgeous.
Sum is incredible! You obviously know youre listening to a 2014 Pink Floyd album when this kicks into full gear. Again with the Welcome to the Machine homages but I always liked that one, so I'm glad here. If in 1994 I was imagining what a Floyd album would 'sound like' 20 years in the future, this is what would satisfy me enough to brag to my friends about.And OMG 'Calling is Amazing!'
The bad: Its supposidly the last album and no tour. So I'm bummed about that. The album should be played live, but not peppered into Gilmours solo act, but a string of shows in scenic venues, and in it's entirety. Start to finish, with neat visuals…even though Lambert fills in for Freddie on the Queen tour, there's still that segment where they video in Freddie to sing a couple minutes and May always looks up and it and gets teary eyed. If Gilmour doesn't want a full tour, then just pick a couple places and do it. Geez! I say this because when Zeppelin released Celebration Day a couple years ago every single interviewer was only interested in…..a new tour…and the three Zeppelin guys came off as jerks for not at least doing one tour..and for that I skipped buying their live album.
The Good : This is an amazing epic album and folks should just put it on and hear it start to finish for what it is….a Pink Floyd album….Im afraid the nitpicking might get in the way….
Oh and why has no one said they wanted to sing the first few lines of Cutting Crew's 'I Just Died in Your Arms' the first few seconds of 'Unsung.' And I LOVE that Nervana is a close cousin to interstellar Overdrive. Fav track on the album!!
This is my review….buy it! Turn the lights off, lay back, let it fill the room, and you'll be rewarded….close the Floyd Encyclopedia or notes or whatever and just enjoy the darn thing.
With thanks to WoodenBoxTheater
——————————————————-
From Kuba Zimoch
After long weeks of waiting for a new studio album of Pink Floyd it finally happened – I have listened to The Endless River.
When the growing stack of information concerning The Endless River was causing a lot of controversies I kept believing that the living remnants of the band are still able to deliver. If you are not going to buy this record because of the cover, re-used outtakes or the lack of Roger Waters' bass you cannot be more mistaken in your entire life. The magic is still in place. The Trio delivered truly amazing album.
You may say that there is no strong concept behind the album, or that songs weren't conceived for the idea eventually used. You are completely right. It's not the album from the big four era, but it was also never meant to be like that. Despite these flaws the Floyds were able to do what they're best known for – create another universe made of musical canvas and hijack you for the journey through this world. Characteristic guitar of David, melancholic keyboards of Richard and Nick's drums creates the landscape of emotions and one is kindly invite to join, enjoy and think about the universal messages transmitted by Pink Floyd's sound.
The album starts in truly Floyd style – some phrases spoken by the members of the band accompanied by the incoming music. Then, with a small break for the thoughts of Stephen Hawking, there is only music up to the grand finale with lyrics – Louder Than Words. The record is full of the sounds beloved by all the Floydians – some taste of SOYCD, screaming guitar and lot more to explore. But there are also the flaws especially in the middle of the album. It's indisputably worth mentioning that the three presented teasers are not representative for the whole piece. I don't know what was the reason of choosing them instead of more Floydian and just much better parts of the record.
After one listen I can only say that 5.1 mix is really sublime. One is not crushed by the sounds changing direction. Surround sound just increases the feeling of being immersed into the album. This mix comes with Deluxe Edition which is definitely worth the money, not only because of better musical experience. Provided extras are really good and all Pink Floyd fans will enjoy them. To see them at work through the lenses of CCTV cameras is accompanied by the well known sounds and some new music. Some of the videos have an added white frame with red REC and running time. It's clearly visible that it was done for this release, but the motifs remains unknown, at least for me.
The Endless River is fully Pink Floyd record with old good sounds creating improbable landscapes with their talents. Listening to it again just lets you to appreciate this universe better and better.
With thanks to Kuba Zimoch
——————————————————-
From Fabrizio Della Maggiora
Ladies and Gentlemen,
standup and praise the Lord for the Sun, the Water, the Fresh Air and Pink Floyd !
This album is simply OUTSTANDING !!! It leaves me completely without words !!!
Before I was frightened as I thought that being unused Division Bell sessions parts they would not be at the very excellent level they used to, but believe me, my tears began to fall as soon as the Side 1, Part 2 began to reverberate in my ears… what a fantastic piece: it reminded me of "Welcome to the Machine", but in a clearer and and more subtle way, then I thought, this was the pearl of the enitre disc, but I was wrong:
All of Side 2 is emotionally overhelming.
then it came Side 3 "Autumn '68": lot of tears fall down more than before, because I definitely realized what was Rick contribution to the group and his departure makes me suffer more than what I had imagine…then arrived "Talkin Hawkin", unbelievable ! How could I say ? I haven't words, spectacular sound, great piece.
Part 4 what can I say ? Tears continued to fall from my eyes I cannot believe: when Louder than words arrived, it
was like awakening from a dream; now finally this only song begins to be contextualized with the entire project and finally it gains the significance it deserves.
I still cannot believe what this album is like. I never expected such a greatness and such a beautiful project. My deepest and sincere thanks to Pink Floyd and to everyone involved in this project for giving me such an emotional experience in my life.
With thanks to Fabrizio Della Maggiora
——————————————————-
From voyage35
Today is a monumental day in the life of a Pink Floyd fan. Their last studio album, "The Endless River" was released. I have spent the past few weeks waiting and researching in anticipation, much as I did in 1994, albeit with far more tools (The Internet) at my disposal.
My first impression and the words that kept coming to mind was "Untapped Potential". I kept thinking what this album could have been if it had been truly fleshed out sometime over the past 20 years. Don't forget that all of their other best albums come from bits of music from previous recording sessions. It's probably how many bands approach writing material.
I then had to put those thoughts aside and examine the album for what it is. Pink Floyd are not attempting to masquerade this as a new project. They credit producers Andy Jackson, Phil Manzanera and Youth for being the motivating factors in bringing this project to fruition. Before Dave and Nick got involved, these guys were given the blessing to pick through 20 hours of music recorded in 1993 and 1994 to see what pieces were usable.
What they put together is remarkable in coming up with a continuous flow of music over four distinct movements. By doing it that way, Pink Floyd did not present us with eighteen (18) non-cohesive fragments that would have felt like a cheap B-side. This feels totally different while still having the Pink Floyd vibe and is incredibly beautiful and well-produced.
After several listens, I began reflecting on the lack of vocal tracks, perhaps harking back to my thoughts about untapped potential. I thought about their very diverse catalog dating back to the very beginning. Side two of Ummagumma is a very difficult listen in its experimental nature featuring solo contributions from each member of the band. They dabbled in movie soundtracks with More and Obscured by Clouds. Meddle features only six songs and has a 2-minute song featuring a howling dog named Seamus. Atom Heart Mother's title suite centers around an orchestra and the last track is an unusual song whose subject is morning breakfast.
My point is that Pink Floyd is a band that has constantly evolved. They have done so with the departures of Syd Barrett and Roger Waters and now the untimely departure of Rick Wright. This album, indeed, is a fitting tribute to Wright. The album's understated lack of bravado is in many ways like Wright himself. Others description of him that I have heard was that he was the quiet member of the band but also the foundation of its sound. Perhaps manipulating the 1994 recordings into something more would have overtaken the simplicity of the albums theme to honor the sound he gave us all.
The final track of The Endless River is the only song with Gilmour singing. "Lost for Words" surprisingly feels out of place within the context of the full album. Gilmour and Mason, knowing full well, that an instrumental/ambient album would leave many fans at the alter, provided the final properly structured song as a thank you to us.
When the last sounds of the album faded away and after the words "Thank you Rick" were spoken, I began to think about what their total body of work has meant to me. No other music has given me so much joy, emotional support and even a bond between me and my father. The Endless River was very much an unexpected bonus. Since Gilmour and Mason are 99.9% certain this is the last original output from the band, I want to thank them both along with Rick, Roger and even Syd for giving the world a rich catalog of music that will give this world lifetimes of enjoyment.
With thanks to voyage35
——————————————————-
From Matthew North
This has to be the biggest surprise of 2014 a new Pink Floyd album. Its out in the UK on Monday but by the miracle of technology I have acquired a copy for a review so here is my thoughts as I was listening to the album.
1 Things left Unsaid – This is a ambient soundscape with some spoken lines for interviews, I wouldn't swear to it, but I think one line is even from Roger. (ED comment, it's not)
2 Its what we do – Very much a coda to the Wish you were here album a kind of a mix of Shine on and welcome to the machine, imho already better than anything that was in Division bell musically. Wonderful.
3 EBB and Flow – This starts off with one of the pulsing synth noises off Metallic Spheres think youth worked on this one. Some nice backwards guitar with some of Ricks electric piano.
4 Sum – This starts the second of the 4 phases of the album almost a flashback to Astronomy Domine at the start then goes into a Gilmour slidefest. I was expecting this to build up into something bigger and it err didn't. Such as the nature of pink Floyd you never get what you expect.
5 Skins – This could have been a new version of Syncopated Pandemonium from 1968 Nicks wonderful drums with manic slide noises from David.
6 Unsung – Another big 90s Floyd intro piece
7 Anisina – This was one of the tracks the band put a teaser out for, and IMHO they teased a bit that makes people think this was just going to be elevator music. Its very much a Us and Them esque piece. I guess this may have not made the cut for Division bell because it sounds too much like us and them, but the strange thing is it would fit right in as part of Roger Waters 'When the wind blows' suite. It's a shame that the 2 never got combined.
8 The Lost Art Of Conversation – Another Rick piece again could well have been part of the 'Soundscape' album that was mooted. This is really an intro into the following.
9 On noodle Street – Its strange this one, it almost sounds like it could be the music for a Bryan Ferry song.
10 Night Light – If I'm critical of anything on this album it's the very nasal acoustic guitar sound here and there. This track being a case in point. Id have mixed off the acoustic guitar again this is an intro to the next track.
11 Allons-Y (1) – To hardcore Floyd collectors this is a known track as its been in fan circles for a few years, though polished up now this is essence a song that is musically far better than most of Division bell, had a good driving Floyd riff. But I guess it got dropped because strains of it sound like other Floyd tracks.
12 Autumn 68 – This is another nugget of gold Ricks playing the Royal Albert Hall Organ. The weird thing is why wasn't it called autumn 1969 because as far as I know the Floyd never played the Albert hall in 1968 but they did do The man And The Journey there in 1969. Also if this was the show when the band got 'banned' from the RAH how come they played in 1970?
11 Allons-Y (2) – This carries on where the other part left off.
12 Talkin' Hawkin' – Another nice piece of mid tempo 90s Floyd with speech form Stephen Hawkins , not sure why TBH but hey it's a great piece of music.
13 Calling – The intro to the last segment of the album a wash with 90s snyths and piano. When recording this the Floyd had ample number of 'intro' pieces I suspect that's why this album was split into 4 sections.
14 Eyes to Pearls – Again not wishing to criticise but not a fan of the guitar sound on this. The Drums sound epic mind. This is almost Wall esque.
15 Surfacing – The penultimate track on this album, have to say playing this through it feels like it finished very quickly. Again a very polished piece of music that again id add to the list of bits that probably should have gone on the Division Bell.
16 Louder Than Words – This is the song most people know as its had a fair bit of airplay. I don't mind this song, but its not the most amazing thing ever. The intro really reminds me of Marillion. NB in addition to the above comment I think this song will grow on me. I may well end up loving this song. Actually I probably already do.
There are also 3 bonus tracks
TBS 9 – This is a bit of ambient sound that has its roots in Echoes and Careful with that Axe Eugene. Sounds rather lovely.
TBS 14 – Love the fact I can hear a Farfisa in the background of this one, bit like one of the barn jams that David Gilmour did in 2007 nice. This is one of my favorite pieces on the album.
Nervana – This starts off with a heavy Gilmour guitar riff (Think Nile song) bug drums come in, this is the 'Rocker' of the album. Again another jam but a great jam. Almost has a Punk vibe.
To summarize I have enjoyed listening to this album a lot more than my first listen to The Division bell and to A Momentary Lapse of Reason. Maybe my tastes are different to how they were back then. This album is a collection of bits, but I know that because I am a Pink Floyd nerd and can understand why bits were not used. But that does not mean that this is something that shouldn't be heard because as a piece of music it is in my view far better than what most modern bands today will dish out. Is this the best Pink Floyd album no, is it the worst, no its probably the album of the 3 post Roger Waters albums that I will play the most that's for sure.
With thanks to Matthew North – Check out his BLOG
——————————————————-
From sysyphus
The idea of warmed up twenty-year old leftovers sounded far from appealing, and to be honest none of the teaser clips did anything much to whet my appetite for this. The potential for disappointment was without limit. I was almost afraid to listen to it for the first time.
I used to live near an aircraft museum that owned a cold-war era jet bomber which they could not afford to restore to airworthy condition. Two or three times a year they would take it out of the hangar and give it a high speed burnout down the runway… although it seemed rather sad that the magnificent old bird could no longer leave the ground and soar to the great heights it was meant for, I came to appreciate that the sight, sound, feel and smell of those four crude old jet engines forcing the aging air-frame into motion as an awe-inspiring experience in itself, far more impressive than any static parked museum exhibit .
For me this album evokes very similar feelings.
At times it builds momentum along the runway with awesome noise and force, maybe even lifts the nose-wheel from the ground, but it never quite gets all the way into the air.
Having said that, after a few listens though I'm surprised and relieved that I'm enjoying the album as much as I am. It's certainly no Dark Side or Wish You Were Here, but we all knew it was never going to be that anyway. Despite it's age it manages to be something new and fresh, yet at the same time comfortable and familiar. I feel it is an appropriate sign-off, a worthwhile addition to the Floydian ouevre, and an album that I will certainly be playing far more often in years to come than at least a couple of their earlier releases
I agree with others that it does seem a little on the short side. I think double CD would probably be taking it too far, but it would have been nice if each side had been five minutes or so longer to make them "proper" twenty minute album sides, and so end up filling an 80 minute CD
With thanks to sysyphus
——————————————————-
From Natalie Lyons
YET ANOTHER INTRO
Back in July, I posted the following forecast on the AFG Forum:
I expect the new Floyd album to be pleasant and easy to listen to, impeccably recorded and with exemplary musicianship, but all very dry.
Roger's album I reckon will be a huge plate of What The Fuck Is He Thinking?!
So that's my prediction…
Floyd album = Lovely but dull.
Roger's album = almost unlistenable, cringe-inducing yet sort of interesting in the way a village drunk is.
Though I might have to wait until the year 2020 to find out if I was correct about Roger's eternally forthcoming solo album, the anticipation leading up to the release of The Endless River is finally over.
Having now heard The Endless River, I stand by my original prediction.  It's not a terrible album by any means.  Indeed, it's arguably superior to any of their post-Waters output in that it sounds timeless and elegant when compared with the 80s onslaught of A Momentary Lapse of Reason, and the excessively poppy and radio-friendly Division Bell.  Even the teasers that on their own sounded dated – such as "Anisina"'s opening, with its predictable chord progression – actually work within the context of the album as pieces that revisit their past glories.  Many of the hallmarks of the beloved Floyd albums of their experimental early years and '70s heyday are present and correct –celestial synths, neat guitar arpeggios giving way to soaring soloing, understated drums, ambient passages, and an appropriate arrangement into suites connected by a unifying theme of togetherness and a lament for the loss of a fallen comrade.  It's clear that the album is aimed squarely at the faithful Floydian fanbase, so kudos to the lads for not shooting for lowest-common-denominator music consumer.
But, alas, this revisiting of the past is where the album fails to be entirely convincing.  The familiar Floydian tropes are so obvious that it comes across at times like a self-referential construct, as though the band and their producers were actively attempting to tick boxes in an effort to make something that sounded as Floyd-like as possible.  It's no surprise that the album was originally assembled from outtakes by successive producers Andy Jackson, Phil Manzanera and Youth, as a sort of Frankenstein's monster cut-and-paste job.  Manzanera even admitted that as a Floyd fan, he was "very conscious of doing something that would not be considered appropriate for Pink Floyd" (Prog magazine, October 2014).  It's obviously very lovingly presided over by three dedicated uber-fans, but one can't help but wonder whether this production team put more hours into the piece than the remaining band members did.
So album opener "Things Left Unsaid" starts with a wash of keyboards, sombre organ, and spoken voices of band members that hark back to Dark Side of the Moon, before segueing into "It's What we Do".  This second track sounds so much like "Shine on You Crazy Diamond" that one half expects Roger's voice to follow Gilmour's stately, bluesy guitar with some lyrics about how annoying war is.
It feels like the first five minutes of "It's What We Do" is an extended intro that should have built up to something else, but instead it's more of the same.  And that's true for the whole album – you're constantly looking for a crescendo that never really arrives.  Each intro just segues into… yet another intro.
"Sum" feature some flanging Moog noises that could come straight off of "Welcome to the Machine", combined with a retro organ sound and driving beat that harks back to "One of These Days" from Meddle.  It's delightful to hear one of Gilmour's trademark note-bending seizures, and this gives way to a syncopated drum pattern and feedback-gasm in "Skins" that immediately conjures up images of a much younger Nick and Dave sitting on their arses in the Pompeii sunshine.  However, for all the references to the band's psychedelic inception it's clearly difficult for a group of aging rock stars to replicate the spontaneity of their youthful exuberance.  Consequently this is more tea and biscuits than hashcakes and mescaline.
"Anisina" borrows heavily from the Wall era, with keyboard arpeggios and vocal harmonies that could be from "Comfortably Numb".  But alas, the warbling clarinet solo is not as pure and understated as Dick Parry's mid-70s contributions to the band's sound, nor as classy as the recently deceased Raphael Ravenscroft's playing on The Final Cut.  It's notable that there's nothing on The Endless River that pays tribute to Animals, when the album could really have benefitted from some of the piss and vinegar of this punk-era release.
"The Lost Art of Conversation" is a jazzy interlude that puts Rick Wright at the forefront of the action.  For while the album is ostensibly a tribute to his memory, Wright's overall contribution is sadly lacking.  The album credits reveal that many of the keyboard parts are played by Gilmour and engineer Damon Iddins, and while they are clearly intended to evoke memories of Wright's playing, his own musicianship is unmistakable.  It's understandable though, that with Wright sadly no longer with us such measures had to be taken in order to have sufficient overdubs otherwise the album would have sounded somewhat empty.
"On Noodle Street" is a quirky jam (with an amusing title – one of the fun things about this album is the Floydian-style punning) that finally contains some much needed bass guitar, courtesy of long-time Floyd session player Guy Pratt.  The album is sorely lacking in bottom end, making Roger Waters conspicuous in his absence.  The driving bass was such a significant part of the psychedelic/jam-based 68-71 Floyd era that it seems amiss in its modern day interpretation.  Unfortunately, despite showing some potential, "On Noodle Street" is largely directionless, which is a shame because initially it seems like a decent basis for an extended jam.
"Allons-Y" parts 1 and 2 recall Floyd at their funkiest, with a definite nod to Bob Ezrin's disco-style production of "Another Brick in the Wall pt. 2" and "Run Like Hell".  Sandwiched between the two halves is the most spine-chilling, evocative moment of the album, "Autumn '68", a track that features a vintage sample of Wright improvising on the Royal Albert Hall's organ, along with Mason resurrecting the iconic gong from that same era.  It's a sublime track, which sadly ends all too soon.
"Talkin' Hawkin'" is a sequel of sorts to Stephen Hawking's cameo on The Division Bell's "Keep Talking", which he reprises here.  This song is a very Rick-sounding composition.  Of all the instrumentals on the album this feels like it would have been considerably enhanced by some singing.  You can almost hum a vocal line as you listen to it.  But we are compensated a little by some Ooohs and Aaahs courtesy of Gilmour.
The next three tracks – "Calling", "Eyes to Pearls" and "Surfacing" – are the most ambient of the album, and, I'm afraid, among the least memorable, at least as far as I'm concerned.  Indeed, I find it difficult to say much at all about them.  The same goes for the earlier tracks I have thus far not referred to – "Ebb  and Flow" and "Unsung".  These interludes would have served had they been markedly different to the passages they bridge, but as it is they are somewhat redundant when flanked by other, similar instrumentals.  This makes the album slightly over-long for my liking, and I feel that the dynamics would have been improved by discarding these segues.  As it is, I feel the album loses momentum by the third side.
The Endless River concludes with its sole non-instrumental track, "Louder than Words", a hymn to how the music made by the band's members is more important than any feuding.  Though the lyrics are not among Polly Samson's finest, the sentiment being expressed is Pink Floyd fans from all corners of the battleground can get behind.  Gilmour's singing voice is on fine form, strong and husky, and far better than it was on The Division Bell, so it's a crying shame we only get to hear it properly on one track.  The arrangement is simple and suitably Floydian, and the track utilises sound effects such as birdsong and bells.  Oh, and Bob Fucking Ezrin plays bass.
However, I can't help but feel that this song is rather too mediocre to stand as the final pillar in the Temple of Floyd.  It's doesn't even seem like the tune most deserving of expansion into the lone song on the album.  It's an easy criticism to level at a mostly instrumental album, but I really feel that The Endless River could have done with a few more "proper" songs.  As it is the whole thing is a meandering build-up that never really delivers what it promises, and reeks of wasted potential.
For despite the fact that Pink Floyd are arguably the greatest of all the progressive rock bands, there's nothing progressive about this album.  Not that anyone would expect a radical change of direction or frenzied freak-out at this point in their career, but a distinctive, original melody wouldn't go amiss, and nor would a big old pair of (pig) balls.
Having said that, The Endless River is still a pleasant, relaxing listen that will doubtless resound with the fanbase.  It's certainly a long way from being the worst Pink Floyd album.  What's particularly pleasing is that it's conceived as a whole piece, to be listened to in its entirety, in an age of limited attention spans and disposable pop culture.  Despite its faults, it's still an additional album in the Floyd canon, and it's hard to complain about there being another Pink Floyd album to listen to.  While it might not be the climax to a career that one could hope for, they were never going to end with an album that could stand toe-toe those released in their 70s heyday, and it's no less a worthy ending than The Division Bell.
Ultimately, after decades of exploring themes of disagreement, suppressed feelings and isolation, the final album in the Pink Floyd canon is one that celebrates camaraderie, and it's gratifying to dwell on the positivity of this message.
With thanks to Natalie Lyons
——————————————————-
From Pete Molloy
Well, that's it then, the last Pink Floyd work…
I've just had my first full listen through, currently on my second, and thought I'd post some impressions. I'll dispense with a song-by-song review, and offer an overall impression, as I think that's more appropriate given the nature of it.
I guess I should preface my own initial impressions by saying that, after countless discussions with Pink Floyd fans over the years, I'm acutely aware that different folk listen to and enjoy the Floyd for many different reasons. This probably isn't for every Floyd fan out there but, I'm pleased to say, it IS for me!
The beauty of Floyd was putting a set of head-phones on and letting my imagination go places, an emotional journey, and Endless River achieves that for me in spades. In fact after one listen I'd say that Endless River is much more of a 'headphone journey' than Division Bell or Momentary Lapse were…this is much more like the emotive trip that the old epics (Shine On or Echoes) evoked.
The very nature of the album…worked up fragments and ideas…means that no single idea is lingered on very long, but that's not necessarily a bad thing. I enjoy the feeling of almost being in a dream inside Pink's head…ideas shuffling in and out almost randomly (but quite elegantly) as only dreams do. And Pink doesn't have his dead father, nasty animals, or cruel teachers in his subconscious mind tonight!
More importantly, there are some incredibly moving musical moments, flashes of the brilliance I love about Floyd, and I find myself constantly engaged in the musical journey. At times moving, at times interesting and even risky, but always exquisitely executed.
And so to the absence of Roger. I was personally quite critical of this release when it was announced, owing to the decision (for whatever reason) not to include or invite Water's lyrical brilliance one last time. Having listened to it, I now get it. Maybe not everyone will, but I do. It's a tribute to the musical atmospherics of Floyd, and a very effective one. It doesn't need words and, in fact, the very absence of them invokes Water's past contributions to the band by their absence, and no crap substitutions attempting to fill that void (well…for the most part). That invocation is most probably an inadvertent side effect, but so many things about Pink Floyd were inadvertent that, even that seems appropriate.
I really wasn't expecting to listen to this and think "I could see myself sticking this on for pleasure"…in fact my hopes weren't particularly high at all…but I'm very pleasantly surprised. For me it's a fitting end to the Floyd catalogue….
With thanks to Pete Molloy
——————————————————-
From Ron Toon
The Endless River – A Pink Floyd Tapas-try
I've listened to The Endless River, the new Pink Floyd album (never thought I would type that last bit again in my lifetime), nearly a dozen times and I really like it for what it is (and then some) and its shortcomings seem quite forgivable.
This album had divided fans with little compromise; they either love it or hate it and the haters have a lot of ammo here. The Endless River is indeed an ambient, at times trippy, instrumental album featuring enough classic sounding Gilmour, Wright, and Mason to offer some tried-and-true familiarity to the four suites referred to as "sides."
For the most part the individual tracks work well within each side but at first may feel like disconnected bits and pieces stitched together as four Frankensuites. This isn't to say that they don't work well together – they do, although perhaps not quite as well as their contemporaries like Atom Heart Mother, Echoes, and Shine On. These classic songs are all made up of bits and pieces and coalesce as a single, seamless composition. After the first few listens the ambient instrumental tracks on this record appear to come and go without purpose but the more familiar one becomes with this album the more their place and purpose in the sonic architecture becomes apparent.
The Endless River is a wonderful gift. It's Pink Floyd strolling down memory lane offering instantly recognizable pieces of their history in both the sounds and textures. The Endless River is a musical tapestry which rewards fans with each successive listen. After I finally stopped paying attention to where each song (and side) begins and ends and have finally given into "go with the flow, wherever it goes" I was able to enjoy it a lot more. This new album doesn't come off sounding like a bunch of Division Bell rejects and if the back-story of this album was not revealed I don't think many people would have guessed that some of these tracks had their origins 20 years ago. From the sounds of Piper through the more modern-day Floyd (including Division Bell, On An Island, and Broken China), the sonic history of the band is faithfully represented on The Endless River. Richard Wright does not merely contribute to this album but is a featured musician who is offered the spotlight on numerous songs or whose style is paid tribute to by other keyboard players. The production values are as good as one would expect from a band that has always been sonically at the top of its game.
Gilmour appears to be correct in stating that this music isn't for the iTunes generation who tend to download select tracks rather than an entire album. This release has the potential to inspire that generation to plug in their headphones and light up to an entire album listening experience. And the 5.1 crowd should love this as well regardless of whether or not they like it as a Pink Floyd album.
Side One begins with Things Left Unsaid, a sonic collage and fitting prelude to this ambient album. Dialogue from all 3 current band members (a very Floydian trait) is strategically placed amidst a wash of synthesizers which crescendo, crash, and subsequently mellow out. Rick gets time to slowly stretch out his trademark multi-layered keyboard sound before Gilmour joins in with a floaty electric and acoustic guitar. Quite spacey and ethereal at times, this track takes its time and sets the tone for the album. A successful lift-off.
The aptly titled second track, It's What We Do, almost immediately shifts into synth mode featuring Rick's instantly-recognizable keyboard sound from Shine On (Part I). When Nick and David finally join in the song really comes together (which at first reminded me of the title track from On An Island) and continues with that On An Island/Barn Jam vibe until Gilmour eventually gets to kick back with some wonderful blues licks. This track has a classic Floydian sound, which also harkens back to Welcome to the Machine, augmented by a modern production and at over 6 minutes in length I wish there were more songs like this on the record. One of the highlights of the album for me.
Ebb And Flow begins with Rick's light multi-layered synths ping-ponging across the soundscape and Gilmour joins in with a very mellow guitar (I think both electric and acoustic). It's a short 1 ½ minutes of music used to end the suite and is a pleasant track, almost an unspoken lullaby. Ambient noises take up the final 20 seconds of this song and I feel that the three songs on this "side" form a fairly cohesive suite and work better as a whole rather than pulling them apart and dissecting them as individual songs as I just did.
Side Two kicks off with Sums which after a very short ambient intro similar to Cluster One quickly changes up with a keyboard sound reminiscent of the opening of Astronomy Domine (very exciting to hear this!). It's repetitive, a bit hypnotic, and doesn't prepare you for the crash of Gilmour's guitar or the disco beat of Another Brick In The Wall (Part 2) which follow. Gilmour, Wright, and Mason all have the opportunity to shine here and the track soars. The feel of the song reminds me a bit of the instrumental break from Keep Talking but this has more bite to it with a driving rhythm and once it takes flight it never looks back. A perfect wake-up call after being mellowed out by the previous suite, an emotional balance found throughout this entire album.
Skins continues to feature Nick, this time in a repetitive drum pattern, a distant cousin from A Saucerful of Secrets but less abstract and once again leaning towards the tribal side. Nick is the focus of this track and he's immersed in spacey keyboard and guitar washes. You gotta have balls to attempt stuff like this and these old guys have "a nice pair" indeed. This song, and its place on this record, reminds me of the percussive breaks during The Man & The Journey suites (Work and Doing It). The final 25 seconds or so are another generically spacey, ambient segue into the next track and luckily these guys are good at spacey, ambient segues.
Rick's flurried synths are quickly answered by Gilmour's familiar high-octave guitar tone in Unsung. A series of long dramatic piano and guitar chords follow almost suggesting that this could have been a lost piece from The Wall or the dramatic intro to Time sans Nick's roto-tom fills. It doesn't really go anywhere other than the purpose of stitching 2 songs together. And at a fleeting 1:07 it surely serves that purpose well.
Most people have probably heard Anasina by now. While Rick doesn't play keyboards on this song it's still an obvious tribute to him with echoes of Us & Them. It's one of the songs that I felt could have benefitted from lyrics as well as the opportunity for a grand anthem of a chorus. Simple tunes and simple chord structures are perfect for anthems (they're so easy for everyone to sing as well) and this could have been a real Floydian classic. This track sounds less like an ambient piece and more like a traditional song which would lend itself to having lyrics/vocals. Despite this, I still really love everything about it, a great track to end the second suite and Gilmour's final solo is a wowzer! One of my favorite tracks on the album. A bit of thunder and rain and Side Two is over as is half of the new album.
Side Three features 7 tracks, doubling the number of songs on most of the other suites. The beginning of The Lost Art Of Conversation reminds me of a Richard Wright instrumental from Broken China (don't ask me which one) followed by a lovely jazz-influenced classic piano piece floating above a bed of synths. I've always enjoyed listening to Rick playing piano and this is a brief unexpected treat (which is closer to Zabriskie Point's "Love Theme" than "Us & Them") seamlessly segues into the next song. It's a perfect set-up for the next track and for the third suite as a whole.
On Noodle Street features a backbeat including bass (reminding me of Brick 1 this time) and drums but doesn't go seem anywhere and for a second or two I almost expected a vocal track (from Mark Knopfler no less). A smoky-bluesy-spacey brief mini jam equally featuring keyboards and guitars that sachets by in under 2 minutes. Another track that works much better within the context of the "side" rather than under individual scrutiny.
The start of Night Light reminds me of the opening guitar sound of Keep Talking (which also bookends the piece) but the song quickly peters down to more synth washes and some guitar musings from Gilmour. Slow and a bit heavy handed this song compliments the previous track. In fact the first three tracks form one of the most cohesive listening experiences within the context of this suite and the album.
Allons-y (Part 1) is another welcome departure from the mellow, ambient tracks and I'm thankful that each side has a break-out track like this. Featuring a rhythm guitar recalling Run Like Hell, it's an upbeat showcase for Gilmour who is able to once again cut loose again. The track reminds me of the same type of instrumental David played on SNL back in the day and is another highlight of the album.
And speaking of highlights, when Allons-y transitions into Autumn '68 it's another one of those sublime moments of genius. I love that this bit of Rick playing on the Royal Festival Hall organ was included here and it stands on its own for the most part, nearly overdub free (Gilmour does add some acoustic guitar at times). It fits right in with the sound of the modern production and doesn't appear to be dated in any way. I wish that more was included but I'm still ecstatic to have this included at all. And with another wash of synths the backbeat returns us to Allons-y (Part 2) which in retrospect seems like a single song with Rick's organ solo serving as a bridge. I love listening to David dueling with himself on this track.
Talkin' Hawkin' is the last song of the 7-song cycle of the 3rd suite and once again slows things down, starting out as another dramatic blues number (in ¾ time) with backing vocals (love the "ah's"). I enjoyed this so much that I wish it played out a bit longer before Stephen Hawking's familiar voice is heard in a short monologue which ends by reprising his vocal contribution to Keep Talking (don't know if Hawking was even needed here as the point was previously made on Keep Talking). A dramatic piece that ends with a 30-second ambient drift-off to conclude Side Three (I personally would have preferred a big finish with a clean cut to another ambient drift-off).
Side Four, the final suite, begins with panning electronic pulses but the Calling soon kicks into heavy mode, or at least attempts to. This is another piece where certain parts remind me of one of the instrumental tracks from Broken China and I recognized a sound effect from Welcome to the Machine quickly flying by. As an individual composition this seems to simply hang around for 3 ½ minutes and at times could pass for inclusion on Bowie's "Low" album. Don't get me wrong, it's a solid track and serves as a nice intro to the final suite but nothing more, another song which works best in context with the songs which follow it.
Eyes To Pearls begins with the all-too-familiar guitar pattern of Set The Controls that can be designated as an homage or a rip-off of the original (I prefer homage and wonder how Roger would feel about this). Even Nick's drumming is a tribute to that classic Floyd track and one can almost sing the words of Set The Controls over it. But that's all it offers. While the original is a dynamic spaced-out marvel this track offers nothing more than an echo of its mantra which I guess was its purpose. Regardless of the similarities I still like it and it works well within the context of the suite and the album, an observation I seem to be continuously repeating.
The opening acoustic guitar of Surfacing recalls Poles Apart but this changes as soon as the song kicks into gear. This is another welcome upbeat change from some of the more solemn, ambient numbers featuring Mason on drums, a bed of synths from Rick, and more signature guitar work from David. I love moments like this where David is afforded the opportunity to cut loose.
The sound of church bells (from Fat Old Sun) leads to the final track that we're all more than familiar with by now, Louder Than Words, which serves as a perfect conclusion to this side and to the album as a whole. I really like this song a lot (even Polly's lyrics) but in context it makes me feel like a couple of other songs could have had lyrics as well. That's one of my minor criticisms, I feel that additional lyrics could have been written for at least one or two other tracks besides Louder Than Words and the album may have been better by doing so.
Dissecting the album like this in the form of the written word will do little to prepare anyone for the actual listening experience. It's kind of like explaining colors to a blind person.
There are many things that this record was not meant to be and this was not meant to be a classic Pink Floyd album, nor was reaching for a bar like that ever considered. It's new and familiar at the same time because so much of it sounds like Floyd.
I personally like the album more with each spin and I know that it will grow on me even more over time because I already love it. I'm not sure how I feel about this being the final Pink Floyd record, especially considering the chronological significance, but I do like it a lot as a Pink Floyd album. And this is most definitely a Pink Floyd album despite what its detractors might say. The Endless River is an homage to all things Floyd which ended up exceeding my wary expectations and for this I am very grateful.
With Thanks to Ron Toon
---
From Lewis Horton
https://www.youtube.com/watch?v=WW2zoUSCCRI
---
From Mark Reed
Who would ever have thought they'd be a 'new' Pink Floyd album? And it is. Despite the band having played their last full show over 20 years ago, and 21 years since the previous album, and of course, the death of lynchpin Richard Wright in 2008, the band – now David Gilmour and Nick Mason – take the embryonic material they chose not to use for "The Division Bell", and finish the job they started in 1993. Then, it was an ambient disc called "The Big Spliff", now, it's a mostly instrumental epic called "The Endless River". And it's glorious. Oh, I have missed the sound of that band.
But it isn't the Pink Floyd you might expect. There was always much – much – more to Pink Floyd than just moody stadium rock : and this explores all of it. Often excised from the airwaves and the collective consciousness is just how weird Pink Floyd could be : the instrumental wigouts of "Atom Heart Mother", "Ummagumma", "Meddle" and the huge chunks of "Animals" that are just the sound of a band being, of guitars, keyboards, bass and drums all working together .. lost in inner and outer space, that ilk are all too often forgotten. But here, in "The Endless River" the band come full circle, with a 90% instrumental exploration of the power and magic they once held when they played together. Taking the original instrumental recordings from "The Division Bell" sessions, Gilmour and Mason have skilfully woven a coherent record around the material left by Wright. In principle this could be similar to The Doors / Jim Morrision "American Prayer", but it is much, much better. On listening to it, there's no sense that this is anything other than the next record in the sequence, where stripped of the need for hits and songs and tours, Pink Floyd just played whatever they wanted.
To the acclimatised trainspotter, parts of this are.. somewhat familiar ; "Anisina" and "Allons-Y" recall the neglected – and still officially unreleased – instrumental soundtracks to early 90's documentaries "La Carrera Panamerica", "Ruby Takes A Trip" and "The Colours Of Infinity", whilst other parts are reminiscent of old live recordings – Mason's percussion workout on "Skins" for a start,recalls some of the late 60's experimentation. This is not a desperate stab at a money grubbing new record and feeble pension tour – Pink Floyd are staggeringly rich, and have no need for it – but a band that missed themselves, and making music, not money.
In one way, "The Endless River" is Floyd reclaiming their ability to create magical soundscapes, evocative atmospheres, and to present a side of the band that they neglected in the past thirty years. In many ways, it resembles "The Final Cut" – insomuch as that was a record where Rick was absent, and lyrics were to the fore, here, the keyboard textures and sounds rise in prominence, the words removed until the end, the final and fitting "Louder Than Words". What is clear, stunningly clear, is just how much of the bands sound came from those delicate and unhurried atmospheres Wright gave the band. Gilmour and Mason meanwhile, take those sounds, and add to them in a way that never sounds anything other than absolutely right. In fact, this record has far more integrity than you might expect : the band have done what they want to do, and created a fascinating otherworld version of Pink Floyd where they just made songs that sound right – unencumbered by the need for chart positions. Unexpected, fitting, and certainly one of the better Floyd albums in their canon. I have missed them.
DVD : the DVD and BR editions contain an extra 9 audio tracks – alternate versions of "Allons Y" and "Anisina", alongside two instrumental takes of a familiar old song in the form of "Evrika (A) + (B)" , and some previously unheard instrumental jams, built around the core of Wright, Gilmour & Mason, with most of the 1987-1994 live band. In total there's an extra 39 minutes of material on here, and well worth listening to. In all respects these are just Pink Floyd songs without singing, and there were loads of those in the old days as well.
Thanks to Mark Reed – From his SITE
——————————————————-
From Nenad Georgievski
In the past several months the world of music has been shaking with sudden announcements and surprising releases by various artists. When Pink Floyd announced that it will be releasing its 15th studio album it seemed like the Earth stopped rotating for a moment. After all, its band members quietly retired this seminal band from active music making and in the past 20 years concentrated more on archival releases and reissues, and turned their attention more on solo records or writing books and hobbies. 20 years after the band's beautiful and contemplative Division Bell (EMI, 1994) there comes a record which opens a new chapter and probably closes the story of Pink Floyd.
At the time, one of the ideas that the band members had with Division Bell was to make a double album where one part would feature regular songs and the other, ambient compositions (with a working title The Big Spliff), but that idea was put to a side. Based on 20 hours of unearthed meandering improvisations between guitarist David Gilmour, the late Richard Wright on keyboards and drummer Nick Mason, or the core of the band, later rerecorded and new material added which was eventually shaped into the four movements of Endless River. Actually, Endless River is a single continuous musical piece having many distinctive sections, where each either segues into or introduces the next section. The album as a whole is a progression consisting of many chapters.
The album was produced by old and new collaborators of both Pink Floyd and Dave Gilmour's solo projects like engineer Andy Jackson, Youth, Phil Manzanera along with Dave Gilmour. Guitarist extraordinaire of Roxy Music fame, Phil Manzanera, worked with Pink Floyd on the first post-Roger Waters record Momentary Lapse of Reason (EMI, 1987) where he co-wrote "One Slip" and he co- produced Gilmour's solo record On an Island (EMI, 2006). On the other hand, producer Youth is a member of the ambient house band The Orb which at the start of the '90s was called the rave generation's Pink Floyd, among other things, due to its kaleidoscopic music. It was Youth who produced the brilliant Orb record with Dave Gilmour Metallic Spheres (Columbia, 2010), but these two bands and institutions go back way back together in the past. Apart from the circulation of underground Orb remixes of Pink Floyd material (which ironically weren't done by the Orb), Orb sampled Gilmour's guitar for a track from its debut, The Orb's Adventures beyond the Ultraworld (Big Life, 1991). Also, Pink Floyd's bassist and participant in this project (and a son in law to Richard Wright) Guy Pratt, has worked previously with Orb. On the other hand, Andy Jackson, not only was the engineer for the last two Floyd records but he also worked on the remastering of the bonus material from the Immersion box sets.
Recorded during the sessions for Division Bell, this record feels like a distant sister to it. It also relates to the Richard Wright's solo record Broken China (EMI, 1996). Much like these records so is Endless River partially influenced by the ambient sound which in its many disguises was dominantly popular in the first half of the '90s on the British scene. Back then, it was championed by the likes of Orb, KLF, Aphex Twin or Mixmaster Morris, and that reflects on both records. And Pink Floyd's music has always had that cinematic feel to its music. Endless River is in a way, a loose homage to the very concept of soundtrack music. On the one hand, they cut loose from the expectations of doing a song based album and they have turned to the cosmic roamings they were known for in the pre-Dark Side of the Moon era.
But this record falls in a category of its own. It is simultaneously a series of explorations in sound, often fascinating and full of transcendent moments. These 18 vignettes offer soundscapes that are respectively evocative and most of the time, serene and warm. But regardless of the time distance of the sessions and the improvised basis for this record, the band could not escape from its past. While the overall sound evokes the '90s warm and cinematic ambiences, the band occasionally nods at the past through its evocative sounds. Pink Floyd has produced such a strong and immediately recognizable artistic blueprint that has become a source of inspiration and imitation ever since.
"Things left Unsaid" bears little resemblance to "Shine on You Crazy Diamond" with its slow paced keyboards while the following "It's What We Do" also evokes "Welcome to the Machine." All throughout, the touch of Wright's keyboards not only paints beautiful pictures but also shows how his distinctive keyboards were crucial to the band's sound as much as Gilmour's guitars and Mason's pace on the drums. "It's What We Do" blossoms beautifully with Gilmoure's chiming guitar bravuras at its most lyrical over the gentle keyboard touches. But not everything here is serene and slow paced. Gilmour rips his guitar with a series of dark solos over Mason's rollicking drums and that sense of uneasiness is carried over to "Skins." "Anisina" is a riveting piece of music much in the same manner as "Us and Them" is, with its slow waltz tempo. "Allons-y (1)" and "Allons-y (2)" are two up-tempo tracks driven by a tempo similar to "Run Like Hell."
"Autumn 68" is one of the standout tracks. It employs an archived recording of Richard Wright's organ playing at the Royal Albert Hall dated from 1968. The sound of his organ is so uniquely evocative and recognizable that it makes this piece of music sound like an aural hypnosis. It probably is a reference to Wright's track "Summer '68" from Atom Heart Mother (EMI, 1970).
"Talking Hawking" has a memorable piano hook augmented by a beautiful interplay of the lap steel and the guitar, and somewhere in the background, the voice of scientist Steven Hawking can be heard giving a lecture on the state of humanity. The ending song, "Louder than Words" was written by Gilmore's wife, Polly Samson and it perfectly sums up the dynamic, turbulent but highly creative career of this seminal band. The turbulent story of Pink Floyd consists of many chapters that only adds to the band's legendary status.
Endless River is a record that will cause many debates and will be compared to other past achievements from the band's oeuvre. But it is a very good record on its own merits and it provides a glimpse of might have happened if the band continued to work together in the '90s under the banner of Pink Floyd. Endless River is the band's swansong and with it, it ends on a high note.
Track Listing: Things Left Unsaid, It's What We Do, Ebb and Flow, Sum, Skins, Unsung, Anisina, The Lost Art of Conversation, On Noodle Street, Night Light, Allons-y (1), Autumn '68, Allons-y (2), Talkin' Hawkin, Calling, Eyes to Pearls, Surfacing, Louder than Words.
Personnel: David Gilmour: guitars, vocals, keyboards, piano, EMS VCS 3, bass guitar (2,4,7), voice samples; Nick Mason : drums, percussions, voice samples; Richard Wright: Hammond organ, Farfisa organ, pipe organ, piano, Rhodes piano, keyboards, synthesiser, vibraphone, voice samples; Guy Pratt: bass guitar (9,14); Bob Ezrin: bass guitar (11,13,18), additional keyboards (1); Andy Jackson: bass guitar (5,16), effects (15); Jon Carin: synthesisers (9,11,13), percussion loop (11,13); Damon Iddins: additional keyboards (4,12); Anthony Moore: keyboards ("Calling"); Gilad Atzmon: tenor saxophone (7), clarinet (7); Chantal Leverton: viola (18); Victoria Lyon: violin (18); Helen Nash: cello (18); Honor Watson: violin (18); Durga McBroom: backing vocals (14,17,18); Louise Marshal: backing vocals (18); Sarah Brown: backing vocals (18); Stephen Hawking: voice sample (14).
Thanks to Nenad Georgievski (as published at All About Jazz)
——————————————————-
From ryan2929
I have stayed away this site & forum since mid-October in a successful effort to avoid hearing teaser clips, Louder Than Words, or even any recent interviews with the Floyd. As a result, I was able to listen to TER a week ago for the first time without having heard any of it before, save for Allons-y and and other clips that may have been leaked before. As excited as I was to listen to the album, I was disappointed upon hearing it, and my opinion hasn't changed much after listening to it four additional times, although I'm grateful that Things Left Unsaid, and to a lesser extent, Louder Than Words, It's What We Do, and Anisina exist.
Although I do think TER is probably the worst Floyd album since AHM, and the worst Gilmour-helmed album except for perhaps About Face, note that I am a big fan of post-Waters Floyd. I find AMLOR decent, if uneven and often lacking the Floydian mystique, and TDB is one of my all-time favorite albums. However, as I had feared, TER very much sounds like TDB leftovers, and yes I think "leftovers" is a completely accurate term, regardless of the music's quality. Yes, I'm aware of Physical Graffiti, Us and Them, CN, and so on, but it's painfully obvious to me why this material was not deemed good enough for TDB. Even arguing that this music was too "ambient" for TDB in the first place doesn't even really make much sense; much of the Floyd's music is "ambient," and after all, Cluster One and Marooned were results of these 1993 sessions, and it's no wonder that those songs were the ones that were picked. I'm truly surprised that David and Nick were impressed by this music enough to release a new album, and furthermore, I'm surprised how patched together the album sounds. It's as if David and Nick were so concerned about respecting Rick's work that they didn't want to fiddle with the songs too much. Much of the album sounds like mediocre jam sessions sloppily connected together by sound effects (with the exception of the segue between TLS and IWWD, and TLAOC and ONS). I'm getting used those bridging sound effects, almost as if I'm a spaceship landing in a different area of Floydland every time a sound effect cues a new song, but considering how much was made of Manzanera's and Youth's production, I'm surprised how minimal the production sounds.
I don't want to sound like a wet blanket, as I really did want this to be a great album, and I've listened to it several times, hoping it would grow on me. After listening to it six times, I don't think I'll be listening to the whole thing start to finish for quite some time now, but I'm at least glad I got to listen to a new Floyd album for the first time in my life (I became a fan in 2004), and I'm glad that Things Left Unsaid, a real thing of beauty, exists. And kudos to the Floyd for making such a non-commercial, quasi-experimental album. While I'm personally not much of a fan of 60s Floyd, I gotta give the Floyd (especially considering the previous sound of Gilmour-lead Floyd) credit for coming out of nowhere to make this type of album.
Anyways, here's my reviews (or more accurately, unedited ramblings) for each song, accompanying by a score out of 10, in which a 10 signifies a perfect Floyd song.
Side 1
Things Left Unsaid: 9.5
I'm a sucker for ethereal synth pads, and this song's got 'em in spades. When the synth and the Ebow kick in in earnest, it's an incredible moment. TLU evokes the feel of SOYCD, and yet at the same time the Ebow makes it sound unlike anything the Floyd have recorded before (and easily eclipses the Ebow on Take It Back and Keep Talking). Like his playing on SOYCD, Gilmour's beautiful, plaintive playing sounds like he's mourning a fallen friend (although I have no idea when the Ebow was recorded), and it's easily his best playing on an album in which he often sounds like he's out of ideas. I could listen to David "play" Ebow for hours. Truly this song is a work of art easily the best song on the album. (Also, opening up where Louder Than Words left off (a la The Wall) is a nice touch.)
It's What We Do: 8.5
The title almost sounds like a tongue in cheek admission that, "Yeah, we're not breaks any new ground in this song, but hey, synthesized French horn, slightly behind the beat drumming, and bluesy, bendy guitar playing, it's just what we do, and we're damn proud of it." I usually ignore the critics when they complain that the post-Waters Floyd are repeating themselves, but the Watersian bass at times sounds almost lifted out of SOYCD and the acoustic guitar strums marking the chord changes are also very reminiscent of WTTM. The song also just sounds like a jam session plodding along, but quibbles aside, it's hard not to enjoy hearing Gilmour, Wright, and Mason just let loose together. I feel like David's playing could have elevated this song into a great one, but he never seems to catch fire (although it's slowly growing on me). To me, It's What We Do really starts to build steam when the ascending eerie synthesizer enters at the end, but sadly, the riff only ascends twice before the song suddenly ends, and indeed much of the album takes a minimalist approach that seems to avoid layering multiple instruments on top of each other.
Ebb and Flow: 6.0
This song is pleasant enough considering it's just some keyboard noodling, but it just feels like a random snippet pointlessly tacked on IWWD. Nonetheless, given the fairly strong one-two punch of the first two songs, Side 1 is easily the warmest (TDB strikes me as the warmest Floyd album, whereas TER, perhaps partly because of the lack of vocals, is quite cold), best (and least "experimental) side on the album, and it's a nice surprise to hear the Floyd (with a cameo by Ezrin) just playing music by themselves.
Side 2
Sum: 7.5
My first thought upon hearing this, was, "Wow! Nick is back!" When's the last time he drummed with such fury? The mid-70s? Also cool to see the VCS3 making a return. David's playing is reminiscent of One of These Days or Alan Parsons' Return to Tunguska (2004) . It's too bad the keyboard at the end (presumably Damon Iddins) didn't keep going, as it's jarring to hear a Floyd solo only last for a few seconds. Anyways, this song features some of David's best playing on the album, and sound like an actual song rather than noodling. It's not a song I'll probably listen to often, but the Floyd certainly accomplished creating the angriest Floyd/Gilmour/Wright song since Sorrow.
Skins: 6.5
A nice transition from Sum. Love when the drums actually kick in with full force a few seconds into the song. I can't recall ever hearing Nick ever play a snare drum like this, but as with Sum, kudos to him for him coming out of nowhere with this passion. The rototoms are of course reminiscent of Time. This song is great if I feel like bouncing around my apartment, but ultimately it's a tad too experimental for my tastes and not really what I listen to the Floyd for (but I'll admit they surprised the hell out of me with this one).
Unsung: 3.0
Like a lot of the second half of the album, this snippet just thrown in there, and sounds like it should be part of a song rather than the actual foundation of an entire song. The transition to Anisina is non-existent, but I suppose the song is pretty harmless considering its extremely short length. Nice to see Rick receive a solo writing credit for the first time since Stay (or The Great Gig in the Sky, if you are so inclined.)
Anisina: 8.5
One of the highlights of the album and certainly one of the only songs that actually sounds like a song, with David beautifully channeling Rick on piano, while also featuring some of his best guitar playing on the album and great saxophone and clarinet by Gilad Atzmon. The "chorus" sounds as if the song is about to slip into Country Theme from La Carrera Pan Americana, which would've been sublime (and it would have been a better album if some of those songs had been included–after all, only the hardcore fans have heard them anyway). With this being only one of two songs not to feature Rick, I can't wonder if the album would have been better served if David and Nick weren't so beholden to the '93 sessions. I think the album could have been a lot better had David had thrown in some of the best solo stuff he was working on while excising some of the weakest bits from TER.
Side 3
The Lost Art of Conversation: 8.0
Perhaps the most interesting title of any song on the album. Nice to hear Rick's jazzy, one-note-at-a-time playing, although the two-decade-old synth has such a poor quality to it. The segue to On Noodle Street is far and way the best transition on an album full of clunky segues.
On Noodle Street: 6.5
And so enters the rest of the honorary Floyd for the remainder of the side. Pratt's bass line sounds like he's about to break into WDYWFM at any moment. A harmless enough and certainly noodly jaunt, but again, it just feels like another short snippet thrown in there. I can't imagine what a casual listener unaware of the album's history would even think of the all-over-the-placeness of this album.
Night Light: 6.0
Like On Noodle Street, it just sounds like they're throwing in random snippets into the album at this point, which just seems beneath Floydian quality standards, considering the band won't even given La Carrera Panamericana a proper release. This song has a nice vibe to it, but doesn't feel complete whatsoever, and comes off as rather pointless.
Allons-y (1): 7.0
Decent enough RLH-type material that many of us have heard before, and at least its more melodic than the previous two songs, but it seems somewhat out of place with most of the album. It's not terrible, but it's not too surprising the band didn't include this on TDB, and it comes off as rather dated.
Autumn '68: 6.0
Nice title. Rather awkwardly placed into the middle of Allons-y (rather than say, the middle of Poles Apart, which doesn't sound forced at all). The playing is all right, but like much of the album, it just feels like the band were just scouring the archives for material to pad the album
Allons-y (2): 7.0
The transition from Autumn '68 is pretty good. Part 2 is perhaps a little better than Part 1.
Talkin' Hawkin': 7.0
There's a slight beauty to it. The Hawking sample is growing on me a bit, but it seems unnecessary and "been there, done that," given that it already worked so well in Keep Talking. This is another snippet that is so short (especially considering Floydian standards) that it never really gains steam. The last 20 seconds or so almost recall More.
Calling: 8.0
I'm curious to learn when this was recorded, and I certainly wasn't expecting to see Anthony Moore's name pop up in a mostly instrumental album in the Polly era. The song is one of the best embodiments of ambient music on the album, and it sounds like the soundtrack to a nonexistent 80s post-apocalyptic flick (that's not an insult) or perhaps AMLOR. Coming on the heels, so to speak, of TDB and OAI, it's jarring to hear something so bleak, but it works well as a self-contained song, and it's grown on me perhaps more than any other song on the album. Like Anisina, this reinforces my belief that the album could have use more original non-Rick songs, while still respecting his legacy and role in the band.
Eyes to Pearls: 6.5
It's interesting to hear Gilmour actually use a riff and to use such a "simple" tone, but like so many songs on the album, it never goes anywhere.
Surfacing: 8.5
The album starts off well enough with Things Left Unsaid and It's What We Do, but the slog of Side 2 and especially the reheated snippets of Side 3 is difficult to bear as one listens to this album multiple times. It's only with Surfacing that the album finally returns with the raise-your-glass transcendent Floydian warmness that we all know and love so much. The acoustic guitar recalls Poles Apart, and once the vocals chime in, the album is instantly lifted out of the boredom of Side 3 and the despair of the beginning of Side 4 (with the latter possibly being intentional).
Louder Than Words: 9.0
Sounds like the bells of High Hopes to start the song. Beautiful piano by Rick, and one wishes that the more of the album could have been turned into "proper" songs with vocals like this one. I adore the instrumental aspects of the Floyd's work, but there's something so comforting about finally hearing David's (especially, if like me, you didn't know when you would finally hear his voice). It's interesting to hear David using that clean electric guitar tone to start the song. The "this thing we do" refrain works so well, it's a minor shame it wasn't utilized more. All in all, it's a beautiful song and doesn't fail to make me finally get back into the album. The chorus's melody is beautiful, but Gilmour sings it at such a low octave, that the effect is a big muted. The guitar solo outro is nice, but it's hard to compete with his own lofty standards, and I would've enjoyed a return to the chorus once the solo ended, but instead the album, and in all likelihood, finally the career of Pink Floyd ends rather anticlimactically.
Overall Score: 6.5
Thanks to ryan2929
——————————————————-
Thank you all. No further reviews will be published as I think we have more than enough! (Unless of course you are half way through writing it, in which case we will consider including it, if it's good enough.) Col
——————————————————-
USA – STANDARD CD / DOUBLE VINYL / CD & BLU-RAY / CD & DVD
UK – STANDARD CD / DOUBLE VINYL / CD & BLU-RAY / CD & DVD
CANADA – STANDARD CD / DOUBLE VINYL /CD & BLU-RAY / CD & DVD