This exhibition will now take place in London 13 May to 1 October 2017 SEE HERE for more details
---
Pink Floyd Exhibition Milan DEFINITELY Cancelled

As we have been telling you for some weeks now, The Pink Floyd Exhibition in Milan has been CANCELLED. The organiser have finally made a statement about it on their Twitter Page with details on how ticket purchasers can get a refund.

Milan Italy – Fabbrica del vapore
19 September 2014 – 18 January 2015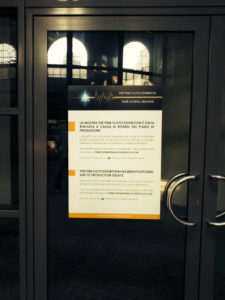 Pink Floyd Exhibition Shock! We have received information from an UNOFFICIAL source that the Pink Floyd Exhibition planned for Milan has been cancelled. We repeat, this information comes from a completely unofficial source. It's claimed that all parties concerned have broken their backs over the last 2 weeks to make the exhibition happen but due to a variety of reasons the event will not go ahead. We are told that the Milan City Administration would not allow the Pink Floyd Exhibition to go past it's proposed finish date (18 January 2015) as other exhibitions had already been booked. Apparently a lot of construction of the Exhibition had already been undertaken in London. We are also advised that apparently all items that were due to be displayed are still in London (We were wrong thinking the Division Bell heads were in Milan as we mentioned in a previous report). We have no word on how to get refunds (if this turns out to be true) but no doubt that information will surface soon. We are expecting a statement to be issued by the Milan organisers (Evolve Devolve) soon. Again, we must stress that this information is completely unofficial and we suggest that you wait for an official statement to be made before you go seeking refunds. (Filed 29 Sept) The above information comes from an anonymous source although we wish to place on record our thanks to "Cymbaline: Pink Floyd Fan Club" (Italy) UPDATE: The picture above to the right (click to enlarge) shows an obviously empty Fabbrica del Vapore (where the Milan exhibition was to be held). With thanks to Cymbaline – Italian Pink Floyd Fan Club FURTHER UPDATE: The official Pink Floyd Exhibition Twitter page has been updated to say "Refund (sic) will be accessible also after 30th October 2014 in case of cancellation" (Our emphasis). EVEN MORE! The organisers of the event in Milan have circulated an email to those who had already purchased tickets. In essence it states that purchasers can seek a refund by going to https://www.vivaticket.it/index.php?nvpg[rimborso] no later than November 10.
WARNING SPOILERS AHEAD We have been unofficially advised that the Pink Floyd Exhibition will now open in late October or early November. Here's a bunch of juicy details that you might be interested in. Before you read on, please be aware that none of this information is yet official.
There will be 588 exhibits (up from the original estimated 300)
There are still at least 6 weeks of construction to go.
Assembly of the major pieces is currently underway in London in 4 different locations. On completion they will be shipped to Milan
We previously reported (and it's been confirmed) that The Division Bell heads (which were previously in Cleveland) are currently on site in Milan.
It's expected that a number of the original beds used on the A Momentary Lapse Of Reason album cover will be featured.
There will be 32 interactive HD video projectors positioned in a tunnel that leads to four different rooms. One dedicated to David, one for Roger, one for Nick and one for Rick. (Apparently Syd misses out).
The original cane that was used to punish both Storm & Roger when they were at school will also be on display.
Roger & Storm's school reports (with grades) will put in an appearance.
It will be an interactive exhibition with visitors wearing headphones as they traverse the space.
Roger & David are working closely together. It seems one is working on the logo & title "words" (although we are not exactly sure what that means) and the other on music and sounds. It is again claimed that there's a possibility of hearing something new from David, recorded exclusively for the exhibition. (Note: This has previously been officially denied).
After Milan, (January 2015), they will move to Rome (until July) and then, Berlin, Paris and New York.
There will be an official program or catalogue with all the artifacts contained therein. It's thought this might go on sale prior to the opening.
The above information comes from an anonymous source although we wish to place on record our thanks to "Cymbaline: Pink Floyd Fan Club" (Italy) (Filed 9 September)
Pink Floyd Exhibition Postponed The Pink Floyd Exhibition that was scheduled to open on September 19 in Milan has been postponed. Ticket sales are currently suspended after the organisers realised they wouldn't be able to make the start date. A revised opening date is yet to be announced. A statement on behalf of organisers said: "Evolve Devolve, the Italian promoters of the Exhibition, have announced that the exhibition, has had to be postponed due to production delays. Building the complex exhibition to the required specification has made it impossible to make the opening date." Ticket-holders can exchange them for an alternative date once these are finalised or they can seek a refund. (Filed 11 Aug)
Division Bell Heads On The Move If you were planning on visiting the Rock and Roll Hall of Fame in Cleveland to admire the Division Bell heads then you will be disappointed. They are on their way to Milan Italy where they will feature in the Pink Floyd Exhibition starting later this year. (Filed 17 June)
Due to international popular demand 'The Pink Floyd Exhibition – Their Mortal Remains', will now continue to run in Milan until January 2015. Launched on 25 February, demand for tickets was such that the initial four exclusive weeks has had to be extended. The Exhibition opens on 19 September 2014 with tickets now available through to 18 January 2015.
Dominating 27,000 sq ft, the exhibition will be staged in Milan's imposing skyline factory Fabbrica del Vapore, and will offer an innovative and entirely unique experience. Six years in the making, commissioned and guided by Pink Floyd members David Gilmour, Roger Waters and Nick Mason along with the family of Richard Wright, the three dimensional experience is designed by Stufish, the stage designers of Pink Floyd's legendary concerts. Curated by Aubrey 'Po' Powell, of Hipgnosis Ltd, along with Paula Stainton, this immersive exhibition is presented by Fran Tomasi.
'The Pink Floyd Exhibition – Their Mortal Remains' will give fans and the public the opportunity to immerse themselves in the band's illustrious 40 year career. Enveloping visitors in Pink Floyd's art and music, the trip will start with the psychedelia of the early years, moving through landscapes populated by the iconic images and sounds associated with the towering concept albums of the 1970's and beyond.
The standard ticket, with allocated entry date and time, is € 15, the open ticket, with no date and time restrictions, is € 17,50.
Special limited edition ticket packages are also available including "DIAMOND", with memorabilia box set, and the exclusive limited edition TICKET T-SHIRT.
Filed 23 April with thanks to Alberto (durgaheyou)
New David Gilmour Music At The Pink Floyd Exhibition! It's been reported in the Italian language repubblica.it that Aubrey 'Po' Powell (Curator & Creative Director of the exhibition) has stated that NEW David Gilmour music will be heard at the Pink Floyd Exhibition later this year. 'Po' told repubblica.it (Loosely translated) "and by the way there will be a new music written by David Gilmour. I don't have the title, I don't know what it is, but I know he has been working on it for some time." Read the Italian interview with special attention to the VERY LAST paragraph. Our thanks go to pulse-and-spirit.com for the lead on this story. (Filed 4 March) This story has subsequently been discovered to be unfounded and has been OFFICIALLY denied by Pink Floyd Management. (Updated 20 June)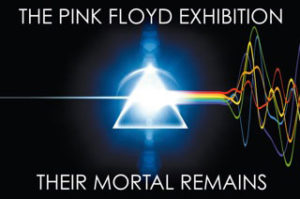 The Pink Floyd Exhibition occupies some 2500 square metres and contains over 300 objects especially flown in from all over the world, some of which are the personal property of the band.
The exhibition is a celebration of nearly 5 decades of Pink Floyd's work, including some elements dating back as far as the mid 1960's when Syd Barrett and Roger Waters played in different bands and way before the name Pink Floyd came into existence.
It runs chronologically, and varies from interviews about Pink Floyd's music, to their early influences, their recordings, their films, architectural and sculptural sets, inflatables, musical instruments and equipment, photographs, and much more…
It represents the contributions the band made to the world: some of the greatest records ever made and the extraordinary live shows that Pink Floyd performed, from The Dark Side of the Moon to The Wall. There are individual pods about each band member and their solo careers outside of Pink Floyd, and a dedicated Art Room containing over fifty fine art prints and sculptures.
It's a Pink Floyd experience from psychedelia through to the present day. This is THE PINK FLOYD EXHIBITION – THEIR MORTAL REMAINS.
AFG WAS FIRST WITH THE NEWS ! OFFICIALLY CONFIRMED We can confirm that the exhibition will open on September 19 in Milan Italy until October 19. It's to be held at the Fabbrica del vapore