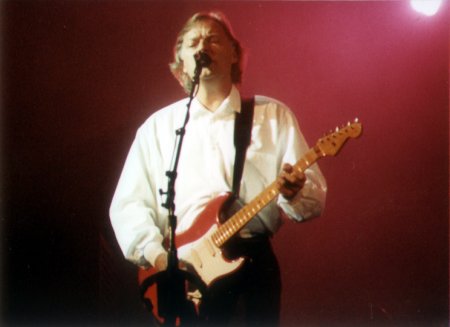 In September 1987 to support the release of A Momentary Lapse Of Reason album, Pink Floyd embarked on a tour that took them to sell out concerts around the world. The tour was really a series of 3 tours, starting with ' Momentary Lapse Tour' which commenced on September 9, 1987 through to December 12, 1987. Then on January 22, 1988 they commenced the 'World Tour' through to August 23, 1988. They picked up their instruments again on May 13, 1989 when they kicked off the 'Another Lapse' part of the trilogy. The final date of these tours was July 18, 1989.
Above picture thanks to Bob Cooney for supplying the only pic of his that turned out!
A total of 199 shows were performed to a worldwide audience of 5.5 million people. They used the worlds biggest outdoor stage (The proscenium alone was 85 foot high by 98 foot wide) that required four steel systems on the road at any one time and 45 trucks to move the steel work and equipment.
Tour Facts. Ottawa Canada Sept 9 1987 – 26062 tickets sold $640,000. (First concert of tour)
Cleveland Ohio Sept 16-17 1987 – 128,364 tickets sold $2,567,280
Philadelphia Pennsylvania Sept 19 1987 – 80,254 tickets sold $1,615,080
Toronto Canada Sept 21-23 1987 – 146,660 tickets sold (3 days) $2,825,860
Milwaukee Wisconsin Sept 30 1987 58,044 tickets sold $1,160,800
New York City New York Oct 5-7 1987 50,571 tickets sold (3 days) $1,100,500
E. Rutherford New Jersey Oct 10-12 1987 51,923 tickets sold $1,049,445
Tour Fact. The tour included Pink Floyd's first performances in New Zealand, Norway & Spain.
Tour Fact. Set List (Standard) First Set: Shine On You Crazy Diamond (Parts 1-5), Signs Of life, Learning To Fly, Yet Another Movie/Round And Around, A New Machine (Part 1), Terminal Frost, A New Machine (Part 2) Sorrow, The Dogs Of War, On The Turning Away. Second Set: One Of These Days, Time, On The Run, Wish You Were Here, Welcome To The Machine, Us & Them, Money, Another Brick In The Wall (Part 2), Comfortably Numb. Encores: One Slip, Run Like Hell.
Set List Variations: Echoes (played as the first song at the first 11 concerts). Shine On You Crazy Diamond (Used as an encore at the start of the tour). The Great Gig In The Sky (Most shows 1988 – 1989).
All images (Except where stated) thanks to RonToon
Line Up
David Gilmour, Nick Mason & Richard Wright
with Jon Carin, Scott Page, Guy Pratt, Tim Renwick, Gary Wallis, Rachel Fury and Margaret Taylor
Films Used
One of the films shown on the tour was 'Signs Of Life' A Storm Thorgerson film of a man rowing a boat up a river in Cambridge, while a swimmer swims underwater through the reeds beneath the boat. When David Gilmour plays his first guitar notes, the water surface ripples like a sound wave.
'Welcome To The Machine' A Gerald Scarfe film, shows an insect like creature crawling across a deserted landscape, followed by scenes of beheadings, rats running across the girders of a decaying city awash in blood and a projectile launching up into a sphere. This is the same film that was originally used on the 'Wish You Were Here' tours. (1975)
Another film used on this tour was 'Dogs Of War'. In it, attack dogs are shown running along a beach, into a building and up a staircase to a floor where David Gilmour is standing. Gilmour then turns and sings the opening line on the screen at the same time he sings it on stage.
'The Great Gig In The Sky' A film was shown of waves from the viewpoint of a surfer. This footage came from the movie Crystal Voyager.
Another movie used was 'On The Run' A Storm Thorgerson film of a man (Langley Iddens) in a hospital bed imagining that the bed is rolling through the hospital, onto a flight deck and into the air. The man comes back to his reality, only to find that the bed is moving and taken flight.
Yet another film shown was 'Time' Animated clocks, directed by Ian Eames. This is the same film that was featured on the original 'Dark Side Of The Moon' tours.
The film 'Money' was shown, which is about money and all the excessess it can buy. This is the same film that was originally used on the 'Dark Side Of The Moon' tours.