Preamble: In April 2012 Rick Wright's Kurzweil K2000 appeared for sale on eBay with an asking price of £65,000. Shortly thereafter it was withdrawn from sale Out of interest, prior to being withdrawn from sale it received 17 offers, (none of which have been disclosed). This is the story of how the present owner came to acquire this part of Pink Floyd history.
How I Came To Be The Owner – By Chris J.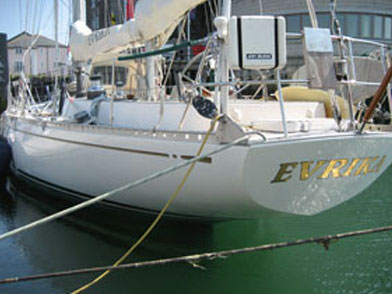 The late Rick Wright's Boat 'Evrika' was sold Dec 2011, At the time of the sale it was not immediately realized that on board was Rick's Kurzweil K2000, that he had used on the PULSE tour & DVD.
By a stroke of luck, a short time after the boat sold, I heard about this keyboard from Nick Davis. Nick is a Grammy and Mercury Music Prize nominated Producer/Mixer /Engineer Who amongst others, has worked with Genesis, Phil Collins, Aha, Mike & the Mechanics, Deep Purple, Marillion, XTC, Bjork and many others.
Nick lives local to me and told me about the discovery of the Kurzweil K2000. Hearing the news that it had been owned and used by Rick Wright, was, and still is, fantastic news to me, and I knew that I just had to have it. At the time though I didn't know it's history.
I eventually negotiated a price with the new owner of Rick's boat, who just happened to be a friend of Nick Davis.
About a week after the purchase I sat down to watch the PULSE DVD and noticed that the stickers and marks on the Pulse DVD matched the K2000 I had just purchased!, BIG SURPRISE AS YOU CAN IMAGINE. I don't mind admitting that as I am such a massive lover of the Floyd and Mr Wright that I did well up with a few tears that night.
I have a musical background, and started making music about 25 years ago. I like electro music and most things with synths in. Over the years I have owned many synths, samplers, effects etc.and have found that Kurzweil sound so great.
I won a mixing comp when i was 15 (now 40) and won two Technics turntables and mixer as a prize. I've always loved the Floyd sound. amazing band the best in my opinion.
I have performed music as a personal thing, I have never gigged, only at home but has always been such big part of my life and always will be.
I have a Kurzweil k2661 fully loaded and K2000 and now have the Pulse Kurzweil! So I have 2 x K2000's and a Kurzweil midiboard and Hammond B3 Rick Wright copy. There are Leslie speaker for that echoes sound. My music partner Dave & I have the whole Rick Wright Pulse setup and what a amazing setup!!
I started playing guitar about 3 years ago but I still have loads to learn.(Still saving for a David Gilmour Fender Strat custom shop guitar).
I went to the David Gilmour Royal Albert Hall show in 2006, amazing best thing I've ever seen and got my ticket on the night and had to sit in what was known as the shit seats behind the stage almost but i was happy it was just above Rick's setup very close so I was happy.
Recently, I was in contact with Guy Pratt (Rick Wright's son in law and sometime Floyd member) and met him briefly in Brighton UK in April 2012. It was a great honour to meet him as it would be to meet any of the band, a very nice person.
Guy and myself discussed Rick's Kurzweil and after speaking with him and me being such a big lover of the Floyd we both agreed that I will keep the Kurzweil and treasure it, as asked by him. (I also got to meet Colin Norfield the Floyd sound guy).
I did put it eBay silly now I look back, I know this only to well now, just don't know what I was thinking at the time, but I'm very happy to keep it and use it in my own recordings,what a honour for any composer.
Crazy really, I was watching Pulse or bits of it every day for months before I became the owner of the Kurzweil and to have this great bit of rock history is like a dream come true.
I hope I to meet Mr Gilmour one day who knows. I must say thank you to the band they have been such big part of my life for many years now and always will SO THANK YOU PINK FLOYD.
With thanks to Chris J
Pink Floyd Mr Richard Wright tribute. thank you.
Pink Floyd's Richard Wright Tribute.
---
Chris pictured with Brit Floyd, Dick Parry, Phil Taylor, Ben Watt, Phil Manzanera and Aubrey "Po" Powell.