We have Will Taber to thank for obtaining the pictures you are about to see. Sadly, Will used the wrong camera speed which has resulted in less than perfect photo's. However that being said, they are still a very good view and it gives us all a good indication of the atmosphere of the show.
From This Show – Set The Controls
I've been attending concerts in the Tampa Bay area for 30 years: Tampa crowds are the most ill-mannered, boorish, obnoxious and overbearing fans of any place I've ever been. But with that said, it was a lot of fun.
They started with batches of The Wall, Animals, Wish You Were Here and a dash-a TFC. Roger's voice is STRONG! He played several guitars, and did so with aplomb. The band is really quite fantastic. Five people played lead guitar (Rog and Jon Carin in addition to Andy, Snowy and Doyle Bramhall II, who can flat tear UP a damn guitar!)
The band played Floyd songs exclusively in the first set. Simple stage setup with some cool pictures and slides (no Mr. Screen) cast upon a large backdrop. The sound was muddy much of the time, but the quad setup was a groove! Voices and effects coming from above and behind you are cool! They need to tighten up … too MUCH practice in Barbados?
Roger said the show was "magical" again. He never tilted at anyone in the audience. Indeed, he COMMENDED the fans for their support for the first show, but it was a scripted bit, I'm sure. They played " Set The Controls …," (See MP3 above) and it was GREAT! Did some TDSoTM, and then selections from AtD! No +&-, no KAOS. I was bummed. Not NEARLY enough Waters' solo songs, but the audience was overwhelmingly Floydian in makeup.
One curtain call, concluding with "Each Small Candle." Roger introduced it much like he has on recordings. It has blossomed into an engaging song, fleshed out since the Kansas City (??) show, and it has is DECIDELY Joni Mitchellesque in structure and sound. (This is good …)
(above) Thanks to Wayne Shelor
I just got back from the Ice Palace and Rog's opening night gig. Great show, nothing too unexpected happened. Rog shortened up the first set with the deletion of some Wall material. The major change was the second set which began with Set The Controls. Rog played acoustic guitar and for the first time on the '99/00 tour was augmented by a saxophonist. Don't know the guys name, but he played a soprano sax on Set The Controls and later played a tenor on Money. He did not appear in the first set and therefore did not play any of Shine On's sax parts. The Bravery of Being Out of Range made its debut. Roger played a red Fender Strat on that number. The second set ended with Brain Damage/Eclipse. Comfortably Numb was the first encore, followed by Each Small Candle. Rog gave an abbreviated story behind the song to the audience (who were getting a little impatience at that point I might add). Rog also gave his little speech about how he felt the magic and connection with the audience and thanked everyone who came. He made reference to his "old band" and said how it felt like the old days again.
I enjoyed Rog's band. But to me it still wasn't Pink Floyd and that's okay. It was a good band playing Pink Floyd music. Shine On came closest to sounding like vintage Floyd. Snowy's guitar riffs were excellent. He covered Dave's parts much better than Doyle. Doyle is a great player, but I don't think his style fits Floyd's music that well. I'd prefer to see Snowy handle all lead parts and let Rog and Andy Fairweather-Low handle the bass and rhythm guitar parts. Jon Carin's vocals and acoustic guitar work on Dogs were great, but his slide work on Shine On was horrible (IMHO). He should stick with what he does best. I'd prefer him handling all of Gilmour's vocals rather than Doyle. I don't want to sound like I'm slamming Doyle, but I just don't think his guitar/vocal style fits well.
Other impressions are that I was pleased that the audience seemed pretty receptive to Rog's solo material. The was a 40 minute chunk of time where no familiar Floyd tunes were played. I've never been a big fan of Amused To Death, but hearing those songs live was great and gave me a new appreciation for them. I'm glad What God Wants was played, but it badly misses Jeff Beck. I can see why Rog almost abandoned playing this number. Most of Rog's comments about setlist changes and stuff that he made on Jim Ladd's radio special were true. So that's why nothing surprised me. If Rog would have played Kaos material or additional Pro & Cons stuff, then that would have been a surprise.
Other notes. The quad sound was okay, but I think I was too close to the stage to get its full effect. Being in a large outdoor stadium makes the quad's sound effects much more noticeable. The Ice Palace was just over half full. I'd say at least 10,000 in attendance. The show started at 8:15 pm, not its advertised "Show Starts Promptly @ 8 PM." There was one idiot who got tossed during Wish You Were Here. Other than that, people were relatively quite and well behaved. The funniest moment for me was when two "Floyd Rulz Dude" type guys said, "Who the hell is Bill Hubbard?" This happened at the end of Amused To Death. These two a-holes were talking the entire time. If I'd been taping the show, they would have ruined it.
Well, that's my initial impression of opening night. I'm sure my opinion will change a little once I hear a recording of this show. I snapped a bunch of pictures from my 13th row seat, so if they come out well I'll share them.
Thanks to John in Tampa
---
If they wanted a Floyd juke box then why did they come to see Roger? After a 13yr wait. I finally saw Roger Waters, and I couldn't have been more pleased by what I heard. Unfortunately the crowd in Tampa made that a difficult experience to achieve.
The over all crowd noise and traffic would increase as soon as non Floyd material hit the air. Listening to tools around me discuss furniture, and if "Waters thinks God's a monkey," and worn out complaints of "that aint Gilmour up dar" drove me nuts. How long I had waited to hear songs from Amused performed live just to have it muddled by ex-dirt-rockers making beer runs and idiots screaming in hopes of hearing themselves over top the rest of the crowd on a hopeful CD release.
The worse came at what, for me personally, was one of the most anticipated moment of the evening. Each Small Candle. After the encore he stops to tell everyone about a poem he was handed and has recently put it to music. He informs everyone,"..and this will be the last song" And what does the crowd do as soon as they hear it's NOT a Floyd classic? Bolt for the doors. Like the credits were rolling at the end of a movie, and go figure there were words running on the screen. God forbid anyone pay attention. 1/3 of them (the crowd) straight got up and left, 1/3 of them were mulling around with the "maybe there'll be something witty at the end of the credits" mentality, and maybe 1/3 of the remaining people cared about the show. Roger, the new song is great.
After looking back at the show, I have to wonder if it was completely anticipated due to a certain game of cards that took place on stage during Dogs. I may be way off, but if the audience is going to be rude and ignore what Roger and his band do umcomparably better than any other act, and that's his solo work, then why not reciprocate by blowing the audience off as well. I mean really, 20ish more dates of this?! what the hell, might as well bust out the card table during the ambient section of a song and relax. Or he could just progressively build a huge wall on stage between the band and the audien……oh yeah, he did try that once, and Still the lunatics were in the hall.
This is my own account of the show and is in no way an attempt to piss anyone off or start a better-than debate. I hope other Roger enthusiast had a better angle on the show than I did. As much, at times, it must have looked like the arena didn't give a rats ass about your solo work Roger, there were a few of us out there that really did care. Next time, deal me a hand as well.
Thanks to Christopher DBeamGeek@aol.com
---
Genius of Pink Floyd revisited
Singer-bassist Roger Waters bathes the Ice Palace crowd of 9,000 in the warm inviting sounds of Floyd classics before moving on to his solo works. By PHILIP BOOTH © St. Petersburg Times, published June 5, 2000
Back in the day when Pink Floyd was Pink Floyd, and singer-bassist Roger Waters hadn't yet taken his band mates to court over ownership of the band's name, the arty British musicians were engaged in creating the highest form of head music. It was a sonic concoction defined by psychedelia and progressive rock, facilitated by state-of-the-art recording technology and tailor-made for sonic cocooning: A listener could slap on headphones, plug in and be transported to another world, with or without the benefit of altered states of consciousness.
Waters went for much the same effect Friday night at the Ice Palace, for the nearly three-hour first show on the second leg of his "In the Flesh" tour, a long-overdue outing that kicked off last summer. Pink Floyd's former defacto leader, the conceptual genius behind several of the group's most memorable albums, bathed several generations of fans (about 9,000 people) in a warm, inviting wash of sound.
Lush synthesizers and clean-sounding guitars were layered with rich vocals. Special effects — ringing alarm clocks, helicopters, children's voices, hammering — panned from front to rear speakers and back. The rhythm section didn't so much lay down the beat as provide an entrancing, steadily pounding pulse. The veritable contact high, courtesy of the most secondhand green smoke we've inhaled since the glory days of the Lakeland Civic Center, probably didn't hurt that auditory immersion process. And liquid-emulsion projections added to the sense of dislocation.
Waters, out front, alternating between bass and guitar, dusted off all those depressing old lyrics about alienation, madness, man's inhumanity to man, etc., and refitted them with the help of an expert six-member band backed by three female singers. Without the stadium-size laser spectacle to distract us, as happened when the Waters-free Floyd hit Tampa six years ago, the answer to that nagging question became readily apparent. Which one's Pink? His initials are R.W.
He wasted little time getting into the material many clearly wanted to hear, rolling out four tunes from The Wall, the 1979 double-album rock opera. The sound of approaching choppers cued Another Brick in the Wall, Pt. 2, which suffered from a muddy mix, but benefitted from the help of two star guitarists. Austin six-string slinger Doyle Bramhall II, wielding a left-handed Stratocaster, ripped out the familiar, melodic original solo, while Snowy White (ex-Thin Lizzy) used his Les Paul to dig even deeper.
A pair of ho-hum songs from Floyd's 1983 The Final Cut led to the twin- guitar harmony lines and squiggly synthesizers of Pigs on the Wing and Dogs (from 1977's Animals). Waters closed the first set with a segment from 1975's Wish You Were Here, cranking up the throb and the neo- symphonic textures for the moody Welcome to the Machine, the quieter title track and a truly majestic version of Shine On You Crazy Diamond, the group's nod to the spirit of Floyd founding father Syd Barrett.
Waters' solo work was emphasized during the second half. But that material, mostly from 1992's Amused to Death, was downright lackluster, next to trippy 1969 piece Set The Controls for the Heart of the Sun (the first of two songs featuring guest appearances by area saxophonist Mike MacArthur) and inspired if overly reverential versions of Breathe in the Air, Time, Money, Brain Damage and Eclipse, all from 1973's classic Dark Side of the Moon.
Waters may have happily moved on to more personal projects, but nostalgia is what he serves best. We'll gladly indulge in his brand of pleasantly aged ear candy any time he is so inclined.
Note to Roger: We'd be even more excited to feast on Floyd classics if they were presented in tandem with your old colleagues. What do you have to lose?
© St. Petersburg Times
---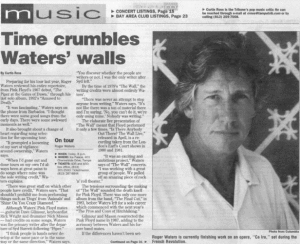 By Leila Cobo
The Miami Herald
Published: Friday, June 2, 2000
Few musicians acquire the legendary status of Roger Waters, founder of Pink Floyd and the man many regard as Pink Floyd. His music is indelibly stamped in the collective consciousness of generations, thanks to works like Dark Side of The Moon (which has spent nearly 20 years on the Billboard charts, an all-time record) and The Wall (which has sold more than 23 million copies, according to the RIAA).
Now 56, Waters — whose last album was 1992's Amused to Death — comes to South Florida Saturday as part of his first national tour in nearly 15 years. Waters, who left Pink Floyd in 1983 after public and acrimonious differences with his band mates, spoke on the phone from England about the past and the present.
Q: What prompted you to go on the road again?
A: I did a charity concert for Don Henley [in 1993] and I did a few songs for his band. It was John Fogerty, Neil Young, Don Henley and me. And it was a wonderful evening. I was very warmly received by the audience. It encouraged me to go back to the stage and try to rediscover the magic that I had felt in my first years with Pink Floyd. I didn't know what was going to happen, but I felt that I really rekindled a connection with the people out there who had been listening to my songs all these years.
Q: How is what you're doing now different from your work with Pink Floyd?
A: It's very different. We became seduced by our success in Pink Floyd and started playing larger and larger venues. It's well-known that I became dissatisfied by that, and by 1977 I had arrived at the point where I couldn't stand it anymore. I felt the magic of music and communication had been crushed beneath the weight of greed and numbers. That's really part of what prompted me to write The Wall.
Q: In fact, you weren't too pleased with the release of The Wall Live earlier this year, were you?
A: I was rather unhappy when I heard about it because it felt like money grabbing to me. It felt like scraping the bottom of the barrel. And I've expressed that.
My oldest son is 23 years old and I expressed that to him. And he said, 'Come on, Dad, lighten up. People will be interested in these recordings.' He's a fan of an American band called Phish, and every single concert they do is recorded by someone and people swap [the tapes]. And the kid is absolutely right. No one's twisting anybody's arm to buy it.
I think [engineer James Guthrie] has done a great job. I take my hat off to it. I think the result is great. It's like, my son and everybody else, they're right. This is a good piece of music — why shouldn't the live recording be available?
Q: You're back on tour on your own and performing material that you've recorded as Roger Waters as well as old Pink Floyd material. What is the difference now?
A: We refuse to play big venues. I've been asked to go to South America to play big shows back-to-back in 50,000 seat venues and I will not play big venues. I don't miss it at all. I hated it. Because it was no longer about performance and our songs and our music and our work. It was about the event. I think football stadiums are good for football, but they're not great for rock and roll. It's just too big and people get diverted, and they shout and they scream and they throw up.
Q: People all over the world related very strongly to Pink Floyd and its music. Does it surprise you that you've managed to have such an impact in such a variety of places?
A: No, it's not strange at all. Some people I know went to Machu Pichu (the Mayan ruins in Peru) and they saw 'Pink Floyd' written on one of the walls. We're all human. One of the exciting things about being alive in the '90s is we get to communicate via the Internet through the explosion of technology. We no longer have to sit on a boat for three weeks in order to communicate. And it's no surprise to me that the preoccupations of a lot of Colombians wouldn't be the same as the preoccupations of a lot of English.
Q: I know you have several musical projects going on.
A: I'm making a new album. I'm also working on an opera about the French revolution called Ca Ira. I've recorded the orchestral parts and that will be coming out on Sony Classics. I'm also recording a new rock and roll album. It's finding its own way. It's hard to talk about because although there are a number of complete songs in it, it's all a part of my story. It's still the story of me searching for love. And I mean love in the broad sense of the word. It's a good quest.
Q: How did you end up working on an opera?
A: The guy who wrote the libretto, Etienne Roda-Gil, who writes novels and pop lyrics, wrote this libretto in 1989. And he showed it to me and it was beautifully illustrated by his wife, who has since then died of leukemia. And he asked me if I could set the piece to music and I read it and I liked it a lot. I said, 'I've never done this before — why not?' So I called an engineer, and I said, we're going to start work on an opera. I spent six weeks doing a sketch, playing piano, synthesizer, and I produced a demo of this thing that was a couple of hours long. And I've been not refining it since then, because [his wife] died and we shelved the whole thing. But about three years ago we started working in detailing.
Q: Operas have traditionally been the ultimate challenge for classical composers. Is it the same with you?
A: It's not more challenging than anything else. In fact, in some ways it's less challenging than the work where I need to look deep into my own soul to figure what it was about.
Q: Nothing is ever superficial?
A: No. I never write anything superficial.
Thanks to Jeff Storm
---