It was a warm night in the tropics as I made my way to the tribal gathering in West Palm Beach, Florida. It was there that I witnessed true magik. As the leader of the tribe stood on the platform, chanting incantations to the gathered masses, the women raised their hands summoning the spirit of the lost leader of the tribe. It was then that it happened! Miraculously, on the wall behind the leader, a picture off the lost one appeared, blessing the gathering (Courtesy of Vernon Fitch)
First Set: In the Flesh * The Happiest Days of Our Lives * Another Brick in the Wall (Part 2) * Mother * Get You Filthy Hands Off My Desert * Southampton Dock * Pigs On the Wing * Dogs * Welcome to the Machine * Wish You Were Here * Shine On *
Second Set: Set the Controls for the Heart of the Sun * Speak to Me * Breathe * Time * Breathe (reprise) * Money * Every Strangers Eyes * Perfect Sense (Part 1) * Perfect Sense (Part 2) The Bravery of Being Out of Range * It's a Miracle * Amused to Death * Brain Damage/Eclipse * Comfortably Numb *
Encore: Each Small Candle
Thanks to Brett Nrgnme@aol.com and Vernon Fitch
Once again we are indebted to Will Taber for supplying these photographs for you all to enjoy. Will unfortunately used the wrong camera speed, which has resulted in less than perfect pictures. However they are still very enjoyable to view and can give you a good 'feel' for the shows atmosphere.
Money
Set The Controls
Each Small Candle
The band is just fantastic, that is really what I think……. : ) Just couldn't resist that opening. Here's my rambling observations about last night's show at West Palm Beach broken down into a few catagories (hence, the "rambling" part)…..
I ended up going to this show, because an old friend from Florida, who I've barely kept in touch with over the years, immediately thought of me when he heard that Roger was coming to town. One of the last times we got together was 15 years ago, when we saw the +/- tour at the Hollywood Sportatorium. Both of these shows have something in common as well, but I'll get to that in a bit….
It was great seeing some old friends, and make some new ones. I was proud to see quite a few Harvested shirts and ran into a few Echosians like Mark Strand, Bruno, Will T (who has a smile that's larger than life), and the great Vernon Fitch (who, to me, used to be like a God, but now have the great privilege of calling him a friend), amongst a few others I'm sure that I'm forgetting at the moment (I appologize up front : (
Our seats were GREAT! 20th row DEAD center! I've seen Rog on the last tour close up a few times, and he ain't that pretty ; ) >From this viewpoint, you get a great full view of the stage and visuals, you can see everyone clearly ('cause they're certainly close enough), and the sound was AWESOME…one of the BEST sounding concerts I've ever attended…and very surprising for an outdoor venue! Also, because of our location, the surround sound FX were incredible (during Dogs and Shine On especially). Another minor miracle….for the 1st time since I can honestly remember, and I've been goin to shows since 1977), there was not ONE asshole within my aural or visual radius. There was NO obligatory drunk ruining the show for those around him, No whistler, No screamer, no one standing up when everyone else was sitting (and we got to sit through MOST of the show, nobody high-fiven' ya every 30 seconds!
Before I get into the show itself, I just want to say that this band has really come together, You can tell that are are much more familiar with the material AND, more importantly, with each other. SURE, Doyall ain't no Gilmour, BUT WHO IS?!?!?!? I think that by injecting his style of Texas blues into faithful Gilmour solos is great. While Snowy is excellent as well, I have no problem with Doyall taking most of the leads.Okay, on with the show…..
Unfortunately, the outdoor venues are gonna start while there's still an quite a bit of daylight left, at least through most (if not all) of the first set. This tones down the visuals quite a bit, but they are certainly not the main focus of the shows.
The band runs through ITF, pretty much as they did last year, but segues directly into the helecopter sound FX of Happiest Days. I'm really glad he dropped Thin Ice and ABitW1, just wasted time when there is so much else that could have been played. The band mechanically peforms Brick2 and Roger has the look of "thank God I'm getting this song out of the way" look on his face during it. Mother was an exception….the 1st song that really showed any feeling and the band played it better this time around (especially Doyall). I think that there were new visuals as well (the actual inflatable Mother puppet on the starry night backdrop, floating closer and closer during the song).
A missle flies overhead and explodes, leading into the Final Cut Suite…pretty much the same as last time. Pigs on the Wing 1 follows which leads to one of the highlights of the evening….DOGS! On this leg of the tour Doyall and Snowy share the same side of the stage (left) and are right next to each other. The solos and duets were majestic as these two gunslingers are totally in touch with the music and each other. A bravura peformance! The surround sound kicked in as Jon Carin's keybboard solo at the song's bridge circled us from above, turning many heads in the crowd (from where we were sitting). Magnificent!
Welcome to the Machine and Wish You Were Here followed, faithful to last years peformances. I would gladly trade WttM for anything else from his earlier (or solo) catalogue, but I really like WYWH. Shine On closed the set and was improved as well. Okay, Carin's not the best lap steel player, but he does a decent job. Everyone's solo section during part 6 has improved and it was a great jam. Roger messed up a line or two, and the ending of the song no longer reverts back to part 1…I think it's more faithful to the very end of the original (someone correct me if I'm wrong on this).
The 2nd set opened with StCftHotS. This was great on the +/- tour and was a very welcome new additional to this one. The band really cut loose as this live version stayed faithful to the one from the earlier tour. Rog even brought out an uncredited Saxaphonist to cover Mel Colin's old solo… and this guy was just warmin' up ; )
The visuals were fun too as they showed stills from the Arnold Layne and Scarecrow videos with Syd.
The DSotM stuff followed, Breath and Time were pretty good, just about the same, with Roger still claiming vocals on the latter (good move). Then came Money…and I gotta tell ya, THIS WAS ONE OF THE BEST VERSIONS I'VE EVER HEARD! Definately the best w/o Gilmour. The band did not seem "tired" playing this again, but rather seemed to face the challenge of playing it with gusto as everyone kicked ass on this one. Then there's that mysterious sax player….this guy waltzes out after warming up with StCftHotS and blasts out the BEST solo that EVER accompanied this song, live or in the studio. Hands down, this son-of-a-bitch just plain blew the roof of this joint and drove the crowd into a frenzy of applause that didn't stop until way into Doyall's returning vocals. Who is this possesed man???? When he was done, he just snapped his fingers and rocked back and forth to the rest of this song, wearing a smile the size of his wide stature….the unexpected surprise of the evening : )
Next came the solo stuff. It's SO f*cking obvious that Roger is lip syncing that verse from Every Stranger's Eyes, there was even a screw up at the start of it. Why doesn't he just sing that verse and let the girls finish the last line that he can't hit anymore? A great song with a sad distraction…
He dropped Powers That Be (my least fave from KAOS….GOOD choice), but he also did not represent KAOS in the set at all. The Tide is Turning is the best song (IMHO), but it's more of a set closer and he already knew what they would be. Roger also dropped WGW (the lyrics must have been too tough to remember each night) and I didn't miss it a bit as the band segued right into the sound FX for Perfect Sense 1 and 2. I didn't notice this last year, but now Roger mimes pulling down a periscope, aiming and panning with the oil rig, holding up 2 fingers (right before Marv Albert sez, "There goes 2," and just plain having fun with this bit. The taped crowd FX naturally brought everyone to their feet again as this was certainly a highlight as well.
The Bravery Of Being Out of Range makes it's debut on this tour and it was a bit disappoiting. I always thought that the original recording's bridge section was weak (it screams for a sax solo playing the main theme), and it's just muddled live….even more of a let down than the original, IMO.
Roger really gets into his choreography for It's A Miracle and it's nice to see him get into this mode…no hand shake at this show. Amused To Death follwed and really kicked ass, I even got a chill as the song climaxed and our planet exploded, leaving a remaining flickering light (our last hurrah)….
I'm sure that most people who were unfamiliar with his solo work really woke up with the familiar BD/Eclipse as the crowd rose to their feet. A great version that brought all who had faded back to life. Look for the KAOS radio tour on top of one of the buildings during the end of Eclipse, that's all that's there to represent that album.
The 2nd set closed with Comfortably Numb. I'm not crazy about Doyall's disembodied vocals (he SOUNDS numb when he sings it) and the rest of the song stays faithful to last year's rendition….except the end. Doyall and Snowy trade licks and play off each other on the upper part of the stage, but it's not one-upsmanship anymore. These 2 guys have it DOWN! They now play off each other and compliment each other so well! And, in the end, when they are both playing at the same time, they've worked something out where they are now playing together, not against each other….it is a well rehearsed and planned duet AND THESE GUYS FRIGGIN NAILED IT…THEY JUST PLAIN NAILED IT. The best none Gilmour ending, and in some cases, was even better when Dave was having an off night.
Roger's encore was Each Small Candle. When he started the song I held up my lighter (man…I haven't done that in years, but I thought that this might actually be an appropriate time). Almost nobody knew about this song and I found myself the only one within view to be holding one up (kind of prophetic, huh?). The song has really fleshed out since last year and has turned into quite an opus. Roger did a really smart things with the visuals too….he projected the song's lyrics so everyone would be instantly familiar with unfamiliar material. I'm looking forward to the studio version of this one….a song that haunted me all the way home.
It was a great show, the best of any of Roger's solo shows I've seen and even better than some of the Lapse and Division Bell shows as well. The one thing that made this tour special, is the SAME thing that occurred with the 1985 tour. Each tour was divided up into 2 years, with a healthy breather between the 2. Many recordings surfaced from the early legs, and I was able to become very familiar with the live sets, getting to know then by heart. I was then able to experience the tour again which is a great and unique thing to happen….to hear these live RoIOs performed live again,and in perfect concert sound (not to mention the visuals) is truely a gift….think about it.
Sorry…I told ya I was gonna ramble, but now my fingers are as tired as my body and I'm already back in Chicago by 10:30 AM the morning after… didn't get to meet Rog….the merchandise still sux (new cover and a few pics from the last tour added to the program), new shirts (green wire frame of Rog's head) along with the same ones; a new litho that would embarrass a Harvested release (who does these???); a new $50 T (Pink Pig on Blue Sky….wow whatta.. surprise!); and an even more expensive dark polo (of which I couldn't see WHAT was on it)…..
Thanks Ron Toon
---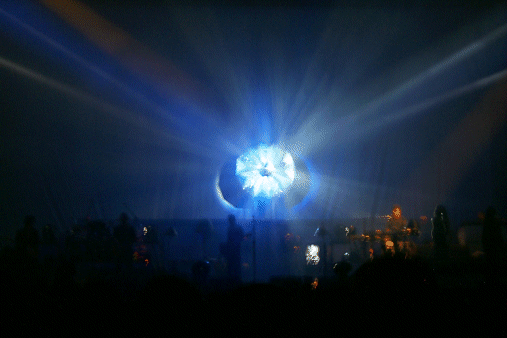 Part I (June 4, 2000) I'm too tired to write but I just had to post that this evening's show was a very special thing. It was the first time I've seen Roger perform outside, beneath the palm trees, and in the daylight for that matter (not good for lighting and projections but it didn't matter). The sun went down during the first set and the evening ended beneath the stars. Beautiful.
"Set the Controls for the Heart of the Sun" was a showstopper. I loved the arrangement! I hope he re-records it like it sounded tonight! And the visuals were extra special!
Two other welcome additions: "The Bravery of Being Out of Range" and "Each Small Candle". "What God Wants, Part I" and "The Powers That Be" have been dropped from the show probably because of how difficult they are to perform.
If "Each Small Candle" is any indication of how Roger is writing today then we are in for a real treat with the upcoming album. It's a jazzy song a la Steely Dan with Roger's brilliant lyrics. Very compelling!
Anyway, I'm going to sleep well tonight.
Part II (June 5, 2000)
The set list appears to have been the same as the June 2nd show in Tampa. I was confused whether or not he played "What God Wants, Part I". I think that confusion stems not only from my having had a few St. Pauli Girl Darks before the show but from the WGW melody playing at the beginning of "Perfect Sense, Part I".
At 7:30 PM an announcer warned the audience that the show would start in five minutes. The Jim Ladd intro immediately followed. At approx. 7:35 PM the band took the stage, and Roger walked up stairs and across the riser behind the band. He briefly stood silent at the mic before starting with "In The Flesh". Nearly a third of the audience wasn't present. I love the fact that he doesn't wait too long for the audience to arrive. If you didn't know by now, I have big issues with modern rock audiences.
There were pockets of cool people who knew when to stand up, sit down and shut up but, for the most part, the audience is full of idiots. As I posted under "Rock Audience 101", I went against my better judgement and with the flow of the audience. It was like playing musical chairs: stand up, sit down, stand up, sit down… All in the course of one song. My favorite stupid audience moment was when, following an endless series of sit downs and stand ups during "Shine On", everybody sat down near the end.
Roger said, "We're going to take a 20 minute break." Everyone leaped right back up and headed for the toilets and concessions. I just don't get it.
The first set was a unique experience because it took place during the sunset, which takes place behind the stage. Lots of pink clouds in the sky. Too cool for words.
"Dogs", as it was last year, is a highlight. I enjoyed the fact that Roger and some of the band played cards during the synthesizers. It's a moment that a lot of the people don't get… And I probably read too much into it.
The second set began with "Set the Controls for the Heart of the Sun". I can't say enough good things about it. It was probably the most magical Pink Floyd moment in my life. Roger singing an updated version of an ancient classic while photos of early Pink Floyd flash across the wall. Just remarkable. It struck my wife as a special moment too and she's not a raver like I am.
Another highlight of the second half was the set from "Amused to Death". The songs are so relevant to our "world condition" that they shine. I don't think most of the audience gets them or even likes them for that matter. Here, more than anywhere else in the show, you can sense that Roger is connecting with those of us who are die-hards. "It's A Miracle" is something special!
"Amused to Death" (album) is a masterpiece and it holds a place of honor right next to "Dark Side of the Moon" in my eyes. It's great that he goes from "Amused to Death" to "Brain Damage" and "Eclipse" to end of the show.
Anyway, I have to run for now but I'll update this post as things come to me. Don't let my hatred for the audience get you down.
The show is so good that it just doesn't matter how stupid the people sitting next to you are.
Enjoy!
PS: The addition of Susannah Melvoin was a master stroke! You can't have enough chick singers!
Thanks to GLBJ
---
Charles Passy for the Palm Beach Post 6/5/00. Waters shines on, bringing back Pink Floyd memories to MARS
In the hard-to-believe-but-true category comes this news nugget: someone put on a Pink Floyd show in Palm Beach County Saturday night. And it didn't take place inside a planetarium.
That "someone" was founding member Roger Waters and the occasion was the second date in his 2000 "In The Flesh" tour, staged before a sellout crowd at the Mars Music Amphitheater. Technically, it wasn't a Pink Floyd concert: Of the nine musicians and singers joining Waters on stage, only one, guitarist Snowy White, has any real history with the ground breaking British band.
But Waters was indeed in the flesh—and the wacky video projections and beefed up sound system were in keeping with the Pink Floyd '60s drug-culture tradition. If you like your rock with a Lava lamp mindset, this was your night.
And a good night it generally was. While much of Pink Floyds music sounds dated—sorry fans, but it's true—there is no denying its ethereal spaciousness, be it in the lyrics that talk about lunatics on the grass or the guitar solos that have all the airiness of an astronaut on a weightless walk.
But the real joy here was watching the 55-year-old Waters sing with convincing clarity (how many other rock artists make such a point of letting their lyrics be understood?) and playing acoustic and electric guitars with a bluesy finesse that brought to mind the British tradition of Eric Clapton and John Mayall. Combine that with one of the best back up bands you're guaranteed to hear this summer concert season—special kudos to guitarist/vocalist Doyle Bramhall II—and it was hard not to appreciate the effort. Even if seeing all those swimming amebas on the video screen got a little tiresome.
The three hour concert covered plenty of Pink Floyd classics from such familiar albums as TdotM, The Wall and WYWH. A high point was Waters' emotionally charged rendition of SOYCD, written 25 years ago as a tribute to founding member Syd Barrett, who left the band haunted by his own psychedelic demons. Accompanied by a video projection of Barrett that grew more distorted as the song went on, it had chilling yet honest effect. Waters also worked in some of the material from his solo albums, especially 1992's Amused to Death. At their best, the songs sound like less-polished Pink Floyd fare; at their worst, bad pop music, circa early '80s. And the lofty and pretentious Each Small Candle, a reflection on the war in Kosovo, was a poor choice for a closer. Let the crowd leave on a high note, no pun intended.
Thanks to Charles_passy@pbpost.com