Above pictures thanks to Simon Wimpenny.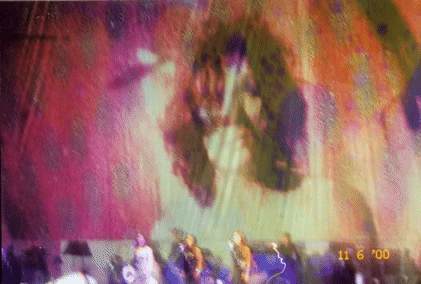 There were a couple of differences in the set list from the one listed from Tampa. I believe Welcome to the Machine was performed directly after Mother (I'm about 95% sure of this, but there's a chance I could be wrong.) Also, he did NOT perform What God Wants at all.
The show started about 10-15 minutes late. This surprised me becaused I had read about how every show had started right on time. It had been raining and cloudy for most of the day in Dallas, but when the sun came out just before show time, it put a bright glare on about a third of the screen. I think they were waiting for it to set a little.
The sun only affected the screen for about the first three songs.
The same merchandise was for sale. Pig pins and keychains for $10 each. Programs: $15; hats: $25; "regular" t-shirts (3 styles) $28; tie-dye t-shirts: $45; "polo"type shirts: $45; signed lithos: $75.