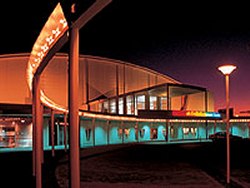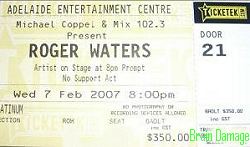 The pictures shown below are courtesy of Alison Gerrard.
CONCERT REVIEW – by BD contributer, Ben
Just saw adelaide show – too good! I am not familiar with some RW solo material but DSOTM was beyond belief!  The visuals and aerial devices really added to the show!
Great band, vocals and most of all – timeless songs. Highlight – Brain Damage / Eclipse. Lowlight – speakers blocking my view of the Comic strip.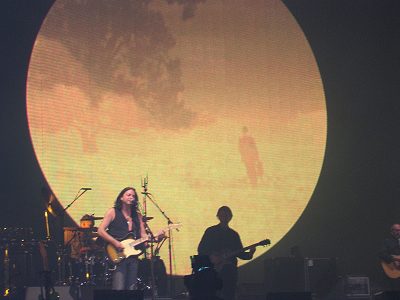 CONCERT REVIEW – by BD contributer, Stephen Rees
Well what can I say….bloody fantastic. If you missed the show do yourself a favour and get over to Perth for Friday's last show in Oz. You won't regret it one bit.
I've grown up listening to a lot of music and Pink Floyd would be one of the biggest portions of that. Albums that introduced me were Atom Heart Mother, Meddle and DSOTM. So when Roger Waters comes out to Australia there's absolutely no hesitation getting the tickets.
So we got there promptly, me and a couple of good mates, snuffled a souvenir programme for $40 (btw T-Shirt start @ $45).
I advise you to get there in plenty of time as the show starts promptly with a short 20 minute break before DSOTM and encore.
I knew Roger wouldn't do less than his best for a memorable show, and he didn't disappoint anyone, in fact a lot of us had the expectations exceeded well and truly. The song list, the pyrotechnics, the Subwoofers, the Pig, the Spaceman, the lyrics, the Music.
The set list was as previously disclosed in other reviews so I won't harp anymore except to say that when it comes to the end of the night you always want even one more and ……..but still I'm happy.
Brilliant musicians all round especially on Set the Controls I thought.
And to hear a new song from Roger, Leaving Beirut, was a perfect inclusion in the set and everyone felt support for his lyrical sentiments. He's certainly still got those great songwriting skills.
On the lean side I thought Roger could chat some more ad lib rather than stick to the script, and perhaps less of the radio.
But who am I to lessen the show? For 3 hours inside the Adelaide Entertainment Centre with Roger Waters playing solely for me and my mates, what more can you ask for?
Shine on you crazy diamond…..shine on Adelaide again real soon you hear (even if it is a bit far to come)!
CONCERT REVIEW – by BD contributer, Katrina Hogarth
OK, I'm a big David Gilmour fan and although wouldn't have missed Roger for the world, I was travelling to the show kinda thinking I would be missing David all night. And I guess a lot of Gilmour fans may be like me in perhaps harbouring vague negative feelings towards Roger. Also Doyle Bramhall II who was such a legend for Roger's "In the Flesh" was busy touring with Eric Clapton so hoped that whoever was lead guitar would be up to the role.
Previously I have also found Rogers showmanship to be a bit kitsch and over the top. But WOW!! This show had me on the edge of my seat and in tears for most of the night. I'm not sure what previous contributor Ben means in saying that he was not familiar with some of Roger's solo stuff because he only did two solo numbers all night (one of which was a relatively new song that was presented in such an entertaining way it was immediately familiar). The rest of the first set was from The Wall, Wish You Were Here, The Final Cut, Ummagumma and Animals.
From the opening "In the Flesh" followed by "Mother" I was gone. My goosebumps had goosebumps and I thought I was going to pass out. And then Set the Controls for the Heart of the Sun! Vaguley occurred to me through my enraptured haze that nothing could replace David's crazy ad lib on the "Live at Pompeii" DVD but Ian Ritchie made me forget all that with some brilliant brass.
Then into "Shine on you Crazy Diamond" and the music, lyrics and images of Syd had me so choked up I seriosuly started to wonder if I was going to make it through the show! And Ian Ritchie again finished it off in incredible columns of light as I thought I could take no more 🙂 Anyway it didn't let up and all of the band including the amazing David Kilminster were just incredible.
After the intermission the performance of Dark Side of the Moon was amazing and when an enthused fan let loose with the echoing screams from the album, preceeding  "Breath"  in just the right place, it was just what was going through my head, and perhaps many others from the appreciative giggles that ran through the audience.
The vocals in Great Gig in the Sky were incredible and done by just one of the amazing girls. DSOTM just seemed to pass in a fleeting second and I could hardly believe it as "the sun is eclipsed by the moon" was sung for the last time. WOW!!! As the crowd (which I had thought was a bit inhibited) absolutely errupted I thought "well how the hell could you encore Dark Side of the Moon?" when Roger et al came back on and the beat of Another Brick in the Wall (aka Happiest Days of our Lives) drove the crowd insane as I leapt involuntarily out of my seat.
To get these five songs from The Wall as an encore was an incredible bonus, ending with Comfortably Numb and blowing my mind. Whatever I may have thought about Roger Waters before, the man is incredible and put on an awesome show, a real concert experience. This show was indoors and the lighting, pyrotechincs and visuals including, yes, a flying pig, were absolutely awesome and enhanced a most incredible live music experience.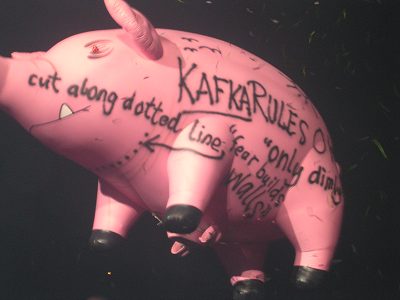 CONCERT REVIEW – by BD contributer, Andrew Porter
What an excellent intro. 15 minutes of gazing at THE most impressive high definition 3 storey screen you could imagine – just a view of an old radiogram and (I assume) Waters' arm coming in every so often to change the channel to another classic tune playing through the speakers, grab some more Johnnie Walker and blow smoke from just offscreen from a ciggie. Then lights, the band walk on, then into In The Flesh – great punchy start with all the classic Wall imagery onscreen. I just loved singing along with Roger… "are there any queers in the audience tonight? Get 'em up against the wall!!…" What a classic!!
Mother was beautiful (although unsurprising in choice) and then Set The Controls For The Heart Of The Sun with Roger doing the classic repetitive riff on acoustic to introduce and hold it throughout. Totally inspired trippery with still more mesmerising imagery onscreen.
I found myself wondering throughout – likening Waters' show to Gilmour's we saw last year in Venice. Very different – while Gilmour takes you to a relaxed space in your head and then hits you with a velvet glove at the appropriate moments, Waters hits you square on the head with one of his Wall-like walking hammers. And at 62, that's exactly what Waters provides – a bit of unsettling edginess. However it was in those 'softer' moments that Gilmours absence was (I think) apparent. Shine On was superb to see – although it really is Gilmour's song. I think the guy that's filling his shoes for Waters is unreal… but they're big shoes to fill.
Have A Cigar totally ripped and that so nicely led onto a great singalong Wish You Were Here. 2 tracks from The Final Cut were a little unfamiliar (haven't heard that album in over 15 years) but had that perfect Waters angry punch. But what got me spontaneously to my feet was Perfect Sense Pt 1 & 2 from his best solo album Amused To Death. I don't know how he manages to write songs that are beautiful and angry at the same time. That was no more evident then on Leaving Beirut – his clever new song with a VERY anti-war/anti-Bush sentiment, complete with brilliant comic book animation onscreen that left us laughing in shock/amazement at the 'directness' of his message. Finally Sheep from Floyds best disc Animals complete with radio controlled flying pig (and no strings!) and I think we were all left trying to digest what we'd just experienced.
The tweeting bird noises throughout the break was another noteworthy surprise, then straight into a seamless Dark Side. Highlights…
On The Run – some of the best nightmare sound and visual effects I've ever seen with a G rating
Time – the drummer moving effortlessly from the intro on his amped up electric drum kit effort, over to the main kit for the rest of the song
Great Gig – the black chick surpassing the 3 girl effort on the Pulse DVD
Money – the surround sound put to real good use with great solos
Us & Them – always a personal favourite, mainly cause of the sax
Although awesome as it was to see, it was here that Gilmour's absence was once again the most noticeable. So much of Dark Side belongs to Gilmour, not just his guitar but his voice as well. So it was a little disconcerting that the bulk of the vocals were handled by Kilminster, Gilmour's 'replacement'. But really that's a minor gripe – and, well, it's kinda dorky to make a real issue of it as Kilminster didn't put a foot wrong. The final encore had (of course) Another Brick In The Wall (1 & 2). mmmmmm yes i felt like a repressed schoolboy, angry at oppressive authority – I think that's when my voice started to fail. Vera & Bring The Boys Back Home from The Wall was a surprise, but given his anti-war/anti-Bush sentiments that spewed out all night, it really was quite apt. The perfect closer Comfortably Numb had the all the wailing guitary stuff to get your juices going – it really went off, but (like Shine On) Gilmour's version had the edge I think… just. No Run Like Hell, but you can't have everything I suppose.
Yes, in travelling through my back catalogue of all the shows I've ever seen, this rates in the top 3 easily. Near flawless sound, pyrotechnics, explosions, vivid edgy visuals, sharp cutting lyrics and overall message, and a tight as band that justified the $150 price for tickets. A great night out – not bad for a Wednesday.
We are indebted to our sister site Brain Damage for the use of the above material.

Roger waters..wish u were here at adelaide...
roger waters in adelaide...Sheep ..animals
Set the Controls for the Heart of the Sun - Live 2007