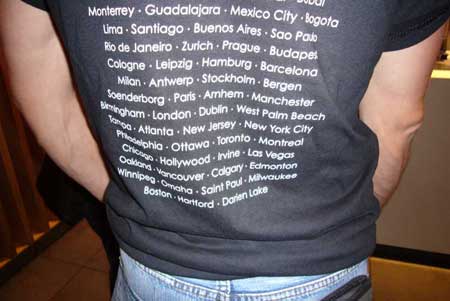 The picture of the above t-shirt was taken in early January 2007 at a Sydney show. Most of the dates on the back of the shirt were not officially announced until some time later. Whoops!
---
There is a major difference with our coverage of Roger's 2007 tour. Some of you will know that we previously covered the 1999 | 2000 | 2002 | & 2006 tours, by including pictures, tickets scans, reviews, newspaper reports and various other tour information, most times in dedicated tour rooms.
For the 2007 tour, we have partnered with our sister site BRAIN DAMAGE, who will carry all the previously mentioned material on their dedicated tour pages. You can reach any of the Brain Damage tour rooms, by simply taking one of the venue links listed on the left. We are encouraging our regular tour contributors to send any material you come across direct to Brain Damage matt@brain-damage.co.uk
A Fleeting Glimpse will still continue to bring you all the latest news on the tour, and continue to feature any major news stories. However, we are not leaving all the hard work for Brain Damage to do, because we are featuring VIDEO & SOUND from the shows!
If you happen to come across any MP3's from the shows, or short video clips, then get them in to A Fleeting Glimpse, and we willl feature them here. We will also be on the lookout for any links that point to videos & sound from the tour, so get those to us as well please! col@pinkfloydz.com
---
ALL KNOWN DATES ON SITE – PLEASE DON'T ASK!
(Disclaimer: A Fleeting Glimpse brings you show information in good faith. We cannot be held responsible for any errors or omissions. We urge you to check with ticketing agencies and venues for confirmation of details)
---