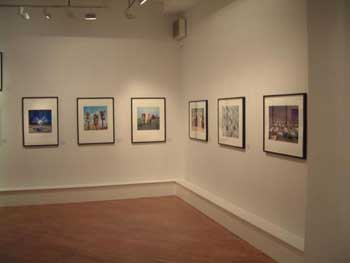 LONDON – 15th September 2004
The new exhibition of Storm Thorgerson's work at the John Martin Gallery in London opened on 22 September 2004, but on the 15th September the media were allowed access to preview the event in the presence of the artist. A Fleeting Glimpse' UK correspondent jce was invited along to ask some questions, and files this exclusive report.
---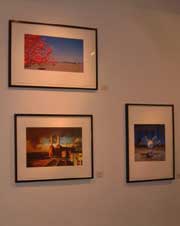 Arrayed around the walls are some of the most well know images in rock history – a prism in various guises, the flying pig, beds galore, a burning man all alongside a cow quizzically looking across the room at steel heads in a field – all for sale in large format. With prices starting at 250 pounds, you too can own a signed piece of rock history. For a more substantial 22,000 pounds you can own the one and only original stained glass window used for the 30th Anniversary release of Dark Side of The Moon. Delivery may be a problem though. For a more modest 8,000 pounds you can own the twin steel balls used for the Interstellar Exhibition in Paris. Rejected as a Floyd album cover they nevertheless would make an interesting addition to any home or garden.
Whilst these images and more recent ones are so well known, the man behind them remains, like the band he's worked with so often, somewhat unknown.
Still recovering from a recent stroke, Storm Thorgerson, appearing frail, is more than sharp when it comes to talking about his art. An engaging man still thoroughly occupied in carrying on with his trade, he's back continuing his passion to create the best in album covers.
The latest bands to benefit from his ideas include Muse and Mars Volta, with other major projects including the soon to be released book by Nick Mason and designs for a DVD release of Pink Floyd's live PULSE. Despite some reports, "Rumours is where it's at" is the response to questions in relation to any Floyd members solo albums.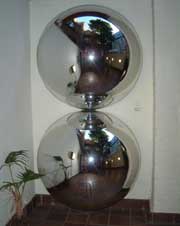 Citing The Division Bell art as one of his proudest moments, a submerged ego reveals his bias to liking them all. Affectionately referring to his projects as his children and "not having a favourite because the other ones get upset" he expresses satisfaction with all his work. Something that maybe only such global success can bring?
"Atom Heart Mother still brings a smile cause its funny" Whilst not being at the forefront of design "its attitude and what's behind it is more interesting than it itself"
Describing some of the other Floyd covers elicits varying memories from the "incongruous" cover of Wish You Were Here to Animals being "a great picture cause of the fantastic weather". As to what makes these covers so iconic, it could be "luck" or that a "good dynamic existed and lasted such a long time".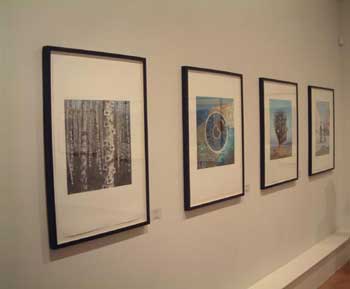 And how did all these covers come into existence?;
"Dark Side of the Moon came from a chat with Rick",
"Animals was Rogers idea",
"Wish You Were Here came with conversations with Roger and the others to some extent"
"Division Bell came from talking to David"
"Momentary Lapse from a line of lyric"
The dynamic and communication between the band and designer seems to have generated that special mix from which only good art can emerge, together with the freedom to explore ideas both musically and artistically has led to an exhibition that never has any fillers. Even the work that has been turned down stands well on its own and waiting for someone to come along and use it for an album. There are several pieces that have been rejected, and for me the most imaginative remains one of those – Eye 2 Eye. What were the Scorpions thinking of when turning down this piece?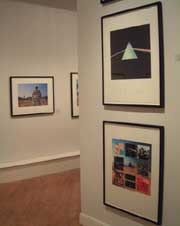 Interestingly, Storm continues to listen to the albums and notes Meddle as the "most underrated and seminal album and was the turning point"
Pleased that his work has had such a wide audience, despite most people being unaware of the artist, doesn't seem to raise more than a wry smile whilst "it would've been wonderful to have a percentage" comes across not with regret or envy but wry amusement
Not resting on past glories he "usually likes the one I'm working on" which at the moment is an album cover for Muse, however his past remains a dominant part of his life and the reoccurrence of themes can easily be spotted throughout the exhibition – water, spheres, trees, beds and bouncing balls.
jce and A Fleeting Glimpse wish to thank Storm for his time to answer our questions and to Robin for arranging access to the show.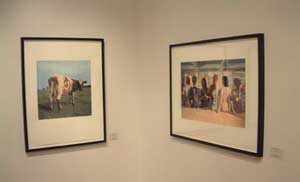 Gallery details: John Martin Chelsea 6 Burnsall Street Off Kings Road London SW3 3ST Although the exhibition in London has now closed, the limited edition signed and numbered prints are still available at www.jmlondon.com and can be seen by appointment at John Martin Chelsea in London by calling +44 (0)20 7351 4818.
Tel: +44 (0) 20 7351 4818 Fax: +44 (0) 20 7351 2351
Gallery Hours:
Tuesday – Friday, 10 – 6pm Saturdays 11 – 4pm
Getting there: John Martin Chelsea is situated in a former warehouse building off the Kings Road.
By Car: Burnsall Street is a one-way street with entry from both Astell Street and Godfrey Street off Chelsea Green. Best parking is at Marks and Spencer on the King's Road.
By Foot or Bus: Burnsall Street is about half way down the Kings Road between Markham Square and the Chelsea Cinema; on the corner of Choys Chinese Restaurant and Vodafone. Buses: 11,22,19 to Chelsea Town Hall
By Tube: Sloane Square or South Kensington.