Once more A Fleeting Glimpse was invited along to Storms exhibition, and again we sent our intrepid UK correspondent jce. jce got to mix with some very notable people and files this exclusive report.
---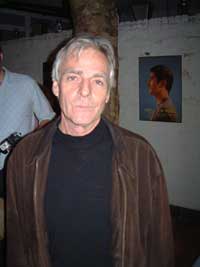 Tonight was the private view of Taken By Storm. A chance for friends and colleagues to see the exhibition, and reminisce about Storm and his work.
Storm, looking much better than he did last week held court as a succession of visitors made their complimentary remarks about the exhibition. He never spent a moment of the evening alone and clearly appreciated the turn out.
As the room filled and everyone seemed to know each other the atmosphere was one of a family party, albeit one connected mainly by Floydian history – old school friends, former work colleagues and members of bands whose albums have been graced by covers created by Storm, and proudly being displayed on the walls
A large number of former Hipgnosis staff were there including Po Powell who was looking forward to directing the filming of the Strat Pack gig on Friday, and who had spent all week interviewing the performers, and their rehearsals for the DVD.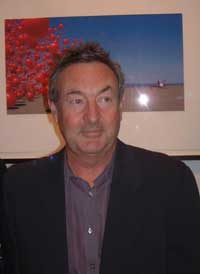 Stories of who did what, how it was done, who helped decide the image and the funny stories that go with them, filled the room as the champagne flowed. What was clear was that without this group of people all being together at the same time in the same place then much of the iconic branding of Pink Floyd wouldn't have happened. Listening to the stories it seems amazing that given the sometimes chaotic way that things were done that any of it ever happened! It wasn't only Syd that left the studio saying he'd be back in 30 minutes 😉
With the room and courtyard filled with people, the arrival of a shy Rick Wright went unnoticed as he moved about the gallery looking at a large part of his history before finding Storm and spending some time talking to him. Rick looked rather healthier than his last stage performance at the Festival Hall a few years ago in his trademark jeans and jacket but as usual shied away from any attention that he did receive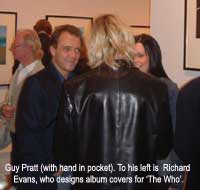 Sometime Floyd member, Guy Pratt also made an appearance looking considerably older than the last time I saw him in 1994, although looking like a recent beach holiday had been rather nice.
Nick Mason's entrance was also hardly noticed and quickly he and Rick were in conversation with smiles all round. Later joined by Storm the group spent some time chatting and laughing. I wonder what they were talking about? Was it the weather, gardens or that never to be next Floyd album?
Nick was the most talkative and is clearly in PR mode for the new book, even doing an interview and answering many questions about minor details of the book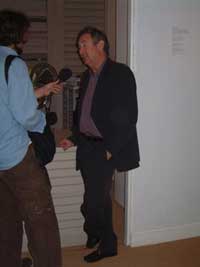 I'd advise anyone near Chelsea in the near future to make a visit to the John Martin Gallery and take a look at the exhibition, as the scale of the prints brings out even more the creativeness that is Storm Thorgerson
A Fleeting Glimpse and jce wish to once again thank Robin and Nina for their help and assistance
Above pictures thanks to Edward Cutler
---
Gallery details: John Martin Chelsea 6 Burnsall Street Off Kings Road London SW3 3ST
Although the exhibition in London has now closed, the limited edition signed and numbered prints are still available at www.jmlondon.com and can be seen by appointment at John Martin Chelsea in London by calling +44 (0)20 7351 4818.
Tel: +44 (0) 20 7351 4818 Fax: +44 (0) 20 7351 2351
Gallery Hours:
Tuesday – Friday, 10 – 6pm Saturdays 11 – 4pm
Getting there: John Martin Chelsea is situated in a former warehouse building off the Kings Road.
By Car: Burnsall Street is a one-way street with entry from both Astell Street and Godfrey Street off Chelsea Green. Best parking is at Marks and Spencer on the King's Road.
By Foot or Bus: Burnsall Street is about half way down the Kings Road between Markham Square and the Chelsea Cinema; on the corner of Choys Chinese Restaurant and Vodafone. Buses: 11,22,19 to Chelsea Town Hall
By Tube: Sloane Square or South Kensington.