Courtesy of Henk Tempelman thanks to our good friend Rontoon for the heads up
---
Photos courtesy of Laura Here
---
The Nile Song, Nick Mason's Saucerful Of Secrets, May 20th 2018, Dingwalls, London
When you're in, Nick Mason's Saucerful Of Secrets, May 20th 2018, Dingwalls, London
Fearless, Nick Mason's Saucerful Of Secrets, May 20th 2018, Dingwalls, London
Lucifer Sam, Nick Mason's Saucerful Of Secrets, May 20th 2018, Dingwalls, London
Interstellar Overdrive. Nick Mason's Saucerful Of Secrets, May20th 2018, Dingwalls, London
Let There Be More Light, Nick Mason's Saucerful Of Secrets, May 20th 2018, Dingwalls, London
A Saucerful Of Secrets, Nick Mason's Saucerful Of Secrets, May 20th 2018, Dingwalls, London
Point Me At The Sky, Nick Mason's Saucerful Of Secrets, May 20th 2018, Dingwalls, London
---
Elton John once joked that the worst job in the world for a musician would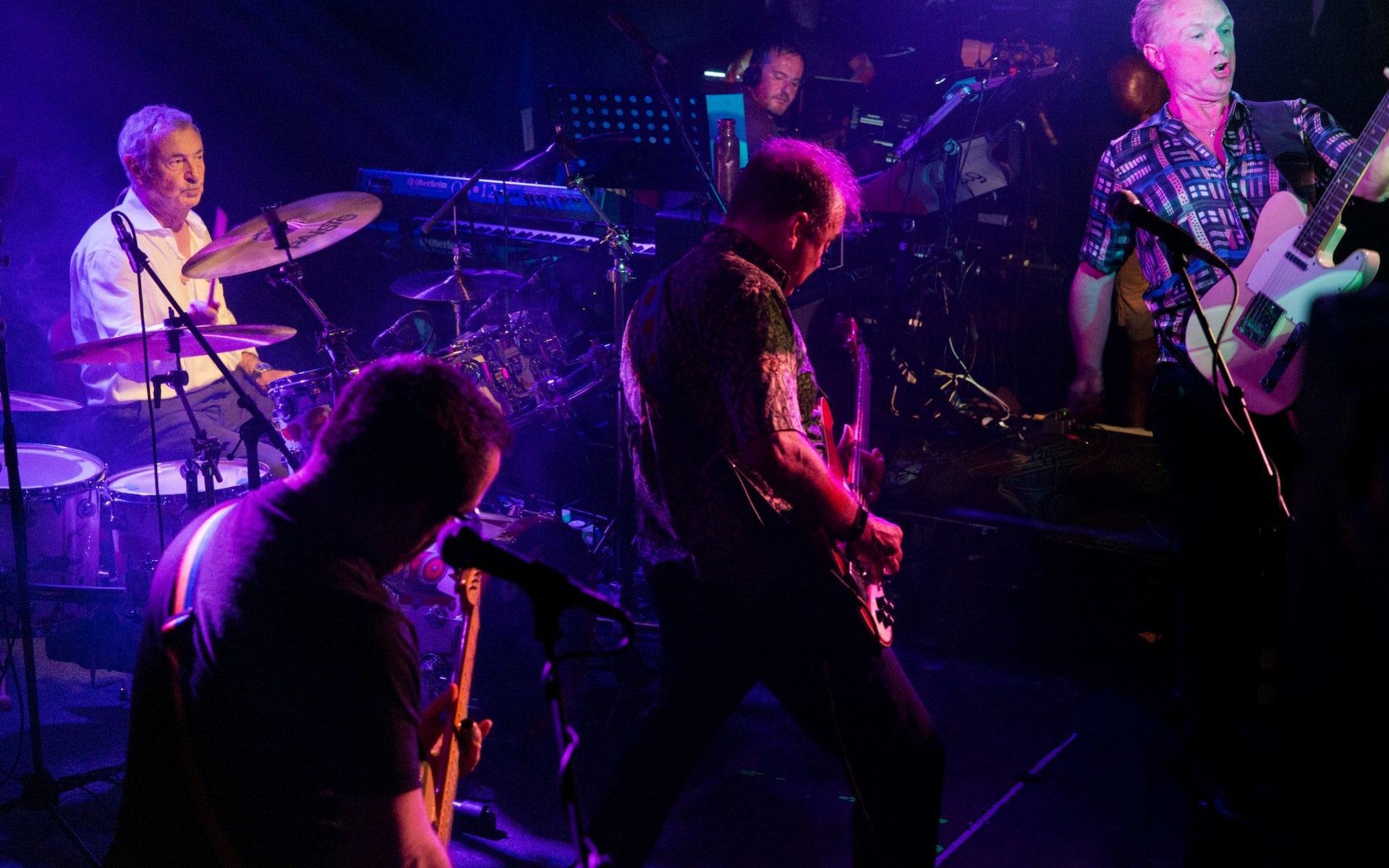 be drummer in Pink Floyd. The old trouper was not denigrating their music so much as the lack of it. Although various line-ups have released 15 albums in 51 years, only four of those have appeared since the Eighties, of which only one came this century. And, while other members advanced solo careers, who (with apologies to Ringo) really wants a solo album from a drummer? As a founding member, Mason has played every Floyd live show since 1967 but this hasn't exactly been a demanding schedule. The fractious group played their final show at Live8 in 2005, which was Mason's last significant appearance onstage. Until now.
In a dark, claustrophobically packed London club, five rock musicians set their controls for the heart of the sun. Pink Floyd's underemployed drummer had assembled a group of (inter)stellar musicians to recreate a set of his band's early psychedelic rock. For their debut, before a few hundred invited guests and dedicated old fans at Dingwalls in London, Nick Mason's Saucerful of Secrets partied like it was 1969.
It was an act of dazzling sci-fi musical time travel. There were no joss sticks burning, no psychedelic bubble slides and not much hair to be seen on the heads of revellers. But if you have ever wondered what Pink Floyd sounded like when they first disrupted the British music scene, this was the place to be.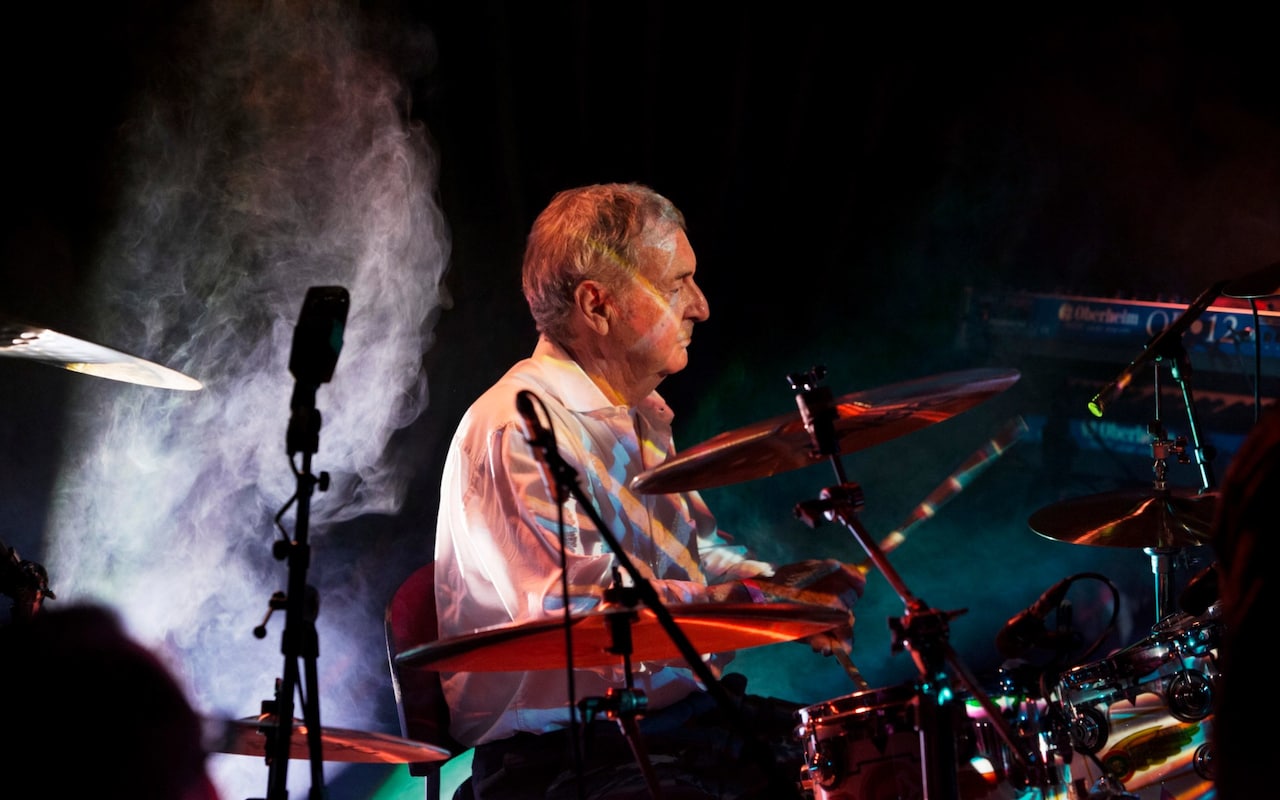 The sound was immense, electrifying, galvanising, mesmerising and still deeply strange, bending the formats of primal rock into all kind of weird and wonderful shapes. From the warped garage rock opening of Interstellar Overdrive, Astronomy Dominie and Lucifer Sam to the closing proto-shoegaze blitz of One of These Days and bent musical hall wackiness of Point Me at the Sky, it was a set of such startling intensity it seemed to mock the very notion of nostalgia. It was enough to make you wonder whether rock has progressed very far at all since the Sixties.
The 74-year-old Mason introduced proceedings from behind his drum kit, emphasising the oddity of effectively playing in your own tribute band by jokingly referring to them as The Roger Waters Experience.  Alongside two accomplished session players (guitarist Lee Harris and keyboard player Dom Beken), the frontline was bassist Guy Pratt (regular session man for later Floyd shows and solo David Gilmour projects) and, somewhat incongruously, guitarist Gary Kemp of Spandau Ballet.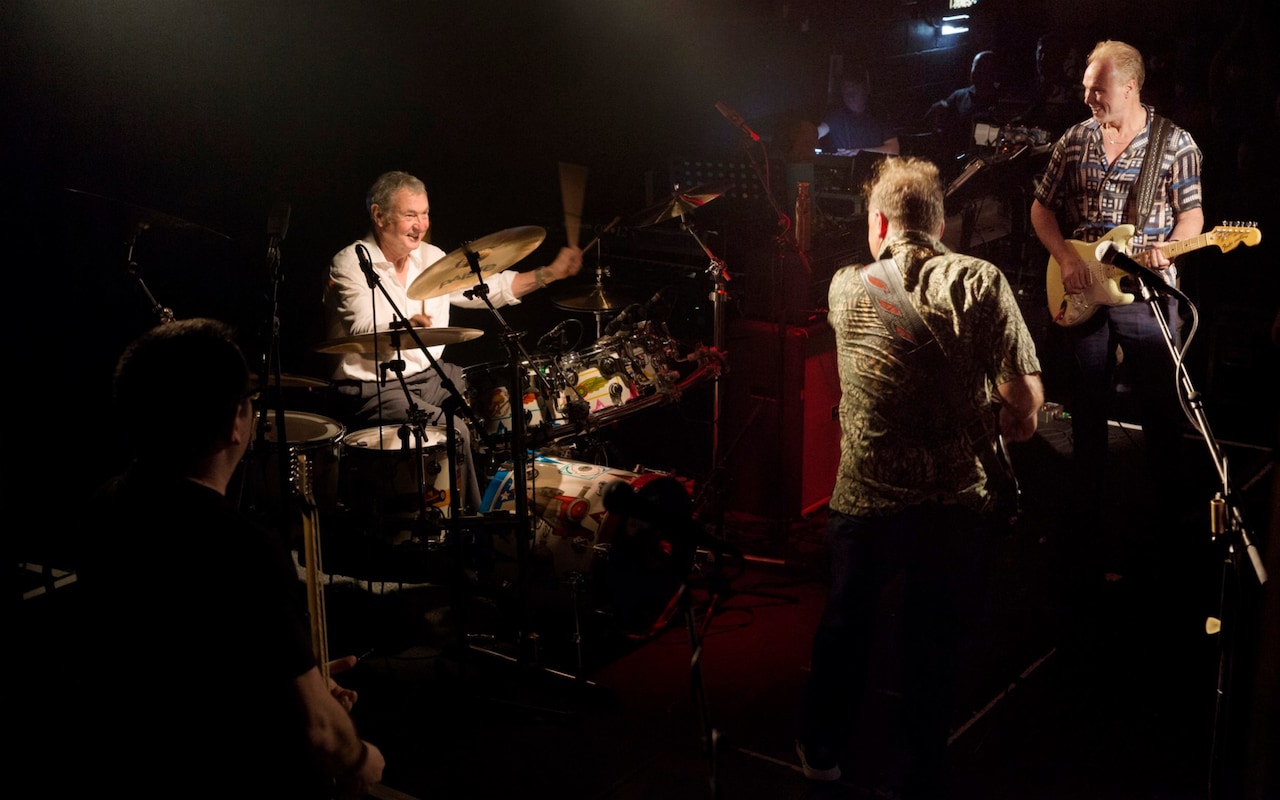 Kemp, in particular, was a revelation in the role of lead guitarist. There is nothing in the New Romantic back catalogue to suggest he has such a wild mastery of his instrument. He may have access to more effects units on his pedal board than early Floyd could count on, and he doesn't have the sensitive touch of Gilmour (well, who does?), but he played with swagger and panache, really dragging every possible nuance of tone and distortion from his instrument.
It was a set drawn from five of the first seven Floyd albums, focusing on the original and more experimental Floyd before they developed the epic gravitas of 1973's Dark Side of the Moon. The audience were clearly devotees, cheering such relative obscurities as the country influenced Green Is The Colour from 1969 soundtrack More. "To my eternal shame, I only got 50 per cent on an online Pink Floyd quiz," admitted Mason. "So if you've got any questions, just ask the person standing next to you. They probably know more than I do."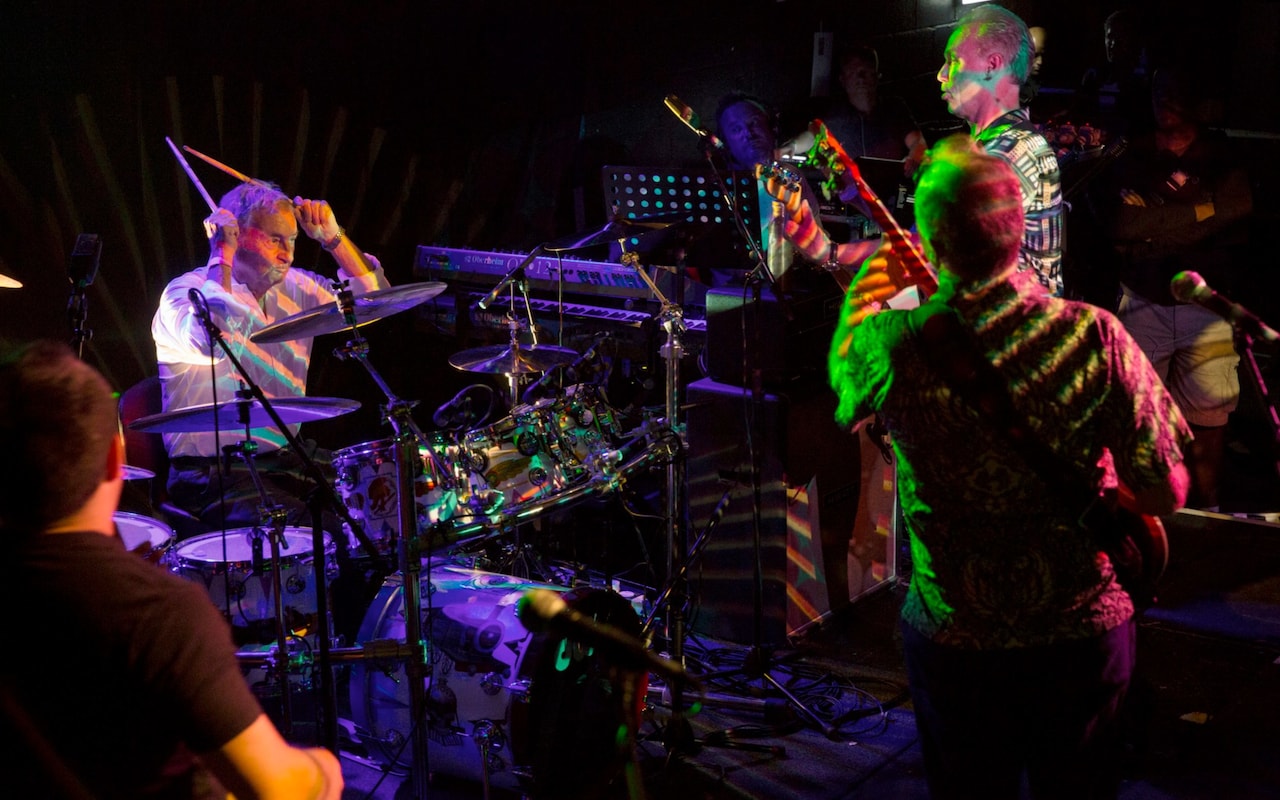 Kemp and Pratt both seemed to be enjoying themselves immensely, sharing vocal duties in very rough approximations of Syd Barrett, Waters and Gilmour. Both Londoners, and neither noted as singers, they approached vocal lines with a cockney vigour quite far removed from the more refined annunciations of Barrett (especially on such peculiarities of English psychedelia as See Emily Play, Arnold Layne and Bike). This lent the proceedings a certain freshness and vitality, especially combined with the sheer sonic punch of modern amplification. A bit of bar-band roughness only helped approximate the youthful energetic intensity of early Floyd.
Ramming hard through the weediness sometimes found in Sixties record production, Nick Mason's Saucerful of Secrets dug deep into the weirdness of the original band. The result was a kind of Punk Floyd, and all the more thrilling for it.
Review courtesy of Neil Mckormick
---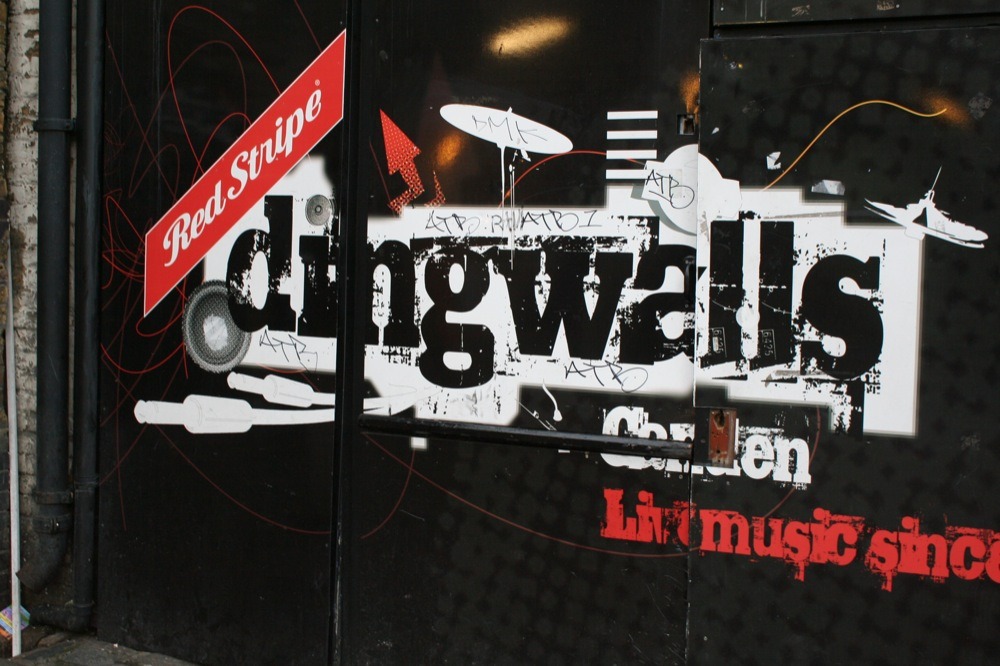 Capacity 500
Tickets
Dingwalls is a live music and comedy venue adjacent to Camden Lock, Camden, London, England. The 500-capacity venue hosts gigs and a weekly Comedy Loft comedy club. The building itself is one of many industrial Victorian buildings that were put to new use in the 20th century. The original owner of the building, T.E. Dingwall, had his name painted on to the outside wall of the building, which was a common practice by businesses in Camden Town during the late Victorian era. The paint is still visible to this day, hence the venue's name.
---
Can YOU help? We are looking for any material related to this show. Scans of posters, news items, ticket stubs, show pictures, or anything else you may think be of interest to our visitors. Thanks. Please send any show material to liam@pinkfloydz.com